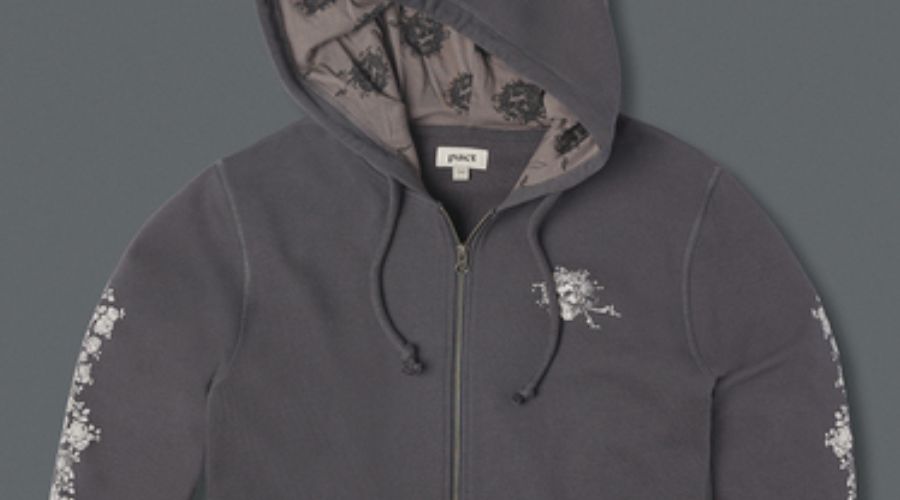 Before you buy your next hoodie made with conventional but environmentally harmful fabrics—STOP! Consider organic cotton hoodies instead.
What's the difference? A hoodie is a hoodie, right?
The truth is that sometimes a hoodie isn't just a hoodie. It could also be a sustainable piece of clothing that looks great and has a positive impact on the environment.
Organic cotton hoodies are made from cotton planted without synthetic chemicals and high water usage. The result is a soft, comfortable hoodie you can wear without guilt.
Read more to find out what are the best organic hoodies.
While you're here, check our recommendations for the best organic cotton sweatpants so you can pair the two items.
13 Best Organic Cotton Hoodie In 2023
Thanks to slow fashion's growing popularity, sustainable hoodie brands are galore! Many of them have hoodies in their catalog, but which ones should you buy? Here are the best 12 organic cotton hoodies to help you narrow your search.
1. Pact Organic Cotton Hoodie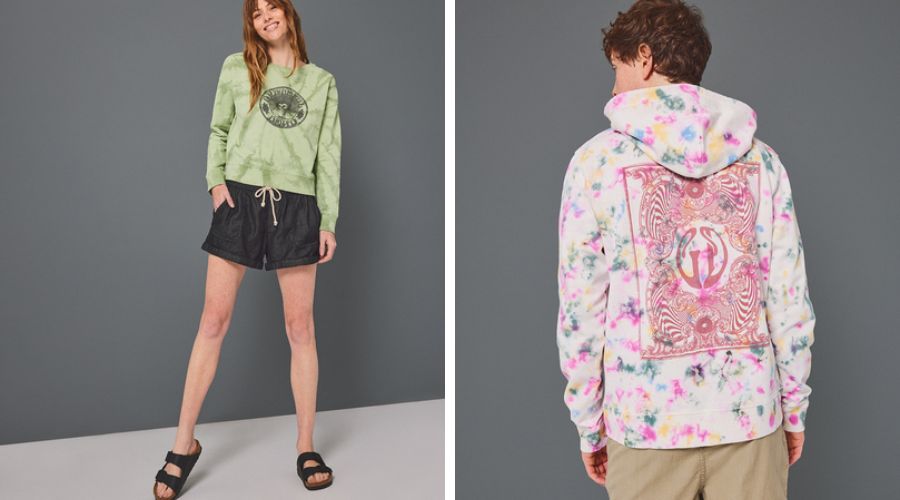 If you're looking for affordable hoodies, then your search has come to an end. Pact Organic Cotton Hoodie is part of a range of hoodies. The hoodies are made with 100% Global Organic Textile Standard (GOTS) organic cotton and are made in Fair Trade factories.
Pact is committed to creating eco-friendly clothing by ensuring that its entire supply chain is transparent and sustainable.
The hoodies come in different styles and excellent graphics. The gender-neutral fit is designed to be a standard fit for men but looks relaxed on women. The fabric is very soft, comfortable, and machine washable. If you love pulling on your hoodie's drawstrings, you'll love this one!
Based: Boulder, USA. Ships internationally.
2. Girlfriend Collective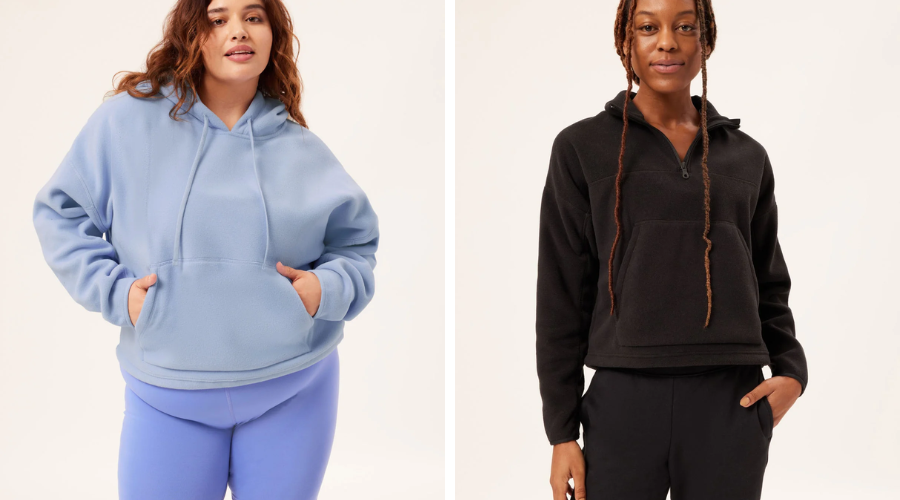 Girlfriend Collective is a familiar face on our website, and rightfully so. Their organic hoodies are to die for! The clothing is incredibly soft and lightweight, with a plush interior and adjustable drawcords. But the best part is the relaxed, drop shoulder fit with rib trims at the neck and cuff hem. Girlfriend Collective uses 50% organic cotton and 50% Texloop RCOT Primo Recycled Cotton made in an SA8000-certified factory.
The hoodie comes in black, wine, birch, porcini heather, and ivory. It has a size range that can start from 2X-Small to 4X-Large. By making this hoodie, Girlfriend Collective saves on water and energy while reducing CO2 emissions.
Based: Washington, United States. Ships to the US, Canada, the UK, and Australia.
3. Mate the Label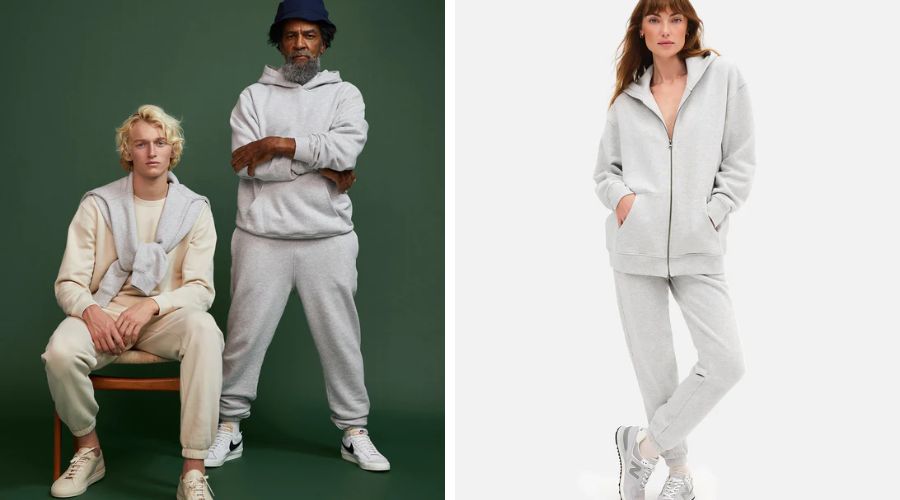 Mate the Label has so much going for it. It's a women-founded, vegan-friendly, eco-friendly, and size-inclusive brand. Mate the Label publishes annual impact reports while being transparent about its supply chain. It's a Climate Neutral Certified brand that works with the 1% For The Planet organization. That's not all. The brand uses local factories that respect labor laws, some of which are women-owned.
Before we get carried away by all the amazing things this company does, let's look at its organic sweatshirts. If you love the idea of hoodies but hate pulling them over your head and ruining your hair and makeup, Mate the Label has zip hoodies. If this doesn't apply to you, there're regular hoodies too.
The hoodies are made with 100% locally-grown organic cotton. They usually come in three different colors, and the sizes depend on gender and style. When it comes to style without compromising on quality, Male the Label is the brand for you!
Based: California, United States. Ships in the USA only.
4. Allbirds Organic Hoodie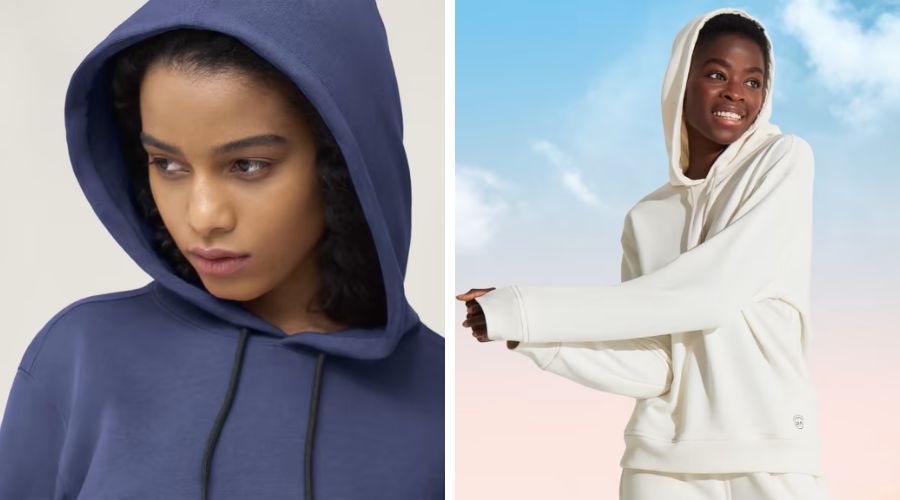 For those seeking sustainable hoodie brands, Allbirds has what you need! The Allbirds Organic Hoodie is made from 50% organic Peruvian pima cotton, 30% hemp, and 20% TENCEL Lyocell. As a result, the hoodie is soft and cozy and can be worn throughout the year. The fit is modern and slim. The available colors, which depend on your gender, are natural black, calm cargo, natural white, calm taupe, and more. Meanwhile, the size is inclusive ranging from X-Small to 3X-Large.
This is a company that takes sustainability very seriously. It's a Certified B Corp that uses regenerative agriculture, renewable energy, and organic and recycled fabrics. Few brands walk the walk like Allbirds!
Based: California, United States. Ships internationally.
5. Everlane
Everlane's well-deserved popularity is thanks to its use of eco-friendly and vegan materials and its transparency. The brand informs consumers about its supply chain, factories, price breakdown, and workers.
Everlane aims to keep reducing its carbon footprint every year. It has eliminated all virgin plastic from its supply chain (using recycled plastic instead). It uses organic cotton, clean denim, clean silk, and recycled fabric.
For its organic cotton hoodies, it either uses 100% GOTS organic cotton or a blend with recycled polyester and elastane. The soft, breathable, long-lasting, and affordable drawstring hoodies come in different styles and colors. The sizes range from 2X small to 2X large, depending on the style. Everlane remains elite in the sustainable fashion sector!
Based: California, United States. Ships internationally.
6. Boody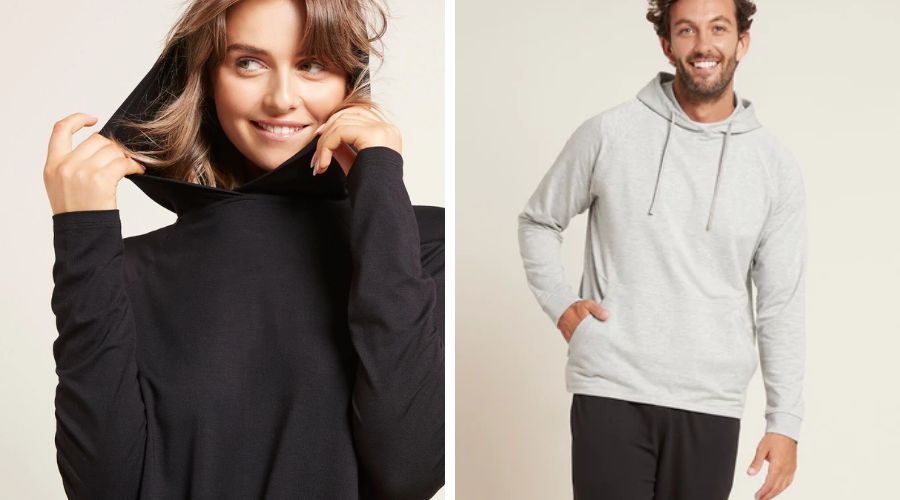 Boody is all about making you look and feel good! This sustainable fashion brand makes comfortable, easy-to-wear essentials from basics to underwear. Its hoodies are no exception. Boody hoodies include organic cotton pullovers and zip-up hoodies for men and women.
The fabric is made from 68% bamboo viscose, 27% GOTS Certified organic cotton, and 5% spandex. Therefore, the hoodies are lusciously soft, odor-resistant, breathable, and thermoregulatory. You get your choice of two colors: grey marl and black. The size option ranges from X-Small to X-Large.
Boody is committed to sustainability. It has received WRAP certification for a humane work environment. Its fabric is sourced from FSC-certified fields in China. As a bonus, Boody products are vegan. When it comes to eco-friendly fashion for conscious consumers, you can't go wrong with Boody!
Based: New South Wales, Australia. Ships internationally.
7. Thought Organic Hoodie
If age is wisdom, then Thought has plenty, as it's one of the oldest eco-friendly labels. So, what has Thought learned in its many years of existence? Well, for one, it uses responsibly sourced natural and recycled fabrics like organic cotton, bamboo, hemp, Tencel, recycled polyester, etc. All are made in Fairtrade Certified factories.
It also uses zero plastic in its packing. The brand has also had a long-lasting relationship with the UK charity TRAID. Once you've outgrown your clothes, you can send them to TRAID for repurposing. Animal lovers will be thrilled to hear that Thought offers vegan clothing.
After all that effort, is the quality of the clothes good? We give you an emphatic yes! Thought Organic Hoodie is the very definition of comfort. The zip-up hoodie for women is made from a blend of 95% GOTS-certified organic cotton and 5% elastane. The men's fleece hoodie is made from 67% bamboo viscose, 29% organic cotton, and 5% elastane. Both hoodies have drawstrings, pockets, relaxed or loose fit, and come in either blue or navy. The sizes range from X-Small to 2X-Large.
In short, Thought is the thinking person's eco-friendly brand of choice!
Based: London, UK. Ships internationally.
8. Summersalt
Once you learn more about Summersalt, you'll fall in love. We certainly did when we reviewed their swimwear and activewear collections. What makes Summersalt so unique is that it combines functionality and versatility with beauty. What's the point of saving the planet if you don't look good? And boy, does Summersalt do its part to save the planet.
The brand uses USDA-certified and Vincotte-certified material that is both biodegradable and compostable. Your packaging will be made from recycled material.
Summersalt hoodies are made from super soft, lightweight French Terry material. The fabric composition is 65% Tencel Lyocell, 18% organic cotton, 11% Tencel Modal, and 6% Spandex. It has zippers, drawstrings, split side hems, puff sleeves, and shoulders. Your hoodie will come in three colors dyed with Oeko-Tex certified dyes and about seven sizes.
Told you you'll fall in love!
Based: Missouri, United States. Ships internationally.
9. Tentree Organic Sweatshirt
Tentree is a highly versatile clothing brand that provides affordable, long-lasting, and sustainable clothes for men, women, and children. Tentree Organic Sweatshirt is one of its best items. The organic cotton sweatshirts are created from a combination of organic cotton, recycled polyester, and even Tencel Lyocell, with the percentage depending on whether it's a hoodie for men or women.
The hoodies have ribbed cuffs and hems, drawcords, kangaroo pockets, and a relatively limited color palette. Some of the hoodies come with excellent graphics if that's your type of thing. While others have a 4-way medium stretch knit. The women's hoodie is an oversized fit, while the men's is regular.
Tentree is like that one person who can seemingly do everything perfectly. The company is both a Certified B Corp and Climate Neutral Certified. As if that's not enough, it has planted over 75 million trees globally, restored land in over 8 countries, built a maternity care center, and many helpless communities. That's amazing, right? What's even more incredible is that Tentree pays its employees fair wages, gives them proper rest, and allows men and women to have equal employment opportunities.
If wearing fast fashion items made in sweatshops gives you a guilty conscience, rest easy with Tentree!
Based: British Columbia, Canada. Ships internationally.
10. Colorful Standard
Colorful Standard is one of the most transparent companies you'll find. Like other eco-brands, the company is open about its supply chain. Then it takes it a step further by posting the address of its factories in Portugal just to show it has nothing to hide. If you're very diligent in your research, you can even drop by for a visit. Besides abiding by the strict EU labor laws, Colorful Standard uses Oeko-Tex-certified dyes, recycled fabric, and recycled FSC packaging. It's also vegan-friendly.
The brand makes unisex organic hoodies from 100% organic cotton. The garment is brushed on the inside, densely knitted, and made to last. This means it's both soft and smooth and anti-pilling. You'll either get a zipped hoodie or a pullover. The size ranges from X-Small to 2X-Large. As for color, you'll find that the hoodies are indeed colorful.
Get high-standard hoodies from Colorful Standard!
Based: Copenhagen, Denmark. Ships internationally.
11. Kotn
Do you love minimalist but stylish clothing? Kotn is what you've been looking for. The brand's 'less is more' philosophy is present in its unisex organic hoodies. Its fine knit hoodie is made from 50% Better Cotton Initiative (BCI) cotton and 50% recycled cotton. Its essential hoodie is all BCI cotton. Both styles have kangaroo pockets and drawstrings designed to sit below your hips.
The essential hoodie is heavily brushed on the inside, while the fine knit hoodie has ribbed hem and cuffs. Each style has its own set of colors, made from Oeko-Tex-certified dyes. The sizes range from 2X small to X large, depending on the style.
Kotn practices what it preaches. It's a Certified B Corp with over 2,300 farms in Portugal and Egypt. The company is transparent about the entire process, from the seed to the final cut of the cloth. Heartwarmingly, Kotn has even built 15 schools for their farmers' children.
If you want your body and heart warm, choose Kotn!
Based: Toronto, Canada. Ships internationally.
12. Harvest & Mill Organic Cotton Hoodie
Nothing says local like Harvest & Mill! This brand uses locally grown organic cotton that's also locally designed and manufactured. Makes it easy to be green and ethical while also being transparent. The entire process is carbon neutral and conserves energy and water. Packing and
shipping materials can be recycled or composted. So far, Harvest & Mill is doing a lot right.
Harvest & Mill Organic Cotton Hoodie is an incredibly soft, plush, and comfortable pullover. There are so many certifications that you might not remember which ones are specific to dyes and chemicals. Luckily, Harvest & Mill clothes are either undyed and unbleached or naturally dyed. The hoodies have a relaxed fit with pockets and cuffed sleeves and hem.
If you love comfort in your sustainable clothes, you'll love Harvest & Mill.
Based: California, United States. Ships internationally.
13. Outerknown
Outerknown is all about ease, from the styles to transparency. It's incredibly versatile, with a catalog of essential wear, outerwear, loungewear, accessories, and more. Its organic cotton hoodies come in multiple styles, colors, and sizes. The hoodies are made from either heavy 100% cotton or from a blend with other natural fabrics. The fit is comfortable, relaxed, and designed for layering.
Outerknown sources it's Fair Trade material from two Certified B Corp suppliers. It has a program to recycle any outfit you want to throw away. It also uses Fair Labor Program for its workers. So, yeah, we'd say it's a pretty reliable, sustainable brand.
If you want heavier hoodies, Outerknown has you covered.
Based: California, United States. Ships internationally.
Honorable Mentions For Best Organic Cotton Hoodies
Known Supply Organic Cotton Sweatshirt: This certified B Corp makes unisex organic cotton sweatshirts with graphics and a wide size range.
Threads 4 Thought Hoodie: This charitable, eco-friendly lifestyle brand makes organic cotton hoodies with recycled polyester.
Organic Cotton Hoodie Buying Guide (What To Look For)
Finding sustainable clothing isn't a walk in the park. You need to do your due diligence. Here's a guide to help you in that process:
Fabrics

: The organic cotton hoodies should be made from organic cotton. To ensure that the cloth is made from organic cotton, be on the look for certificates like Global Organic Textile Standard (GOTS), USDA Organic,

bluesign

,

Organic Trade Association

, OEKO-TEX, and more. Sometimes the item of clothing would be 100% organic cotton but don't be surprised when you find other organic materials like hemp, lyocell, wool, and more. It's best to avoid fabrics that contain polyester or nylon as they're not biodegradable, but if you end up with clothing that's made partly from plastic, choose recycled plastic.

Supply chain

: Sustainable clothing doesn't start and end with the fabric. It's important to ensure that the supply chain isn't riddled with the exploitation of workers. Ethical brands will be transparent about providing workers are appropriately compensated, given safe work environments, and are coercion- and child-labor-free. You can also look for certifications like Certified B Corp, Fair Trade,

Fair Labor Association

,

Fair Wear Foundation

, and more.

Eco-friendly practices

: Besides sourcing suitable materials and empowering their workers, it's also essential to see if brands do more for the environment. For example, by using recycled materials for packing or carbon offsetting. Brands that do this deserve all the support they get.

Charity

: The environment is essential, but so is the community. Many brands contribute through funds, training, raising awareness, and more. By buying their products, you're making the world a better place.
Frequently Asked Questions (FAQ)
What Brands Are Good for Hoodies?
The brands that are good for hoodies are eco-friendly ones that use natural fibers like organic cotton.
Why Are They Called Hoodies?
They're called hoodies because they're sweatshirts with hoods attached.
How Can You Tell if a Hoodie Is High Quality?
High-quality hoodies have a higher proportion of cotton. The higher the percentage, the better the quality.
Is Wearing a Hoodie Fashionable?
Yes, hoodies wearing a hoodie is fashionable because hoodies are stylish, warm, and can be worn by anyone.
Organic cotton hoodies are the creme de la creme of hoodies. Not only are you contributing positively to the environment by using a natural fiber grown and produced without synthetic chemicals, but you're also getting a stylish, comfortable, and durable hoodie in the process.
Want more organic cotton clothing? Check out the best organic cotton pajamas.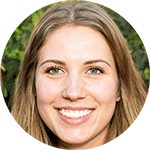 Jamie - Cofounder
Hi, I hope you enjoyed reading this article.
If you are looking for more ways to live an eco-conscious lifestyles, then check out our complete guide here.
Thanks for stopping by - Jamie