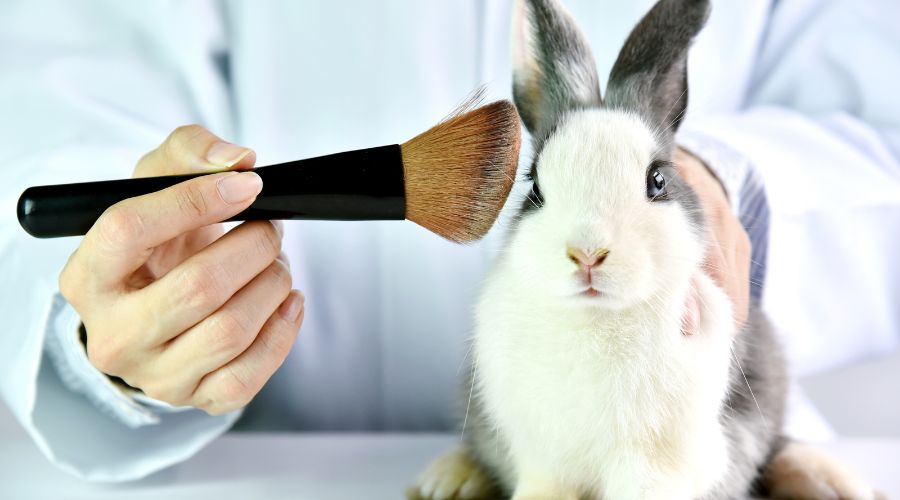 Have you stopped and thought about the process used to ensure that you have the best makeup? Do you think about makeup animal testing and its effects? Maybe not. That's ok. It's not too late to get on board and stop this cruel practice.
Based on an outdated theory about animals reacting like humans to harmful chemicals, animal testing became standard practice in the cosmetics industry.
Why should you care about this? Animal experiments are cruel, even in so-called mild procedures. Just because we love makeup doesn't mean we should ignore that they're made at a high cost.
In this article, we get into greater detail about what goes on in cosmetics labs and what we can do to stop animal testing.
What is Animal Testing in Makeup and Cosmetics?
Animal testing, according to Cruelty-Free International, is:
Any scientific experiment or test in which a live animal is forced to undergo something likely to cause pain, suffering, distress, or lasting harm.
Before a product reaches human hands, it must first be tested and shown not to have harmful effects on humans. For corporations, the best way to test the products is to use them on animals.
Makeup animal testing makes up a large percentage of animal experiments, with over 115 million animals worldwide being used.
Most of your favorite cosmetic products, such as perfumes, hair products, makeup, and nail polish, are first tested on animals before you get to buy them. Other cosmetic products also considered drugs, such as toothpaste, antiperspirant deodorant, and anti-dandruff shampoo, are also tested on animals.
What Animals are Used for Makeup Tests?
Makeup testing on animals is usually carried out on small, docile, and social animals, typically considered pets. This is why rabbits, mice, guinea pigs, and (rarely) dogs are often used as test subjects. Rabbits are the most commonly used animals for makeup tests. In fact, in the 2021 short film Save Ralph highlighting the cruelties of animal testing, the title character is a rabbit who is a test subject.
Another common animal used for cosmetics testing is the guinea pig. The pigs are shaved, then cosmetics ingredients are rubbed on their skin to analyze what happens.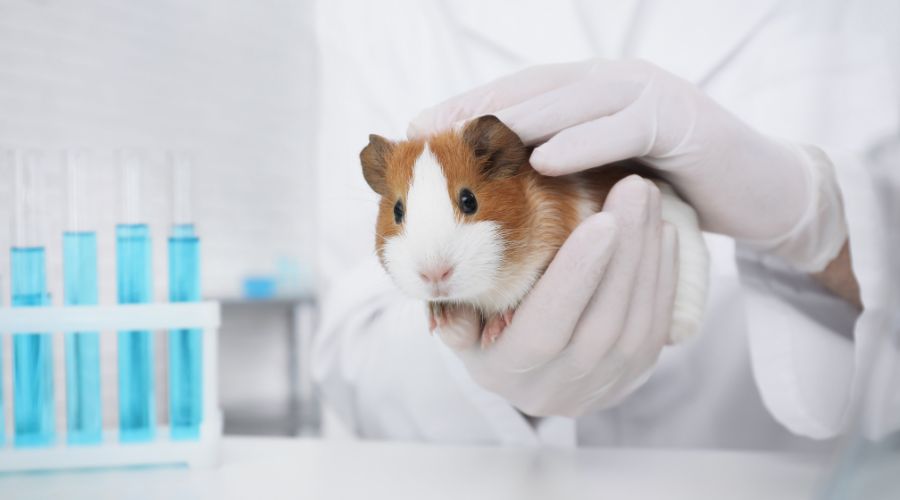 Guinea Pigs are commonly used for testing purposes
Rats are commonly used to test how quickly the skin absorbs chemicals. Scientists put cosmetic ingredients on the ears of mice to evaluate allergic reactions to the ingredients.
When dogs are used for cosmetic testing, scientists force them to consume or inhale cosmetic ingredients. Like guinea pigs, the dogs are shaved and rubbed with chemicals to see if there will be a reaction.
So, what happens to these poor animals when the tests are completed? Sadly, the labs usually euthanize the animals if the animals survive the experiments.
How Do They Test Makeup on Animals?
There are several types of invasive and controversial tests carried out during animal testing in cosmetics:
Skin and eye irritation tests – chemicals are rubbed on exposed skin or dripped onto the eye, with the other eye acting as the control. The animal is then restrained so it cannot respond naturally to the irritation.
Acute toxicity tests – doses of chemicals are given to mice and rats through repeated forced feeding. These tests determine the dangers of consuming chemicals through inhalation, skin, or mouth. The timeline of these tests can stretch from weeks to months as researchers look for signs of illness.
Lethal dose tests – are by far the most controversial of these tests. In the lethal dose test, the animals are forced to consume large doses of chemical substances to see at which dosage death occurs.
Pain relief isn't usually provided to the animals. This is a heartbreaking reality for millions of animals.
Is Cosmetic Testing on Animals Bad?
Makeup animal testing might be commonplace, but it's not a humane practice. To begin with, the animals suffer both physically and mentally in these experiments. They're left with injuries and a great deal of pain.
Unlike you and me, animals cannot consent to these experiments. They didn't choose to be put in a lab. Just because they can't fight for themselves doesn't mean they should endure experiments for our sake.
What's worse is that these experiments are unreliable. Think about it, a mouse is a tiny rodent. How could chemicals put on a mouse have the same reactions as chemicals put on humans? There are too many differences between animals and humans for these tests to be practical.
Furthermore, animal testing isn't a necessity. Companies can quickly create products using thousands of ingredients with a proven history of safety.
So, instead of punishing animals and wasting money conducting animal experiments, why not use more effective alternative methods?
Is Animal Testing Illegal?
Unfortunately, makeup animal testing is legal in most countries worldwide. In the United States, the Federal Food, Drug, and Cosmetic Act doesn't require animal tests to show that a cosmetic is safe. Yet, some companies still use animal testing in their labs.
The good news is that things are changing thanks to the tireless work of activists. Some countries are beginning to fully or partially ban animal tests in the cosmetics industry.
So, where is animal testing banned? To start with, the EU banned cosmetic animal testing in 2013. New Zealand, Mexico, Israel, Switzerland, Turkey, Iceland, and more countries have passed laws banning cosmetic animal testing and the sale of products made with animal testing. Several states like California, Maine, and Illinois have passed similar laws in the United States. China used to require animal testing for cosmetic products. Still, the country changed its regulations in recent years to allow for cosmetics that don't use animal testing in some cases.
Cosmetic and Makeup Brands That Test On Animals
Unfortunately, many brands—including the big names—test their products on animals. Some of these brands include:
NARS
L'oreal
MAC
Benefit
Lancôme
Clinique
Estée Lauder
Rimmel London
Make Up For Ever
Max Factor
Chanel
Bobbi Brown
Giorgio Armani
Bourjois
Maybelline
Yves Saint Laurent
Tom Ford
Burberry
Dior
Avon
La Mer
Dolce & Gabbana
Shu Uemura
Shiseido
Cosmetic and Makeup Brands That Don't Test On Animals
While many brands are testing products on animals, we also have a long list of brands that don't. These include:
Anastasia Beverly Hills
Pacifica Beauty
Fenty Beauty
bareMinerals
UOMA
Hourglass
Too Faced Cosmetics
elf Cosmetics
Tower 28
Urban Decay
Seraphine Botanicals
Belle en Argent
It Cosmetics
Tarte Cosmetics
RealHer
Wander Beauty
Smashbox
Space Case Cosmetics
PÜR Cosmetics
CoverGirl
Milk Makeup
Check out this complete list of cruelty-free brands whose products you can rely on.
What Can You Do to Avoid Companies That Test on Animals?
So what can you do to stop makeup animal testing? For starters, you can call upon your representatives to support legislation banning animal testing, such as the Humane Cosmetics Act.
You can also use your power of purchase to influence corporations by only buying from cruelty-free companies. When purchasing cosmetic products, look for cruelty-free certifications from Cruelty-Free International, Leaping Bunny, and Beauty Without Bunnies. These organizations have online databases and mobile apps that you can use to scan the barcodes of products to see if they were made with animal cruelty.
That's not all. You can contact companies to ask if they participate in animal testing. Urge them to consider becoming cruelty-free to keep you as a customer.
Animal protection groups such as the National Anti-Vivisection Society have an advocacy center that can connect you to your legislators and help educate you about alternatives to animal testing.
Makeup animal testing is inhumane and unnecessary. Millions of animals suffer every year even though there're better methods of testing. The types of tests done on the animals are invasive, cruel, and painful. Despite growing awareness, some companies still use animal testing in their products.
Related article: Animal Testing Facts & Statistics
Thankfully, progress is being made. Numerous countries and corporations have stopped animal testing altogether, and more are partially banning it. You can join the fight against animal testing by buying from cruelty-free companies.
Want to do more to make life easier for animals and the environment? Buy all-natural makeup from these 15 organic and toxic-free makeup brands.
You Might Also Like:


  Stella - Writer
Stella is a writer and mother from Thika, Kenya.
Her love for nature and the beautiful Kenyan outdoors has inspired Stella to consciously make an effort to lead a more sustainable, eco-friendly lifestyle.