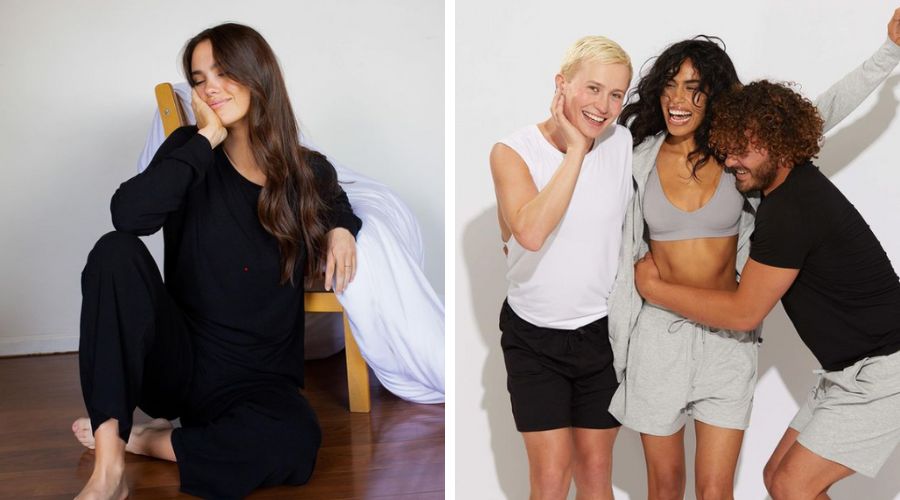 Cotton, wool, and polyester are the most common fabrics used today. However, the process used to produce clothes made from these materials is quite harmful to the environment. A lot of water and toxic chemicals are needed just to grow cotton. Not to mention, the fabrics aren't exactly the softest material out there.
So what if there was a better option that's gentle on the environment and your skin?
Bamboo clothing is a popular alternative. They are more eco-friendly and serve the same purpose as all the other clothes but better. Once you try bamboo clothes on, you'll struggle to return to your cotton t-shirts.
There are many bamboo brands available. Here are some of the best you can consider.
Best Bamboo Clothing Brands
Here are 12 best bamboo brands for sustainable and ethically produced bamboo clothes. These companies are committed to being eco-friendly and treating their workers well.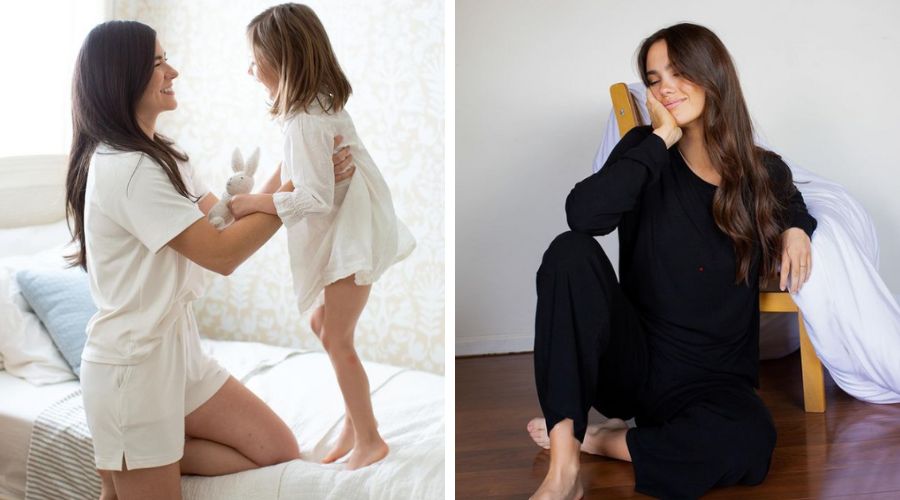 Cozy Earth is a store specializing in high-quality bamboo clothing such as bamboo pajamas, hoodies, kimono robes, pullovers, socks, and joggers. The bamboo is grown on USDA organic certified farms.
Cozy Earth products are OEKO-TEX 100 Certified, meaning they are free of harmful chemicals. All the clothes are made under fair labor and trade practices. The bamboo is cut, washed, and milled into a soft fluffy material. This bamboo viscose is then spun into yarn for weaving.
Cozy Earth produces some of the softest material that regulates temperature. If you suffer from hot flashes, this is the company for you. The bamboo apparel is designed to last long and is machine washable. While the prices of the clothes are a bit high, you will get a luxurious experience from them.
Based in: Utah, USA. Ships internationally.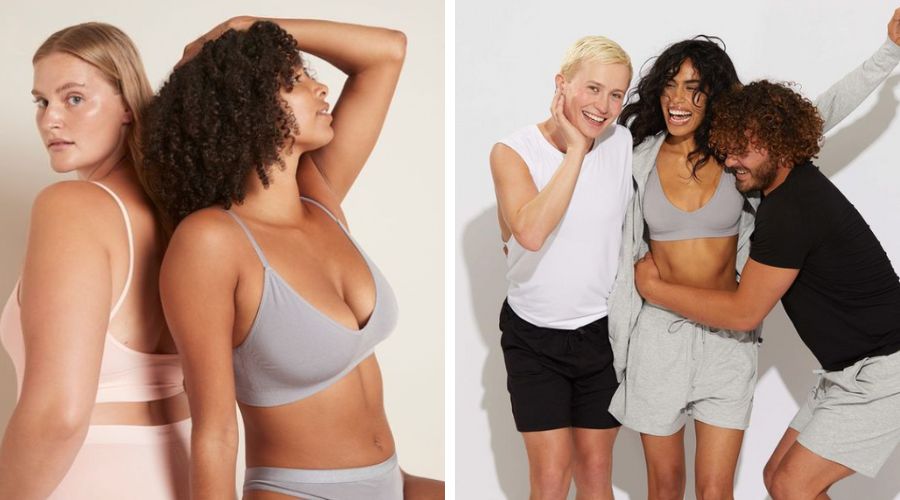 Boody is an Australian clothing brand that sells shirts, shorts, pants, tops, and nightdresses. It also makes bamboo underwear for men and activewear for all genders.
The brand uses bamboo that's grown organically and without artificial irrigation. It produces bamboo viscose in a closed-loop system that recycles and reuses chemical solutions.
Boody is a member of the 1% for the Planet Organisation. Members of the organization donate at least 1% of their annual sales to protect and preserve the environment. Boody is also a Certified B Corp business. Meaning this brand meets the high standards of verified performance, accountability, and transparency on all factors, from supply chain practices to charity.
Boody's bamboo viscose is silky soft. The fabric thermoregulates, meaning it will keep you warm on winter days and cool during the summer. If sweat is a problem, the clothing wicks away moisture. As if that wasn't enough, Boody bamboo clothing provides UPF50+ sun protection.
Based in: New South Wales, Australia. Ships internationally.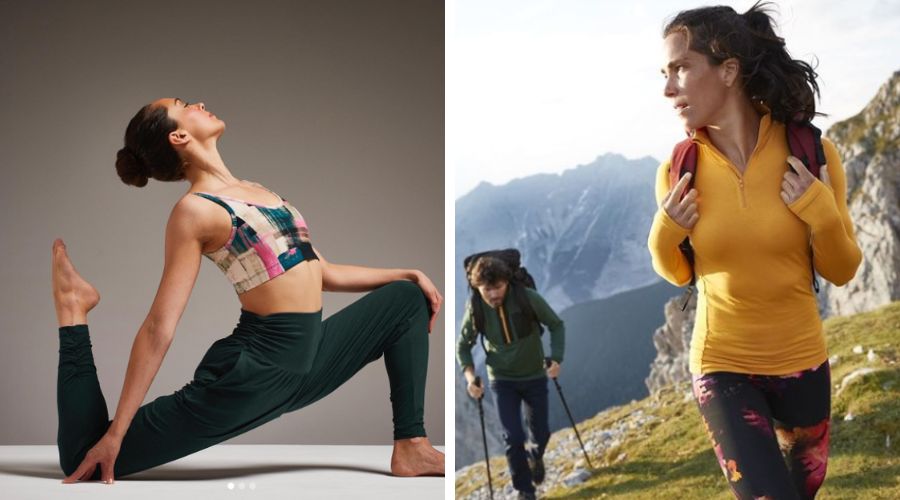 BAM specializes in sportswear, gym clothes, yoga clothes, and performance garments. The products are made from bamboo viscose, bamboo blends, and bamboo lyocell fabrics. Bamboo lyocell is made from pure, organic bamboo pulp.
BAM uses environmentally-friendly processes and sustainable raw materials to make its bamboo fabric clothing. The bamboo fabric is soft, thermoregulates, and kind to the skin.
The brand has even won awards in sustainable fashion. BAM takes its responsibilities to the environment seriously. Since launching the company, BAM has saved 1.9 m2 of land farmed without pesticides and 245 million days of drinking water.
Based in: the UK. Ships internationally.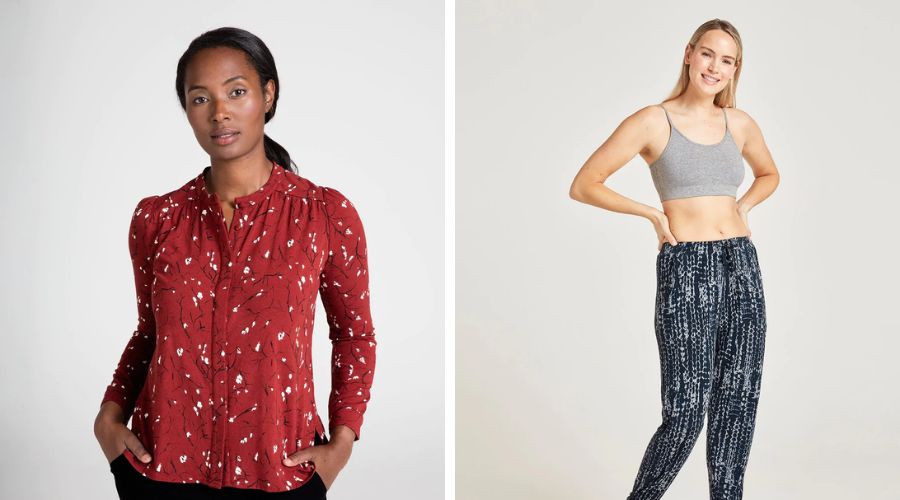 Thought Clothing is a clothing brand that focuses mainly on bamboo women's clothing and has a few pieces for men. It's one of the oldest eco-friendly brands out there. The company makes vegan-friendly, easy-to-wear, organic clothes for every lifestyle. Thought Clothing puts care into the design of its clothing items while ensuring that the environment is not harmed.
They sell dresses, pants, shorts, and various other apparel. The fabrics are made using bamboo viscose, Tencel, recycled fibers, modal, hemp, and organic cotton blends. Tencel is a fabric made of cellulose from wood found in eucalyptus trees. In addition, 98% of the packaging is recycled.
Based in: London, UK. Ships internationally.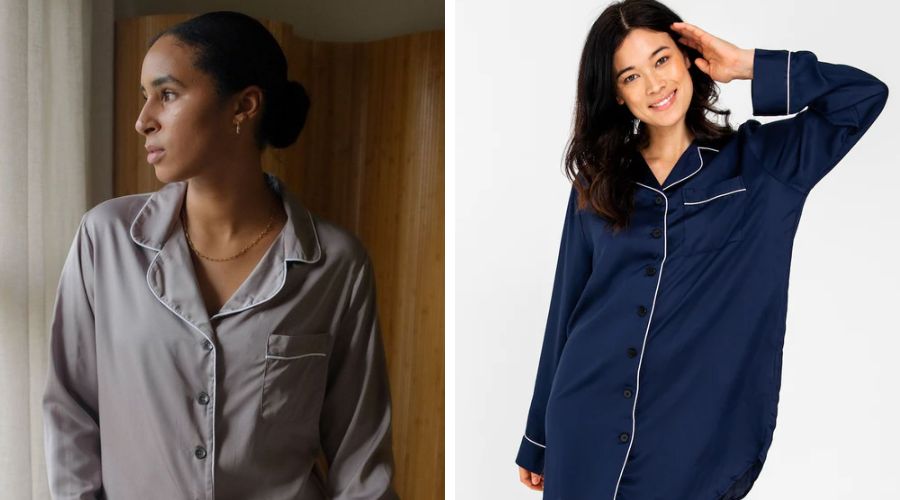 Ettitude manufactures soft, hypoallergenic, and water-saving pajamas for women. The clothes are made of up bamboo lyocell fabric. Ettitude has its brand of bamboo lyocell called CleanBamboo. It is made from 100% organic raw materials. The fabric is silky smooth and moisture-wicking. Ettitude has recycled plastic bottles, reduced its carbon footprint, and saved 277 million gallons of water.
Women's pajamas come in multiple sizes and are designed to be very comfortable. There are different styles of pajamas, including short sleeves, long sleeves, pajama shorts, and pajama pants. They come in white, blue, grey, stripes, dark grey, and pink.
Based in: California, USA. Ships internationally.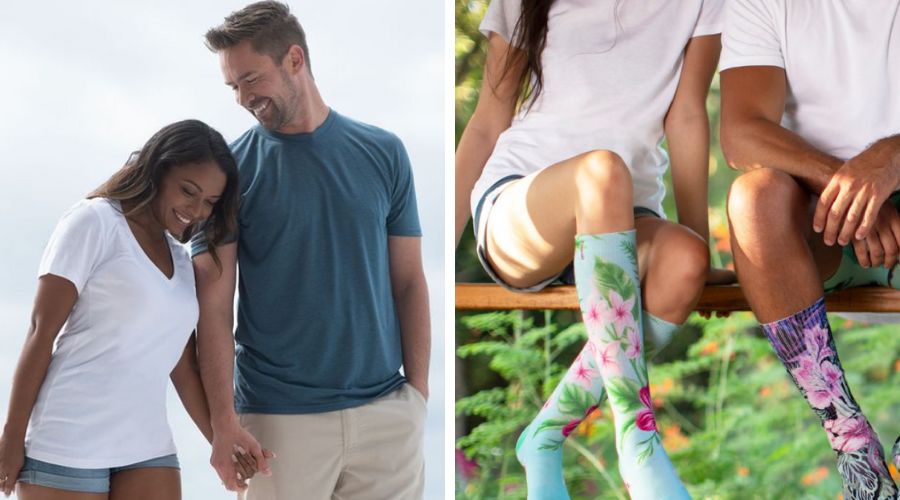 Cariloha sells apparel and activewear for both women and men. Garments include socks, underwear, sleepwear, shirts, and even facemasks. The color range of the clothes is pretty comprehensive, from white to orange to green and more.
Cariloha uses bamboo viscose and a closed-loop system, making the company GOTS-approved (Global Organic Textile Standard). The products are both affordable and high quality. Not only that, the products come with a lifetime warranty. When was the last time you heard that about a clothing company?
Cariloha is not only an eco-friendly brand; it also participates in the green movement by donating to organizations and charities to help communities.
Based in: Utah, USA. Ships to the USA, Canada, and Australia.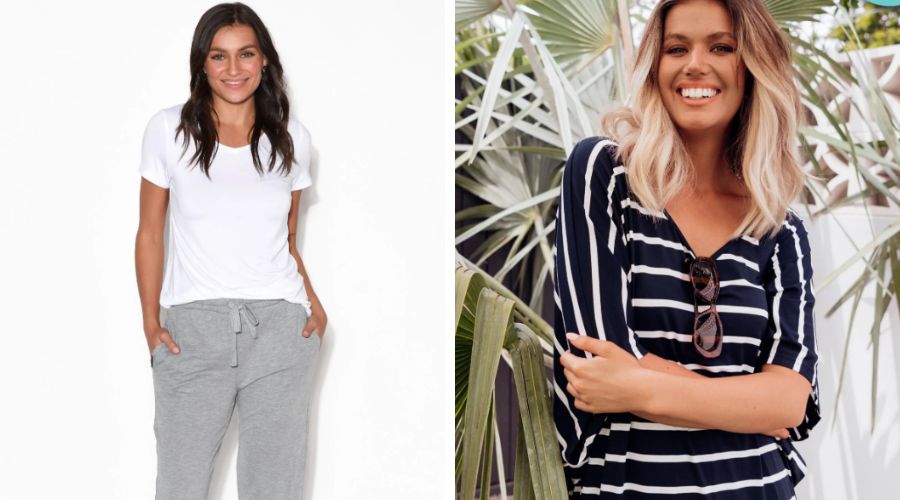 Founded in 2012, Blue Bungalow is a clothing retailer specializing in bamboo women's clothing. You can find dresses, tops, shorts, shapewear, shirts, and underwear in 11 colors.
The company aims to provide customers with stylish clothing that makes them feel confident. It holds bamboo clothing collections such as the Lou Lou Bamboo collection. You have choices of what to buy from different collections.
Based in: Queensland, Australia. Ships internationally.
Free Fly is a family-owned business that sells bamboo clothing for men, women, and kids. If you're looking for sustainable Clothing for kids, look no further. Free Fly has two categories for children: toddlers and youth. Parents can buy bamboo hats, graphic tees, dresses, tops, and bottoms for their little ones. The bamboo fabric is ultrafine and, therefore, very soft. It is also odor-resistant.
Freefly makes bamboo products in a closed-loop system that minimizes the damage to the environment. The bamboo is grown on FSC-certified regenerative farmland in northern China. No pesticides or fertilizers were used on the plants.
Based in: South Carolina, USA. Ships internationally.
Tasc Performance sells a wide variety of high-quality clothes for men and women. Sleepwear, activewear, and daily wear bamboo clothing can be found in their shop. Tasc has a patent-pending process called Bamco that creates soft, versatile, and durable bamboo fabric without chemicals. 90% of the energy used to produce their clothes comes from solar power. During the drying process, 99% of the water is reused.
The men's options include polos, tanks, and jackets with vests. Women can buy sports bras, leggings, and dresses. The clothes are both stylish, sleek, and comfortable to wear.
Based in: Louisiana, USA. Ships internationally.
ONNO is a bamboo clothing brand that makes high-quality short and long sleeve bamboo t-shirts for men and women. They use their own trademarked fabric called ONNOcell. The material comprises 70% organic bamboo and 30% organic cotton.
ONNO makes its T-shirts in small family-owned environments. The company has a GOTS certification for limiting the damage caused by toxic chemicals like bleaches and dyes. In addition, ONNO buys carbon offsets by funding projects that lower greenhouse emissions.
Based in: Colorado, USA. Ships internationally.
Spun Bamboo has an extensive clothing collection, from dresses to shorts for both genders. The fabric is made up of bamboo viscose and bamboo blends made from organic raw materials.
The brand's bamboo viscose is treated with sodium hydroxide and calcium disulfide. Don't fret too much about that, as the company says the chemicals are recycled and reused. Besides that, the fabric itself is biodegradable. The fun thing about Spun Bamboo is that you can customize the bamboo T-shirts to your liking.
Based in: Los Angeles, USA. Ships internationally.
Hara's main product is women's undergarments. The company is size inclusive and aims to make Clothing that helps everyone feel comfortable.
Hara uses bamboo lyocell and spandex blends to make its garments. The bamboo lyocell is produced using a non-toxic solvent in a closed-loop system. The raw material used is OEKO-TEX STANDARD 100 approved.
The brand uses natural plant dyes to color the fabric, so your skin does not get irritated. The company uses ethical production methods to make bamboo clothing for women.
Based in: Victoria, Australia. Ships internationally.
More Bamboo Apparel & Clothing Brands
13. Shift to Nature – This brand produces sustainable bamboo tops, pants, and leggings.
14. Boho Bird – Features bamboo clothes in a bohemian style with unique textures and free-flowing shapes.
What Is Bamboo Clothing & Fabric?
Bamboo has historically been used to make paper. Recently, the bamboo pulp has been turned into a usable fiber and woven into fabric. Bamboo fabrics can be made using different methods. The most common bamboo cloth is bamboo viscose. The production of viscose is quite long and requires a lot of refinement.
A simple but expensive method requires extracting bamboo cellulose from the leaves and inner pith. The fibers are then soaked in a natural enzyme before being washed by hand and spun yarn. This is how you get ultra-silky soft fabric used to make clothes and bedding.
Bamboo clothes have many benefits. They are antibacterial, soft, protect against UV radiation, hypoallergenic, breathable, and eco-friendly.
If you're looking for more eco-friendly Clothing, check out our recommendations for the best natural and organic clothing brands.
You Might Also Like: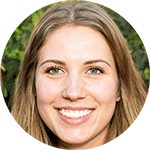 Jamie - Cofounder
Hi, I hope you enjoyed reading this article.
If you are looking for more ways to live an eco-conscious lifestyles, then check out our complete guide here.
Thanks for stopping by - Jamie