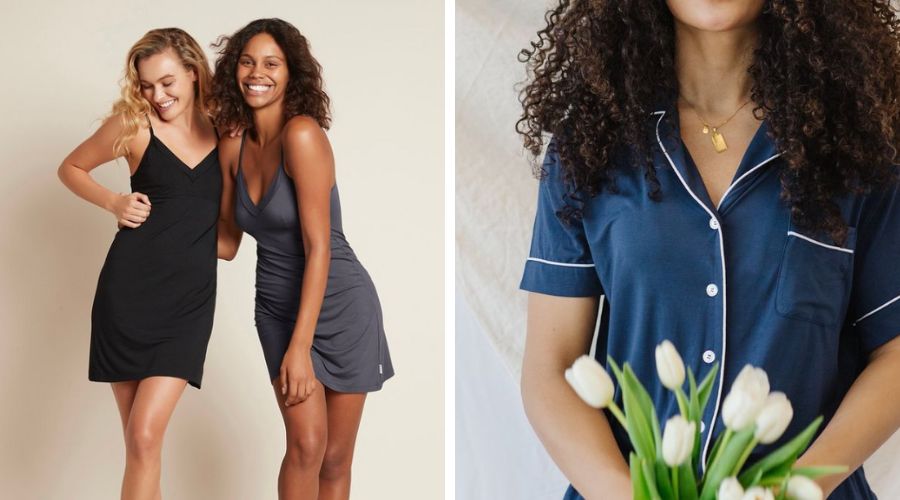 Did you know that, on average, we spend one-third of our lives sleeping? Yep, that's a long time to spend in the wrong outfit. Sleepwear isn't always comfortable. Most materials are often rough to touch and can get tangled up. You might even wake up multiple times because you're too hot. Even worse are the night sweats, an embarrassing side effect of wearing pajamas during warm nights.
Bamboo pajamas can solve all these problems while being affordable. The fabric is sustainable and made without synthetic chemicals that harm the environment. By buying bamboo pajamas, you are helping conserve the environment and ensuring that you get a good night's sleep.
Since you're in the hunt for bamboo made products be sure to read our recommendations for bamboo shirts and bamboo lingerie.
10 Best Bamboo Pajamas For Women
Let's take a look at some of the top brands featuring the best bamboo pajamas for women: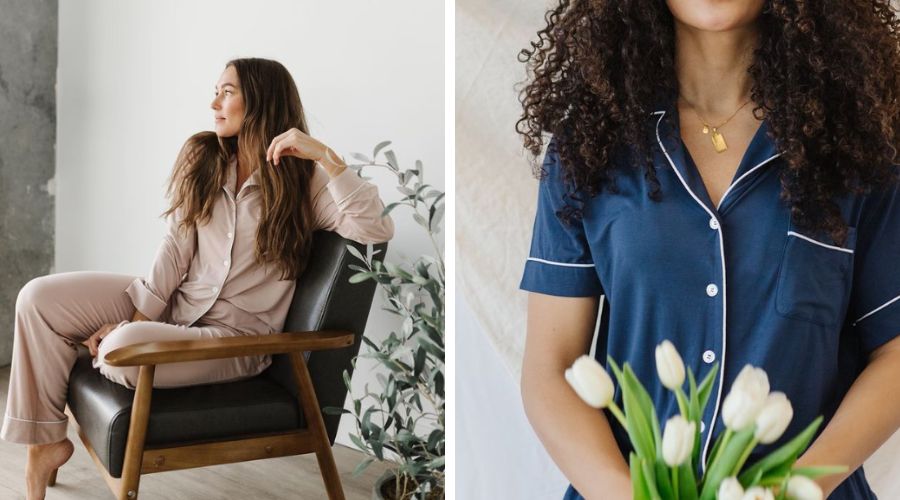 Cozy Earth is a Utah-based store specializing in high-quality bamboo apparel. Its products are OEKO-TEX 100 Certified, meaning they are free of harmful chemicals. The company makes all its products under fair trade and labor practices. The bamboo pajamas are made from 95% bamboo viscose and 5% spandex.
Cozy Earth's bamboo PJs come in two types: long-sleeve pajamas and short sleeve pajamas. They come in five different colors, and the sizes range from extra small to triple extra-large.
The material is luxuriously soft, breathable, and moisture-wicking. You don't have to worry about hot flashes anymore as the material feels incredible on your skin. The fabric is stretch-knit and made to look flattering on your body. The brand's pajamas are designed to prevent pilling that results from regular wear and tear. As a bonus, you get pockets! You read that right, pockets in your pajamas.
Based in: Utah, USA. Ships internationally.
Boody is an Australian clothing brand that believes in giving back through its membership in the 1% for the Planet organization. The company uses organically grown bamboo and a closed-loop system to process the bamboo into fabric. A closed-loop system reuses and recycles chemical solutions to protect the environment.
The brand's bamboo pajamas for women come in pants, camis, tops, tees, shorts, nightdresses, and slip-dresses. The pajamas come in extra small, small, medium, large, and extra-large. There are 4 different color options.
You get an inch-wide drawstring for the pants and shorts to adjust for your desired fit. The tees and tops have curved necklines. The slip and nightdresses are easy to slip on as they are relaxed and lack zippers, buttons, or ties.
Boody's bamboo sleepwear comprises 95% bamboo viscose and 5% spandex. The fabric is silky smooth, seamless, great for sensitive skin, and maintains shape. It has a cooling effect for those hot, uncomfortable nights. Whether you prefer to sleep wearing nightgowns or shorts, Boody has something for you.
Based in: New South Wales, Australia. Ships internationally.
Pretty You London is a Manchester-based clothing store that sells bamboo sleepwear. Its bamboo fabric comes from an FSC sustainable source. Pretty You London's material comprises 95% bamboo Viscose and 5% elastane.
The bamboo pajamas thermo-regulates meaning the bamboo traps warm air in the fibers and allows heat to escape. So, when it's hot, you feel cool, and when it's cold, you feel warm. It also wicks moisture by drawing moisture away from the skin, allowing it to evaporate. The fabric has hypoallergenic and antibacterial properties.
Pretty You London's bamboo nightwear collection includes short pajama sets, long pajama sets, nightshirts, robes, and chemises. They come in seven different colors and animal prints. The pajamas come in small, medium, and large as well as UK sizes between 8 and 20.
Based in: Manchester, UK. Ships internationally.
BAM is a UK-based bamboo clothing brand that specializes in activewear and loungewear. It has a collection of bamboo flannel pajama shorts and pants made from 55% organic cotton and 45% bamboo viscose.
The pajamas are made by blending brushed flannel checked fabric with bamboo viscose to make them even softer. You end up with comfortable, warm pairs of pants and shorts. The pants are elasticated at the waist and ankle. They come with pockets too, which is always exciting.
The shorts have elasticated waistbands and are cut loose in the leg. Both types of pajama bottoms come in UK sizes 8 through to 16. You can choose two different colors when you buy.
BAM has won awards in sustainable fashion. It uses eco-friendly processes and sustainable raw materials in its production.
Based in: the UK. Ships internationally
Ettitude makes organic bamboo pajamas for women. The company's clothes are made from 100% bamboo lyocell. Their branded fabric, CleanBamboo™, is silky-soft, cooling, and sustainable. The material is woven to be breathable. It is free from harmful chemicals and, therefore, hypoallergic.
Ettitude's bamboo sleepwear collection includes pants, shorts, camis, shirts, shorties, robes, and sleep shirts. The available sizes are small, medium, and large. You also have 6 color options, including the choice to buy stripped or single-color PJs. The clothes are designed to be so comfortable, it's as if you're wearing nothing.
Ettitude's bamboo is sustainable and eco-friendly, but the store doesn't stop there. It has recycled plastic bottles, reduced its carbon footprint, and saved 277 million gallons of water.
Based in: California, USA. Ships internationally.
Joyaria's women's bamboo pajamas are perfect for sleeping in and lounging. The company has two pajama sets. The first is a two-piece set that features a top with a classic collared design and a chest pocket. The bottom has a drawstring waist, roomy legs, and white piping details along the ankles. These bamboo PJs come in small to triple extra-large and in more than 20 colors and patterns.
The brand also has a short-sleeve, button-down bamboo pajama set in 28 colors, prints, and stripes. The button-down top has a man-style pocket and collar, while the shorts have elastic waists and drawstrings with cute piping details around the cuff.
The pajamas comprise 95% viscose from bamboo and 5% spandex. The fabric stretches just enough without losing its shape. You can machine wash these clothes but hang them to dry rather than using a dryer as viscose can shrink a bit in the dryer.
Based in: USA. Ships internationally.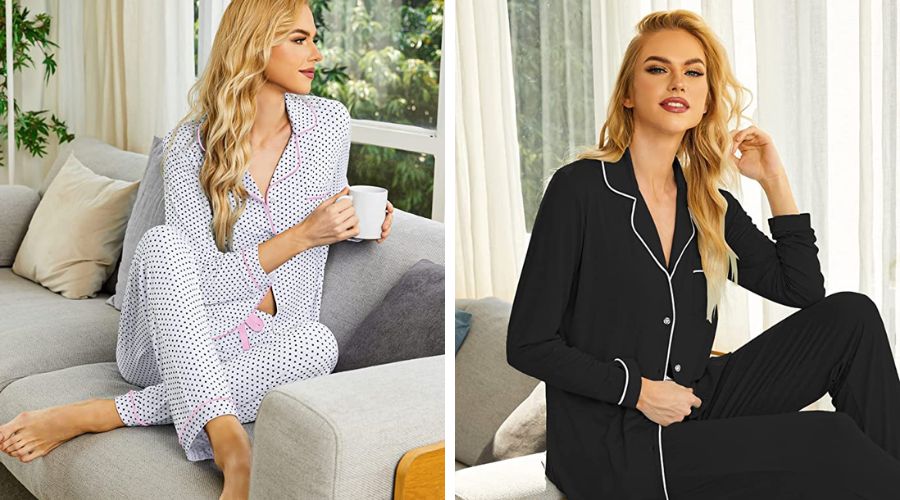 Ekouaer is a clothing brand with a collection of pajamas and nightgowns. The company has a long bamboo nightgown with a V neckline and cap sleeves. It comes in over a dozen colors and has a size range from small to double extra-large. You can get a similar nightgown with short sleeves instead of cap sleeves and a simpler neckline. The nightgowns are pretty, feminine, and have a nice flow.
The brand also features long-sleeved pajama sets with traditional collars, button-down tops, and drawstrings for the bottoms. The sizes range from extra small to double extra-large, and you get many colors to choose from.
Ekouaer's fabric comprises 95% eco-friendly bamboo viscose and 5% spandex. It has the signature softness you would expect from bamboo clothing. Thanks to the bamboo fabric's thermo-regulatory and moisture-wicking properties, you will be comfortable throughout the day.
Based in: California, USA. Ships internationally.
Cariloha is a GOTS-approved (Global Organic Textile Standard) company because it uses a closed-loop system with its chemicals. It makes high-quality and affordable bamboo clothes. The bamboo pajama sets come in long-sleeved pants, short-sleeved tops, and shorts. The brand uses fabric made up of 95% viscose from bamboo and 5% spandex.
The top has a front button closure and a notched collar for both sets, while the bottom has a drawstring waist. The sizes available for the long sleeve set are small, medium, large, and extra-large. The short sleeve set has more sizes available. There are four color choices for both sets.
Cariloha's bamboo pajamas are flattering with a low-cut neckline and flowy fit. All clothes come with a lifetime warranty which is incredible for a clothing brand.
Based in: Utah, USA. Ships to the USA, Canada, and Australia.
Little Sleepies makes pajamas for the whole family. The founder felt frustrated by the lack of affordable, good-quality pajamas for her newborn and made Little Sleepies. It now has a pajamas collection for women.
This brand uses an eco-friendly bamboo blend called Lunaluxe™ for its clothes. Lunaluxe™ is incredibly soft and extra gentle on sensitive or eczema-prone skin. The pajamas are seasonless. You can wear them in the summer and the winter. They're stretchy, easy to wear, and you don't have to worry about interior tags.
You can choose from 12 colors and different prints, including Star Wars prints. Little Sleepies is size-inclusive as the size of the pajamas goes up to triple extra-large.
Little Sleepies gives back to the community by donating a portion of every purchase to Alex's Lemonade Stand Foundation. This organization changes the lives of children living with cancer.
Based in: California, USA. Ships internationally.
GYS is a clothing store that makes sustainable bamboo nightgowns and pajamas sets. The material comprises 95% viscose from bamboo and 5% spandex. GYS features shorts and pants pajama sets. The short set comes with either a short sleeve or tank top. Some of the shorts and tops come with cute lace trimmings. The elastic waist comes with adjustable drawstrings.
For the pants set, you get long-sleeved tops and pants that have satin trimming at the neckline and the ankles. The bottoms are pretty roomy with side seam pockets. If you prefer nightgowns over pajamas, GYS has a tank-style nightgown with a long-curved shirttail hem, a long swoop neckline, and long armholes. All three types of bamboo sleepwear come in sizes ranging from small to quadruple extra-large.
The material is durable, easy to clean, and super cozy. It is so breathable you won't worry about night sweats again.
Based in: USA. Ships internationally.
More Women's Bamboo Pajamas & Nightgowns
11. Tasc – Features bamboo pajama shorts, shirts, and pants in two colors and five sizes.
12. Hara – Makes soft loungewear from innovative bamboo fiber
Benefits Of Bamboo Pajamas
Bamboo fibers are smoother than cotton, wool, and hemp fibers making. It's excellent on sensitive, allergy, and eczema-prone skin. Thanks to the smoothness of the fibers, the fabric doesn't get tangled up, allowing air to filter through. The breathability of the bamboo fabric makes it perfect for sleepwear.
That's not all that bamboo fabric does. It's also naturally absorbent and wicks away moisture faster than cotton. Moisture evaporates quickly on bamboo fabric. So, if you're prone to sweating and heating up at night, then bamboo pajamas are the solution you've been looking for.
Other than bamboo, there are different organic pajama options that you can consider. If you're interested, check out our best organic cotton pajamas list.
You Might Also Like: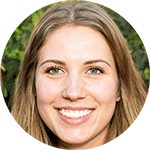 Jamie - Cofounder
Hi, I hope you enjoyed reading this article.
If you are looking for more ways to live an eco-conscious lifestyles, then check out our complete guide here.
Thanks for stopping by - Jamie