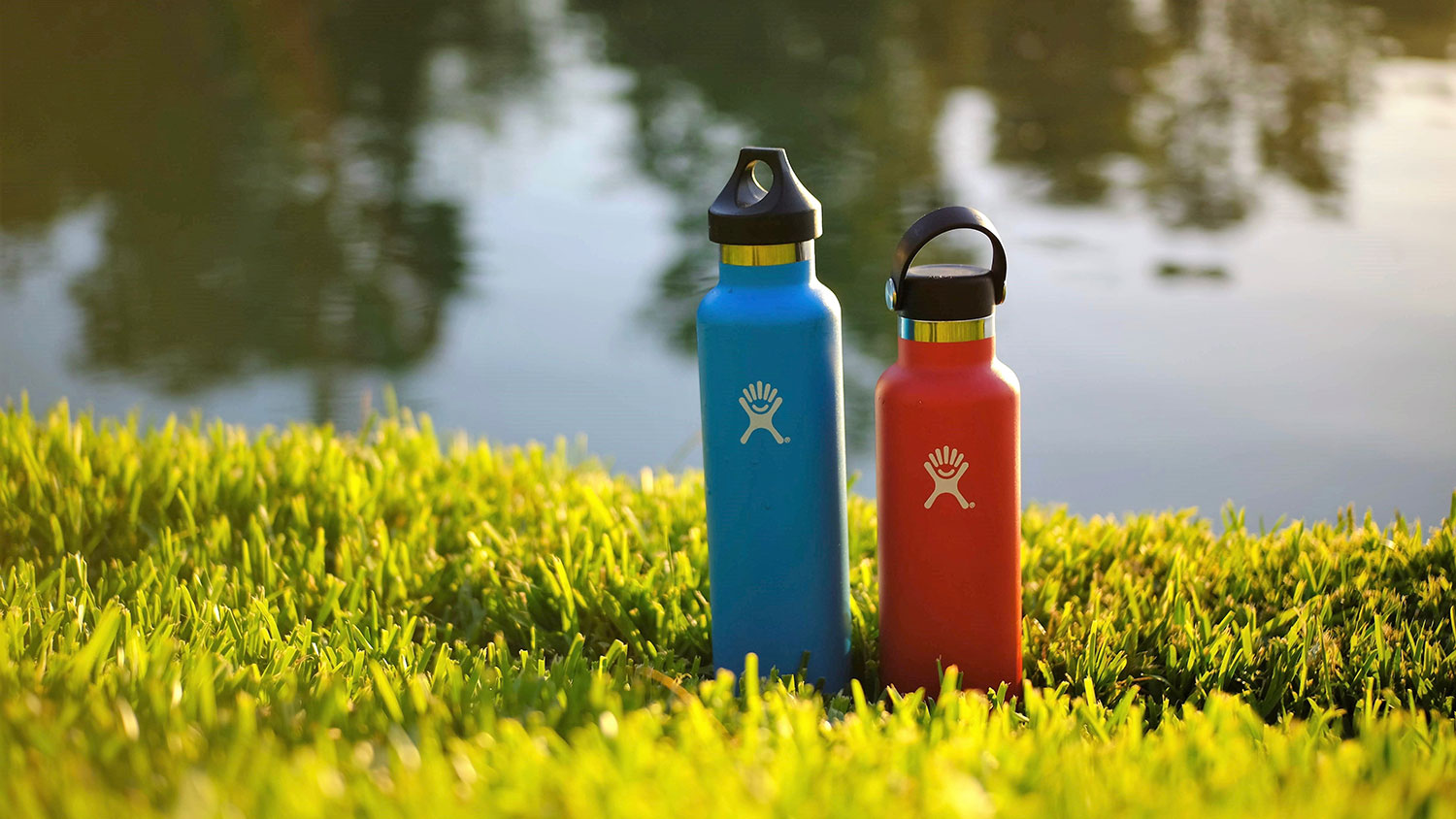 Our insatiable desire for bottled water results in a million plastic water bottles being bought around the world every minute and the number is expected to jump another 20% by 2021.
While most plastic bottles are made from polyethylene terephthalate (Pet), which is highly recyclable, we are using too many of them too fast to be able to collect and recycle them. The bottles thus end up in landfills or oceans and cause damage to animals and the environment.
The best way we can deal with this epidemic is by using reusable eco-friendly water bottles. Good reusable bottles can be used again and again making them sustainable and safe for the environment.
There are lots of options to choose from and many of them are very stylish and easy to carry around.
Here's our pick of the best eco-friendly water bottles to help you cut out plastic and save the environment.
Our Reviews of The 10 Best Eco-Friendly Water Bottles in 2022
1.Best Eco-Friendly Water Bottle Overall – Hydro Flask
CHECK ON AMAZON
There's a good reason why the Hydro Flask is hailed as the best among all eco-friendly water bottles. The Hydro Flask is an exceptional water bottle featuring non-toxic BPA-free plastics and 18/8 food-grade stainless steel. The bottle's TempShield insulation keeps drinks cold all day long. What makes the Hydro Flask stand out from the rest is the powder coating, which gives you a solid grip. The powder coating also prevents condensation from forming on the outside of the bottle.
2.Eco-Friendly Water Bottle Runner up – Yeti
CHECK ON AMAZON
Yeti is yet another market leader in creating products good for the environment. This stainless steel water bottle is durable and has exceptional performance. Whether you want to use it for your morning coffee or ice-cold water, it will keep your drink hot or cold as you love it for hours. You will love the bottle's rugged look, leak-proof and spill-proof top, and fun color options.
3.Eco-Friendly Glass Water Bottle – Purifyou
CHECK ON AMAZON
Purifyou glass bottle is among the best eco-friendly glass water bottles. It's made with high borosilicate BPA-free glass, making it heat-resistant and great for carrying hot drinks. The glass is extra thick, yet still lightweight hence easy to carry.
4.Best Reusable Water Bottle – Camelbak
CHECK ON AMAZON
When it comes to reusable eco-friendly water bottles, The Camelbak is the best option. This bottle is a rigid BPA-free bottle featuring a finger holder/clip loop for easy carrying. It has a magnetic screw cover that totally unscrews, and when you flip it off the top, you won't lose it.
5.Eco-Friendly Stainless Steel Water Bottle – Klean Kanteen
CHECK ON AMAZON
Klean Kanteen eco-friendly stainless steel water bottles are all made with eco-friendly materials. The bottles have a durable and high-quality food-grade stainless steel construction. The opening is also large enough to fit ice and is easy to fill and pour. The company is also dedicated to fighting climate change by supporting organizations involved in the cause.
6. Eco-Friendly Travel Water Bottle – Contigo
CHECK ON AMAZON
If you want a bottle that will keep your water cold all day long, then the Contigo Autoseal Chill water bottle is the right choice for you. The Contigo environmentally-friendly water bottles feature double-walled vacuum insulation guaranteed to keep your drinks cold up to 28 hours. The bottles have auto seal lids that automatically seal, preventing leaks and spills.
7. Kids Environmentally Friendly Water Bottle – Klean Kanteen Kids
CHECK ON AMAZON
Parents can finally end their search for the perfect environmentally friendly water bottles. The Klean Kanteen kids' water bottle is eco-friendly, durable and comes with a BPA-free, food-grade silicone sports cap. This bottle is also just the perfect size for lunch boxes. The bottle's powder coat finish not only looks nice, but it holds up no matter how many times your kid drops it.
8. Best Vacuum Insulated Water Bottle – S'we'll
CHECK ON AMAZON
You can't talk about eco-friendly water bottles without adding S'we'll on the list. The S'we'll 17-ounce bottle is loved for its fantastic design and performance. It's also leak-free and will keep water cold all day long. Most importantly, it's made from premium grade, BPA-free stainless steel
9. Best Eco-Friendly Sports Bottle – Takeya
CHECK ON AMAZON
With so many cool features, you will not regret buying one of the Takeya sustainable water bottles. A Takeya bottle has double-wall insulation and chill-lock technology that keeps your drinks in their original temperature for 24 hours. So your cold water stays extremely cold and your coffee stays hot.
10.Best Budget Eco-Friendly Water Bottle – Simple Modern
CHECK ON AMAZON
The Simple Modern Wave nontoxic water bottles are a great budget-friendly choice. The bottle will keep your drinks hot or cold all day long thanks to its double-wall and vacuum insulation. The bottle doesn't leak or sweat making it easy to haul around all day,
Consuming millions of plastic bottles a day is sustainable. It may seem like a small thing to do but that one eco-friendly water bottle that you buy will prevent you from buying thousands of plastic water bottles. This means that the world will be less a thousand plastic bottles which is a really good thing! So go on, get one of these eco-friendly water bottles and save the world from the plastics pandemic!