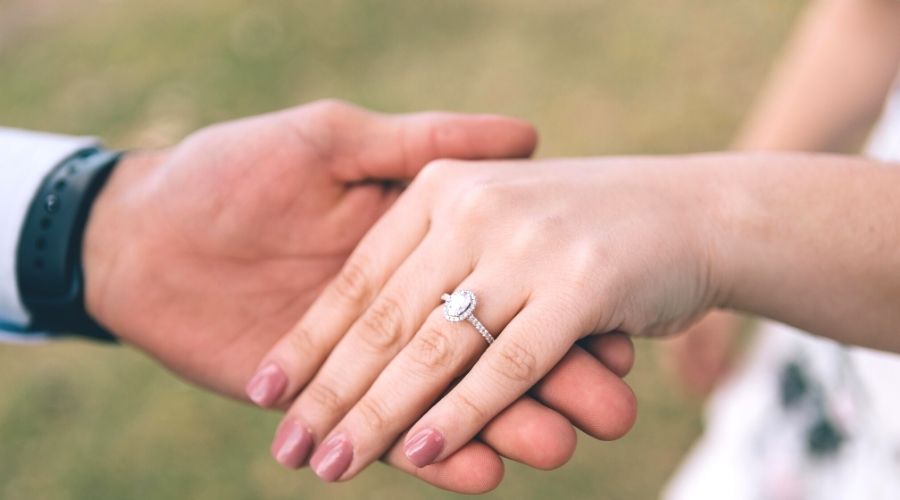 Are you ready to pop the question? Are you looking for the perfect ring that's not only gorgeous but also ethically made without causing harm to the planet or conflict among people?
It's true that the harvesting of diamonds has for a long time, fueled and continues to fuel conflict. Additionally, the mining of precious metals causes damage to the environment and the miners are often denied fair wages and adequate health and safety provisions.
As an eco-conscious individual, getting an ethical engagement ring is understandably a priority for you as you shop for the perfect ring.
Luckily, there is a wide range of stunning and affordable options. A good number of jewelry brands are now selling conflict-free engagement rings made using recycled or fair trade gold, as well as vintage and conflict-free diamonds and jewels.
Let's get straight to 10 of the best brands that sell some of the best eco-friendly engagement rings.
Our Reviews of the Best Sustainable & Ethical Engagement Rings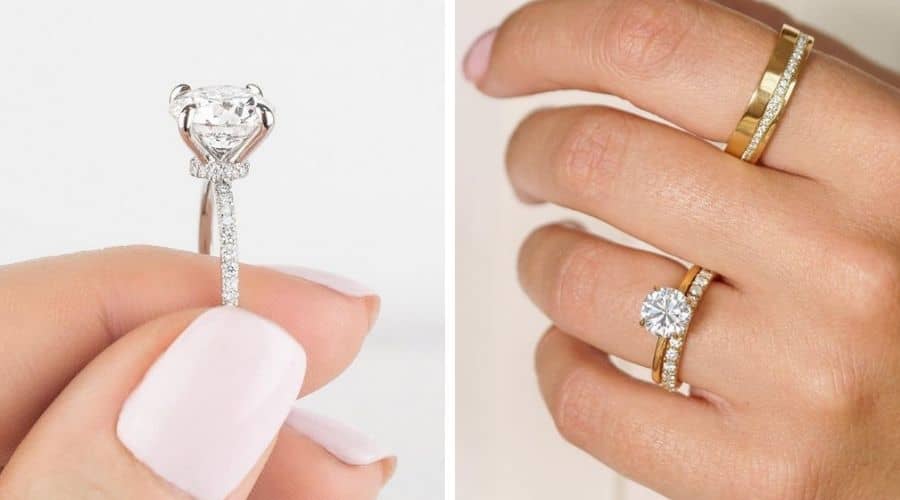 Brilliant Earth produces refined and eco-friendly jewelry items. The brand adheres to strict ethical practices and ensures that all of its materials come from mines that follow strict labor, trade, and environmental standards. The brand will only accept diamonds from areas that possess a fair trade diamond certification.
The company also recycles all of its gold and platinum in order to further reduce the need for mining them.
When it comes to their engagement rings, you get to choose the setting, diamond and cut of the ring you want. With this kind of personalization, your fiancé will be wearing their ring for a lifetime.
The brand has showrooms in various cities in the U.S. Brilliant Earth is proud to offer its entire collection of engagement rings to customers all over the world.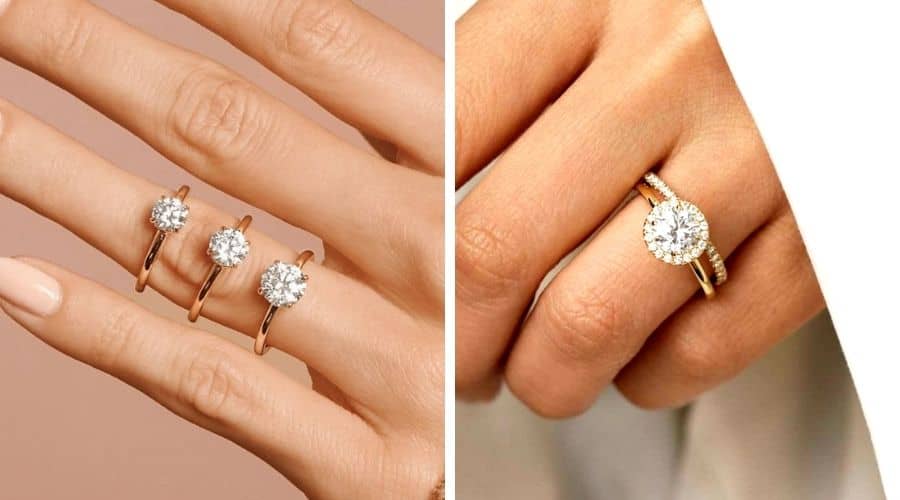 What makes Vrai stand out is the brand's commitment to transparency and quality. They do not mark up their engagement rings making them some of the most affordable high-quality rings in the market.
Vrai's timeless rings come in white or black diamonds, as stacking rings, and in various stone sizes. Here you'll find simple but unique engagement rings that will make your loved one more than happy to say yes!
The company makes its rings in the USA using lab-created diamonds from Diamond Foundry.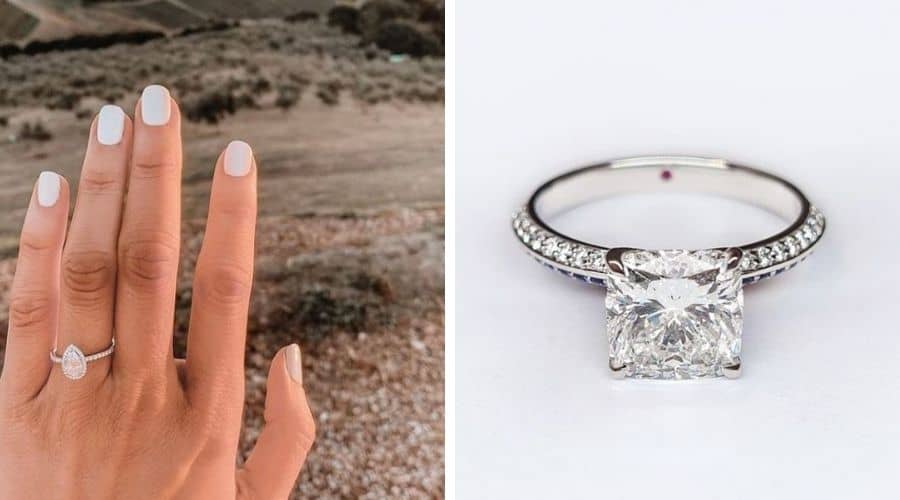 You don't like what you've already seen? Create your own custom sustainable engagement ring at Taylor & Hart. The company walks you through creating your perfect piece. They offer personal consultation so that you can design the ring you want in just four weeks.
The company's goal is to make the world a better place by making sure that more and more couples purchase diamonds that are conflict-free.
Noémie is a premiere direct-to-consumer fine jewelry brand well-known for its impressive yet fairly priced jewelry.
The brand only uses the highest quality-conscious materials, recycled 18K gold, and certified conflict-free diamonds.
Noémie's rings, as well as other kinds of jewelry come with a lifetime warranty. The diamonds used carry an IGI certification card guaranteeing you of fine jewelry.
Kobelli features one of the most extensive online collections of gorgeous diamond engagement rings. You can also design your own dream engagement ring to make it more personal and thoughtful. The brand also offers unbeatable low prices.
Kobelli uses conflict-free diamonds to make its rings. All of its diamonds are in compliance with the United Nations Resolutions.
The company is based in Los Angeles and ships both locally and internationally.
Blue Nile's extraordinary collection of diamond engagement rings spans timeless styles to the latest trends, including solitaire, vintage, halo, and more. The brand allows you to build a custom engagement ring that perfectly suits the person you love.
The company uses ethically sourced diamonds only to create its timeless pieces. Blue Nile purchases its diamonds from the largest and most respected suppliers who adhere to and enforce the standards established by the Kimberley Process.
The company has 11 stores spread across the United States. Blue Nile offers shipping to 45 different countries and regions around the world.
AUrate New York is the company that makes it possible for couples to protect the environment and enjoy ethical wedding bands at a fair price.
To make sure that they use only materials from ethical and environmentally sound sources, the brand tracks every diamond from the mines to its workshop in New York.
For every purchase, AUrate donates to a local organization that supports literacy in New York.
8. Catbird
Catbird eco-friendly wedding rings are handmade in a small Brooklyn studio, using fair-trade and recycled gold. All of the stones used in Catbird's rings are conflict-free.
The brand's ring collections are named after princesses, swans, and fairytales. A ring from Catbird will leave your partner feeling like royalty!
See Catbirds eco friendly engagement rings here.
Littman Jewelers sells an impressive collection of engagement rings both online and at their brick-and-mortar locations.
The brand is committed to responsibly mined and produced jewelry and has been certified by the Responsible Jewelry Council, which addresses human and labor rights, environmental impact, mining practices, and product disclosure in the jewelry supply chain.
Littman is a U.S.-based jeweler with over 140 stores across the United States. They do not ship internationally.
Explore Littman engagement rings collection.
Explore Littman engagement rings collection.
More Ethical & Sustainable Engagement Rings
10. Fair Trade Jewellery Co.
Fair Trade Jewellery Co. stays true to its name by offering fair-trade engagement rings both as pre-set or custom made.
This Canada-based online jeweler was the first North American business to use Fair Trade Certified gold. It is also a certified B Corp.
To further its mission in being stainable and environmentally responsible, Fair Trade Jewellery Co. has strong partnerships with the Responsible Jewellery Council and the North American Gem Association.
11. James Allen
James Allen boasts of being the largest privately held online diamond retailer worldwide.
This is the best retailer for the individual that wants to create the most unique custom engagement ring. You can choose from over 200,000 conflict-free diamonds, pre-made designer collections, and loose diamonds.
Better still, inspect your custom ring as its being created in real-time. If for any reason you're not happy with what you get, there's a 100 percent money-back guarantee.
12. Anita Ko
Anita Ko's unique and delicate ethical engagement rings are perfect for the bride-to-be who prefers a more vintage look.
The brand focuses on ethically sourced engagement rings and puts effort to bring you nothing but the best. The company is a member of the Responsible Jewellery Council, which makes sure that companies uphold human rights, labor rights, sustainable mining practices and product disclosure when creating their jewelry.
13. Bario Neal
Bario Neal handcrafted engagement rings are one-of-a-kind. These timeless pieces are made using environmentally-conscious practices including sourced materials from conflict-free regions such as Canada, Namibia, and Australia.
You can customize any of the rings, including engraving them.
Bario Neal donates a portion of its sales to organizations that support marriage equality and environmental sustainability.
14. Catbird
Catbird eco-friendly wedding rings are handmade in a small Brooklyn studio, using fair-trade and recycled gold. All of the stones used in Catbird's rings are conflict-free.
The brand's ring collections are named after princesses, swans, and fairytales. A ring from Catbird will leave your partner feeling like royalty!
15. Monique Pean
Monique Pean uses unique materials, including fossilized dinosaur bones and ancient shark teeth to create their unique ethically sourced engagement rings. In addition, the brand uses recycled gold and platinum.
All of the diamonds, gems, and fossils are certified conflict and devastation free.
Monique Pean uses proceeds from sales to provide people in developing countries with clean drinking water and basic sanitation.
As you can see, there are lots of good options for conflict-free, sustainable, and ethical engagement rings and wedding bands.
These brands are making an effort to make sure they are not contributing to unethical and polluting practices in the mining of their precious materials. So go on and get your significant other the perfect ring and pop the question!
Frequently Asked Questions About Ethical Engagement Rings
What is an ethical ring?
An ethical engagement ring is one that is made using ethically sourced materials such as conflict-free diamonds, recycled gold, and platinum. Ethical rings are also made using low impact manufacturing processes.
Are diamond rings ethical & sustainable?
The only diamond rings that are ethical are those that are sourced from conflict-free mines that uphold human rights and pay their miners fair wage. Lab-created diamonds are also ethical.
Are lab-grown diamonds ethical?
Yes lab-grown diamonds are ethical because they don't create conflict often witnessed in mines. They also avoid issues with labor and fair wage.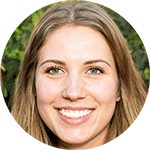 Jamie - Cofounder
Hi, I hope you enjoyed reading this article.
If you are looking for more ways to live an eco-conscious lifestyles, then check out our complete guide here.
Thanks for stopping by - Jamie