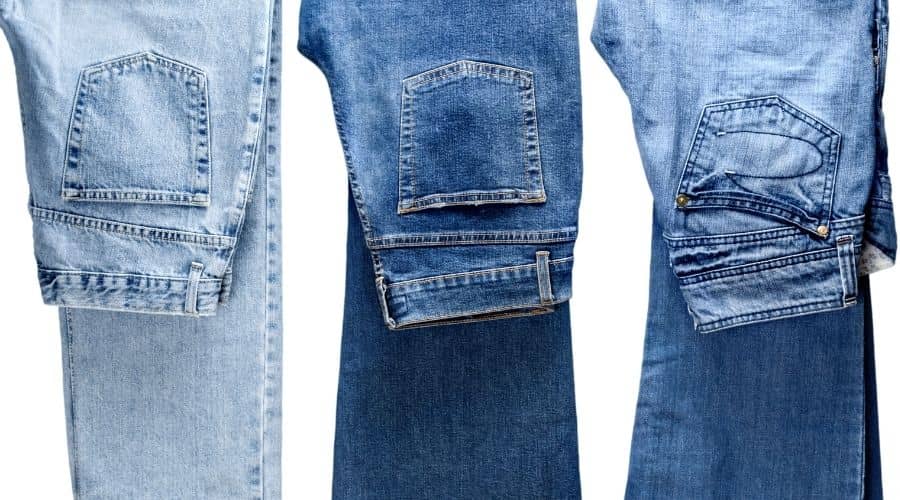 Who doesn't love a good pair of jeans? We know we do! For many of us, denim is our go-to piece of clothing. Not many pieces of clothing can beat a good pair of jeans when it comes to blending fashion and function.
The only downside is that the production of traditional denim causes so much harm to the environment. Denim is mostly made of cotton, a crop that takes so much water to grow. Growing two pounds of cotton can require up to 7,660 gallons of water. Cotton also requires a lot of chemicals when growing. Most of these chemicals cause air and soil pollution. They also pose significant health risks for farm workers and nearby residents.
So what do we do to continue enjoying our beloved denim without harming the environment?
Embrace sustainable jeans.
Today, we have lots of brands that use eco-friendly denim fabrics and the most sustainable production methods. Some of these brands also encourage slow fashion by offering clothing recycling programs.
Best Ethical & Sustainable Jean Brands
These denim brands are pushing the limits of eco-friendly and ethical manufacturing, asking tough questions about supply chains, and building products that last.
1. Outerknown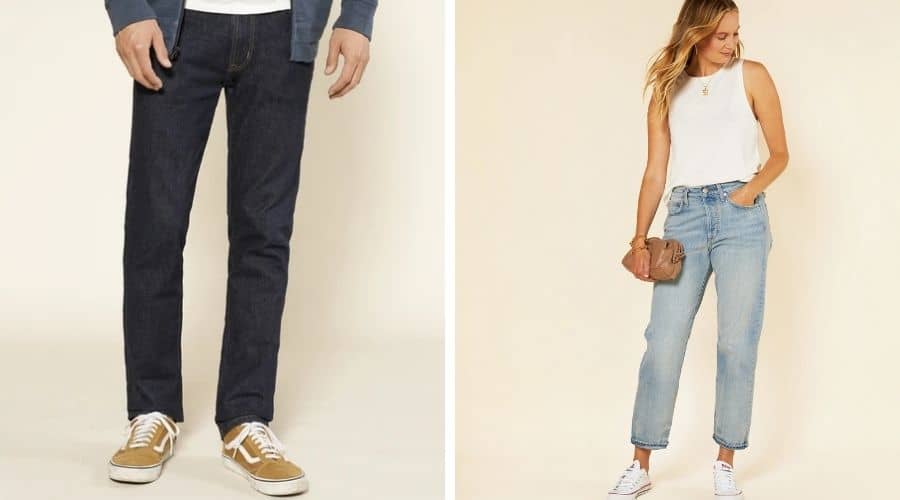 Outerknown's jeans are typically made of a mix of organic and recycled cotton. They are manufactured in Bluesign® and Fair Trade certified factories. The company also only uses Fair Labor Association, compliant suppliers.
The brand's jeans are a happy mix of casual chic and outdoor. Men can choose between various blue and black jeans that come either slim, straight, or Selvedge. Ladies on the other hand get to choose between high rise, boyfriend or cropped.
These eco-friendly jeans are made in small batches and on vintage hand-operated looms eliminating the need for machines that use so much energy to operate.
In addition to the brand's commitment to sustainability, they pay workers fair living wages as well as a premium that goes into a fund that the employees collectively decide how to use.
Based in: California, USA. Ships internationally.
2. Everlane Sustainable Jeans
Everlane is one of the biggest names in ethical fashion for its "radical transparency". Some of their best eco-friendly fashion items include ethical winter coats, sweaters, sustainable pajamas, and eco-friendly face masks.
When it comes to their denim, the jeans are no exception. They're made out of high stretch Japanese denim that's a blend of 98% cotton and 2% elastane. Japanese denim is widely considered one of denim's most sustainable forms. Everlane hopes to have all-cotton certified organic by 2023.
Because they're committed to transparency, in every product description, you'll find exactly where that garment is manufactured, as well as a link to see more about the factory.
Everlane's women's and men's sustainable denim choices are many. Choose from straight, skinny, flare, and bootcut in either regular or crop ankle lengths. They even have denim jackets and shorts that give off the 80s denim-on-denim vibe.
Based in: California, USA. Ships internationally.
3. Able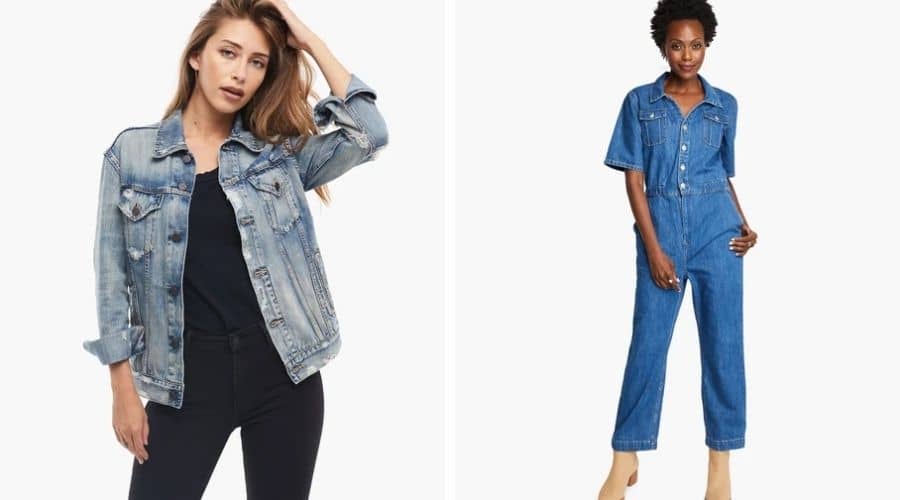 ABLE features a line of vintage-inspired and affordable denim collections. These jeans are the perfect addition to the casual-chic wardrobe.
ABLE is committed to creating long-term economic impact by employing female artisans around the world.
The collection includes the Boyfriend made with dreamy non-stretch denim. It comes with a high-waist and your new go-to, relaxed fit. You can also go with the Wide Leg jeans that give you the 'always cool' vibe. This high-waist design is relaxed through the hip and thigh and comes in both stretch and non-stretch denim.
Finally, there's the Skinny Made collection, made using high-stretch denim. This pair of jeans has a universally flattering fit that's easy to dress up or down.
In case you don't find the perfect pair of jeans, ABLE offers unlimited exchanges so you can get the perfect fit.
Based in: Tennessee, USA. Ships in the USA and Canada only.
4. Reformation Ethical Jeans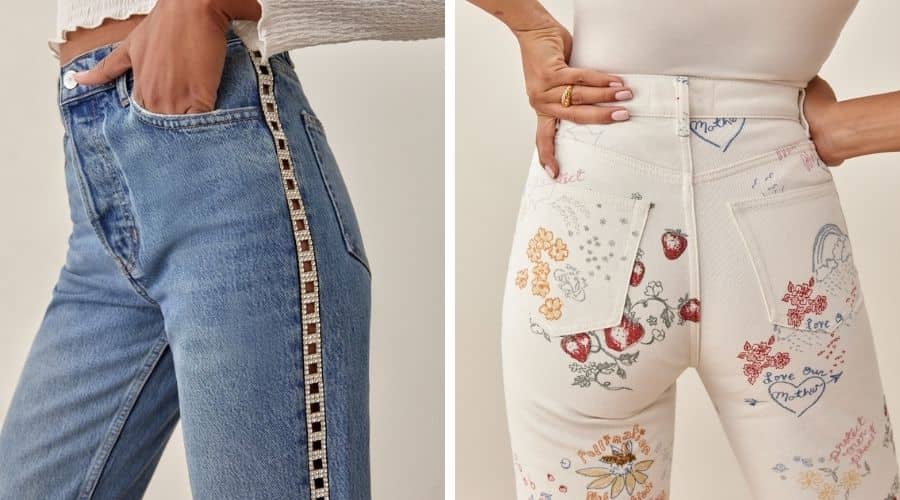 Turn heads with Reformation's vintage-inspired jeans featuring simple cuts and flirty shorts. The denim is made from organic cotton, TENCEL, and two percent elastane, and will last you for years to come.
The jeans are sewn together in Turkey using an eco-friendly process that saves thousands of gallons of water. The workers are also paid fair wages. The idea is to be a chic, affordable, and sustainable brand.
Reformation's sustainable denim comes varied in styles and washes. The brand's dyeing partners are either Bluesign® or OEKO-TEX 100 certified meaning they don't use any sort of harmful chemicals. Reformation also uses a biodegradable natural enzyme for washing and dyeing their jeans.
Based in: California, USA. Ships internationally.
5. Warp + Weft
Warp + Weft is a fairly new ethical denim company, trying to forge a name for itself in the industry. Already, the brand is standing out as one of the more size-inclusive, ethically made, and sustainable denim companies on the market. The jeans come in options up to women's size 24 and 48" waists for its Big and Tall collection. These come in a huge selection and at under $100 a pair.
Most Warp + Weft jeans are made of an eco-friendly stretch denim blend of cotton, modal, lyocell, and elasterell (a type of polyester). 20% of these fabrics are either recycled denim, plastic, or cotton.
Additionally, the company employs sustainable production practices such as vertical manufacturing operation that saves and recycles 98 percent of the water it uses.
Based in: New York, USA. Ships to U.S. states, Puerto Rico and Guam.
6. Amour Vert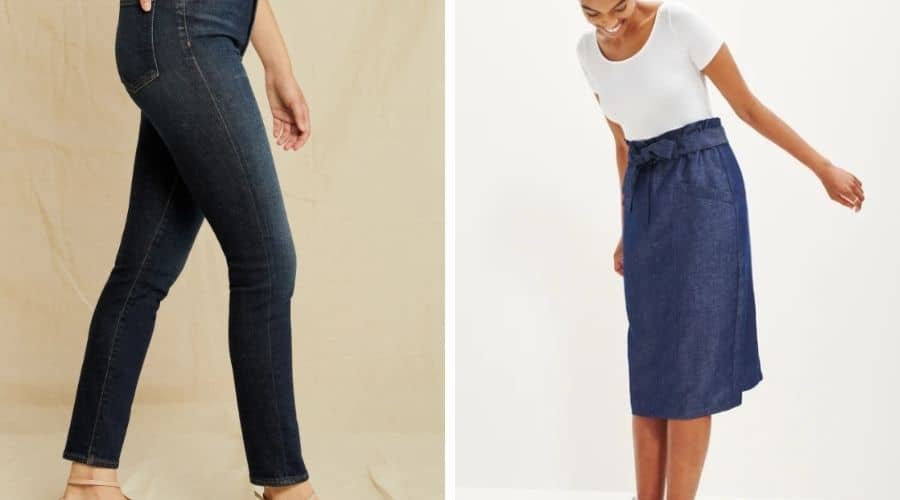 Amour Vert, aptly named "green love" in French, is one of the best sustainable fashion brands around. They feature the AGOLDE x Amour Vert denim line that has a good selection of skinny, straight, and even bellbottom legged jeans.
The brand uses primarily organic and/or recycled cotton for this line of its jeans. Some pairs are, however, made of Lyocell, organic cotton, and recycled elastane.
All pieces are made using vertically integrated facilities that use bleach-free ozone wash technology to give your blues that vintage fade. Ozone technology is also a sustainable production system that uses 80-90% recycled water.
Based in: San Francisco, California, USA. Ships to the US, Canada, Australia, France, Germany & UK.
7. Thought
Thought carries organic cotton jeans for women, as well as denim culottes, dresses, and skirts. There's also one style of ethical jeans for men. These are all made using a blend of 98% certified organic cotton and either 2% spandex or elastane. This makes the jeans achieve a high degree of sustainability while still allowing some mobility.
The brand creates its jeans with sustainability in mind and has grown into one of the leading sustainable denim brands, encouraging other brands to go green and consumers to make conscious decisions.
Based in: London, United Kingdom. Ships internationally.
8. People Tree Eco Friendly Jeans
People Tree is well-known for its long history in ethical fashion. In fact, the brand was the first fashion brand to receive an official Fair Trade certification by the World Fair Trade Organisation.
The brand's SS20 Denim comes in a small handful of styles including those with tapered, straight, slim, and wide legs, as well as skirts and dungarees. Each pair is classy and versatile, with just enough retro edge.
The brand also has several jeans that are 100% GOTS organic cotton dyed with low impact dyes and finished with nickel-free buttons. A few pieces of denim contain a 2% blend of elastane.
When it comes to production processes, People Tree uses closed-loop, machine-limited manufacturing methods. To dye and launder their jeans, they use low water and chemical processing, which, combined with their use of organic cotton means their jeans use 90% less water than normal denim.
Based in: London, United Kingdom. Ships internationally.
9. DL1961
DL1961 creates dreamy jeans using innovative eco-friendly and recycled fibers and a vertically integrated system that reduces the amount of water, dye, and energy needed.
Most of these are 100% cotton, all of which are either certified GOTS or OCS organic, or GRS or RCS recycled. The pieces also contain TENCEL and modal, two materials that increase durability, softness, and sustainability.
DL1961's sustainable jeans for men, women, or kids come in a ton of classic choices in most shapes and cuts, from baggy to butt-hugging. If you love the denim on denim look, you can also get their jean jackets, jumpsuits, and button-downs.
The company has eliminated harmful chemicals and bleach from its production process by using Jeanologia Ozone water-free zero-discharge washing and laser finishing.
Based in: New York, USA. Ships internationally.
10. prAna
prAna is a long-standing outdoor clothing company with a reputation for quality, functionality, comfort, and sustainability. Its jeans are made using 100% organic cotton blended with Sorona® Polyester and Lycra ® Elastane, which gives them their active edge.
The brand's ladies' jeans come in straight, skinny, tight, relaxed, cuffed, cropped, and colored variations. The men's selection is also quite rich.
Based in: California, United States. Ships internationally.
More Sustainable & Ethical Denim Brands
11. Boyish – Boyish jeans are made using sustainable fabrics. The brand uses ethical practices and uses only a fraction of the water needed—and it's recycled.
12. Nudie Jeans – Nudies jeans are made using either recycled or GOTS certified organic and come in high-waisted or mid-, tapered or straight.
13. Buck Mason – This brand ensures that all their jeans are fairly and responsibly made.
Why You Should Consider Ethical And Sustainable Jeans
Buying sustainable jeans reduces the demand for traditional denim that is harmful to the environment. Traditional denim is made using cotton whose production requires a lot of water, fertilizers, and pesticides. The overuse of fertilizers makes the soil salty and overreliance on pesticides pollutes both the soil and nearby waterways.
Cotton denim also requires dyeing, which relies on toxic chemicals. These chemicals affect human health and also pollute the environment, not forgetting water and of course the soil.
The mechanical processes of spinning and weaving jean fabrics require a lot of energy which means a lot of air pollution is caused in the process.
How To Know Your Buying Sustainable Jeans
Differentiating between ethical jeans and traditional jeans is not easy. When shopping for sustainable jeans look for a pair that is made using organic cotton, which uses 88% less water, and 62% less energy than traditional cotton.
Another great alternative to organic cotton is recycled cotton, preferably that which is certified by the Global Recycle Standard (GRS) as having a minimum percentage recycled content.
Another consideration to make when buying sustainable jeans is the kind of dyes used. You want to go for sustainable natural dye jeans or those that use vegetable dyes and natural indigo to achieve the blue (or any other) coloration. Look for dyes that are certified by OEKO-Tex 100 or REACH as these don't contain any toxic chemical content.
You also want to purchase a pair of jeans from brands that ensure everyone that is part of making the jeans is paid fairly and works under safe, ethical conditions.
Your denim doesn't have to cause harm to the planet. Rock a pair of sustainable jeans and still look good and with a conscience that knows you didn't play a part in ruining the environment. Interested in buying more ethical clothing? Check out our guide on buying ethical and sustainable clothing.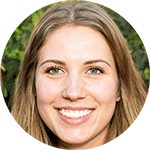 Jamie - Cofounder
Hi, I hope you enjoyed reading this article.
If you are looking for more ways to live an eco-conscious lifestyles, then check out our complete guide here.
Thanks for stopping by - Jamie