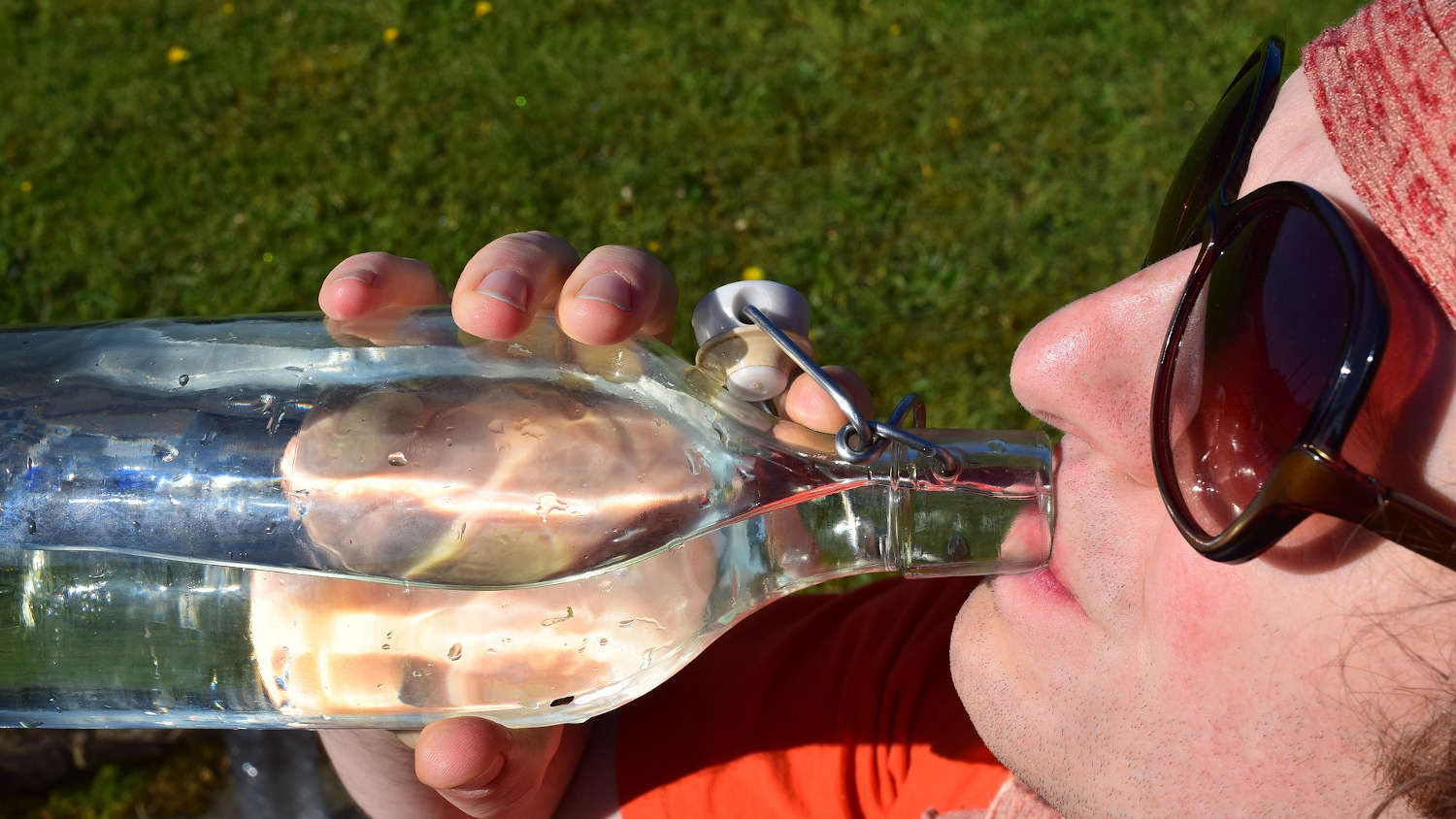 The best glass water bottles will not only save you money, but they are also safer to use and most importantly, they are also safe for the environment.
Looking to carry your favorite drink wherever you go? Try one of these top 10 reusable glass water bottles. These are all leak-proof, spill-proof, BPA-free and durable.
Our Reviews of the 10 Best Glass Water Bottles
1. Takeya Classic
The Takeya Classic will keep you hydrated in a stylish way. This is one of the best glass water bottles with silicone sleeves. The sleeves make holding the bottle easy and prevent the bottle from breaking should you drop it. The sleeve has a see-through window that lets you see how much of your beverage you've consumed. You will love the large cap threads at the top of the bottle, as they make it easy to open and close the bottle cap.
2. Ello Syndicate
The Ello Syndicate features a user-friendly push-button lid and a carrying loop that makes it easy to use. It has a drip-free top allowing you to use it at home, at the office or even while on the go. This bottle is BPA, phthalates, PVC, lead, and cadmium free, making it one of the best green products on the market.
3. Lifefactory
Looking for the best glass bottles for your kids? Get them the Lifefactory bottles. The bottles have a carry loop and a sipping valve making it easy for the kids to drink from them. They also have wide-mouth access so you can easily add ice cubes, citrus slices or tea bags. Worried the kids will drop the bottles and break them? No, they won't break thanks to the protective silicone sleeve that provides a non-slip gripping surface and helps prevent breakage
4. Ello Devon
CHECK ON AMAZON
The Ello Devon glass drinking bottles are perfect for juices, smoothies, tea, water and more. The bottle has a splash-resistant friction fit lid making it a perfect choice for on-the-go. It also features a food-grade silicone sleeve that protects against chips and cracks.
5. Zulu Atlas
Want a bottle to take with you to the gym? Get the Zulu Atlas. This bottle features a locking, flip-up lid that prevents spills. You will also find the one-handed, push-button operation helpful as it lets you access your drinks fast. It also has an extra-thick sleeve to prevent breakage.
6. Soma
This is another of the best glass water bottle brands you'll find around. The Soma bottle is made from high quality, shatter-resistant glass. It also features a silicone sleeve that makes the glass shatter-resistant. Its wide-mouth opening makes it easy to fill and to clean.
7. CamelBak Eddy
CHECK ON AMAZON
The CamelBack Eddy features durable and spill-proof glass bottles for water. The bottle has a patented flip-top bite valve to make drinking a breeze. Whether you are taking swigs while driving, biking, or walking you can be sure your drink won't spill. The bottles also have a silicone sleeve for an easy grip and extra protection in case you drop it.
8. Contigo Purity
CHECK ON AMAZON
The Contigo Purity is a BPA-free glass, steel and silicone bottle that you will love. The bottle has a contoured wide-mouth design and a removable stainless steel carry loop.
9. Grosche Copenhagen Infuser
Not a fan of plain water? Use the Grosche Copenhagen Infuser glass bottle to infuse your water with fruit or tea. The bottle is made of double-wall Borosilicate Glass to help keep your beverage hot or cold. The infuser reaches further inside the bottle for better fruit or tea infusion.
10. Purifyou Premium
The Purifyou Premium glass bottle is made from high borosilicate which is more heat resistant than other types of glass. This type of glass is also 100% recyclable and won't leave your water with an aftertaste. It features a food-grade high-impact-resistant silicone sleeve to protects your bottle from drops. This bottle is BPA, Phthalate, PVC, lead, and cadmium free.
You no longer have an excuse to use a plastic water bottle and cause untold harm to the environment. Keep your body hydrated and the environment clean with one of these top-rated glass water bottles!