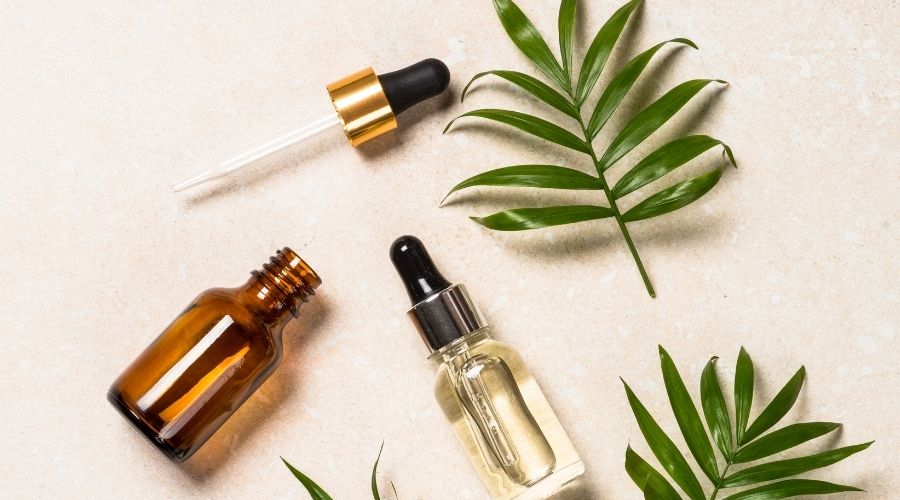 Using an organic face serum can help tackle any skin issue you may be facing. From dryness, dullness, irritation, breakouts, redness, wrinkles, sagginess, and more, you can be sure there's a serum for that.
The only thing you need to do is to zero in on the best organic serums for your skin and make sure you're not using products that will harm your skin further.
Here, we outline the best natural facial serums on the market and which organic skincare needs they cater to.
Best Natural & Organic Face Serums
These are our 12 best natural serums for all skin types: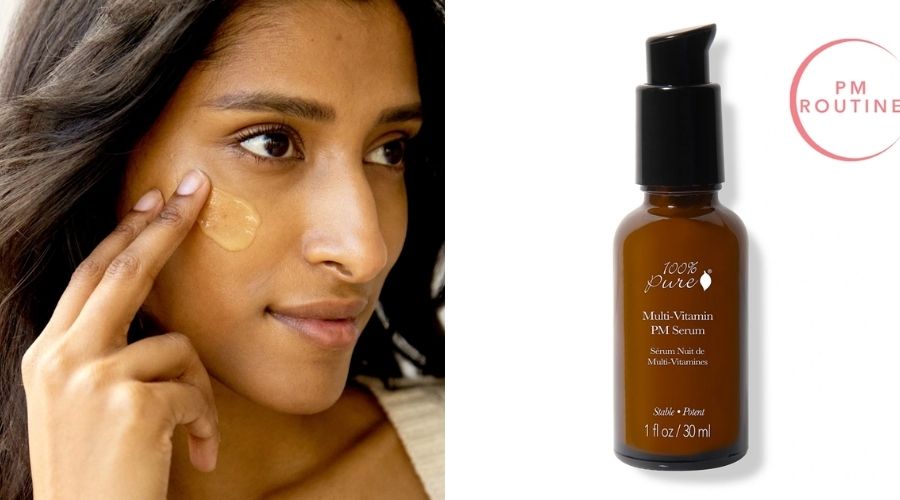 100% PURE'S Multi-Vitamin + Antioxidants Potent PM Serum is perfect for your nighttime beauty routine. The serum contains a high concentration of Vitamin C to give your skin a healthy, glowing appearance.
This serum's potent blend of vitamins also works together in perfect synergy to reduce lines and wrinkles, increase firmness and elasticity, and even out skin tone. This serum will help restore a youthful, healthy glowing complexion to even the most tired, neglected skin when used consistently.
Apply this serum immediately after using a facial toner or emulsion so that your skin absorbs it the most.
Based in: California, United States. Ships internationally.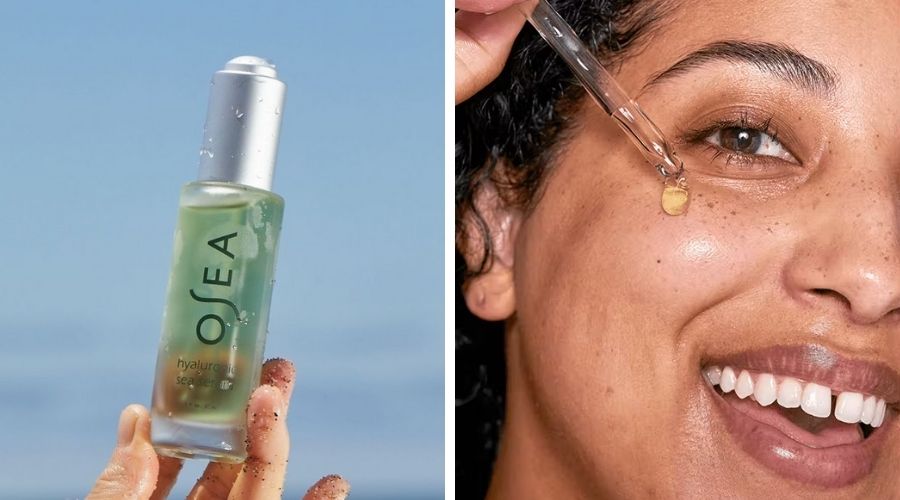 Osea Hyaluronic sea serum offers the right amount of hydration for all skin types. It's a fast-absorbing concentrated serum that smooths the appearance of fine lines and wrinkles.
The serum combines three molecular weights of hyaluronic acid and three nutrient-rich seaweeds. These work together to restore and maintain good moisture levels, keeping your skin hydrated all day. The hyaluronic acid replenishes your skin's moisture while the seaweed extracts clear fine lines.
This lightweight moisture-boosting serum makes it easy for your skin to regain its youthful complexion. Full of iodine and vitamins, this powerful formula will transform your skin from dull to luminous and give you a smooth, firm, and glowy appearance.
Based in: California, United States. Ships internationally.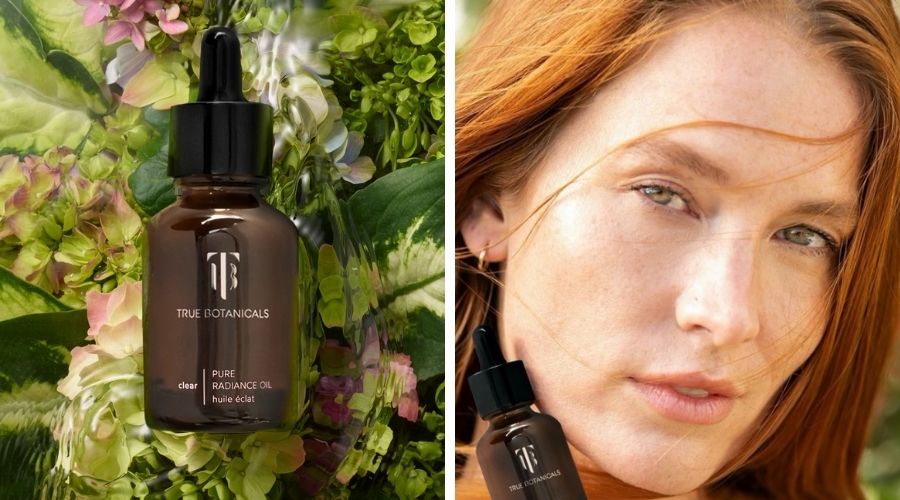 True Botanicals Clear Repair Serum is a favorite for people with acne-prone skin. It treats the damaged skin and leaves you with glowing, healthy skin. The serum contains olive leaf extract, black willow bark, and hyaluronic acid that, among other things, control sebum production to keep new breakouts from forming.
This serum is easy to absorb and doesn't leave a greasy residue. Because it is highly hydrating, the serum will keep your skin hydrated throughout the day and night. Besides keeping your skiing hydrated, True Botanicals serum will also help smooth wrinkles, shrink the appearance of large pores, and fight free radical damage.
The serum has a lovely scent—not heavy and adds frankincense, neroli, rose, and jasmine notes.
Based in: San Francisco, USA. Ships internationally.
Ilia True Skin Radiant Priming Serum is more than just a base for makeup application. Packed with ingredients like Hibiscus Extract, Aloe, and Beta-Glucan, this serum will firm, moisturize and soothe your skin. It'll also protect it from harmful environmental factors that cause aging.
Ilia's priming serum has a tightening effect that reduces the appearance of pores and fine lines and also gives your skin texture a silky and soft-to-the-touch feel. You'll also have a radiant glow, and your makeup application will be effortless and will last all day.
Unlike most primers that contain 80% or more silicone, Ilia's serum is silicon-free. Silicone adds to the weight of the serum blocking your pores. The blockage may cause irritation or excess oil production.
Based in: California, USA. Ships internationally.
Marie Veronique Vitamin C+E+Ferulic collagen will keep your skin tight, firm, and youthful by encouraging collagen production. The concentrated levels of Vitamin C in this serum stimulate your skin to make more collagen and stabilize the collagen you already have naturally.
Additionally, this serum contains vitamin E and ferulic acid, which supercharge the vitamin C and help it penetrate the skin cell.
When you wear this serum in the morning, it will add a sun protection boost to your daily sunscreen and neutralize free radicals. When you wear it at night, the serum will deliver the nutrients your body needs to repair and rebuild collagen.
Based in: California, USA. Ships internationally.
Boosted Contouring Serum by Tata Harper contains a blend of natural and organic ingredients that combine forces to reinforce your skin's structure around the neck and jawline giving you a daily facelift.
The contouring serum contains narcissus bulb extract that slows the aging process by increasing overall firmness, elasticity, and cell durability. It also has Spanish lavender and date palm extract that help decrease wrinkle depth and inhibit muscle fiber contractions. Other ingredients in this formula include witch hazel which helps neutralize redness and fights free radicals, and sodium hyaluronate, which helps skin retain moisture.
This serum will make your skin feel and look firmer and lifted in a matter of minutes! It will also replace your fine lines, wrinkles, and sagging skin with a more youthful look as you continue to use it.
Based in: Vermont, USA. Ships internationally.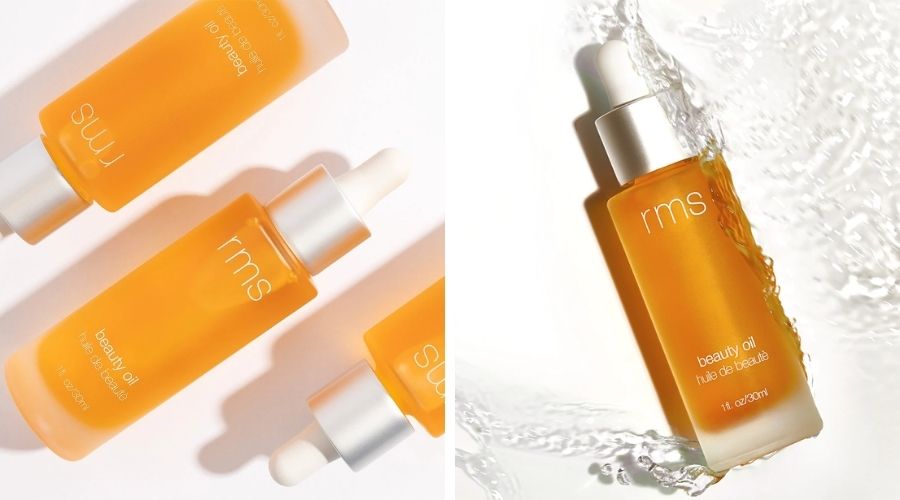 This RMS beauty oil serum is made with jojoba, rosehip, and buriti oils. It makes your skin feel ultra nourished and hydrated without leaving it with a greasy after-feel.
Jojoba quickly absorbs into the skin to nourish and hydrate. At the same time, the rosehip oil is packed with skin beauty essentials like vitamins, antioxidants, and essential fatty acids. These firm and brighten skin while leaving it feeling supple and soft. The wildcrafted buriti oil is rich in vitamins that offer super-potent antioxidant protection.
The serum is lightweight yet highly concentrated with exotic oils and rare herbal extracts that boost radiance, provide antioxidant protection and keep skin hydrated for up to 12 hours.
Based in: South Carolina, USA. Ships internationally.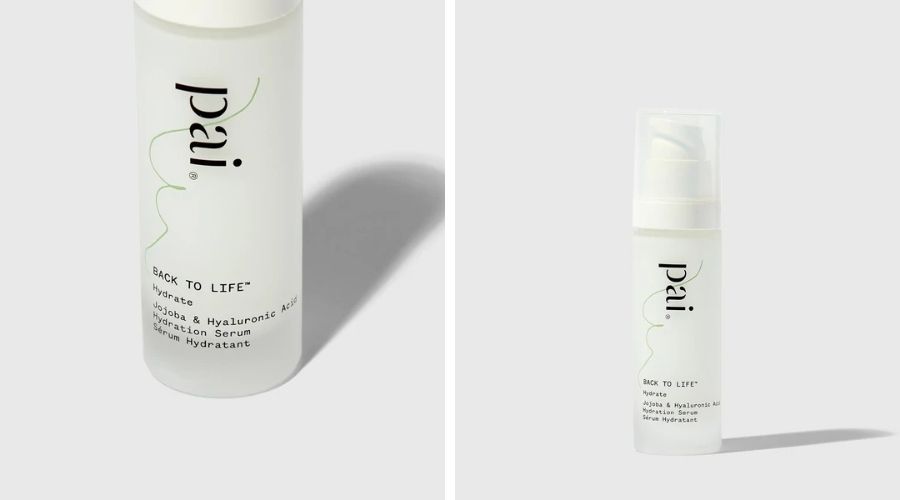 Pai Jojoba & Hyaluronic Acid Hydration Serum is the perfect formula for anyone who experiences dehydration and dullness. It's ideal for sensitive and eczema-prone skin.
The serum contains Hyaluronic Acid that draws in moisture for hydration and antioxidant-rich berries that help protect against moisture loss, locking in hydration for long-lasting results. This combination reduces dryness and leaves your skin feeling less tight, more smooth, and supple.
The serum is designed to quickly and deeply sink into your skin and deliver moisture without stinging or irritation.
Based in: London, UK. Ships to the UK, USA & Europe.
Herbivore Bakuchiol Retinol Alternative Serum contains bakuchiol, a plant-based alternative to retinol that helps ease the appearance of fine lines and wrinkles without disrupting the skin.
This uniquely bouncy, jelly-textured water-based serum is gentle enough for the most sensitive skin types and spreads smoothly over the skin. Once you apply it, you'll get instant hydration that leaves the skin silky soft. It will also protect your skin from the effects of the sun all day.
Pair with your favorite facial roller for a beautiful glow and lifted appearance.
Based in: Washington, USA. Ships internationally.
Maya Chia Straight-A Advanced Gentle Retinol Treatment is made from potent, high-quality vitamins C and E. The vitamins brighten the skin and help decrease the appearance of hyperpigmentation.
The formula also contains encapsulated retinol, a safe derivative of vitamin A, and bakuchiol and moth bean extract to help improve the appearance of fine lines. Together, they promote plump and radiant skin. It also contains chia seed and buriti oil that hydrate and nourish skin while promoting soothing benefits.
This serum is made for all skin types and will leave your skin looking brighter, smoother, and overall glowing.
Based in: South Carolina, USA. Ships to the US and Canada.
More Organic & Natural Facial Serum
11. One Love Organics Vitamin C Facial Serum – This plant-powered formula contains botanical actives that nourish skin and reduce discoloration. It also contains jojoba seed oil that helps the skin to retain moisture to keep it hydrated.
12. Ursa Major Brighten Up Vitamin C Serum – This is a featherweight face serum that provides instant hydration while brightening and smoothing skin's tone and appearance.
Natural Ingredients Found In Face Serum
It's essential to know the ingredients that make a serum natural or organic. Here are some ingredients to look for when shopping for the best natural face serum:
Natural oils and butter: Plant and seed oils and butters are safer than petro-ingredients. These oils and butters make your skin feel smooth, soft and moisturized. Natural oils are also more closely matched to the skin's oils.
Natural botanical extracts: Natural botanicals are extracted from plants, teas, berries, fruits, and flowers. They offer distinct benefits to the complexion, such as clearing fine lines, removing dark spots, and improving the appearance of acne.
Natural skin supporters: These include vitamins such as C and E and antioxidants such as green tea and berries. These offer skin-supportive benefits for a youthful, glowing appearance.
Natural skin calmers: These include chamomile and aloe. They help calm sensitive or troubled skin by settling feelings of irritation and inflammation.
Natural essential oils: Natural essential oils are highly concentrated and help fight signs of acne, act as a natural preservative, and add natural fragrance to products.
Adding an organic face serum to your morning and night beauty routine will help you fight any skin problems you may face, such as acne, dryness, wrinkles, and fine lines. Most importantly, it will hydrate your skin, thus reducing the effects of aging.
Check out these 13 natural face toners that you can use right before applying your organic serum.
Check Out More Recommendations: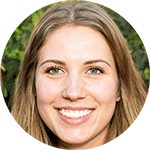 Jamie - Cofounder
Hi, I hope you enjoyed reading this article.
If you are looking for more ways to live an eco-conscious lifestyles, then check out our complete guide here.
Thanks for stopping by - Jamie