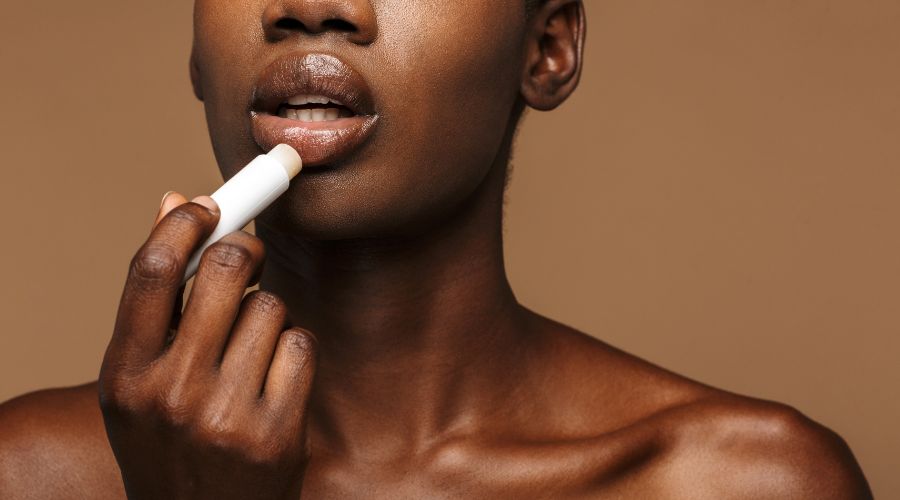 Did you know that lips are thinner and more delicate than the rest of your skin? You can tell the difference simply by touching your lips. That's not all; lips don't have sweat and oil glands which means they're more prone to drying and cracking than the rest of your skin. Imagine trying to smile or even eating salty, spicy food with cracked lips. Ouch! We've probably all been there at some point.
So, keeping your lips moisturized should be a priority for all of us. But forget about the conventional lip balms full of harmful ingredients. Instead, try natural lip moisturizers with effective, non-harmful, hydrating, and even delicious ingredients! Made with a cocktail of ingredients like cocoa butter, natural chapsticks hydrate, moisturize, smoothen, and soften your lips until they're lush and oh-so-pretty.
Kiss dry lips goodbye with the natural lip balms listed below!
Interested in learning more about how to naturally take care of your skin? We've rounded up the best organic face serum for you.
12 Best Natural Lip Balms Ranked & Reviewed
Without further ado, here are the best natural lip balms in the clean beauty market today.
1. Juice Beauty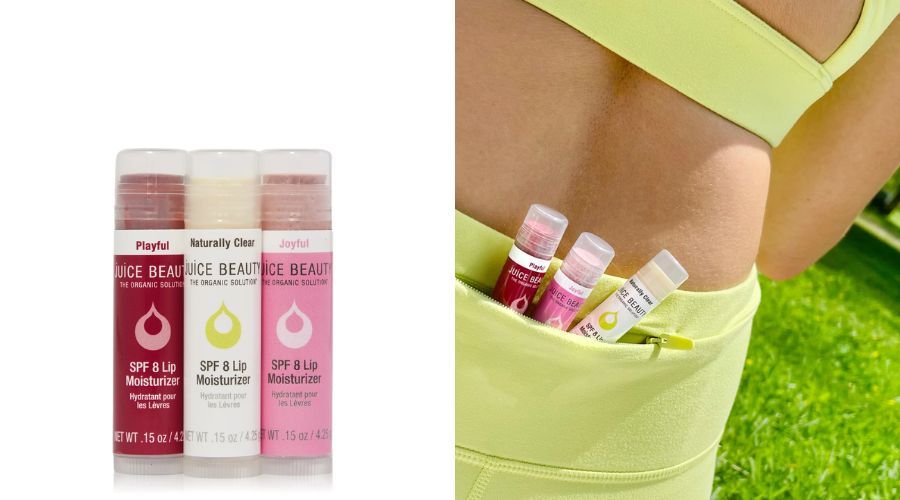 Juice Beauty SPF-8 Lip Moisturizers are jam-packed with great ingredients to moisturize your skin and protect it from harmful UV rays. The lip balms are made with organic sunflower, coconut, and cocoa butter, which hydrate the skin. Juice Beauty uses vitamin E to nourish the skin and candelilla wax to give it that natural shine you've come to love from lip balms. It comes in three different tints.
The real gem of the formula is mineral zinc, which provides UVA and UVB protection and does so without harming the coral reefs, unlike chemical sunscreens. The lip balm does not contain harmful ingredients, nor is it tested on animals. This is one of the many ways Juice Beauty protects you and the environment. Try it today for healthy, soft lips!
Based: California, United States. Ships internationally.
2. Henné Organics V2 Lip Balm
Henné Organics V2 Lip Balm is, simply put, a luxury item. This natural lip moisturizer uses 100% natural USDA-certified ingredients in its formula. You'll be left with soft, supple lips with one swipe of this creamy, delectable lip balm.
Coconut oil, avocado oil, cocoa butter, jojoba oil, and shea butter hydrate your skin. At the same time, beeswax softens and protects your skin. The balm also contains vitamin E, which nourishes your skin thanks to its anti-inflammatory properties. It's a favorite for a reason!
Henné Organics' lip balm is fragrance and essential oil free, designed for sensitive skin, and comes in eight tinted versions. Try this balm for the perfect lips!
Based: North Carolina, United States. Ships internationally.
3. Tata Harper Be True Lip Treatment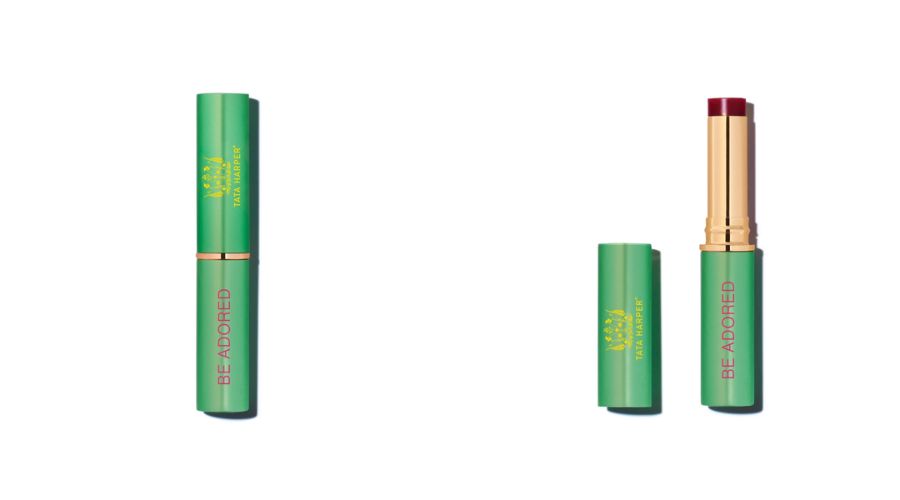 Tata Harper is all about going above and beyond. Tata Harper Be True Lip Treatment is 100% natural, non-toxic, and made free from synthetics, fillers, artificial dyes, and fragrances. This raspberry red-tinted natural chapstick boasts six sources of vitamins and minerals, four sources of plumping hydration, and four sources to reduce signs of aging. Talk about bringing your A-game!
The lip balm hydrates using avocado, olive, and cocoa butter. Additionally, it uses beeswax to protect the skin and reduce signs of aging, Calendula as an anti-inflammation agent, and apricot oil to smooth out fine lines and wrinkles. You will adore this anti-aging lip balm!
Based: Vermont, United States. Ships internationally.
4. Bronner's Natural Lip Balm
Dealing with constantly dry lips? Dr. Bronner's Natural Lip Balm is the non-toxic lip balm you've been looking for. It's formulated with USDA-certified organic and fair trade ingredients like avocado, jojoba, and hemp seed oil to hydrate and soothe irritated skin.
Organic beeswax forms a protected layer on the skin once applied, while vitamin E, in the form of tocopherol, helps retain moisture on your skin. Even the most stubbornly dry lips will find relief thanks to this lip balm.
Fun fact: you can use this balm on dry hands and feet, cuticles, chins, and cheeks, and even use it to keep your brow hairs in place. Talk about a jack of all trades!
Dr. Bronner's is a Certified B Corp that is vegan, cruelty-free, and uses non-GMO ingredients. Talk about a combo!
Based: California, United States. Ships to the United States and Canada only.
5. Kopari Coconut Lip Glossy
Kopari Coconut Lip Glossy natural lip balm nourishes and soothes your skin while giving it the perfect shine. Formulated with unique natural ingredients like shea butter which is high in vitamins A and E and deeply moisturizes, smoothens, and soothes your skin.
Organic coconut oil protects and deeply hydrates your skin thanks to its fatty acids and vitamin E. Squalane imitates the skin's naturally occurring omega fatty acids to lock in moisture.
Additionally, the balm provides a lovely, light sheen without the bothersome stickiness. You really can't go wrong with this coconut lip balm!
Based: California, United States. Ships internationally.
6. Taos Aer Organic Lip Balm
Taos Aer Organic Lip Balm is named after a desert, almost as a promise that you can wear this organic lip balm in the aridest places without drying out your skin. It's a lightweight balm that will leave your skin smooth and fresh.
It's formulated with USDA-certified organic ingredients like jojoba and castor oils, which help retain moisture in your skin. The name isn't the only desert-related part of this balm. It also contains prickly pear seed oil, which is rich in antioxidants and acts as a powerful emollient.
Try this peppermint-scented lip and give your lips an incredible ultra-hydrating experience!
Based: New Mexico, United States. Ships internationally.
7. Cocokind Organic Lip Balm
cocokind's my matcha all-over moisture stick isn't just a natural lip balm; you can use it under your eyes, cheeks, and just about any dry spot. Talk about versatility!
Simplicity is the name of the game, as this stick is made with just organic coconut oil, organic matcha tea powder, and organic beeswax to moisturize, soothe and soften your skin.
The organic coconut oil is packed with vitamin E and amino acid, which nourishes your skin deeply. Organic matcha powder, sourced from Japan, reduces the appearance of dark circles and puffiness under your eyes. The powder helps maintain your skin's moisture when faced with the elements.
Based: California, United States. Ships in the US, Puerto Rico, and Canada.
8. Biossance Squalane Rose Vegan Lip Balm
Biossance Squalane Rose Vegan Lip Balm is a strong candidate for the best organic lip balm, and we don't say that lightly. This vegan, petroleum-free product has a base of ultra-hydrating ingredients meant to give you silky smooth skin.
Ceramides, hyaluronic acid, and sugarcane-derived squalane work together to moisturize and nourish your skin while the rose wax smoothens it. For a plumping effect, Biossane used wakame algae which it claims helps restore lip plumpness within 2 weeks. Incredible, right?
It doesn't end there. The hygienic packing is made with 100% renewable sugarcane. You can be assured that this product was made cruelty-free. Make sure to get yourself one and enjoy plump, luscious lips!
Based: California, United States. Ships to the United States, Canada, the United Kingdom, and the EU.
9. Burt's Bees
Burt's Bees Cucumber Mint Lip takes all the refreshing properties of cucumbers and dials it up to 11! Made with 100% natural ingredients and free from toxins like parabens and SLS, this lips balm will give you a cooling and tingling feeling when applied.
Peppermint oil is infused with cucumber extracts, sunflower oil, cocoa butter, and natural beeswax to create a formula that will give your lips all the hydration and nourishment it needs. Your lips will be smooth and moisturized, and the fantastic cucumber scent doesn't hurt, either. This product is eco-friendly and cruelty-free, and the packing is recyclable.
Based: North Carolina, United States. Ships in the United States only.
10. Follain Lip Balm
Which natural lip balm offers long-lasting hydration? Follain Lip Balm does! No more greasy moisture with this lip balm. This product is so lush and rich that you'll want to use it repeatedly, but only one swipe on your lips is necessary to give you long-term moisture.
Chamomile flower oil nourishes and comforts dry lips with lasting moisture. The omega-rich argan oil and shea butter provide additional moisture and smoothen your skin. Vitamin E in the formula helps protect your skin from free radicals. The formula itself is decadent and creamy for a velvety application. You can even wear it under your lipstick. So hurry and buy one for yourself today!
Based: Massachusetts, United States. Ships in the United States only.
11. Kjar Weis The Lip Balm
If we were ranking natural lip balms on beauty alone, Kjaer Weis The Lip Balm would win hands down. The ultra-silky balm comes in a sleek black compact with a refillable magnetic tin inside. It's formulated with certified organic ingredients free from petroleum, silicons, and parabens. This lip balm will nourish and hydrate your skin.
This lip balm is made with a blend of tocopherol (vitamin E), rosehip, jojoba oil, sunflower oil, beeswax, sweet almond oil, and camellia extract to give relief to dry and cracked lips. The formula is not thick, goopy, or greasy but deeply hydrating. Try Kjaer Weis. You won't regret it!
Based: New York, United States. Ships internationally.
Honorable Mentions For Best Organic Lip Balms
Kari Gran – made with camellia oil and Calendula extract blend, this peppermint-scented lip balm is designed to keep your lips velvety smooth.
Grown Alchemist Lip Balm – this sweet and tasty lip balm is made with rosehip, jojoba oils, watermelon extract, and sweet almond oils to deeply moisturize your lips.
Tips for Selecting Natural and Organic Lip Balm
Look for Natural Ingredients
We put our lips through a lot throughout the day, from eating salty food to constant licking. As such, it's essential to keep our lips hydrated using natural ingredients. Look for emollients that trap moisture on your skin and humectants which help retain moisture on the skin. Examples of natural ingredients include beeswax, hemp, sunflower seed oils, cocoa butter, jojoba oil, coconut oil, glycerin, manuka honey, etc. Additionally, look for products with SPF 15 to 30 that protect your lips from premature aging and skin cancer.
Avoid Toxic Ingredients
While shopping for natural lip balms, avoid products containing alcohol, camphor, phenol, and menthol, as they can dry out your skin. Steer clear of formulas containing synthetic fragrances, artificial preservatives, synthetic dyes, and essential oils.
Look for Certifications
To find the best organic lip balm, look for products that use the majority USDA certified organic ingredients. You'll discover cruelty-free products using Leaping Bunny, Cruelty-Free International, and Beauty Without Bunnies certifications. Finally, look for products that are Environmental Working Group's Skin Deep Database verified as they grade products based on how hazardous they are.
Frequently Asked Questions (FAQ)
Which Natural Lip Balm Is Best for Dry Lips?
The best natural balms for dry lips contain natural moisturizers like shea butter, sunflower, and coconut oil. These ingredients will soften, hydrate, and smoothen your skin.
Which Natural Ingredient Is Best for Lips?
The best natural ingredient for lips is shea butter, as its fatty acids help hydrate and moisturize your skin for the long term. It is non-comedogenic, meaning it won't clog your pores.
Which Is the Best Natural Lip Balm?
The best natural lip balm for you is the one that contains ingredients that will tackle the issues you're dealing with.
How Can I Moisturize My Lips Naturally?
To moisturize your lips naturally, use natural, hydrating products like organic lip balms.
Adding natural lip balms to your skincare collection and using them regularly will help hydrate and smoothen your lips. Your lips need regular hydration, just like your skin. Non-toxic lip balms ensure that your lips don't lose their moisture and remain soft and plump throughout the day. Give them a try; dry, cracked skin will be a forgotten problem!
Want to give all-natural skincare a try? Check out these 15 natural skin care products we recommend.


  Stella - Writer
Stella is a writer and mother from Thika, Kenya.
Her love for nature and the beautiful Kenyan outdoors has inspired Stella to consciously make an effort to lead a more sustainable, eco-friendly lifestyle.