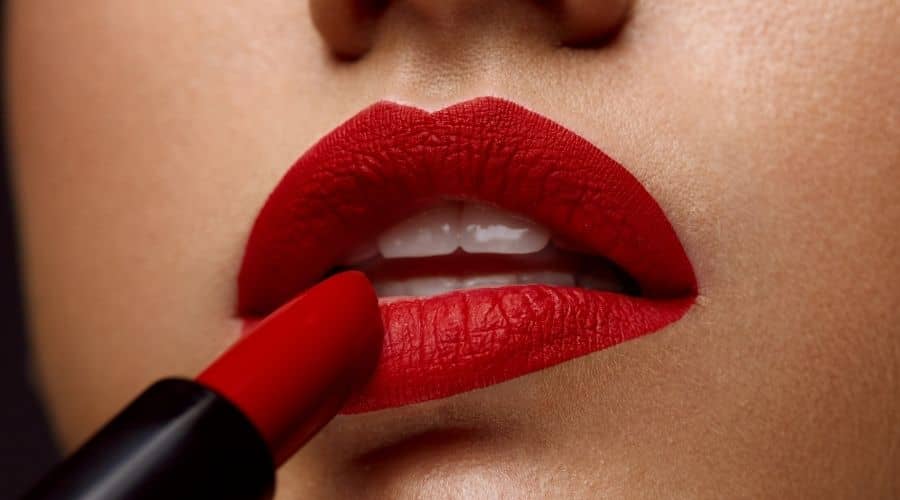 Nothing adds a pop of color to your makeup like lipstick. If you're looking to complete your look with yet another organic product, then you definitely need to add organic lipstick to your makeup kit. Non-toxic lipstick looks and feels great while also boasting clean ingredients that aren't toxic for you.
Luckily, today it's so easy to replace your classic red lippy with a safe, natural lipstick that can last all day without smudging, bleeding, or fading.
Best Natural & Organic Lipsticks
These are some of the best natural lipsticks from super sustainable, eco-friendly, safety-minded natural lipstick brands that use organic and natural ingredients only: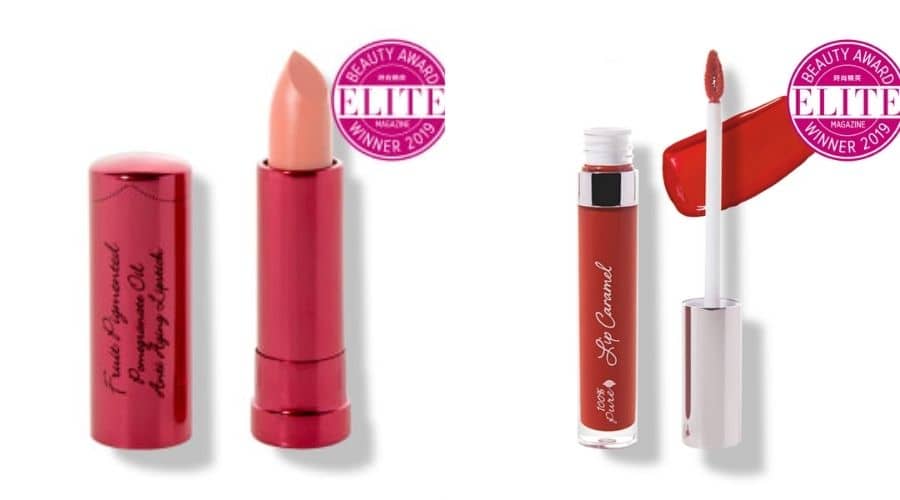 100% Pure's natural lipsticks are made using pomegranate oil and shea butter. They help keep your lips soft and moisturized and are colored with vibrant pigments from fruits like plums, raspberries, and grapes, as well as cocoa.
The lipsticks are antioxidant-rich and will protect your lips from free radical damage and anti-aging. The pomegranate oil is also naturally rich in compounds that support collagen production.
100% Pure lipsticks glide on easily and offer full coverage and a satin finish that lasts all day. They come in a wide range of colors from vivid fuchsia Marrakesh to the more subtle Cassia to Mirage. to Poppy and Hibiscus.
The lipsticks contain zero parabens, phthalates, or potentially toxic FD&C colors, or heavy metal dyes.
Based in: California, USA. Ships internationally.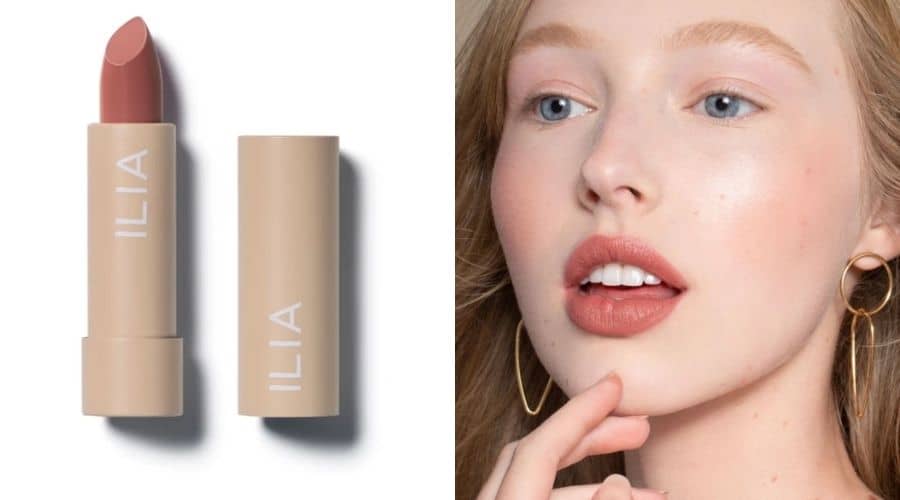 ILIA's all-natural lipstick is handcrafted and offers four times more pigment than any other lipstick the company has ever created. The lipstick contains organic castor seed oil and apricot seed oil that nourishes and softens the lips.
By blending nudes, reds, and berry shades, the company created balanced colors bound to look good on everyone. The lipstick provides both full and lasting coverage with one smooth application and will keep your lips truly hydrated.
The semi-matte vegan lipstick also feels silky and lets you line, fill, and define your lips all in one swipe.
Based in: Laguna Beach, California, USA. Ships internationally.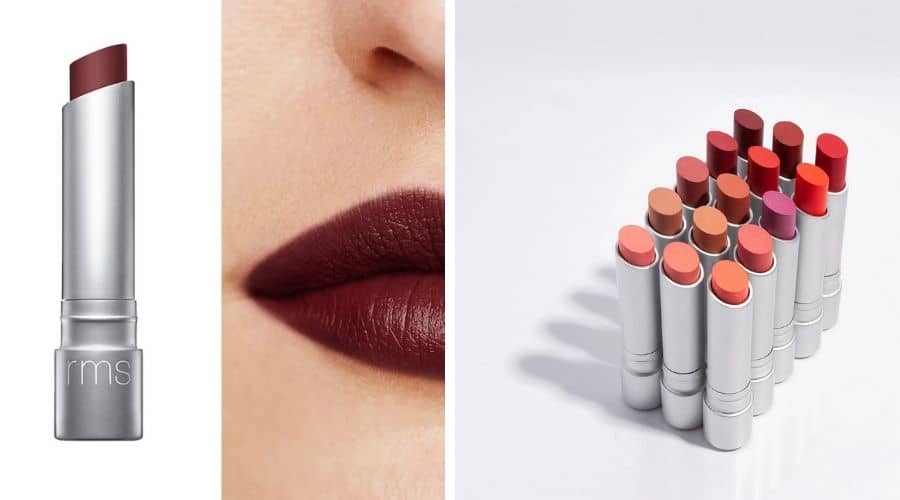 RMS Beauty's lip products are nontoxic and help to heal and nourish the skin. The lipsticks contain RMS's signature beauty oil that keeps your lips hydrated and you'll never experience dry lips when wearing them.
The super-luxe lipsticks contain ingredients used in their raw, organic state allowing natural living attributes to rejuvenate and refresh your lips. They'll leave your lips looking supple, and the color will stay strong all day with the highly pigmented shades. The lipsticks come in a range of richly pigmented, ultra-wearable shades that won't feather or bleed.
Based in: Charleston, South Carolina, USA. Ships internationally.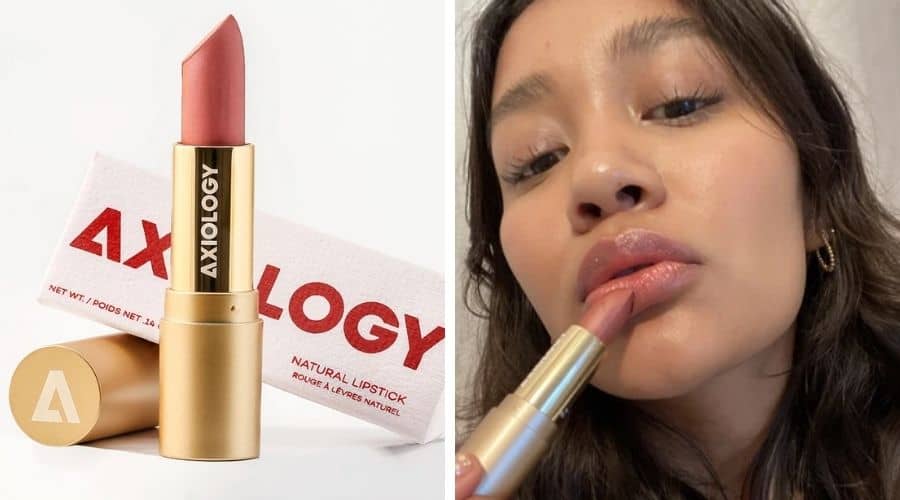 Axiology has made a lot of effort to be one of the best organic lipstick brands whose products are also cruelty-free.
The brand's lipstick contains just 10 natural ingredients including organic avocado oil, neem oil, coconut oil, candelilla wax, and more. It's not tested on animals, and there are no animal products used to make it.
The company also uses packaging made from recycled trash, thus promoting environmental conservation. It also uses profits to support causes such as the Orangutan Foundation and humane societies.
So, if you're passionate about using non-toxic makeup that doesn't cause harm to you, animals, or the environment around you, then Axiology's lipstick is for you.
Based in: Bend, Oregon, USA. Ships internationally.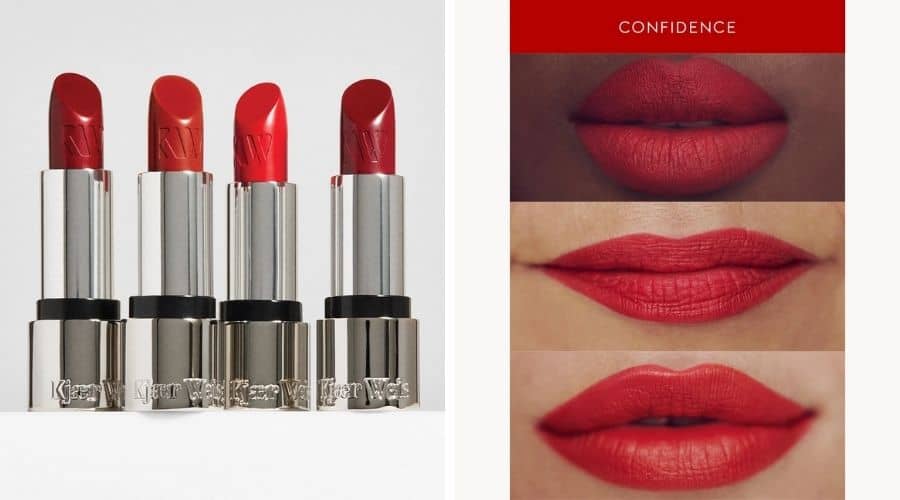 Kjaer Weis lipstick, like all its makeup, is thoughtfully designed and made from the finest organic and nourishing ingredients like shea butter, rosehip, and jojoba oil. The lipstick delivers a color-drenched coverage and a perfect, velvety finish without causing any damage to your lips.
Kjaer Weis is one brand that recognizes health and beauty equally and is also socially responsible. The brand uses ingredients Certified Natural or Certified Organic and its products always reach the standards of luxury beauty.
The brand's products, packaging, and shipping materials are 100% recyclable, compostable and refillable, sourced from FSC-certified materials, and printed with water-based ink.
Based in: New York, USA. Ships internationally.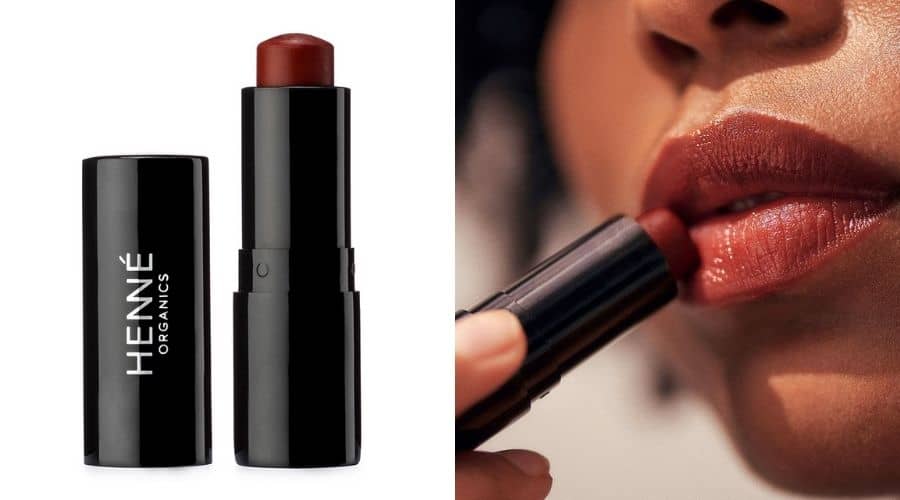 Henne Organics eco-luxe lip tints provide the perfect flush of color while thoroughly moisturizing your lips. They are created using nourishing ingredients such as organic coconut oil and organic avocado oil that rehydrate and smooth lips.
The tints come in four complementary shades (Intrigue, Bare, Azalea, and Coral) that go on sheer, but can be layered easily for a more vibrant bolder look.
These minimalist lip tints are all made in the USA and aren't tested on animals. They are perfect for anyone suffering from dry lips!
Based in: Las Vegas, Nevada, United States. Ships internationally.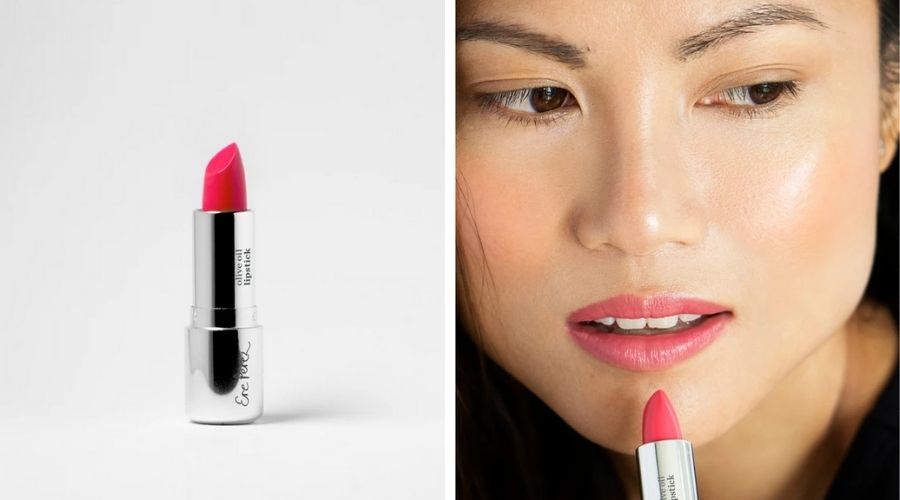 Ere Perez creamy vegan and cruelty-free lipsticks glide on smoothly and stay in place all day. They contain natural botanical ingredients such as olive oil, wild pansy, and cacao butter. These natural cosmetic ingredients contain soothing, moisturizing, and hydrating properties leaving your lips nourished whilst lifting your look
These lipsticks offer the perfect shade for any skin tone and any occasion, from ultra-delicate petal tints to deeper vibrant coloring for a bolder look.
Ere Perez focuses on producing healthy, natural make-up using carefully selected premium quality ingredients blended with antioxidants to create a gentle, highly effective natural make-up solution.
Based in: New South Wales, Australia. Ships worldwide.
The all-natural ingredients lipstick by W3ll People contains an advanced botanical complex (aloe, chamomile, and green tree) that nourishes and protects your lips.
The brand's lipsticks come in four unique options featuring a variety of fun and feminine colors. You'll love how these lipsticks offer the benefits of both a balm and lipstick.
The lipsticks will leave you with a subtle dash of color while solving chapped skin with beeswax, safflower seed oil, peppermint oil, castor oil, vitamin E, and more.
Based in: Austin, Texas, US. Ships in the US only.
Ecco Bella's healthy lipsticks contain vegetable waxes, oils, and mineral pigments, making them gentle on the planet and your body. They are easy to apply and leave your lips dazzling without any flaking or chapping.
The lipsticks don't contain any artificial dyes or fragrances used. They also don't contain any synthetic preservatives such as parabens and formaldehyde, gluten, toxic dyes, talc, alcohol, lanolin, tallow, and FD&C colors.
They contain natural ingredients including castor oil, palm oil, candelilla wax, Vitamin E, calendula oil, chamomile oil, jojoba oil, and flower wax-coated iron oxides.
Ecco Bella lipsticks are made without animal testing.
Based in: West Orange, New Jersey, U.S.A. Ships worldwide.
Beautycounter's lipsticks provide subtle, natural shine without stickiness. The best part is that they are color-tested, and made without synthetic fragrances. Instead, the brand uses natural vanilla for fragrance.
If you love a sheer touch of color, you'll love the brand's 11 shades that complement a variety of skin tones. You can also easily layer and build the tones for more intense color.
Beautycounter has one major goal of getting safer products into the hands of everyone hence, it's dedicated to safety, beauty education, and cruelty-free methods. It also partners with How2Recycle to help customers understand how to recycle their lipsticks after use.
Based in: Santa Monica, California, United States. Ships in the US only.
More Organic & All Natural Lipsticks
11. Au Naturale Cosmetics – The lipsticks are 100% natural, cruelty-free, sustainably sourced, and handcrafted. They're formulated with certified organic castor and jojoba seed oils, shea butter, and natural aromatics.
12. Vapour – The brand features unique lipsticks created by merging alchemy with healing botanicals, plant essences, and natural mineral pigments. They come in 11 gorgeous shades.
13. Kosas – Kosas lipsticks are made using ingredients that provide both nourishment and luxury. Ingredients include oils from rosehip and green tea seeds, as well as butter made from mango and cocoa seeds.
Other Recommendations: Best all Natural Mascara
What is Natural & Organic Lipstick Made Of?
Organic lipstick is created using real fruit, herbs, and plant extracts. They also contain fruit pigments from teas, natural earth minerals, and real berries instead of artificial dyes.
Here are some other non-toxic lipstick ingredients that make a good organic matte lipstick:
Organic waxes, oils, and plant butters: These include beeswax, candelilla wax, carnauba wax, cocoa butter, mango seed butter, shea butter, avocado butter, avocado oil, and coconut oil.
Organic castor seed oil: Hexane-free and cold-pressed castor oil is moisturizing and has anti-bacterial, anti-fungal, and anti-viral properties.
Safer antioxidants and preservatives: Rosemary extract, elderberry extract, neem oil, pure tocopherols (vitamin E), and jojoba esters.
Straightforward flavoring and aroma ingredients: Vanilla planifolia fruit extract.
Lipstick Ingredients You Should Avoid
When shopping for organic lipstick, focus on the ingredients used to make it. Make sure to read the label even for those claiming to be "natural" because they could contain nasty and potentially harmful ingredients.
These are some of the ingredients that you should avoid:
Alcohol (ethanol, ethyl alcohol): Causes the skin to dry out and can increase sensitivity.
Parabens: Used as preservatives and are known to have weak oestrogenic activity and their use is restricted in some countries.
Phthalates: Used to keep some plastics and cosmetics supple and flexible. Phthalates have been shown to affect the normal development of the central nervous system, and disrupt hormones.
Propylene glycol: It's a skin irritant that may cause dermatitis.
Synthetic colorants: Strongly irritates the skin, especially eyelids, lips, and mucous membranes.
Synthetic fragrances: Causes skin sensitivity and reaction.
Petrochemicals: – These are ingredients derived from crude oil including petroleum jelly and paraffin wax.
Carmine, or CI 75470: This pigment is obtained from the Cochineal beetle and takes around 70,000 beetles to produce one pound of Carmine pigment.
Polyethylene glycols (PEGs): – May be contaminated with 1,4-dioxane which is a human carcinogen.
With organic makeup gaining popularity by the day, it's now easier to find the perfect organic lipstick for you for that striking color on your lips without compromising your well-being.
If you're looking for more organic beauty products, check out these 15 organic and toxic free makeup brands.
Check Out Our Other Recommendations: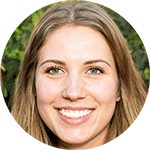 Jamie - Cofounder
Hi, I hope you enjoyed reading this article.
If you are looking for more ways to live an eco-conscious lifestyles, then check out our complete guide here.
Thanks for stopping by - Jamie