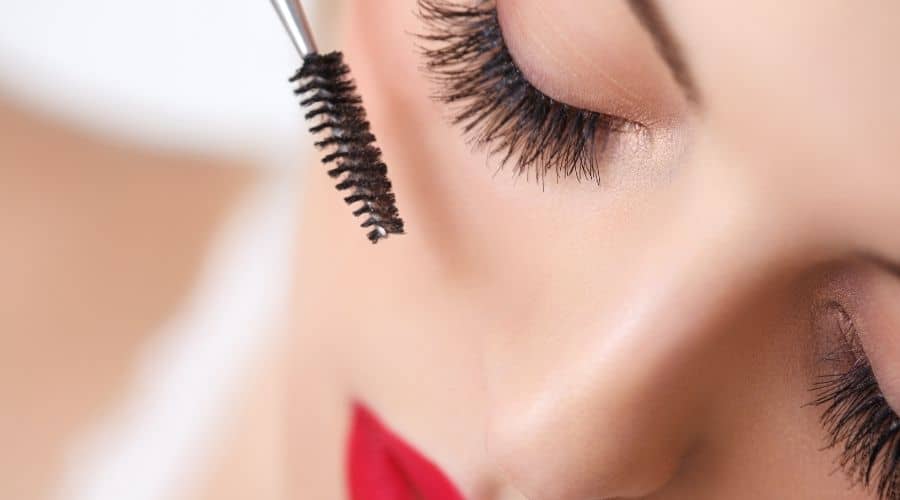 As an eco-conscious makeup enthusiast, finding an organic mascara is probably a struggle you've faced. Creating clean and natural mascaras without using preservatives like parabens or phthalates is not easy for many brands.
However, that's not to say a good, chemical-free mascara doesn't exist. Natural mascara is still a fairly new category but there are plenty of clean mascaras that don't contain these questionable ingredients. In fact, we rounded up the best organic mascara options for you.
Also, since you're all about looking good naturally, make sure to check out our recommendations for best organic makeup brands & best organic lipstick.
Best Natural & Organic Mascaras
These 13 organic mascaras are some of the best in the market. They don't contain chemicals that can harm your eyes or your health. Check them out:
100% PURE Ultra Lengthening Mascara contains a mixture of black tea, berries, and cocoa pigments that create the perfect shade for darkening lashes. This mixture of ingredients also lengthens and separates them without clumping, smudging, or flaking. The mascara will coat your lashes with healthy conditioners and never strip them of their natural protective agents.
This lengthening mascara has the added benefit of coming in four different shades—classic black, denim blue, deep plum, and chocolatey brown—all wearable and flattering on a wide array of eye colors.
This mascara is also water-resistant and free of toxic petrochemicals.
Based in: California, USA. Ships internationally.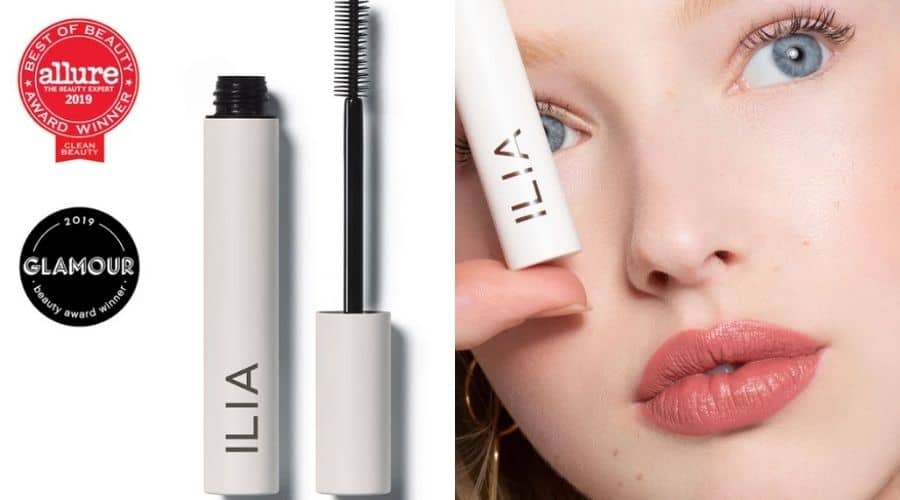 The Limitless Lash from ILIA is one of the best all-natural mascaras available in the market. This nourishing formula is made using organic bee and carnauba waxes, shea butter, and keratin. This combination will fortify and enhance your lashes for any look.
This mascara doesn't flake, smudge, or fall out. It separates lashes perfectly, lengthens them, and gives them volume. And the best part is that your lashes feel light and flexible.
You'll especially love the dual-sided brush. You can use the shorter side to curl and create volume, and the longer bristles to lift, lengthen and separate.
Based in: Laguna Beach, California, USA. Ships internationally.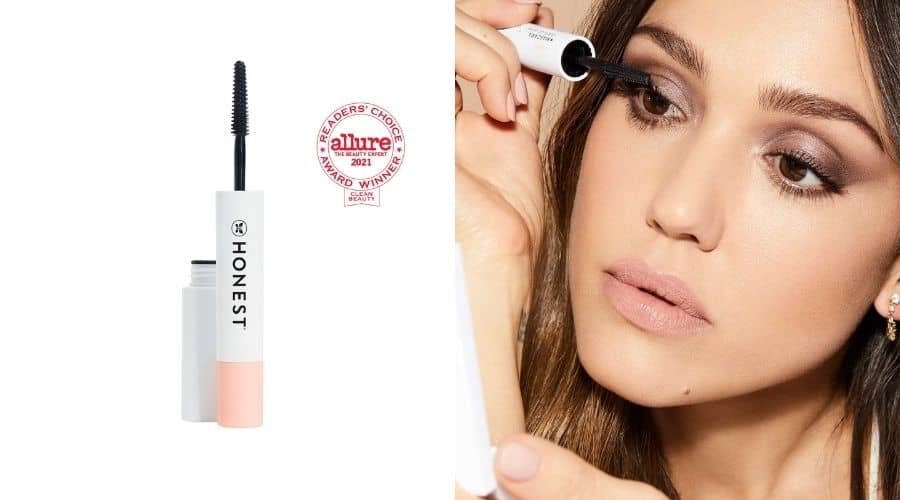 Honest Beauty Clean Mascara and Primer is a natural organic mascara that's both a primer and a mascara. The mascara gives you a subtle look and if you layer the thickening primer before you wear the mascara you'll get mega length. The primer also ensures that the mascara goes on smoothly and stays put.
The mascara contains jojoba esters, which give it sufficient hold and thickness and condition your lashes.
Based in: Los Angeles, California, United States. Ships in the US and Canada.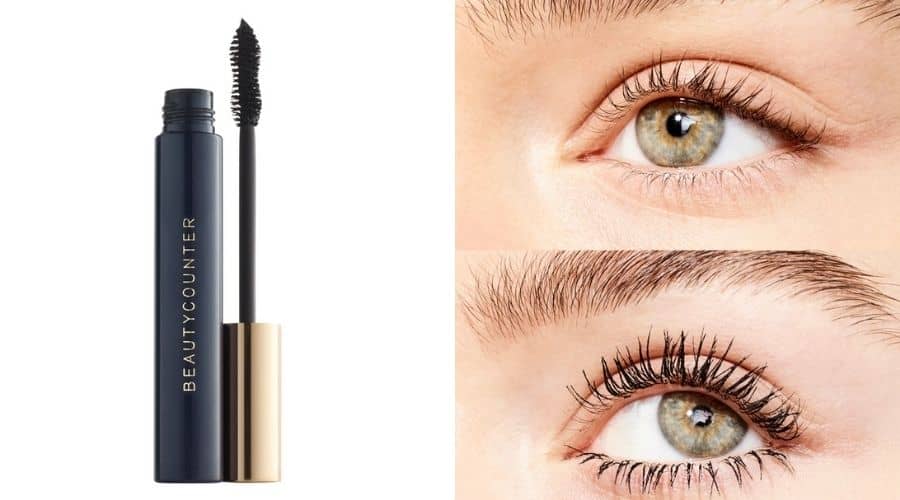 Beautycounter's Lengthening Mascara defines, lengthens, builds, and conditions lashes without clumping or leaving you with the dreaded "raccoon eyes." The mascara's hourglass brush curls, separates, and plumps for a high-drama look.
The mascara is made using carnauba wax, rice bran wax, and bataua oil. It also contains iron oxide pigments (which is a much safer alternative to carbon black) that give the mascara a gorgeous black hue.
Beautycounter is also dedicated to beauty education and focuses on providing safe, clean, and cruelty-free products while informing consumers about the value of natural, toxin-free makeup.
Based in: Santa Monica, California, United States. Ships in the US only.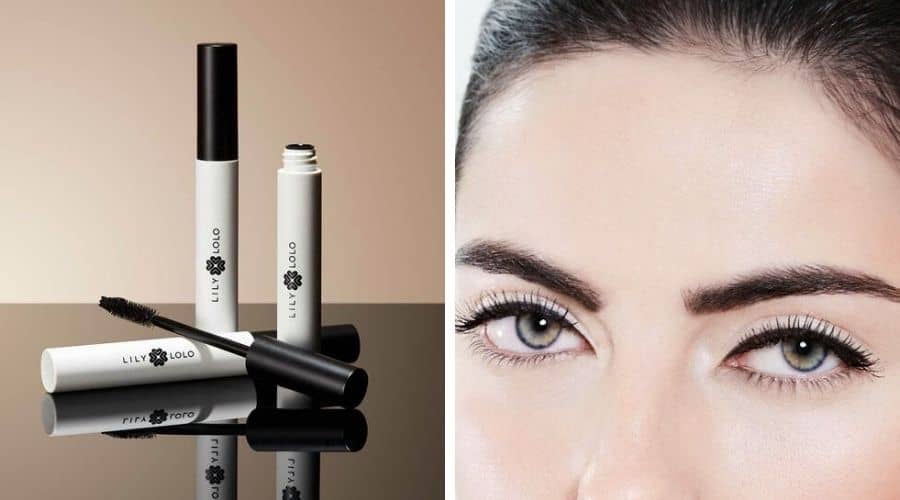 Vegan Mascara from Lily Lolo is soft, creamy, and smudge-free. The mascara is made using fruit, sunflower seed, and carnauba waxes. These natural ingredients make this mascara suitable for sensitive eyes. It's free from fragrance, alcohol, lead, parabens, and harsh chemicals, and artificial ingredients.
This mascara slips on effortlessly and is ideal for emphasizing length. It also defines and lengthens your lashes giving you the perfect doe-eyed look. This product is a winner of the Green Beauty Bible Award.
Based in: Hull, UK. Ships worldwide.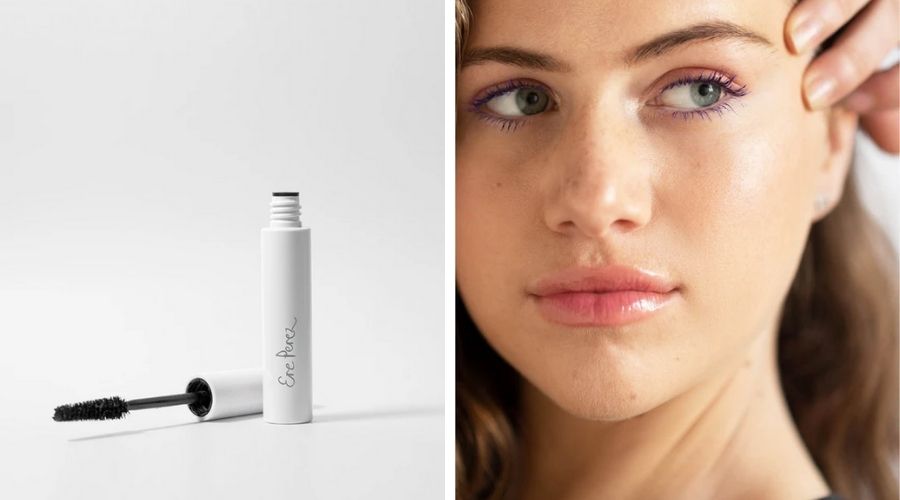 Ere Perez Natural Almond Mascara contains almond oil that helps nurture and strengthen delicate lashes. It also contains Essential Fatty Acids, Mamey Sapote Oil, Avocado Oil, and Vitamin E that hydrates the lashes.
The mascara doesn't smudge, it's water-resistant and long-lasting. It's suitable for all types of eyes including sensitive ones and contact lenses.
It comes in deep black and a warm brown, so you have options depending on your skin tone, eye color, and final makeup look.
This Ere Perez Mascara is cruelty-free, free of Parabens, Phthalates, Propylene Glycol, Paraffin, Lead, Nanoparticles, and GMOs.
Based in: New South Wales, Australia. Ships worldwide.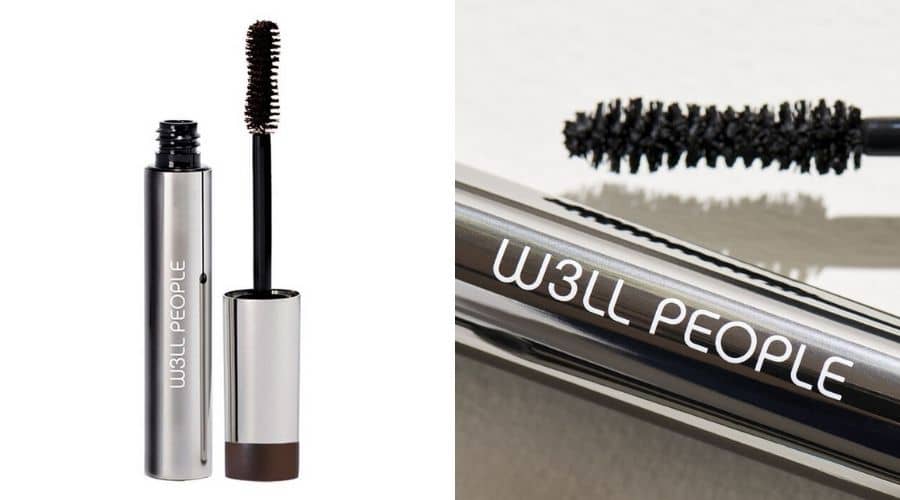 W3LL PEOPLE Organic Mascara is a plant-based formula that will add volume to your lashes and leave them soft and fluttery.
The ingredients used to make this product are clean and made using sustainable energy. The mascara is 100% cruelty- and clump-free and doesn't contain petroleum, parabens, gluten, coal tar, aluminum, or fibers.
The mascara has a dense, hourglass-shaped brush that helps pack the product onto every lash without clumping. It has sturdy nylon that allows you to define even the thinnest of lashes.
W3LL People is a popular beauty brand that recognizes that our skin is our largest organ and absorbs the majority of what we put on it. Hence, its products don't contain the harmful artificial chemicals found in most conventional makeup. The brand's products are also never tested on animals.
Based in: Austin, Texas, US. Ships in the US only.
RMS Defining Non-Toxic Mascara is made using rich mineral pigments and certified organic oils, butter, and waxes. It instantly adds life, definition, and volume to your lashes without flaking, smudging, or clumping.
While the formula in this product is not 100% organic, it's 100% natural and effective. The mascara is creamy and rich, separates, and defines lashes naturally. It contains organic Beeswax that is rich in vitamins and antioxidants. The Beeswax is organic and ethically sourced to protect skin while helping to retain optimal moisture.
It also contains sunflower seed oil rich in essential fatty acids, antioxidants, and vitamin E. The sunflower seed oil helps nourish and condition lashes.
Based in: Charleston, South Carolina, USA. Ships internationally.
Burt's Bees Nourishing Mascara is made using 100% natural ingredients like jojoba oil and glycerin. These offer plenty of hydrating and conditioning benefits and give your lashes both defined length and impressive lift.
The mascara comes in both black and a very natural-looking black-brown and is ophthalmologist-tested and safe for even sensitive eyes and contact lens wearers. It doesn't contain parabens, phthalates, SLS, petroleum, or synthetic fragrances. The product is also not tested on animals and is cruelty-free.
The brush is ideal for defining and separating lashes, making it perfect if your lashes tend to stick together.
Based in: Durham, North Carolina, United States. Ships in the US only.
Westman Atelier Eye Love You Mascara is a dense and creamy natural mascara that comes with a thick nylon brush, to give you ultra-thick, well-defined and curly lashes.
This is an excellent mascara as well as a lash-conditioning treatment. It is made with 96% natural ingredients including a tree-derived sugar that hydrates and conditions the lashes as well as chicory root and natural waxes that deliver thickness and volume. This product uses a natural alternative preservative that comes from coconut oil.
The mascara doesn't contain any silicones, parabens, PEGs, phthalates, or synthetic fragrances.
Based in: New York, USA. Ships internationally.
More Organic & Natural Mascara
11. Juice Beauty Phyto-Pigments Mascara – This mascara is made with 60% organic ingredients and plant-derived pigments. It has a creamy and non-drying consistency, so it won't flake off throughout the day.
12. Erin's Faces Matcha Mascara – This non-toxic mascara is made with organic matcha which helps strengthen lashes. It also contains beta carotene and plant-based fibers and is free of added gluten, soy, parabens, dyes, or fragrances.
13. Fitglow Beauty Good Lash – This is one of the few clean mascaras that not only enhance lashes but fortifies them as well.
How to Know You're Buying Natural & Organic Mascaras
When shopping for organic mascara, it's important to understand the ingredients that make conventional mascaras. These are ingredients you don'
Most traditional mascaras contain:
Parabens: These are harmful preservatives added to beauty products to increase their shelf life. Parabens are dangerous because they mimic the hormone estrogen and are known as endocrine disruptors.
Propylene glycol: This is a petroleum derivative used in mascara, deodorant sticks, toothpaste, mouthwash, tobacco products, and other industrial products such as antifreeze and brake fluid.
Retinyl acetate: This ingredient is known to cause biochemical or cellular changes. It has also been linked to positive cancer mutations.
Aluminum Powder: This is a metallic substance composed of finely ground particles of aluminum and is used to give color to mascara. It's known to interfere with the essential functions of our cells and bodily processes.
Read more: Ingredients You Don't Want In Your Skin Care
A typical natural mascara is roughly formulated using natural and organic waxes, such as beeswax, candelilla wax, and carnauba wax. They also contain natural and organic oils and butter, such as jojoba oil, sunflower oil, cocoa butter, and shea butter.
As you can see traditional mascaras are full of questionable chemicals, but luckily, as we have outlined, there are more and more clean alternatives than ever before.
Since you're in the market for organic mascara, you might be interested in checking out our picks for best organic face moisturizers.
Check Out Our Other Recommendations: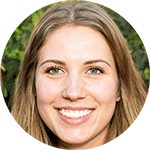 Jamie - Cofounder
Hi, I hope you enjoyed reading this article.
If you are looking for more ways to live an eco-conscious lifestyles, then check out our complete guide here.
Thanks for stopping by - Jamie