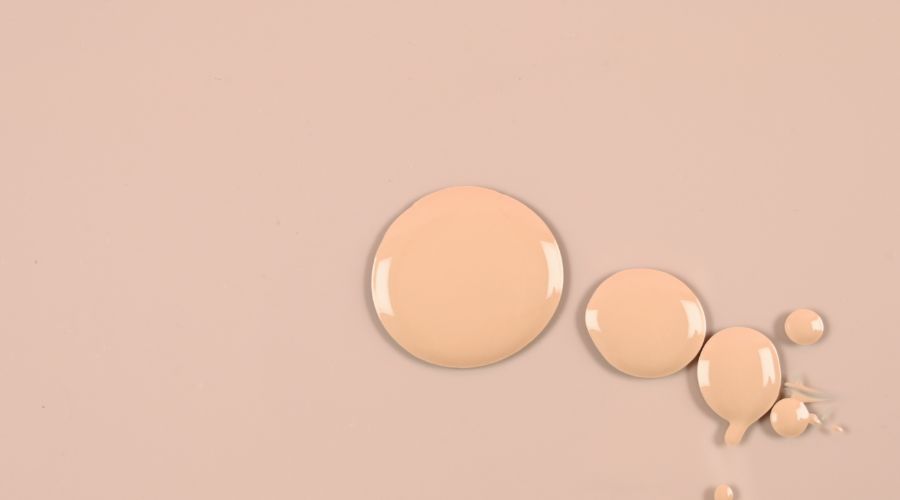 Some days, your skin doesn't feel as radiant as you want, even when you've religiously followed your skincare routine. On such days it's perfectly ok to get an assist from a cover-up and still rock that clean "no-makeup look." A light-coverage natural tinted moisturizer will give you the radiance you want without destroying your natural glow.
Non-toxic tinted moisturizers add a subtle, even layer to your skin without the heaviness of foundation. Further, they tend to have additional skin benefits such as sun protection.
To help you find the best natural tinted moisturizer, we've compiled a list of our recommended natural tinted moisturizers and some of the benefits you can expect.
Related article: Best Organic Face Serum 2023: 12 Natural Face Serums We Recommend
11 Best Natural Tinted Moisturizers
These are some of the best organic tinted moisturizers you should consider if you're looking for light coverage to enhance your natural look.
1. 100 Percent Pure Fruit Pigmented Tinted Moisturizer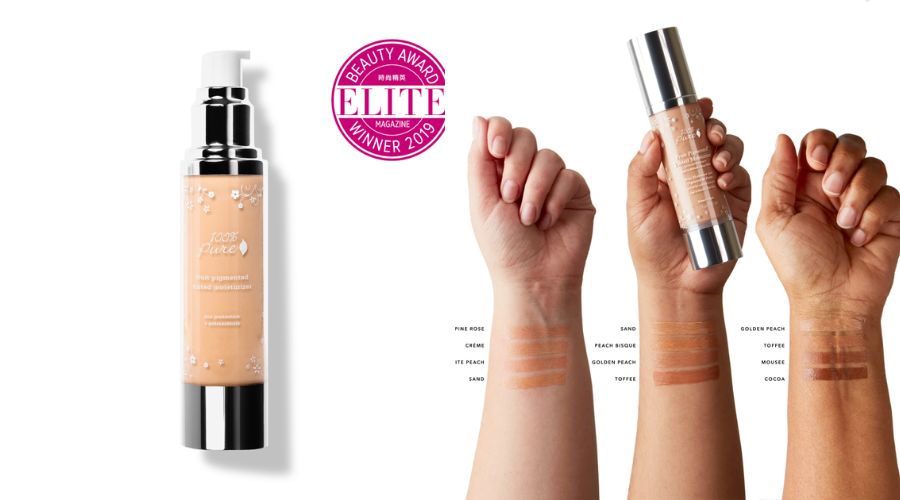 100 Percent Pure Fruit Pigmented Tinted Moisturizer is an ultra-hydrating tinted moisturizer that refreshes your skin and offers a dewy, light-medium coverage. This product is a nourishing moisture cream and a lightweight natural tint with a sun protection factor (SPF).
The tinted moisturizer is infused with organic white tea and peach, which protects your skin from UV rays and combats sun damage with antioxidants. It also contains pomegranate seed oil that helps combat aging and repair dry skin. In addition, the moisturizer has Goji berry that boosts collagen production and skin elasticity. If you have dry skin, you'll benefit greatly from the hydrating aloe juice in this product, which will calm and quench your skin.
Based in: California, USA. Ships internationally.
2. ILIA Super Serum Skin Tint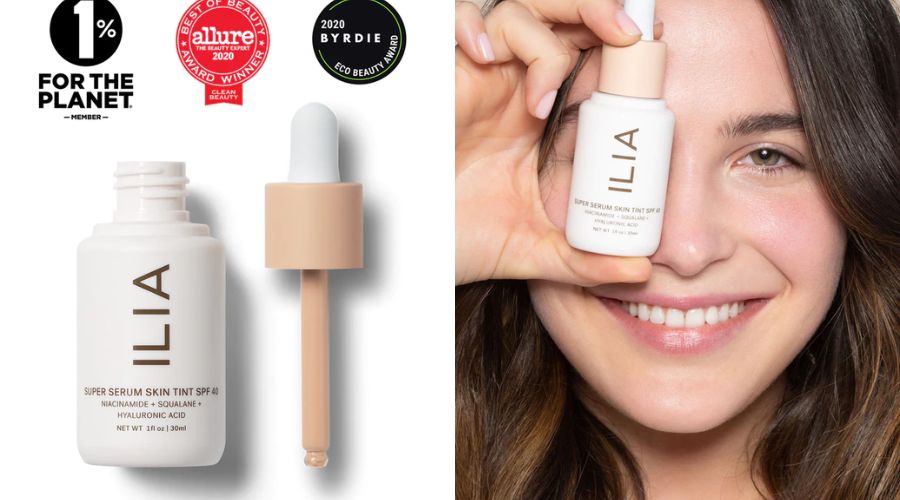 ILIA Super Serum Skin Tint is a skincare, makeup, and SPF product in one. This lightweight formula combines plant-based squalane, hyaluronic acid, and niacinamide. This combination is what gives this tint a dewy finish. The non-nano zinc oxide provides the tint with the SPF 40 factor, which protects your skin from UV, blue light, and pollution.
This tint is a natural barrier for your skin, sealing in hydration and plumping your skin. ILIA's tint offers a light coverage that helps to cover any redness. For full coverage, you can pair it with your favorite organic concealer.
This product contains no artificial fragrance, chemicals, silicone, or oil. It's also non-comedogenic and safe for sensitive skin.
Based in: California, USA. Ships internationally.
3. Marie Veronique Everyday Coverage Tinted Sunscreen SPF 30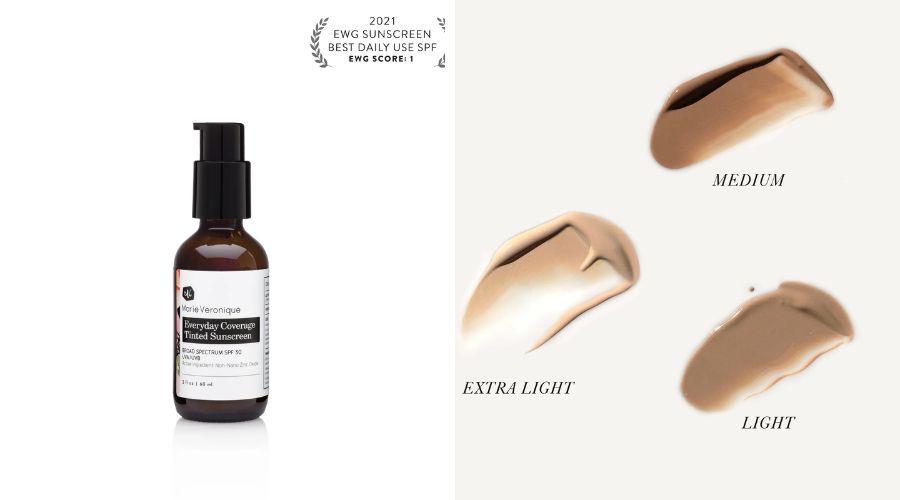 Marie Veronique Everyday Coverage Tinted Sunscreen SPF 30 is a safe tint made from zinc only. It can be used by the entire family. The non-nano zinc is very photostable. Combined with red raspberry seed oil, it offers maximum UV and blue light protection due to its high anthocyanin content.
The tint also has a green tea infusion with high levels of polyphenols and catechins. The tea offers extra sun protection and rejuvenates your skin. Sea buckthorn oil is another excellent ingredient found in this tint. The oil has high levels of vitamins C and A and antioxidant superoxide dismutase, protecting against free radical damage.
Marie Veronique's tint has a non-greasy featherlight texture that delivers a natural demi-matte finish. You can wear this tint over your face oil for light coverage that diffuses redness.
Based in: California, USA. Ships internationally.
4. Saie Beauty Slip Tint Dewy Tinted Moisturizer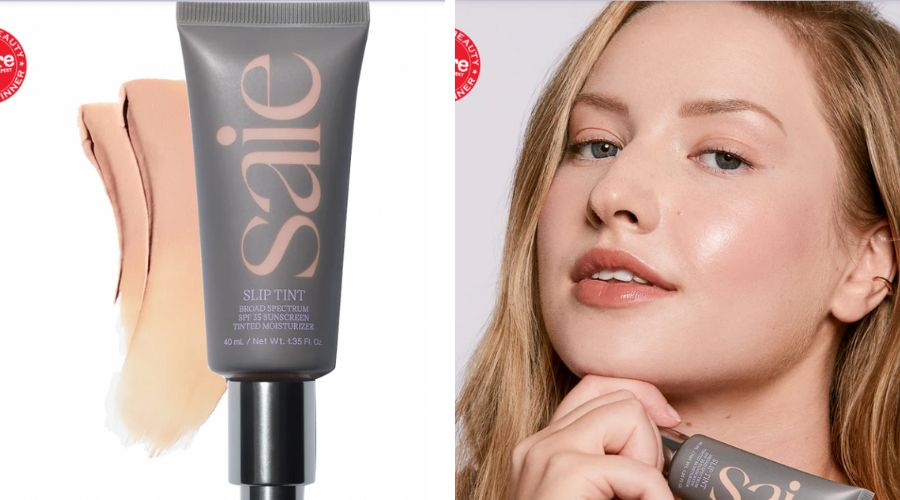 Saie Beauty Slip Tint is a best-selling and multi-award-winning tinted moisturizer with nourishing skin-loving ingredients. The formula doubles as a daily skincare product and a clean SPF 35 sunscreen. It glides on seamlessly, leaving you with a dewy finish without looking greasy.
The ingredients in the tint include hyaluronic acid, which deeply hydrates by attracting water and retaining moisture in the skin. Licorice root extract brightens and refines your appearance, while the pansy flower fights free radicals, soothes irritation, and clears eczema.
Additionally, the tint is gluten-free, cruelty-free, and comes in recyclable packaging.
Based in: New York, USA. Ships in the US only.
5. bareMinerals Complexion Rescue Tinted Moisturizer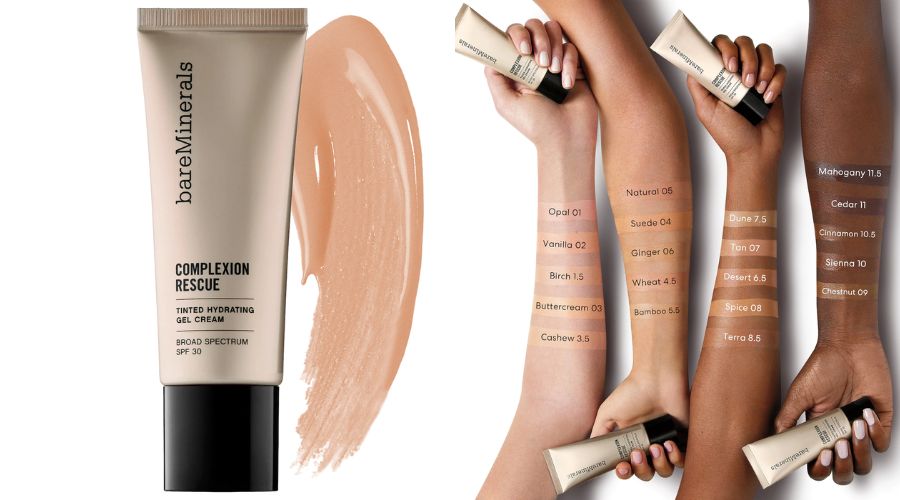 BareMinerals Complexion Rescue is a lightweight, silky formula with a slightly radiant, dewy natural finish that looks and feels like skin. This tinted moisturizer contains hyaluronic acid and olive-derived squalane that helps keep your skin looking bright all day.
This BareMinerals tint has a creamy texture making it easy to apply. Blending it with your hands is better than using a brush or beauty sponge. If you have oily skin and you still want a dewy finish, use a finishing powder to touch up the t-zone.
Based in: New York, USA. Ships in the US only.
6. Kosas Tinted Face Oil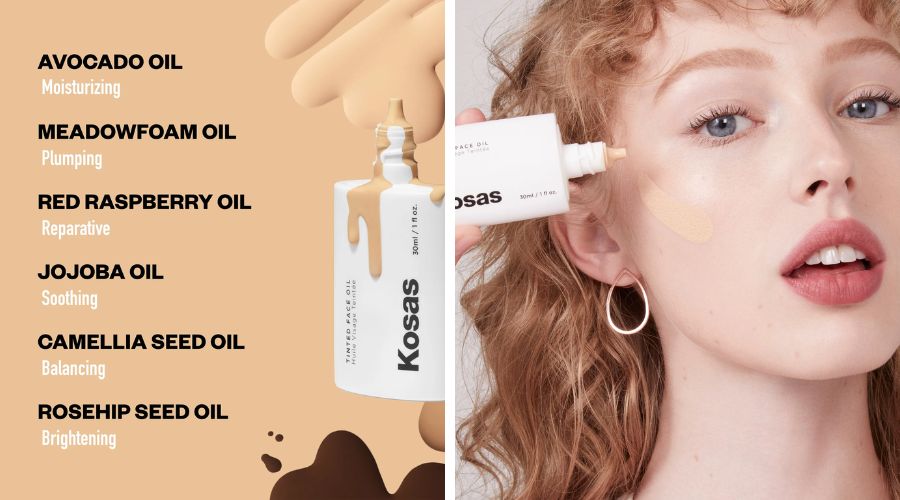 Kosas Tinted Face Oil contains a blend of plant oils that give you more coverage while delivering a "no makeup makeup" look. The oil contains powerful botanical oils such as jojoba, meadowfoam, red raspberry, and rosehip seed. This combination leaves your skin feeling soothed, hydrated, and balanced.
This oil's lightweight formula absorbs quickly and doesn't leave a greasy residue. Further, it gives you even coverage and a natural-looking, satiny finish.
The tint comes in the most extensive range of 16 shades to make sure every customer finds a shade that delivers the most natural finish.
Based in: Los Angeles, California, US. Ships internationally.
7. Juice Beauty CC Cream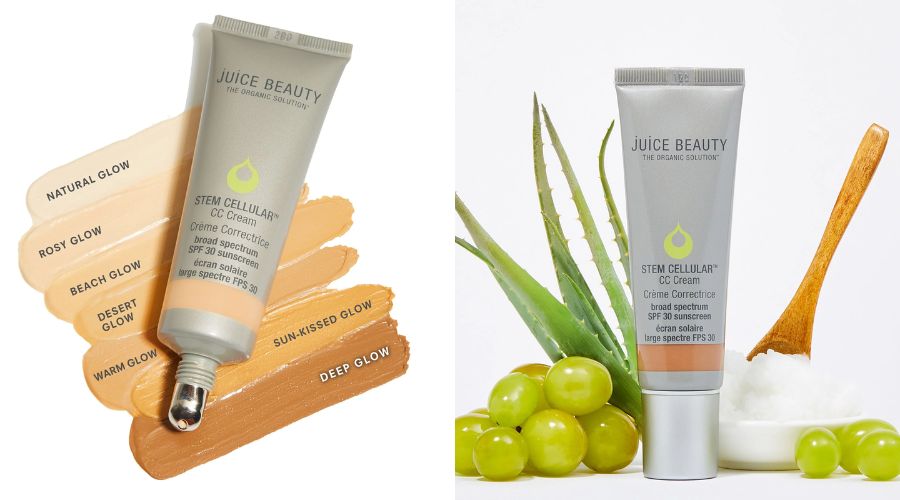 Juice Beauty's Stem Cellular CC Cream is a 12-in-1 multi-tasking, color-correcting cream formulated with zinc SPF 30. It has anti-aging benefits, such as reducing the appearance of fine lines and wrinkles. This everyday-use cream delivers ultimate skin-perfecting results.
This CC cream is formulated with aloe leaf juice rich in glycoproteins and soothing properties. These can help improve hydration and retain the skin's natural moisture content. Organic grape juice is rich in resveratrol and antioxidants, providing skin protection benefits. It also contains coconut oil with very high antioxidant levels that can help promote beautiful and hydrated skin.
Juice Beauty sunscreens are vegan, cruelty-free, reef-safe, and formulated without chemical SPF. They instead contain an organic base of vitamin C, fruit stem cells, and botanical juices.
Based in: California, US. Ships to the US, Canada, and most countries worldwide.
8. EltaMD Daily Tinted Broad Spectrum SPF 40
EltaMD Daily Tinted Broad Spectrum SPF 40 offers superior hydration and serious UV protection. It's formulated using hyaluronic acid that boosts moisture retention increases skin smoothness and softness, and diminishes fine lines.
This light tint formula will even your tone, creating a smooth, flawless-looking complexion. The SPF glides on easily and absorbs quickly into the skin, giving you a healthy look and comfortable wear.
Hyaluronic acid does a marvelous job protecting your skin from photodamage. This helps prevent premature skin aging making it an excellent choice for the beach or an outdoor stroll.
Based in: Arizona, US. Ships in the US only.
9. True Botanicals Everyday Skin Tint
True Botanicals Everyday Skin Tint is a clean skin tint designed to act like a second skin. The tint gives you a natural glowing finish while keeping your skin moisturized and protected from sun damage and pollution.
True Botanical's tint is formulated with ingredients that mimic the natural oils on the skin
and adds a subtle glow to your skin regardless of your complexion. The 24-shade range available ensures the tint works for all skin tones.
The formula blends and wears perfectly, leaving you with weightless and buildable flawless coverage. Further, it delivers broad-spectrum sun protection, decreasing premature aging.
This tint is vegan, MADE SAFE certified, and free of toxins, synthetic fragrances, silicones, and waxes.
Based in: San Francisco, USA. Ships internationally.
10. Inika Certified Organic BB Cream
Inika Certified Organic BB Cream contains 80 percent Certified Organic ingredients that help achieve a perfectly nourished and even complexion. It's formulated using prickly pear oil that moisturizes and softens the skin. The pomegranate seed oil has intense hydrating properties that reinvigorate your skin, giving you a youthful-looking appearance. Jojoba oil helps increase collagen production while reducing wrinkles. It also contains avocado oil that replenishes and contains essential fatty acids, minerals, and vitamins.
This lightweight creamy formula melts into the skin, restoring moisture, blending imperfections, and leaving your skin soft and hydrated.
Based in: New South Wales, Australia. Ships internationally.
11. Well People Bio Tint SPF 30 Tinted Moisturizer
Well People Bio Tint SPF is a light-to-medium-tinted moisturizer with SPF 30 protection that works for all skin tones. The moisturizer will moisturize your skin, instantly blur any imperfections, and leave you with a dewy finish.
This organic tinted moisturizer with SPF is formulated using safe ingredients such as non-micronized zinc, raspberry seed oil, and broccoli seed oil. These ingredients brighten, smooth, and hydrate your skin without clogging pores.
You can expect a light to medium coverage that blends effortlessly. For dry skin, use another light moisturizer underneath for better results.
Based in: Austin, Texas, US. Ships in the US only.
Honorable Mentions For Best Organic Tinted Moisturizers
Milk Makeup Sunshine Skin Tint: This is a great lightweight, hydrating moisturizer, especially for people with dry skin. It's formulated using avocado, grapeseed, and jojoba oils, keeping your skin feeling soft and supple all day.
Mukti Organics Tinted Moisturiser With Sunscreen Spf15: This moisturizer is formulated using Kakadu plum, snow flower, and desert lime. The product offers medium coverage and built-in SPF.
Tinted Moisturizer Benefits For The Skin
All-natural tinted moisturizers are quickly gaining popularity due to their many benefits, including:
Light coverage:

Clean tinted moisturizers are a better alternative to foundation as they don't cake. They give you a lighter coverage than foundation allowing your skin to breathe and stay hydrated all day.

Protection against sun damage:

Most organic tinted moisturizers offer SPF to protect your skin from the sun. So you get both the benefits of a moisturizer and sunscreen.

Improved moisture retention:

Tinted moisturizer will truly moisturize your skin and improve moisture retention, increasing hydration even when wearing makeup.

High dose of vitamins:

The best clean-tinted moisturizers are full of vitamin C, vitamin E, and SPF.
Frequently Asked Questions (FAQ)
What Does a Tinted Moisturizer Do?
A natural tinted moisturizer will even out your skin tone, give you extra hydration, and protect you from UV and blue light.
Can I Use Tinted Moisturizer Instead of Foundation?
Yes, you can use a tinted moisturizer instead of a foundation if you're not looking for full coverage, as most tinted moisturizers offer light to medium coverage.
Is Tinted Moisturizer Good for Daily Use?
Yes, tinted moisturizers can be used for everyday wear if you want a light, natural, healthy glow, but if you need extra coverage, it's best to use foundation.
What Is the Best Way To Apply Tinted Moisturiser?
Pump a small amount of tinted moisturizer and blend from the center of the face spreading it evenly onto your skin using your fingertips.
If you're looking for a way to spice up your all-natural makeup look, you should consider using a natural tinted moisturizer. It's a great option that provides sheer coverage and is packed with powerful ingredients that also benefit the skin.
Looking for more organic skincare products? Check out this list of 15 natural skin care products we recommend.


  Stella - Writer
Stella is a writer and mother from Thika, Kenya.
Her love for nature and the beautiful Kenyan outdoors has inspired Stella to consciously make an effort to lead a more sustainable, eco-friendly lifestyle.