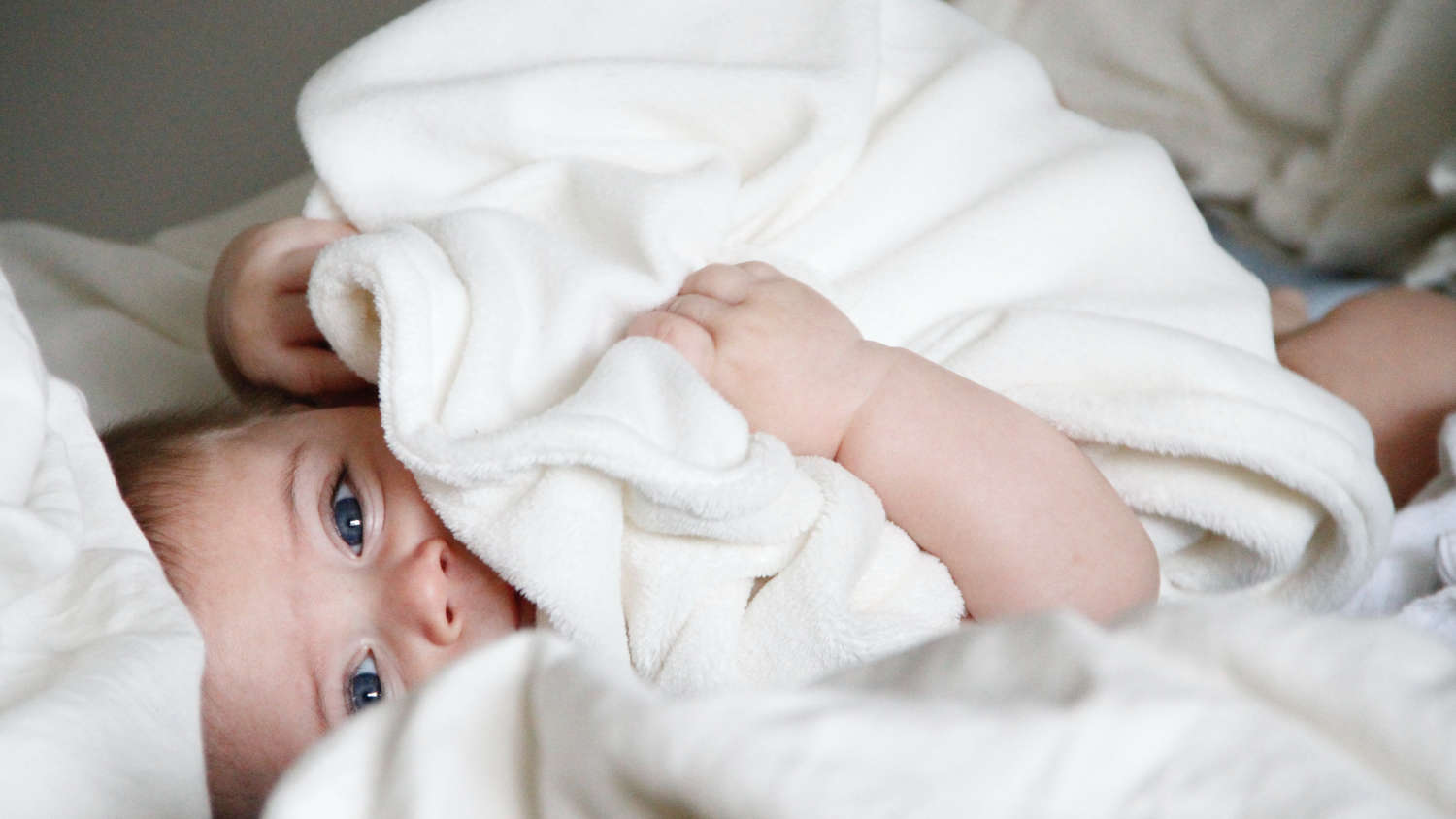 Having an eco-friendly nursery for your baby is a good choice. It's not only good for your baby's health but also protects the environment. From sustainable cribs to organic crib sheets and organic baby blankets, you can give your baby a truly comfortable and safe sleep.
Whether you're buying a blanket to take your newborn baby home in or one to cover them daily when they sleep, there are lots of genuine organic cotton baby blankets available.
We've created a round-up of the best organic baby blankets made using only natural or organic materials, sustainable sourcing methods, and ethical production practices.
If you like this article make sure you also check out our recommendations for best organic baby clothes brands and organic crib mattresses.
Best Organic Blankets For Babies
Here are 11 of the best organic baby blanket brands available: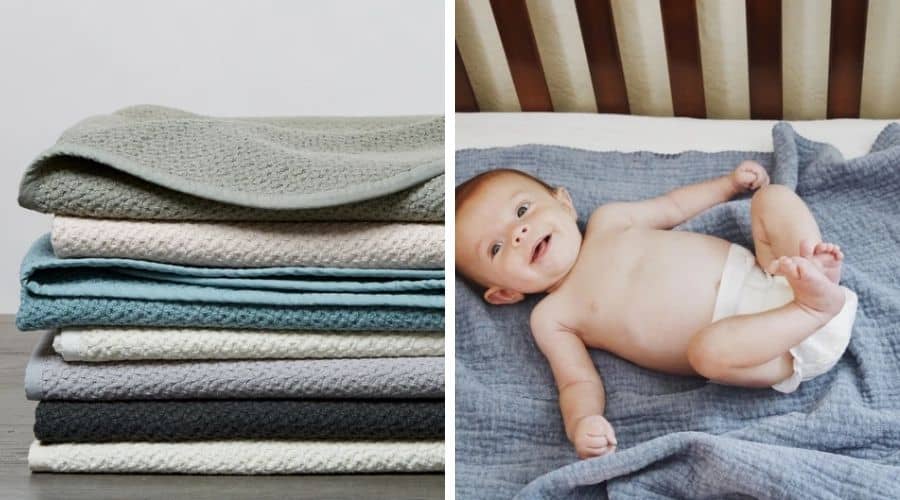 Coyuchi has been around for three decades and continues to manufacture timeless organic bedding, sheets, blankets and more.
The Coyuchi baby blanket is made using 100% organic cotton. The blankets are soft, safe and sustainable.
The blankets come with a chunky, tightly woven jacquard weave that gives them a timeless texture and locks in warmth. Coyuchi baby blankets are pre-shrunk to retain their shape, year after year and wash after wash—you will use them for years.
The blankets are woven in India, Portugal, or Germany.
Based in: USA. Ships in the USA only.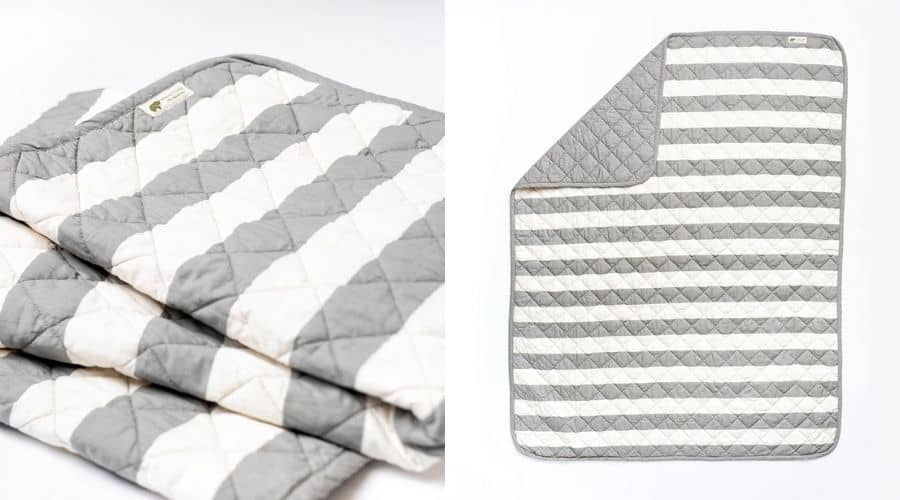 A Monica + Andy natural baby blanket will make sure that what touches your newborn's skin is the most trustworthy fabric available. The blankets are made using GOTS certified organic cotton and come in 200 thread-count percale outer. The blankets are lead, phthalate, and flame-retardant-free.
The blankets feature a touch of stretch that makes it easy to gently wrap and snuggle your newborn for the first few months. They come in fun, adorable, and unique prints.
For an extra $15, you can personalize your blanket by adding an embroidered name.
Based in: USA. Ships internationally.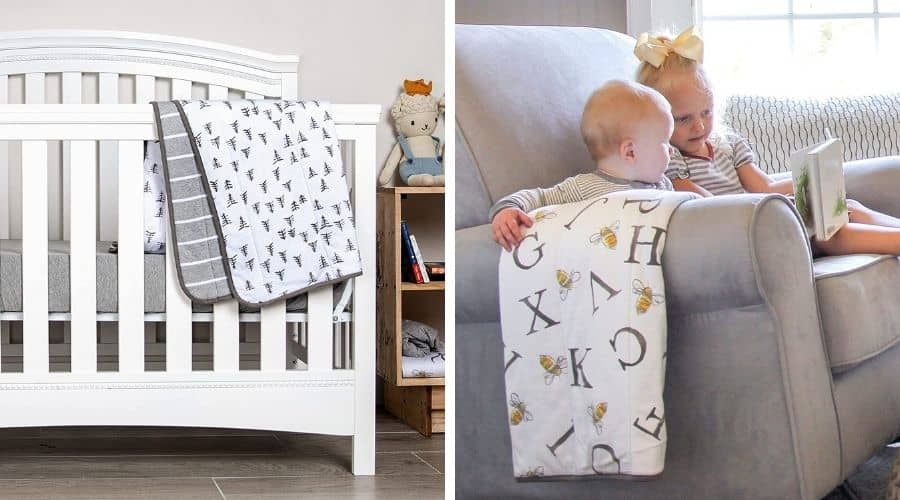 Burt's Bees organic baby blankets come in top-notch quality. The baby blankets are made from GOTS certified 100% organic muslin cotton.
The blankets are super soft, gentle on your baby's delicate skin, and will hold well after endless washes.
Burt's Bees blankets measure 47 x 47 inches, which makes them perfect for swaddling, as a car seat cover, nursing cover, burp cloth, and other uses.
The blankets come in a wide range of stunning prints and patterns, Each print on the blankets is hand-painted to add some extra love and attention because your baby deserves only the best.
Based in: USA. Ships locally only.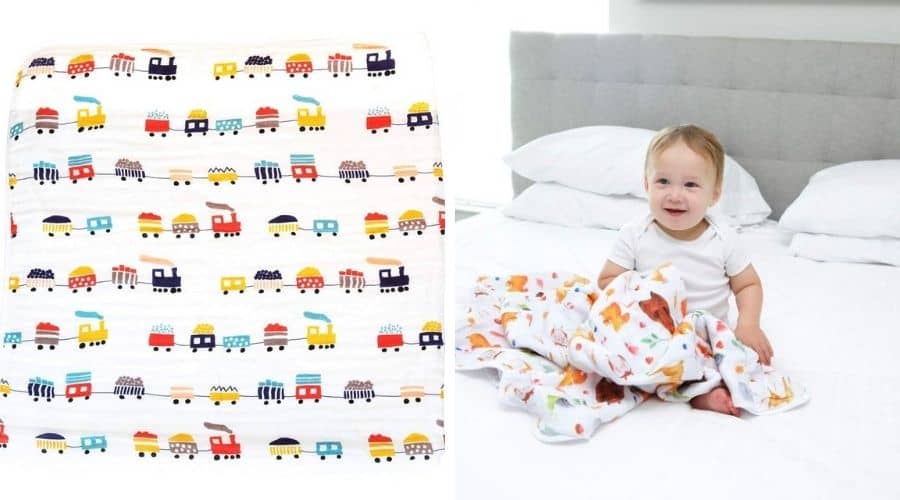 All Addison Belle blankets are made from 100% GOTS certified organic muslin and finished with non-toxic reactive dyes. They measure 47 x 47 inches making it a versatile choice.
The blankets are super soft, lightweight, and cuddly. You're going to love washing your baby blanket because the more you wash it, the softer it will get. The softness gives your baby a gentle and friendly touch for their over-sensitive skin and does not cause any kind of discomfort or irritation.
You will also love the signature waffle stitch weave which, along with breathable muslin cotton, keeps babies cool in summer and warm in winter. They're just the right weight, not too bulky to cause suffocation and sweating, and neither too flimsy to fall off easily.
Based in: USA. Ships internationally.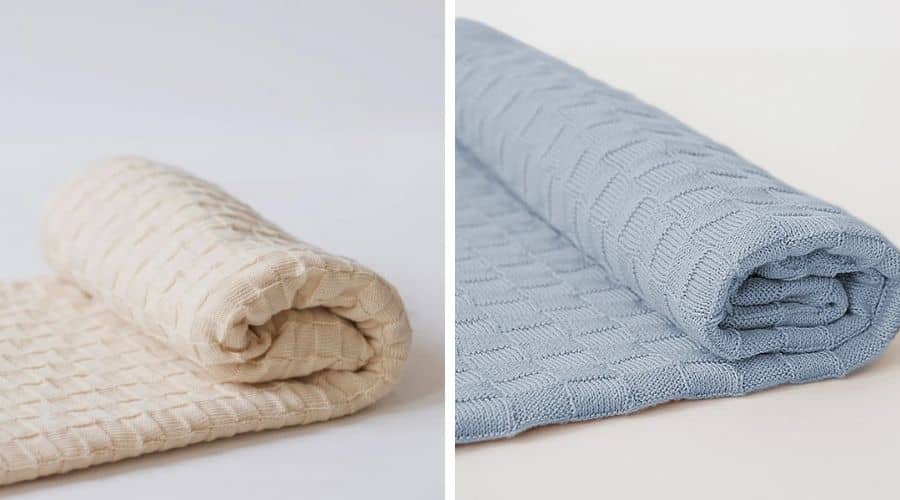 American Blossom baby blankets are made from 100% Supima Organic Cotton grown in California and spun in Georgia.
The blankets are super soft, free from any chemicals, and durable. You will love using them for years to come.
American Blossom is committed to offering quality, affordable linens as well as classic styles that are timeless. All their products, including the baby blankets, are impeccably made with sustainable materials that make sure each product is durable, long-lasting, comfortable, and beautiful.
Based in: Georgia USA. Ships internationally.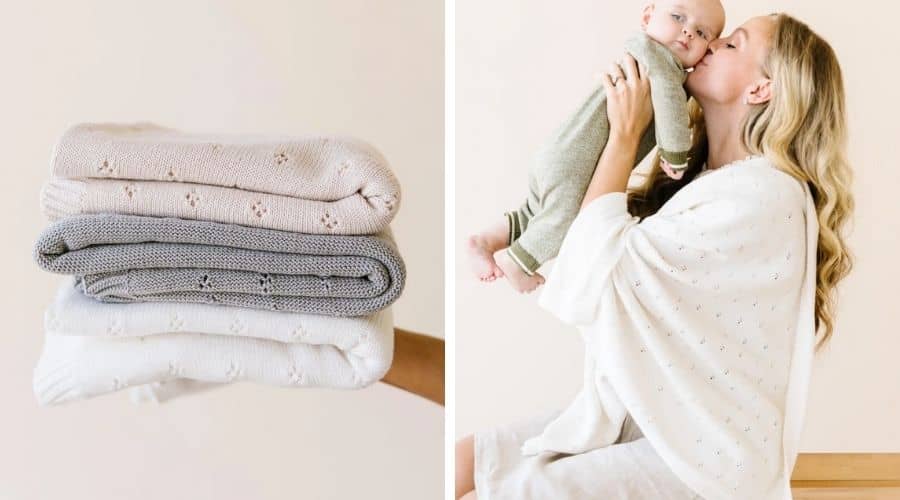 Make Me Organics baby blankets are as gentle on your baby's skin as they are on the environment. They are made using safe, non-toxic, and truly chemical-free materials. They are also certified organic, sustainably sourced, and cuddly soft to the touch.
The Make Me Organics baby blanket is relaxed but refined, cozy but light, and breathable. It is made using the finest craftsmanship, giving you value for money. The stylish cable knit design gives the blanket a snuggle me now look.
The high-quality organic cotton material ensures your blanket comes out of the wash looking as good as it did when you bought it.
Based in: Florida, USA. Ships internationally.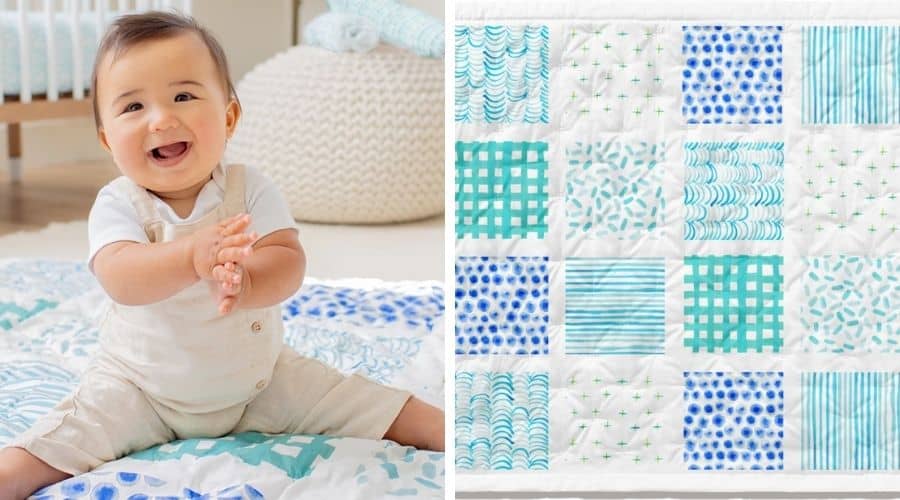 Lovevery organic baby quilts will give your baby the cosiest sleep possible. The blankets are made using 100% organic cotton and come in reversible, visually stimulating patterns that will promote your baby's brain development.
The animal print blanket is especially a favorite among parents. Your toddler will love learning to identify the realistic animals on their blanket.
Lovevery blankets are OEKO-TEX® certified to protect your baby's sensitive skin from harmful chemicals and irritants.
Each hand-painted print on the quilt is lovingly designed to make sleep time a joy for your baby.
Based in: USA. Ships to the US and Canada only.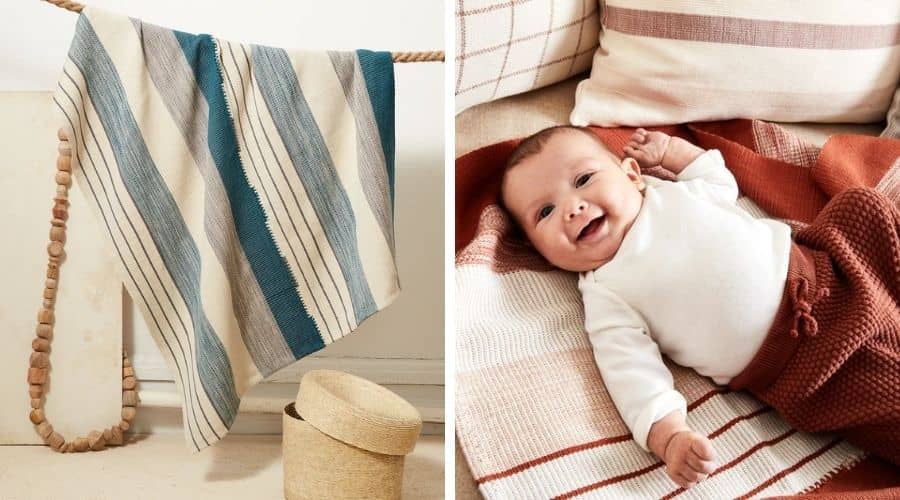 MINNA ethically makes gorgeous organic cotton baby blankets in partnership with artisans in Central and South America.
MINNA features four baby blankets that are handwoven using luxurious merino wool by a women's co-op in Chiapas, Mexico using traditional backstrap looms. The panels are then hand-stitched together.
The blankets come in cozy and playful abstract shapes that will make your baby look even more adorable and add some joy to your nursery.
By buying a MINNA baby blanket you not only make sure that your baby is covered safely, you also get to support artisans globally.
Based in: USA. Ships internationally.
Loulou Lollipop is a family business dedicated to keeping parents and their babies safe, happy, and healthy. The brand's baby blankets are made using soft, breathable fabric blends of bamboo and cotton. This blend makes the blankets gentle on your baby's skin yet durable. They indeed look as good as they feel.
The blankets are available in a number of prints that you will love. They are also generously sized for various uses including as a car seat cover, nursing cover, and swaddling.
When it comes to washing your baby blankets, the brand recommends washing in cold water only,
Based in: Vancouver, Canada. Ships within Canada and internationally.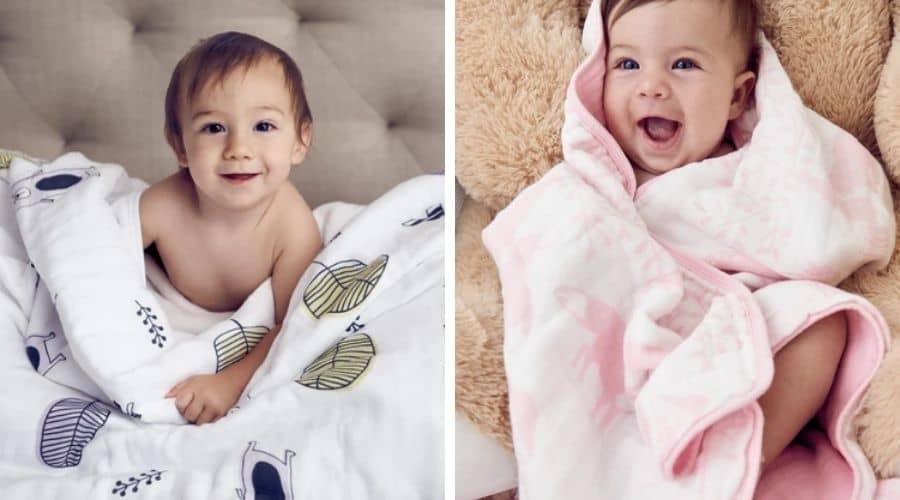 Clover and Sage's blankets come in four layers making them four times thicker than standard ones. Despite the thickness, the blankets are made using 100% organic muslin cotton which is breathable and ensures your baby won't get too hot. The blankets are also large making swaddling easier than ever and will still be large enough as your baby grows.
The blankets are super soft and the muslin fibers relax every single time they are washed so the blankets will only get softer over time. No more throwing away your blankets after a few washes. The blankets come pre-washed, so you don't need to worry about them shrinking after the first wash.
You can use the Cover and Sage blankets for tummy time, swaddling, traveling, stroller and car seat use, a nursing cover, or as a throw blanket.
Snuggle Me Swaddle's baby blankets are made in the USA using GOTS organic cotton fabric that contains no animal or plant bi-products. This material makes the blankest soft, cozy, and super stretchy, creating the perfect multi-functional blanket for newborns and toddlers. Measuring at 47 x 47 inches, the blankets are great for swaddling, nursing cover, comfort item, creative play, diaper bag blanket, and more.
All Snuggle Me blankets are made in small batches and adhere to the highest quality standards available. You can be sure you will be getting nothing but the best for your baby.
Based in: USA. Ships internationally.
Browse Snuggle Me Swaddle baby blankets.
There you go! 11 best organic baby blankets to choose from. Hopefully, you found one, or two blankets for your baby.
Since you're in the market for baby blankets, check out these organic crib sheets for a truly eco-friendly nursery.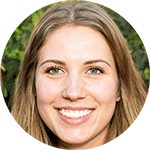 Jamie - Cofounder
Hi, I hope you enjoyed reading this article.
If you are looking for more ways to live an eco-conscious lifestyles, then check out our complete guide here.
Thanks for stopping by - Jamie