Imagine that cozy comfortable feeling a warm soft duvet gives you as soon as you jump into bed. No better way to end a long day! Now imagine enjoying a good night's sleep underneath a comfortable duvet that doesn't hurt the planet (or your conscience) while using it. That's what sweet dreams are made of.
Organic cotton duvets are made with natural and organic materials that are gentle on the planet. They are also made using sustainable and eco-friendly processes that leave few to no carbon footprints.
Luckily for us, there are a number of brands out there offering genuine organic duvets that you can buy and make your bedroom truly organic.
9 Best Organic Comforters & Duvets
Made with cruelty-free, environmentally friendly, certified organic cotton, here are the nine best organic comforters you should consider:
1. SOL Organics Cotton Comforters
SOL Organics features organic comforters made ethically and look great. The cotton comforters are made using 100% GOTS certified organic cotton and are both hypoallergenic and refreshing.
The brand's organic duvet set comes with both an organic duvet cover and two coordinating shams. The ultra-fine duvet cover is made of 300 thread count 100% certified organic cotton and brings a hint of softness to your bedding.
SOL Organics works with farmers who follow sustainable farming practices, avoids any unethical labor, and sources the most sustainable fibers. Additionally, the company donates $7.50 of every bed sheet purchased to one of the four charities that they support.
Based in: Minneapolis, USA. Ships internationally.
2. Plush Beds Wool Comforters
The PlushBeds organic cotton comforter is made from some of the most luxurious natural materials, making it a comforter you can feel good about snuggling up with every night. The exterior of this handmade wool comforter is made with 100% certified organic sateen, while the interior is filled with Eco-Wool batting.
The beauty of EcoWool battling is that it's an earth-friendly filling that also naturally wicks away moisture, keeping you cool and dry in the hot weather and comfortable in the cooler months.
PlushBeds goes further with its eco-friendly practices by following strict guidelines for growing, harvesting, and processing its materials. They also ensure their wool growers treat their sheep humanely.
The brand's endeavor is to offer their customers 100% chemical and cruelty-free, organic cotton duvets.
Based in: California. Ships internationally.
3. Boll & Branch Duvet Insert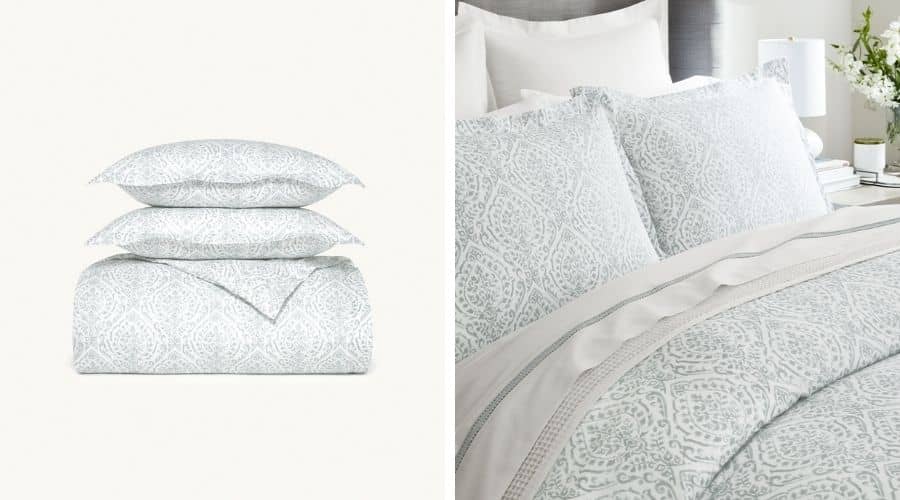 Boll & Branch has been offering its customers lightweight, beautiful, and ethically made bedding—in three densities.
The brand's organic duvet sets are made from the finest organic cotton available. They come with a distinguished spectacular drape and silken feel. This smooth, structured fabric will keep you cool throughout the night. The sets feature a cloud-weight and super-soft sateen weave that is perfect for all seasons. Intricate stitching on the duvets adds texture and visual interest.
The brand works directly with farmers to source the most sustainable cotton and the most transparent supply chain possible, so you know exactly where your bedding is coming from.
The company gives back to causes like fighting human trafficking and child labor for every purchase made.
Based in: USA. Ships in the US and Canada only.
4. Luxor Linens Cotton Duvet Cover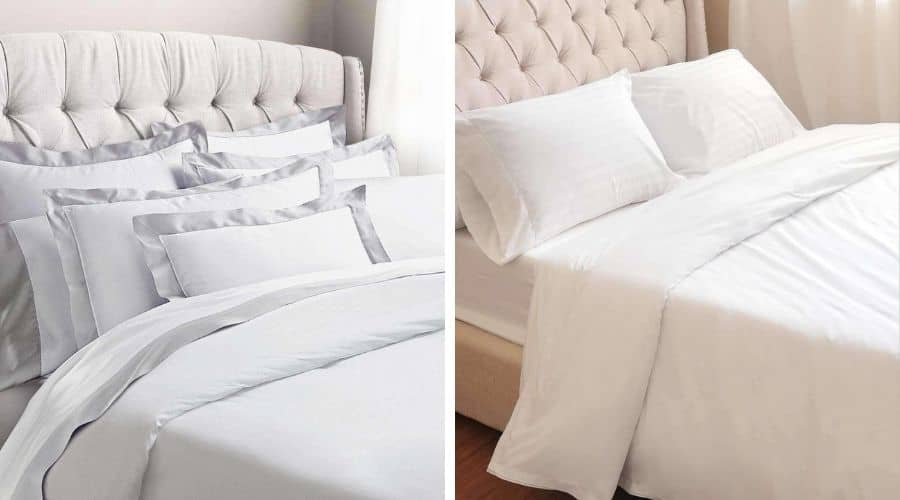 Luxor Linens' organic duvet covers are made from 100% Cotton Sateen Egyptian Fabric, made out of 300 Thread Count fabric. The cotton used in their natural duvet covers is ethically and responsibly sourced. It is also grown without the use of chemicals or pesticides delivering an eco-friendly textile that offers a pure and healthy sleeping experience.
Luxor Linens covers feature a discreet button closure and matching bed sheets and pillowcases option. You can choose to get a specific size or personalize your duvet cover using the Signature Monogramming option. This allows you to buy a soft duvet that is unique and exactly as warm as you want.
Based in: New Jersey, USA. Ships worldwide.
5. Viva Terra Organic Cotton Duvet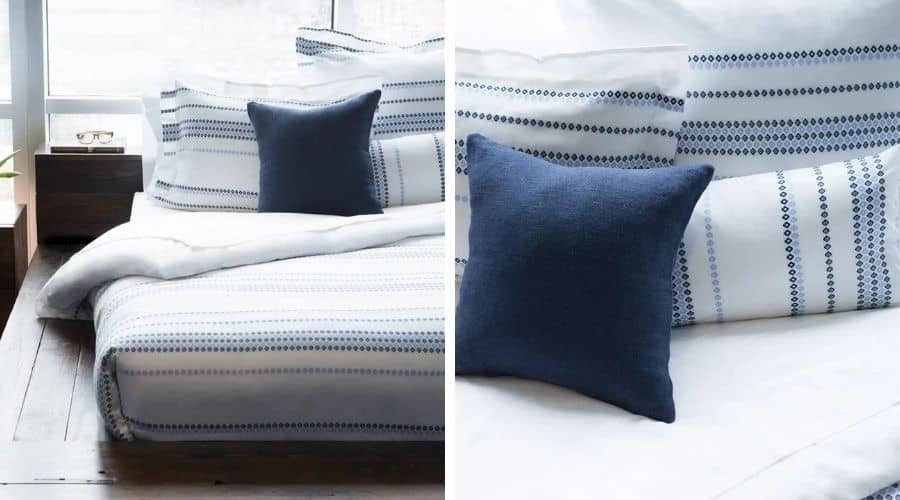 Viva Terra organic comforters are part of the many products in the brand's line of inspired green home products. In addition to colorful designs, these soft duvets are comfortable and designed to keep you warm at night.
Viva Terra's duvets are made using 100% organic cotton that is GOTS certified and verified in an independent lab to be completely free of harmful substances. They are also OEKO-TEX certified making them one of the cleanest and non-toxic types of bedding you can buy.
In its dedication to creating eco-friendly products, the brand crafts its bedding using reclaimed water in its eco-conscious factory which also employs local communities.
Based in: Virginia, USA. Ships in the US only.
6. Snowe Comforter
Snowe creates exceptional home goods including bath, kitchenware, and bedding in partnership with high-quality factories around the world.
Snowe dreamy-soft duvet covers and shams make for the most stunning and inviting bedroom. They are made from the best quality long-staple organic cotton, milled and finished in Italy. The duvet covers feature a subtle line of embroidery, hidden rubber button closure, and interior duvet ties.
All duvet covers and shams are OEKO-TEX certified and are ethically sourced from a Responsible Down Standard certified manufacturer.
Based in: New York City, USA. Ships in the US only.
7. Birch Organic Duvet
Birch's organic cotton duvets inserts are luxuriously soft, breathable, and sustainable making them some of the best in the market.
The insert's exterior is made with GOTS certified organic cotton and filled with responsibly sourced down and ethically procured wool. It's perfectly light for warm months yet nice and warm in the cooler months.
Every insert features a baffle box stitching construction to give the product loft as well as double-stitched edges with German piping to make it durable. Additionally, each insert has corner loops to tie to a duvet cover.
Based in: New York. Ships in the USA only.
More Organic Duvets & Comforters
8. Cariloha Organic Bamboo Duvet – The brand uses viscose from bamboo, the most sustainable resource on the planet, to make its comforters. The bamboo naturally repels odors and allergens and wicks away moisture.
9. Nest Bedding Wool Comforter – This organic comforter is lightweight, washable, and easy to care for. It is also super soft, breathable, and ideal for use all year round.
These organic comforter brands provide a few solid options at fairly reasonable prices. Buy an organic comforter and invest in not only comfortable safe sleep, but also in keeping the environment clean.
Since you're in the market for organic comforters you may also be interested in these organic cotton blankets and throws as well as these organic cotton sheet sets.


  Stella - Writer
Stella is a writer and mother from Thika, Kenya.
Her love for nature and the beautiful Kenyan outdoors has inspired Stella to consciously make an effort to lead a more sustainable, eco-friendly lifestyle.