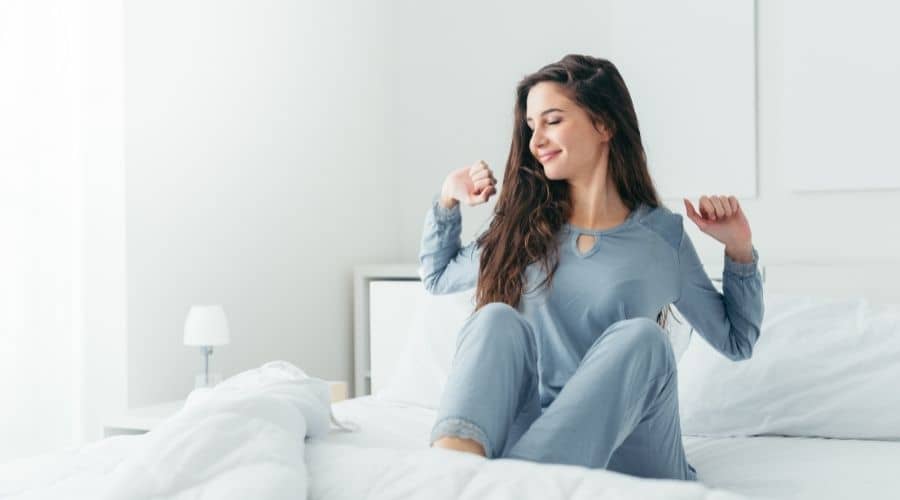 Did you know that humans spend about a third of their life sleeping? So it's only right that you spend that much of your time in pajamas that are made with natural fibers.
Organic cotton pajamas, made from certified organic cotton help reduce the use of synthetic fabric and chemicals. By buying certified organic cotton sleepwear, you also help to conserve natural resources like water and help farmers live better lives by avoiding exposure to toxins and chemicals during cotton production.
9 Best Organic Cotton Pajamas
These nine brands sell some of the best cotton pajamas you'll find around. Check them out: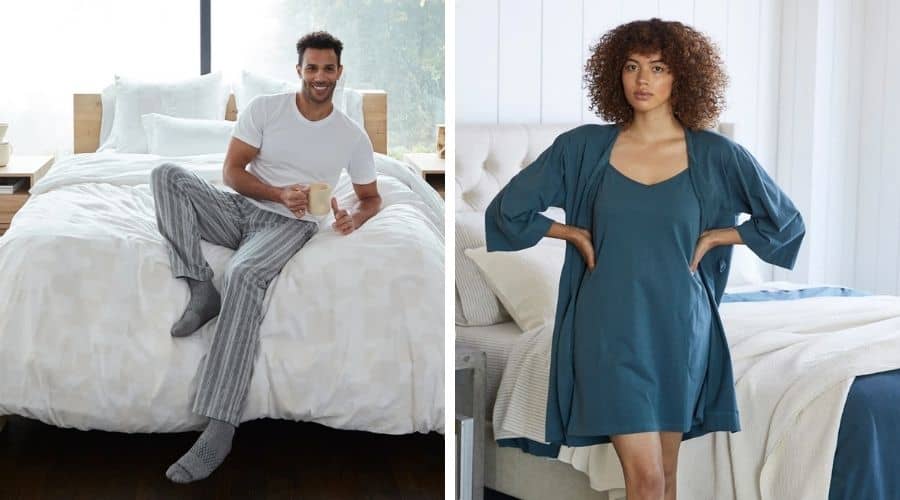 Coyuchi has a line of organic cotton sleepwear featuring comfortable rompers, flannel pajama pants, nightgowns, shirts, and jogger pants. The company uses Global Organic Textile Standard (GOTS) certified cotton, which doesn't contain any chemicals and promotes workers' rights. Coyuchi products are also free from toxins that harm humans, animals, and ecosystems.
Coyuchi is keen on promoting the rights of workers and hence partners with White Buffalo Land Trust, which focuses on soil health and biodiverse farming. It also partners with Fibershed, which supports regional farms and ranches in carbon farming practices to reduce greenhouse gas emissions.
Based in: California, USA. Ships in the USA only.

Pact's organic cotton apparel features the perfect affordable loungewear. The loungewear comes in easygoing styles for everyone. All Pact organic cotton sleepwear is made with GOTS certified organic cotton in a fair trade factory based in India.
Pact's sleepwear is especially great for babies. It's made with breathable organic cotton and has a tagless back label that doesn't irritate the skin. The baby pajamas also have a diagonal front zip that makes diaper changes a breeze.
Pact's pajamas contain zero toxic chemicals including pesticides and fertilizers. Organic cotton sees 91% less water is used while making the pajamas in comparison to traditional cotton.
Based in: Colorado, USA. Ships internationally.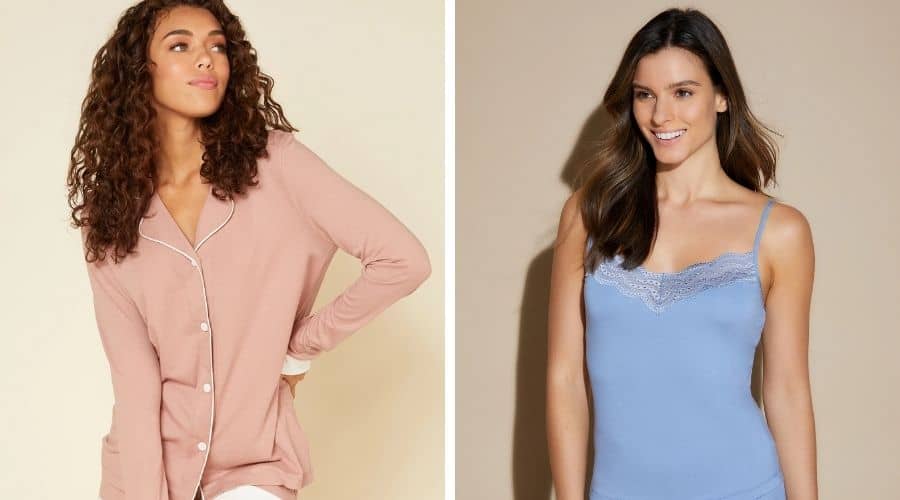 Cosabella organic sleepwear is a perfect choice if you want to feel luxurious and comfortable while lounging. The company handcrafts its pieces using traditional artisanship and materials of the highest quality.
Cosabella's sleepwear includes pajama sets made in Peru from Pima cotton and modal and in Italy from 100 percent silk. All the sets are completed with sweet touches like lace trims and satin bindings.
The brand's pajamas come in butter-soft fabrics, eye-catching prints in styles you'll love, and come in Petite to Extended sizing. You can be sure that you will always find your perfect fit.
Based in: Miami, USA. Ships worldwide.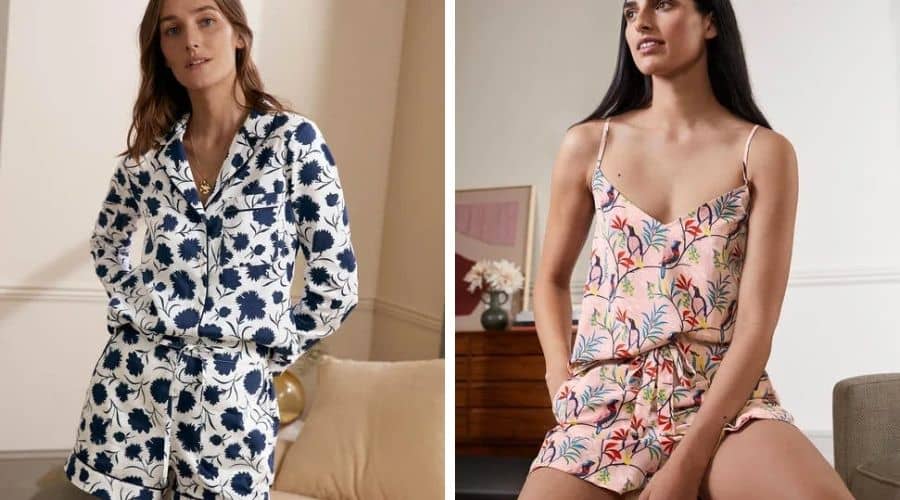 Boden was founded in 1991 and is a longstanding member of the Ethical Trading Initiative. The brand is committed to using ethical practices and responsibly sourced fabrics. Like with every other piece of clothing, Bosen's sleepwear offerings are crafted from 100 percent cotton (or Modal blends).
The pajamas are both comfortable and chic. Boden's new range of luxe-loungewear will make you want to be in your pajamas all day long. The PJs bring a little bit of luxury to your every day (and night) wear.
Based in: USA. Ships locally only.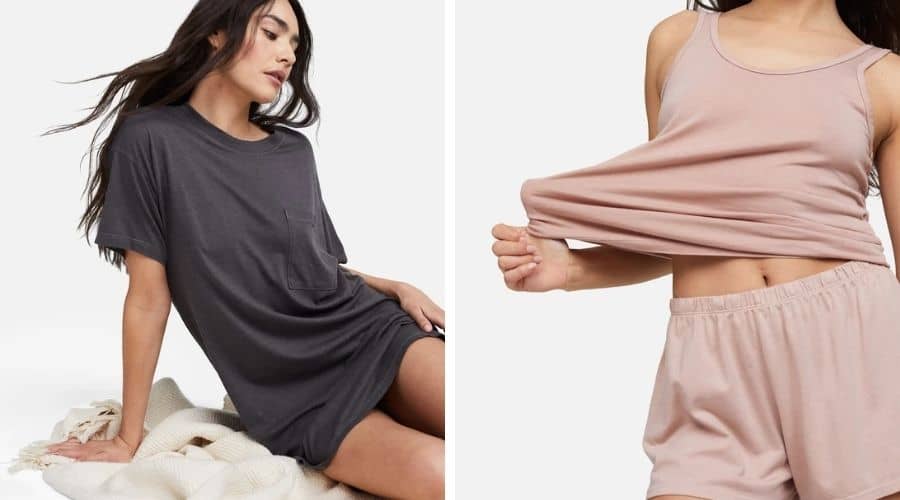 MATE the Label's sleepwear is built on snuggles and sustainability. The sleepwear is made using eco-friendly fabrics like organic cotton and Tencel. The brand restricts the use of any substances to make sure that carcinogens, endocrine disruptors, and other toxins are kept out of its supply chain and off your body.
MATE the Label is big on sustainability and believes that less is more. That's why the brand makes seasonless styles that are meant to be worn every single day, year-round. The brand strives to create well-loved, well-worn pieces that stand the test of time.
The brand is also working on becoming a certified B Corp, climate-beneficial, and more.
Based in: Los Angeles, USA. Ships internationally.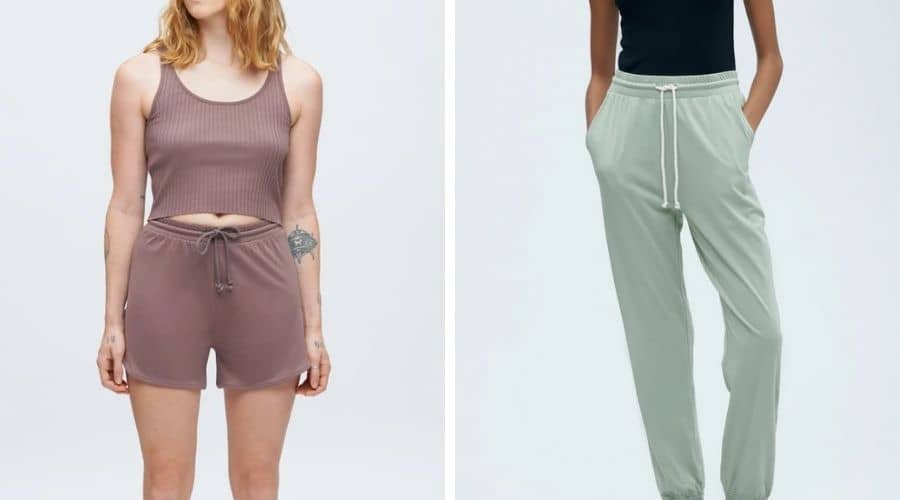 Kotn features loungewear for men and women made using Egyptian cotton. The loungewear is essential for any cold-weather wardrobe or chilly night.
You'll especially love the fact that you can wear Kotn's sweats and joggers to bed or dress them up for a more casual athleisure look.
Kotn is serious about eco-friendly and sustainable fashion. It is a certified B Corp that gives back by funding schools and literacy work in the Nile Delta.
Based in: Toronto, Canada. Ships internationally.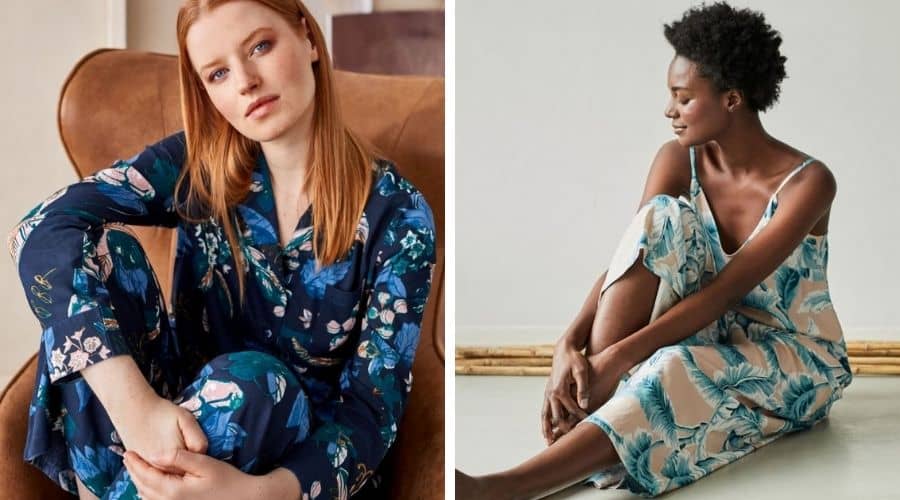 Thought now has sustainable sleepwear as part of its timeless wardrobe staples. The brand's sleepwear is made using eco-friendly materials like hemp, organic cotton flannel, and bamboo.
The organic women's pajamas come in classic colors, breathable fabrics, and easy-to-wear silhouettes. You can wear Thought's PJs for sleeping in and lounging about on a weekend morning.
Thought's sleepwear sets come in both prints and neutral solids so you can choose whichever style tickles your fancy.
The brand only works with stockists that share its mission to live more thoughtfully by shopping in a sustainable, designed-to-last style.
Based in: London, UK. Ships internationally.
Eileen Fisher's line of pajamas lets you stay comfy and fashionable. The pieces are all made with 100% organic cotton. The sleep collection includes luxurious separates, including tanks, comfy pants, robes, and even slippers.
Eileen Fisher pajamas may be more pricey than others, but they meet exceptionally high environmental standards.
The brand is a B Corp, meaning it voluntarily meets high criteria for organic cotton made from GOTS-certified yarn, milled, and dyed in California. It also tracks its organic clothing from the field to the factories to ensure organic cotton is being used and fabrics are dyed without chemicals.
Eileen Fisher supports numerous nonprofits and NGOs working toward environmental conservation, climate change, sustainable agriculture, recycling, and water stewardship.
Based in: Irvington, United States. Ships worldwide.
9. Brook There
Brook There organic cotton pajamas will add a touch of elegance to your nightly routine. The PJs feature adjustable straps and rose metal hardware, making them the perfect piece for sleeping, hanging around the house, or layering.
The brand uses low-impact fabrics and production methods whenever possible to make its sleepwear. The PJs are made using organic cotton made from GOTS-certified yarn, milled, and dyed in California.
Brook There uses Eco-Enclose recycled poly bags and recycled tissue paper. Its goal is to avoid single-use plastics at every turn.
Based in: Maine, USA: Ships worldwide.
Buying these organic cotton pajamas will help you sleep comfortably and soundly knowing that you made yet another eco-conscious decision.
See our guide for eco-friendly mattresses if you're looking to upgrade your whole sleep situation!


  Stella - Writer
Stella is a writer and mother from Thika, Kenya.
Her love for nature and the beautiful Kenyan outdoors has inspired Stella to consciously make an effort to lead a more sustainable, eco-friendly lifestyle.