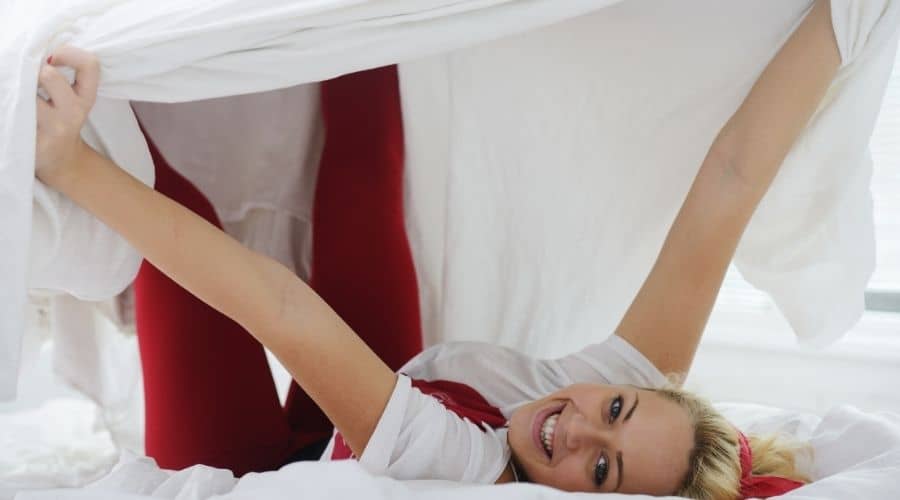 Interested in making more eco-friendly choices? Switching to organic cotton sheets is one more easy step you can take for a sustainable lifestyle.
We spend so much time in our beds daily. So it makes sense that we use products that are free of chemicals and potentially harmful substances.
Organic materials tend to be more breathable, and they are typically free from harsh chemicals that could irritate the skin. Better still, the best organic cotton sheets are soft, durable, and manufactured in an eco-friendly way.
Organic bed sheets have become a common staple among home products brands. Now you can choose from a variety of organic fabrics and weaves.
By the way if you enjoy this article make sure to see our recommendations for organic bedding and organic comforters.
Best Organic Cotton Sheets
Here are some of the best organic sheets that are great for both you and the environment:
1. Saatva Organic Sheet Sets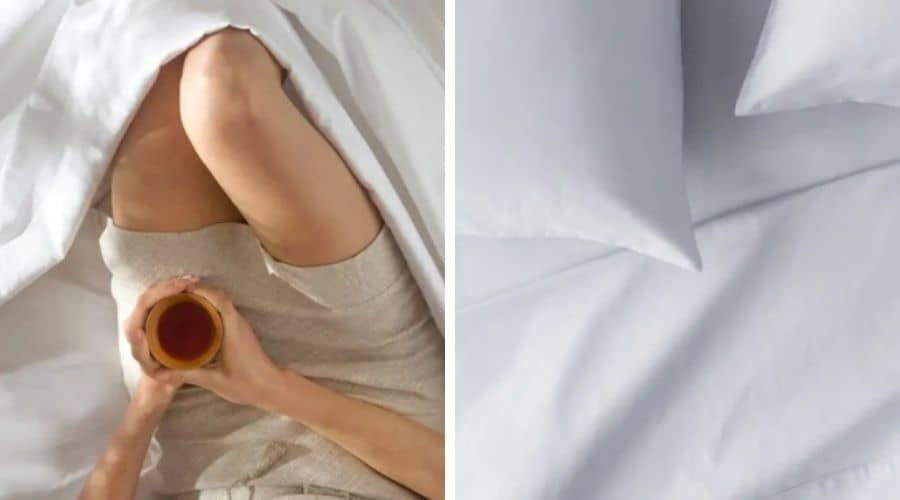 The Saatva Organic Sateen Sheet Set makes a good choice if you're looking for quality sheets made with organic material. These sheets are made from cotton that is certified by the Global Organic Textile Standard.
The cotton is also long-stapled, a variety that's durable and resistant to pilling. It has a 300 thread count and a sateen weave. This gives the Saatva sheets a soft, silky feel that your body will love. Organic cotton is also breathable and helps reduce heat retention.
The Saatva fitted sheet has a pocket depth that makes it compatible with mattresses up to 16 inches thick. The set comes in three neutral colors and nine sizes and is machine-washable.
Based in: New York, USA. Ships in the US only.
2. Boll & Branch Organic Cotton Sheets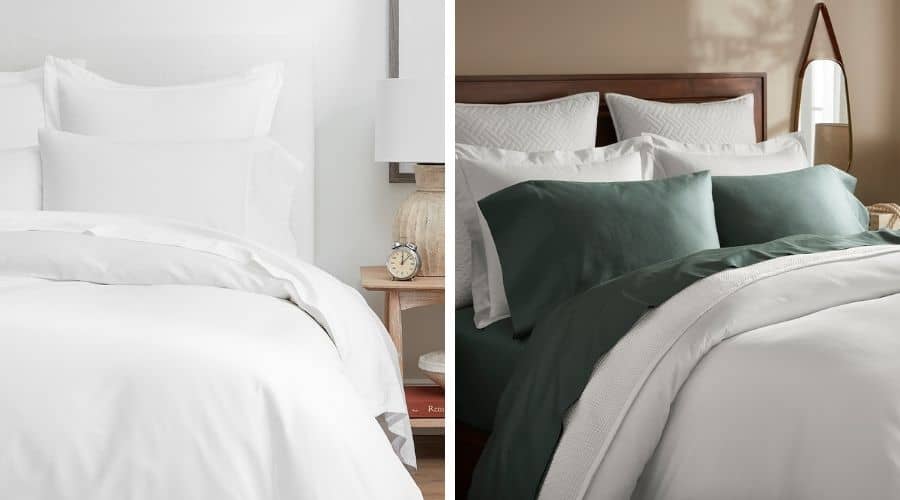 The Boll & Branch signature sheets are made from 100% GOTS-certified organic cotton. They have an ultra-soft silky feel that becomes softer with each wash. Each set includes one fitted sheet, one flat sheet, and either one or two pillowcases.
The sheets are 300 thread count and the breathable cotton makes them suitable for all seasons. They come in seven solid color options and eight different sizes. The fitted sheet has a 17-inch pocket depth making it appropriate for a taller bed.
Boll & Branch also has OEKO-TEX and Fair Trade certification, indicating that all their products meet rigorous standards for worker safety and no harmful chemicals are used in the production process.
Based in: USA. Ships in the US and Canada only.
3. Coyuchi Organic Sheets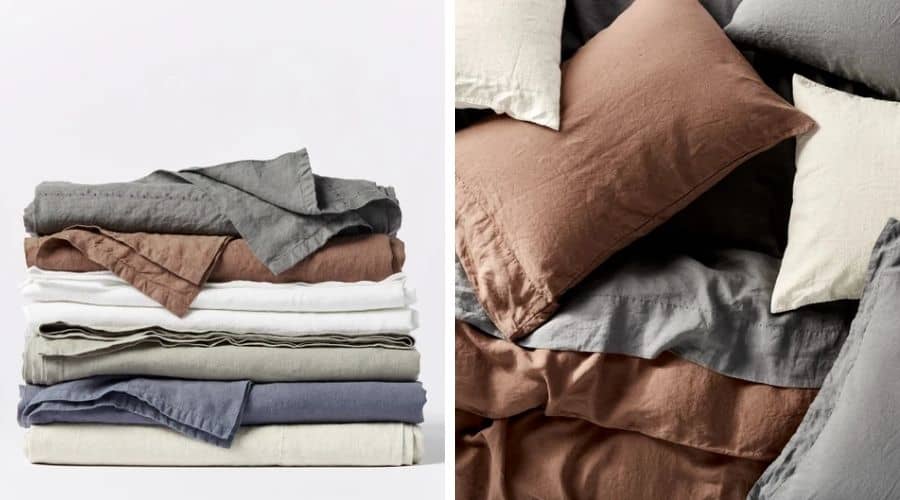 Coyuchi organic linen sheets are luxurious, super soft, and incredibly durable. These high-end organic sheets are made using French flax grown organically and processed using water-saving manufacturing methods. They also contain GOTS-certified fibers. The sheets are also dyed with low-impact dyes that are better for the planet.
Each of the Coyuchi organic sheet sets includes a flat sheet, a fitted sheet with a 15-inch pocket, and two pillowcases. The twin sets only have one pillowcase though. The sets also come in six muted colors.
Based in: USA. Ships in the USA only.
4. Pact Organics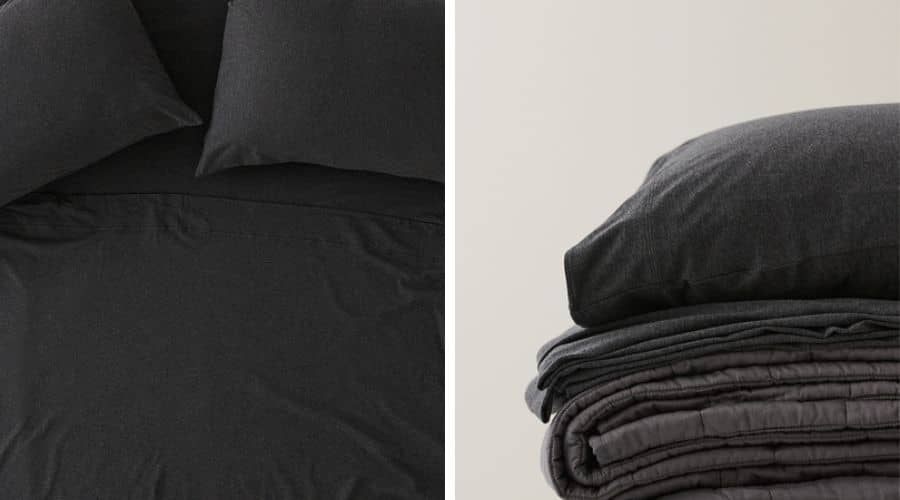 Pact is a popular sustainable fashion brand that's best known for its organic cotton clothing. Just as with all their other products, Pact's organic sheets are made using only the best and certified organic cotton. They're also made at a Fair Trade Certified factory.
These sheets use cotton jersey fabric. This fabric is knit, unlike the others that are woven making the sheets feel super soft like a T-shirt and super comfortable.
Based in: Colorado, USA. Ships internationally.
5. L.L.Bean Sheet Sets
L.L. Bean organic flannel sheet collection is exactly what you need if you love being warm and cozy in bed. Flannel sheets are generally heavier cotton fabrics that are soft and cozy yet not too heavy for the warmer months.
L.L. Bean sheets are made from 100% GOTS-certified organic cotton, and they're also Standard 100 by OEKO-TEX certified.
The double-brushed cotton gives these sheets a super soft feel that improves with each wash. The cotton doesn't shrink or fade and weighs about 5-ounce making it comfortable to use year-round.
You can choose from three standard colors, and the fitted sheets accommodate mattresses up to 15 inches deep.
Based in: Maine, USA. Ships worldwide.
6. SOL Organics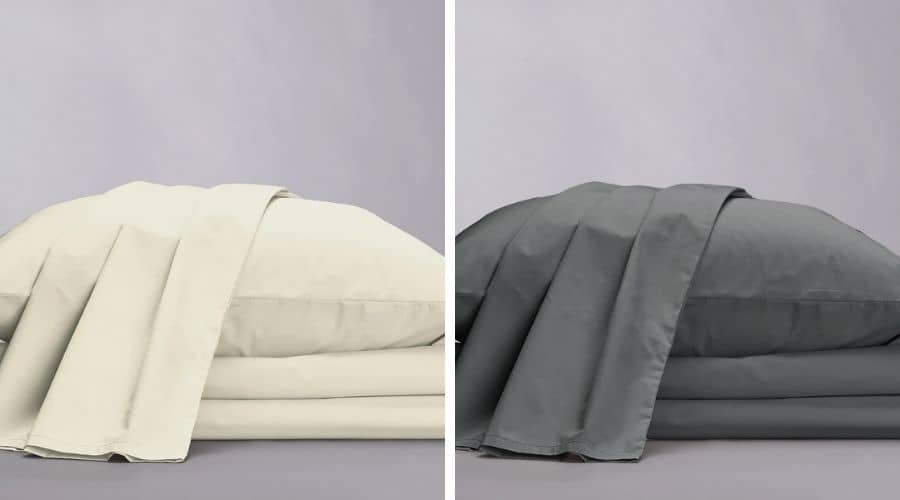 SOL, (Sustained Organic Living) features organic cotton bedding certified by GOTS and OEKO-TEX. The sheets come at a considerably lower price than the average organic sheet set.
The organic cotton used to make these sheets are grown without using any pesticides or fertilizers meaning the sheets contain zero harmful chemicals. The company also uses no dyes.
In line with committing to sustainability, SOL organics only works with Fair Trade partners and donates $7.50 of every purchase to one of four charities they support.
Based in: Minneapolis, USA. Ships internationally.
7. Birch Organic Sheets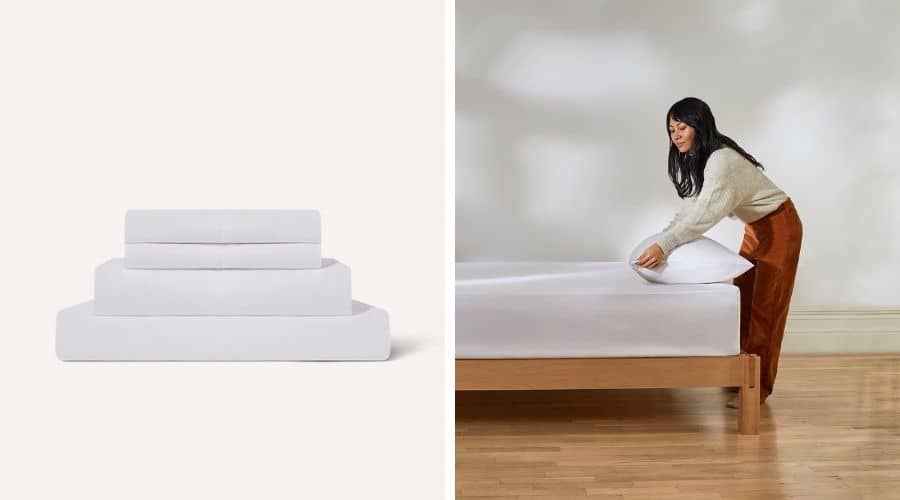 Birch Organic Sheets have a luxurious quality and feel exceptionally soft to the touch. They're made with 100% cotton that is certified organic by the Global Organic Textile Standard.
They are made with a sateen weave giving them a silky feel that every sleeper who enjoys soft sheets will love. The sateen weave is also more wrinkle-resistant than other weaves making these sheets easier to maintain.
The Birch organic sheet set is available in three colors — white, natural, and light blue — and six standard sizes. The fitted sheet has a pocket depth of 15 inches.
Based in: New York. Ships in the USA only.
8. PlushBeds Organic Cotton Sheets
PlushBeds organic cotton sheet sets are made using GOTS-certified organic long-staple cotton and have a 300 thread count. A sateen weave enhances the natural breathability of organic cotton and helps reduce overheating.
These sheets are hypoallergenic and free of chemicals and dyes, making them perfect for people with sensitive skin. Furthermore, the sheets are super soft and become even softer with each wash.
The sheets come in a natural color, a subtle sheen, and French seams that give them a distinct appearance. The fitted sheet can easily fit mattresses up to 13 inches thick.
The brand is committed to promoting sustainability and protecting the planet. Each of its products is thus packaged using biodegradable materials.
Based in: California. Ships internationally.
9. American Blossom Linens
American Blossom linens are made using 100% organic cotton sourced from West Texas. They're made using a percale weave that is breathable and reduces the risk of overheating. The sheets are soft but get even softer with each wash.
American Blossom's fitted sheets have 16-inch pockets, meaning they can accommodate most mattresses, including high-profile models. The fitted sheet has a strong encased elastic that secures it on the mattress. The top sheet comes in a larger width and length to give you a more secure tuck.
Each American Blossom organic cotton sheet set comes in two neutral colors, warm beige, and white.
Based in: Georgia, USA. Ships in the US only.
More Organic Cotton Sheet Brands
10. Under the Canopy – This brand's sheets are cruelty-free and GOTS, OEKO-TEX, Fair Trade, FSC, and Weltrack certified.
11. Avocado – This brand uses cotton that's truly long-staple and organic to make all its sheets. The sheets are also Made Safe certified.
Types of Organic Cotton Sheets
Organic sheets come in several types and you can also choose from distinct colors and styles as well as different materials and weaves. Some common materials and weaves include:
Regular Organic Cotton
Regular organic cotton is a variety of organic cotton with shorter staples. Sheets made from regular organic cotton may be constructed using any weave or knit, and can carry any thread count. To ensure the cotton is truly organic, look for sheets with GOTS certification.
Pima Cotton
Pima cotton is an extra-long-staple cotton variety mainly grown in South America. This type of cotton has above-average durability, breathability, and softness. Pima cotton tends to cost more than regular cotton, given its high quality.
Egyptian Cotton
Organic Egyptian cotton is one of the highest-quality cotton available. Just as Pima cotton, it is an extra-long staple variety with enhanced breathability, softness, and durability. Because Egyptian cotton is quite expensive, it's common for some brands to use blends. To buy pure Egyptian cotton sheets, look for manufacturers with accreditation from the Cotton Egypt Association.
How To Know Your Sheets Are Organic Cotton
Not all sheets that are labeled organic may necessarily be made from real organic cotton. To make sure you're buying organic sheets, look for certifications like the Global Organic Textile Standard (GOTS). This certification places strict guidelines on things like the dyes and finishes used throughout the production process. This certification is only given to products that contain zero chemicals.
Related article: 13 Best Organic Cotton Blankets & Throws Reviewed [2021]
You can check other certifications to be truly sure that you're only buying the most authentic products. These include:
Oeko-Tex: This is a certification that indicates a textile product has been tested for harmful substances to ensure they're within an acceptable limit.
Fair Trade Certified: This certification demands that brands adhere to labor issues, like fair wages and safe working conditions throughout the production process.
Made Safe: This certification tests various ingredients to make sure they don't contain hazardous materials that could be harmful to humans.
Being conscious about what goes into making your bed sheets just goes on to show that you're truly committed to making the world a better place. By choosing organic cotton sheets, you sleep on soft, comfortable linens and promote brands that care about the planet, just like you do.
Want to make your sleep time even more authentic? Check out this guide: Best Ethical & Sustainable Pajama Brands in 2021.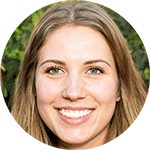 Jamie - Cofounder
Hi, I hope you enjoyed reading this article.
If you are looking for more ways to live an eco-conscious lifestyles, then check out our complete guide here.
Thanks for stopping by - Jamie