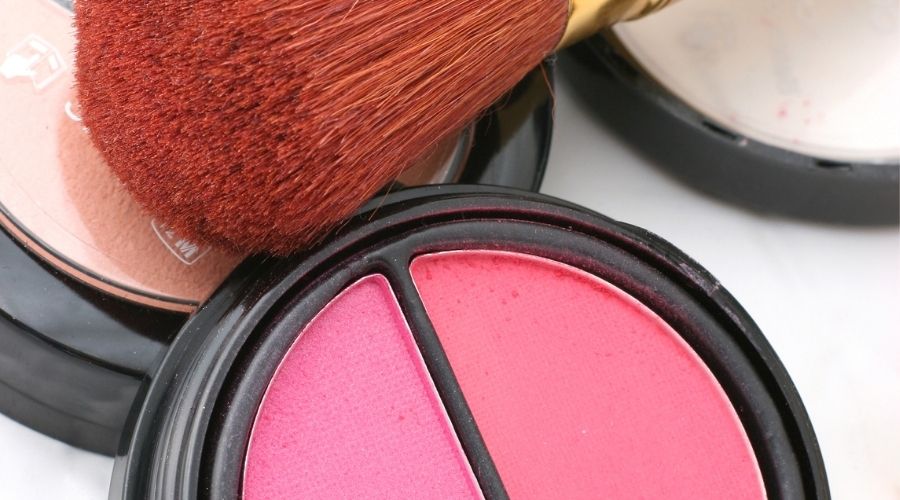 Is your makeup even complete without a little extra flush and glow to accentuate your cheekbones? Thanks to blush, your highlighting game will be on point.
But is all blush created equal?
Unfortunately, not. Most traditional blushes are known to contain talc, a harmful ingredient that can affect the health of your skin as it clogs the pores and irritates your skin. On the other hand, organic and natural blush is made with the goodness of natural ingredients that leave your skin feeling fresh and healthy.
Best Organic & Natural Blush
Check out 11 of the best organic blushes available right now that you can confidently invest in without putting your skin in harm's way:
1. 100% Pure Natural Fruit Pigmented Blush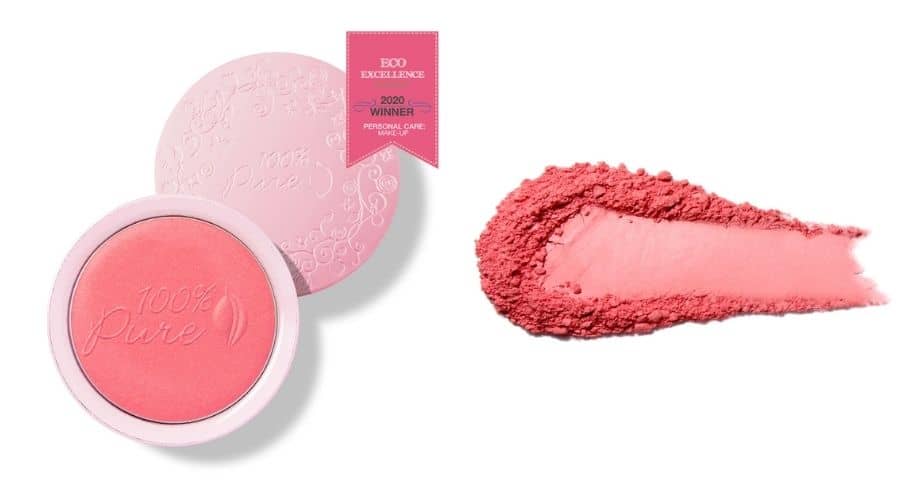 100% Pure's natural fruit pigmented blush is an all-day organic blush powder that'll leave you with a vibrant yet natural look. The blush is highly pigmented with antioxidant-rich fruits, including cranberry, raspberry, strawberry, cherry, and pomegranate.
The powder also has 100% natural and vegetarian ingredients like rosehip seed oil, avocado butter, cocoa butter, goji berries, vitamin C, vitamin E, and rice starch.
The blush is easy to apply, and you only need a little for the perfect results. You'll love that it has mica which creates just the right sparkle and shine.
Based in: California, USA. Ships internationally.
2. Ilia Natural Beauty Multi-stick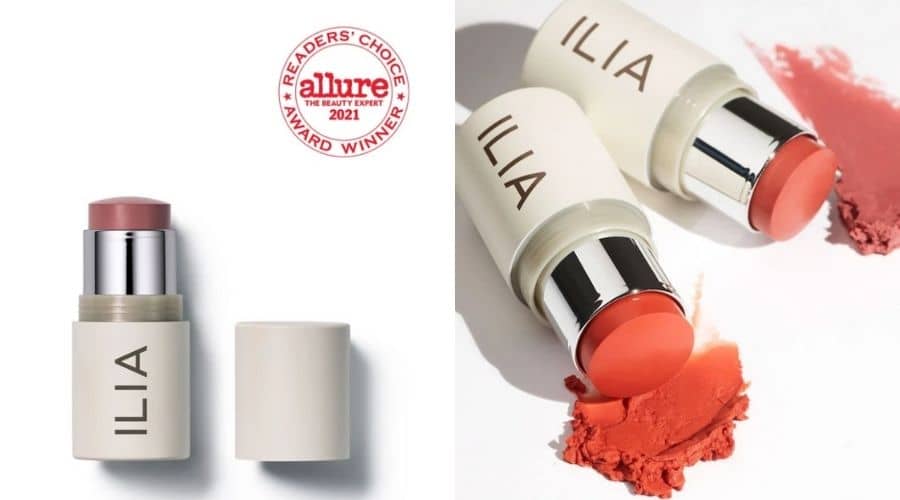 Ilia's natural beauty multi-stick blush is an award-winning blush packed with many healing natural ingredients. It contains Vitamin E that heals and regenerates your skin and shea butter that hydrates and adds to the rich and buttery texture.
The rich buttery texture makes this blush blend seamlessly into your lips, cheeks, and eyes. The blush instantly melts upon contact.
Ilia's blush comes in five shades, is easy to wear, incredibly versatile, and flattering on a range of skin tones. It will add a lovely, fresh finish to the complexion. Apply it with Ilia's perfecting Buff Brush for a natural, skin-texture finish.
Based in: California, USA. Ships internationally.
3. Lily Lolo Pressed Mineral Blush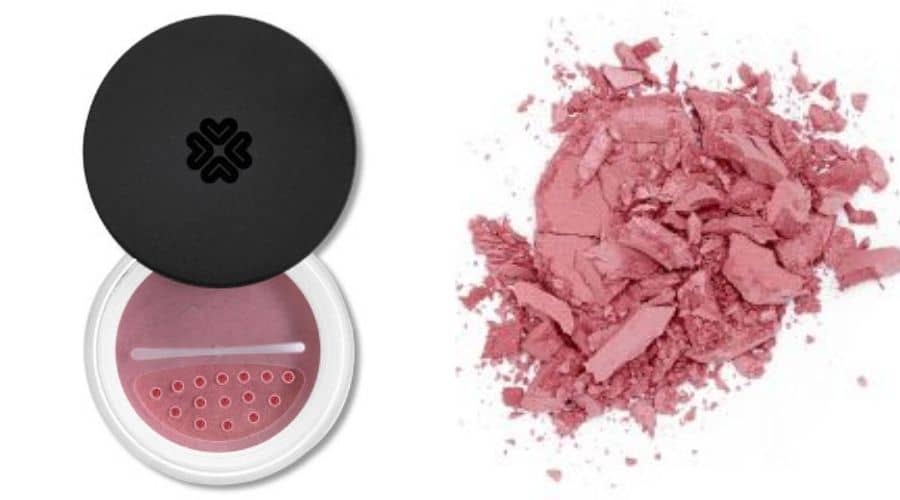 This Lily Lolo organic blush makeup is made using vegan-friendly and conditioning oil like jojoba seed, argan kernel, pomegranate seed, annuus seed, and manuka. These ingredients provide antioxidant, moisturizing, and anti-aging benefits. The blush adds a sheer hint of color in either matte or shimmer.
This highly pigmented natural blush comes in seven vibrant shades, and it's lightweight yet concentrated. It's also easy to wear, velvety pressed, blendable, and adds a sheer natural flush to your cheeks. All shades are fragrance and talc-free.
Based in: Hull, UK. Ships worldwide.
4. Hush + Dotti Organic Lip And Cheek Tint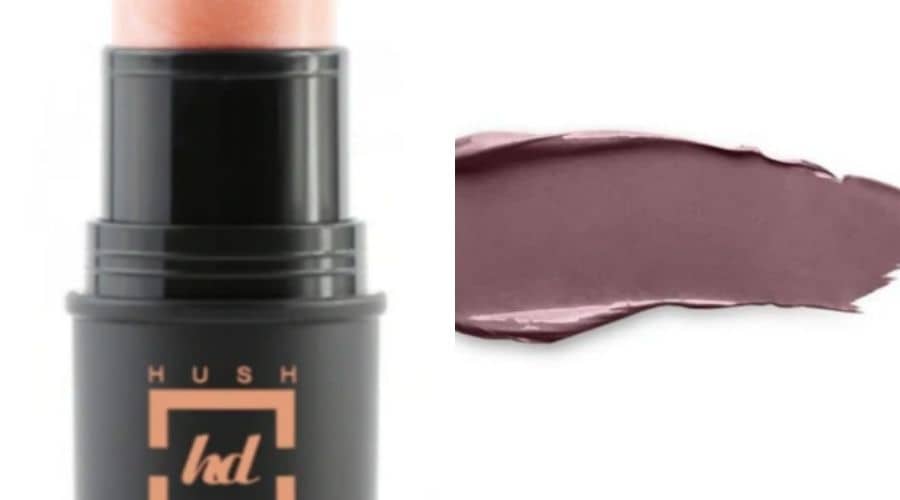 Hush + Dotti natural blush makeup will nourish your complexion throughout the day. The blush is formulated with skin-loving ingredients, including sunflower oil, lavender, and oregano. These ingredients make this cheek and lip tint breathable, lightweight, and last all day.
The blush comes in four tints which are all soft, subtle, and versatile for any skin tone. This Hush + Dotti gel-based blush goes on lightly, not heavy or gooey like most blushes. It comes in a compact tube that makes it easy to apply directly to the cheeks.
Based in: Pennsylvania, US.
5. Vapour Organics Aura Multi-Stick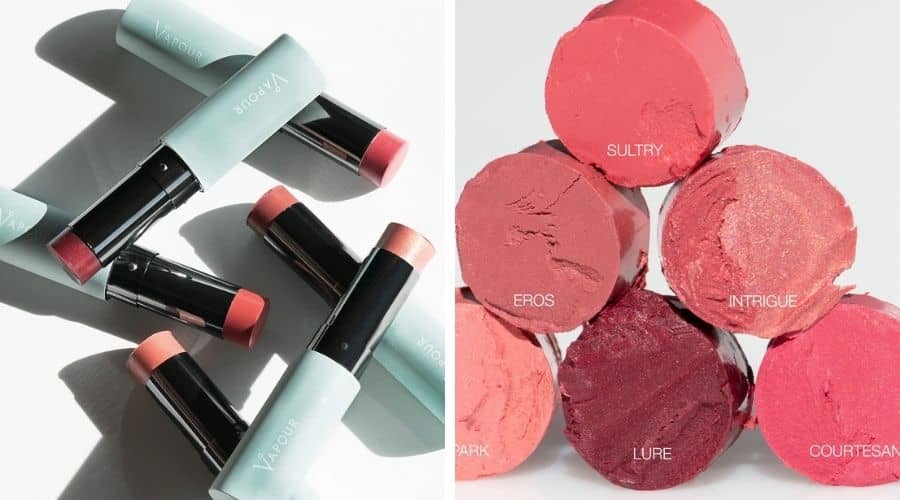 Vapour Organics is one of the best organic blushes containing only the purest, active ingredients. This high-performing creamy natural blush is made using 70% organic ingredients and 30% essential oils and botanicals such as frankincense, tulsi, and lotus. This blend of ingredients helps soothe, calm and protect the skin. They also provide an added layer f protection against environmental aggressors.
This all-around blush is perfect for lips, cheeks, and lids and comes in 10 versatile shades and three finishes: classic, radiant, and stain. To apply, warm against the back of your hand and apply directly from the stick. Then blend with your fingertips.
Based in: New Mexico, USA. Ships worldwide.
6. Ere Perez Beetrootcheek & Lip Tint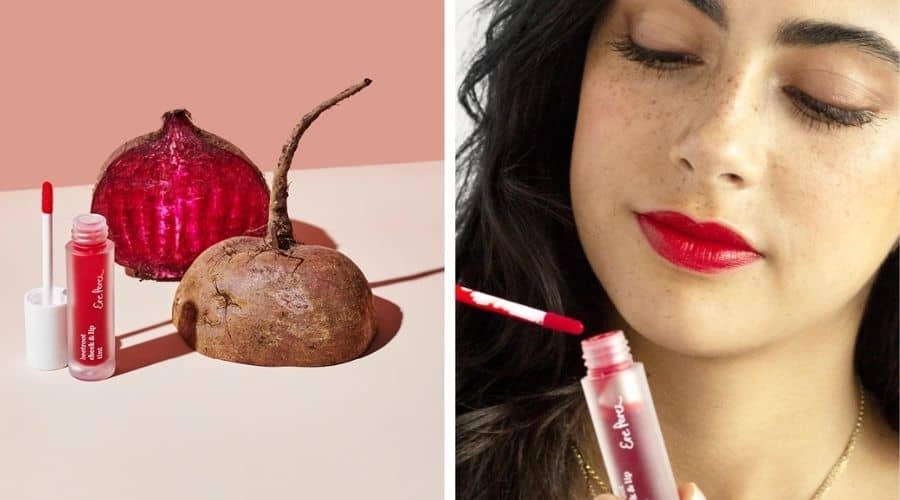 Ere Perez is a long-lasting natural blush perfect for people who love cheek and lip tints. This water-based formula contains organic beetroot extract that nourishes and hydrates the skin. It also has rosehip oil that contains antioxidant, astringent, and anti-aging properties. This blend will leave you with a pretty, natural-looking tint that lasts all day.
This blush quickly creates flushed, rosy cheeks and does an impeccable job of adding color. A little goes a long way and will keep you looking fresh for hours, so use sparingly. It comes with an easy, precision applicator giving you fuss-free application.
Based in: New South Wales, Australia. Ships worldwide.
7. Jane Iredale Purepressed Blush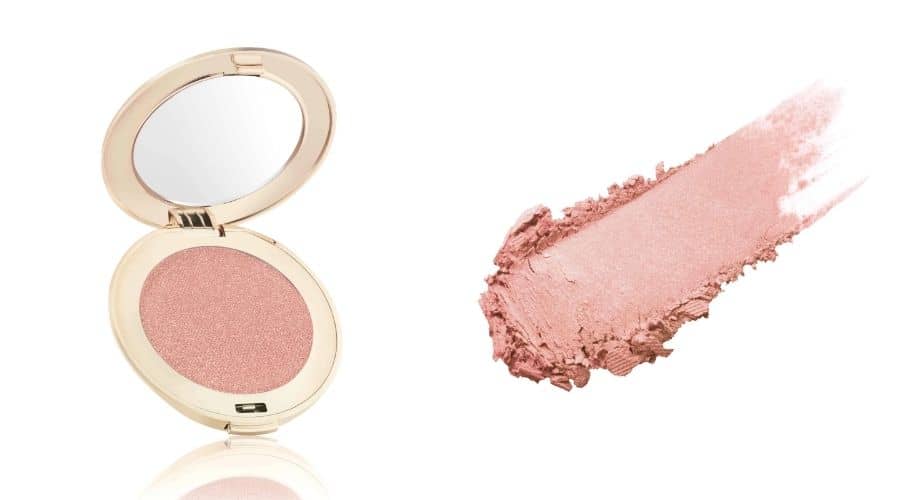 Jane Iredale pressed blush contains boron nitride, considered the "Rolls Royce" of minerals that leaves your skin feeling naturally glowy and radiant. This formula is antioxidant-rich and non-comedogenic and protects your skin from free radicals as well as breakouts. You can apply it to your lips and eyes too.
This blush is perfect for softly defining and highlighting your cheekbones. It will have you looking like you're glowing from the inside out with a refreshing wash of color that creates a breathtaking just-blushed look and defines cheekbones.
The texture of this organic blush is smooth and glides effortlessly across the cheeks. It comes in 13 gorgeous shades.
Based in: Massachusetts, USA. Ships internationally.
8. RMS Beauty Sensual Skin Trio
RMS Beauty sensual skin trio can be used as a natural blush, lip tint, or both. It will leave you a beautiful, natural finish and provide you with deep hydration as it nourishes the skin.
This blush is formulated using hydrating ingredients like argan oil, coconut oil, cocoa butter, and shea butter. The formula is perfect for brightening up your complexion and treating your skin. Sensual skin trio's pigments are very concentrated, so a little goes a long way.
The blush comes in seven shades. All the shades apply like a cream but have the staying power of a stain.
Based in: South Carolina, U.S.A. Ships internationally.
9. Alima Pure Luminous Shimmer Blush
Alima Pure's luminous shimmer blush gives you a soft, sheer finish that flatters every skin tone. This vegan loose powder blush doesn't contain any fragrance, parabens, sulfates, or phthalates. Instead, it contains richly pigmented mineral ingredients that give you a subtle look without harming your skin.
This luminous blush enhances your natural luminosity while brightening your cheeks with a wash of color. It's made using mineral ingredients, it's vegan, not tested on animals, and free of nuts, gluten, fragrance, silicone, parabens, sulfates, synthetic dyes, phthalates, dimethicone, talc, bismuth oxychloride, and nanoparticles.
The blush comes in a large compact, and a little of this blush goes a long way to create a natural daily look.
Based in: Oregon, USA. Ships internationally.
More All Natural & Organic Blushes
10. W3ll People Nudist Multistick – This high-performance blush doesn't contain toxic ingredients like parabens, sulfates, fragrance, phenoxyethanol, dimethicone, and PEGs. The blush compliments all skin tones and gives you just a hint of sheer color on your cheeks, eyes, and lips.
11. Kjaer Weis The Cheek Collective – Kjaer Weis's blush is one of the most luxurious cream blushes available. It's highly pigmented but highly blendable. The shade is so natural and flattering that it mimics how your skin naturally flushes.
Ingredients Found In a Natural Blush
The effectiveness of a natural blush lies in the ingredients that it contains. These are some of the best ingredients to look for in an organic blush:
Moisturizing ingredients: These include shea butter, cocoa butter, argan oil, jojoba oil, coconut oil, and beeswax.
Natural minerals and vitamins: Natural minerals like iron oxides, titanium dioxide, silica, or mica have a high shimmer and glittery effect. Natural vitamins like A, C, and E are infused in their purest forms.
Powders: Naturally obtained powders like corn starch, rice starch, rice powder, and tapioca starch powder are great for controlling oil, reducing the greasy effect, and creating a matte finish.
Antioxidant fruit or plant pigments: Fruits and plant extracts are highly pigmented and leave a naturally flushed finish on your skin.
The best all-natural blush brands use ingredients that aid your skin in healing and hydrating while leaving out all the bad stuff. So if you're looking for the best natural blush, grab one of these eleven products and be sure it's going to leave your complexion better off than you're current fave.
Check out these 15 organic and toxic-free makeup brands for more natural makeup options.
Check Out Our Other Recommendations:


  Stella - Writer
Stella is a writer and mother from Thika, Kenya.
Her love for nature and the beautiful Kenyan outdoors has inspired Stella to consciously make an effort to lead a more sustainable, eco-friendly lifestyle.