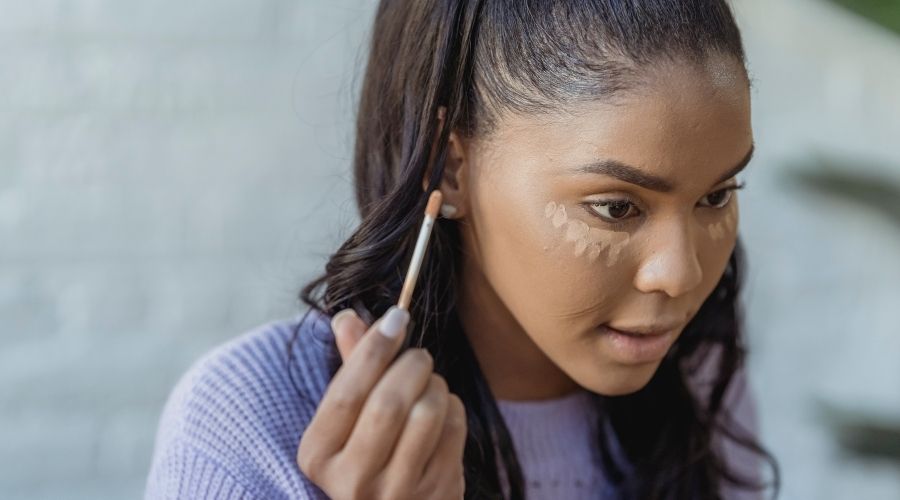 A concealer comes in handy when you want to cover up age spots, large pores, under-eye circles, and other visible blemishes.
A natural concealer is full of skin-nourishing ingredients that will offer you the coverage you need without causing any harm to your skin, your health, or the environment.
Also, when you're finish be sure to check out our other recommendations for non-toxic eyeshadow and best organic mascara.
Best Organic & Natural Concealer
Here are 13 of the best natural concealers available in the market today:
100% Pure's fruit pigmented concealer is a creamy, lightweight concealer colored using fruit. The concealer is made with hydrating olive squalane. It's packed with skin-nourishing and plumping ingredients like vitamin C & E, rosehip seed oil, caffeine from coffee beans, carrot root, and chamomile. This product is not only cruelty-free but also suitable for vegans.
The concealer works perfectly without needing to be set, and it isn't too mattifying or drying. It also conceals without completely covering, making it great for use on minor imperfections and concealing dark spots and dark circles in the short term. However, it's also buildable for when you need more coverage.
It's available in four tones ranging from fair to medium. It blends easily with either your fingertip or a brush.
Based in: California, United States. Ships internationally.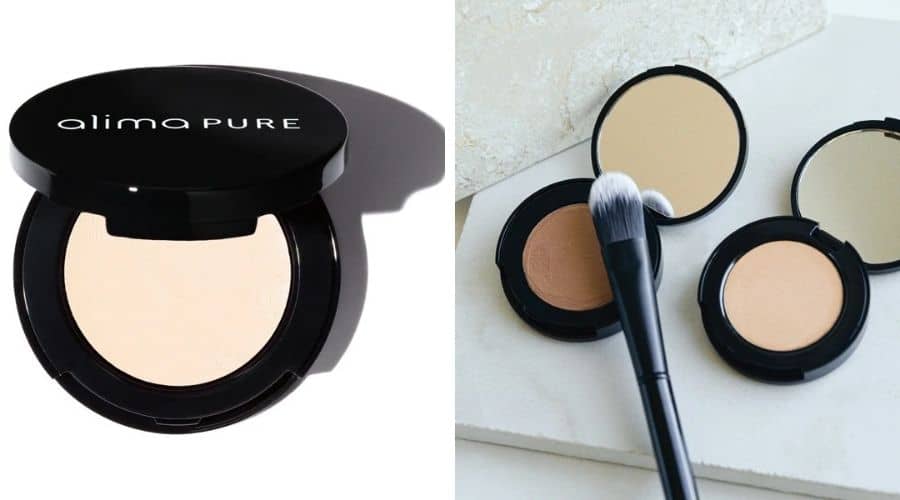 Alima Pure's cream concealer offers full coverage. It can be used to minimize the look of dark circles, blemishes, redness, and uneven skin. It's formulated using nourishing ingredients such as beeswax, avocado oil, shea butter, and tocopherol to soothe and protect your skin.
This is a weightless, velvety loose powder mineral concealer that's perfect for anyone looking for a mineral-only concealer. The natural cream concealer is excellent for all skin types; however, it is especially ideal for oily and acne-prone skin. It comes in 6 shades ranging from fair skin tones to deeper skin tones.
Alima Pure's concealer is fragrance-free, easy-to-apply, and blends quickly and seamlessly.
Based in: Oregon, USA. Ships internationally.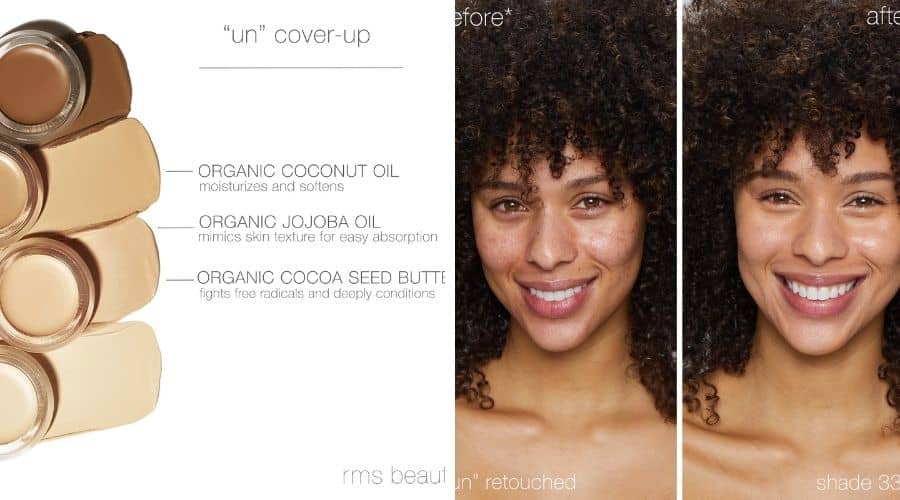 R.M.S. Beauty Un-Cover-up concealer is a lightweight and hydrating concealer that helps minimize the appearance of pores while rejuvenating your complexion.
It's formulated with raw coconut oil, cocoa butter, beeswax, and mineral pigments. The R.M.S.'s signature certified organic coconut oil allows the product to melt seamlessly into the skin and provide a natural sheer finish.
It's a fantastic under-eye concealer, especially for people with dryer or mature skin types. It's also perfect as a spot treatment on acne scars, age spots, and blemishes, thanks to its ability to cover up all kinds of complexion imperfections.
It's available in 16 beautiful shades, from alabaster (lightest) to deep espresso chocolate (deepest).
Based in: Charleston, South Carolina, U.S.A. Ships internationally.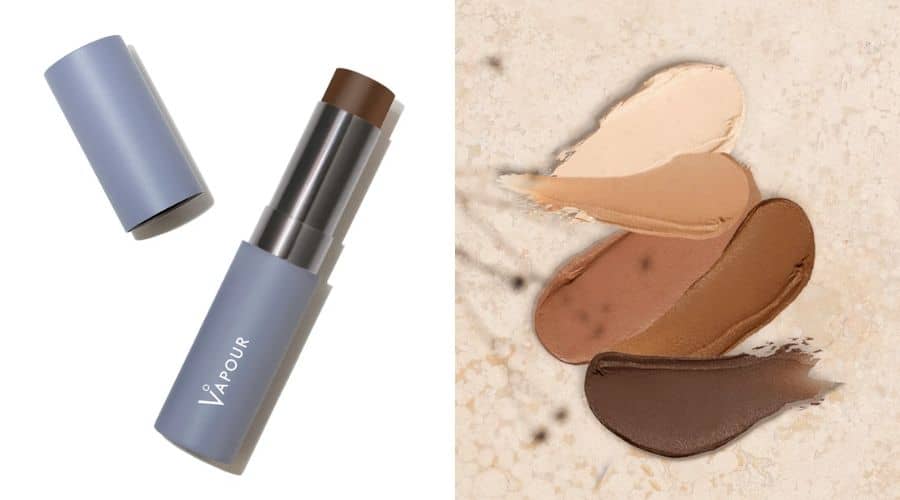 Vapour Organic's beauty illusionist concealer brightens dark circles, conceals uneven skin tone, and minimizes redness thanks to its lightweight, breathable formula. It also contains botanicals to calm blemishes and irritation and antioxidants to protect the skin.
This concealer is made with 70% Certified Organic ingredients and 30% natural mineral pigments & vitamins. It offers a high pigment load for areas that need extra coverage. Most customers appreciate this concealer because it doesn't deposit in lines or clog pores. Its light touch instantly gives the skin a healthier and more even appearance.
Based in: New Mexico, U.S.A. Ships worldwide.
Ecco Bella's flower color coverup concealer is easy on the skin, non-greasy and non-toxic concealer. It's formulated with nourishing ingredients like castor oil, palm oil, beeswax, calendula, and chamomile. These ingredients soothe the skin and cover dark circles and other imperfections.
While Ecco Bella's concealer is quite affordable, its quality is to die for. It comes in two shades, each offering excellent coverage without creasing or being cakey. It's easy to apply with your fingers or a concealer brush.
Based in: New Jersey, U.S.A. Ships worldwide.
The Hynt Beauty duel perfecting concealer is a super-concentrated concealer that melts into the skin, offering you cake-free coverage. It's formulated with avocado oil, aloe vera, vitamin E, and jojoba oil.
This concealer has a whipped consistency for buildable and natural coverage and doesn't clog pores. It's especially great for people with oily skin or acne marks, discoloration, and dark circles under the eyes.
It comes in seven shades that are easy to blend, won't crease around the eyes, and will last a long time.
Based in: New Jersey, U.S.A. Ships worldwide.
Jane Iredale's organic concealer is made using a powerful and complex blend of licorice extract, arbutin, and vitamin C. This powerful blend will lighten any hyperpigmentation in your complexion and fade discoloration caused by age spots or acne scars.
It also contains antioxidants like green tea that protect your skin from further free radical damage. The moringa oil ensures your skin is nourished and hydrated. Concentrated extracts revitalize, hydrate, and reduce puffiness.
Based in: Massachusetts, U.S.A. Ships internationally.
Glow Skin Beauty's under the eye concealer is perfect for covering blemishes, scars, whiteheads, and dark circles that occasionally creep upon us. This cruelty-free concealer is a gentle formula that's great for sensitive skin prone to blemishes and breakouts.
The concealer comes in two expertly picked shades in one compact that custom blends for a perfect match. The darker shade blurs and corrects your imperfections, while the lighter shade brightens and lifts your skin.
This concealer is silky and delivers a smooth application and superior coverage that lasts all day. This highly pigmented, oil-free formula is infused with antioxidants to protect, soothe, and nourish your skin.
Based in: Colorado, U.S.A. Ships only to the U.S. and Canada.
W3ll People's bio correct concealer is formulated using plant-based ingredients Pomegranate, Green Tea, and Sunflower Seed Oil. These work together to hydrate, nourish, and refresh your complexion.
This full-coverage liquid concealer seamlessly covers blemishes, corrects dark spots, and promotes long-term skin health. It's perfect for all skin types, including dry, oily, blemish-prone, and sensitive skin.
This all natural concealer will cover dark circles and any age spots or hyperpigmentation. It's also formulated with anti-aging ingredients like peptides that will plump and revitalize your skin.
W3ll People's concealer comes in 4 shades and is suitable for fair to medium-dark skin tone and everything in between.
Based in: Austin, Texas, U.S. Ships in the U.S. only.
Hush + Dotti's organic concealer is light, creamy, and moisturizing formulated to cover up blemishes, dark under-eye circles, and other imperfections. This concealer is made using vitamin E, coconut oil, shea butter, jojoba oil, candelilla wax, and gentle mineral pigments. It doesn't contain gluten or any known skin irritants like parabens and sulfates.
This organic concealer is available in 8 blendable shades suitable for various skin tones. It goes on smooth, easily blends into the skin or foundation of your choice, doesn't look cakey, and lasts all day.
Based in: Pennsylvania, U.S.
FitGlow's Conceal+ concealer is a super-rich, heavy-duty, and full-coverage non toxic concealer. It contains green tea, vitamin K, licorice, caffeine, plant elastins, and nourishing plant oils. These potent ingredients work together to lighten dark spots, kill acne-causing bacteria, and plump fine lines.
This concealer is available in 8 shades. All offer a satin/matte finish and work exceptionally well for oily skin types. You'll be impressed by how this concealer really brightens the under-eye area.
Based in: Florida, US. Ships internationally.
More All Natural & Organic Concealer
12. Au Naturale Completely Covered Cream Concealer – This concealer is incredibly smooth and hydrating. It's formulated using skin-friendly ingredients like meadowfoam seed oil, coconut, castor seed oil, vegan candelilla wax, jojoba, lavender, and vitamin E.
13. Juice Beauty Phyto Pigments Perfecting Organic Concealer – This is a highly pigmented full coverage concealer that does an excellent job of hiding dark circles. It contains moisturizing oils like coconut, grapeseed, and jojoba for easy blending and a smooth finish.
Ingredients To Look For in Natural Concealers
When shopping for the best organic concealer, look out for these ingredients:
Castor seed oil, Avocado oil, or Jojoba Oil: These plant-based oils offer antioxidant protection and nourishing fatty acids.
Beeswax or Carnauba Wax: Wax helps the concealer stay on the skin and keeps moisture in. Carnauba wax is a vegan-friendly wax derived from plants.
Shea and Cocoa Butter: These add thickness and moisture to your concealer.
Ingredients In Concealer You need To Avoid
Now that you know the best ingredients for a good concealer, you should also know which ingredients to avoid in skin care. These are:
Parabens: These are typically used to extend the shelf life of makeup items. However, they are dangerous and can cause skin irritations, contact dermatitis as well as rosacea.
Phthalates: These are used to increase the softness and flexibility of cream-based products. Phthalates are endocrine-disrupting chemicals that have been linked to breast cancer as well as early breast development in girls. They've also been said to cause reproductive birth defects in males and females.
Petroleum/paraffin/mineral oil: These are derived from crude oil, which is terrible for you and the environment. They're believed to cause premature aging of the skin and conditions such as contact dermatitis.
Cyclomethicone and dimethicone: They're endocrine disruptors that have toxic effects on your reproductive and immune systems.
P.E.G. compounds: These are petroleum-derived ingredients used for thickening, softening, and gelatinizing concealers so that they glide on smooth and even. P.E.G. compounds are harmful to the environment and are also carcinogenic.
Concealer is an essential part of your whole makeup routine. It should be one of your top priorities when making the switch from conventional to natural and organic makeup. Speaking of, you might be interested in these 15 organic and toxic-free makeup brands.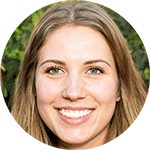 Jamie - Cofounder
Hi, I hope you enjoyed reading this article.
If you are looking for more ways to live an eco-conscious lifestyles, then check out our complete guide here.
Thanks for stopping by - Jamie