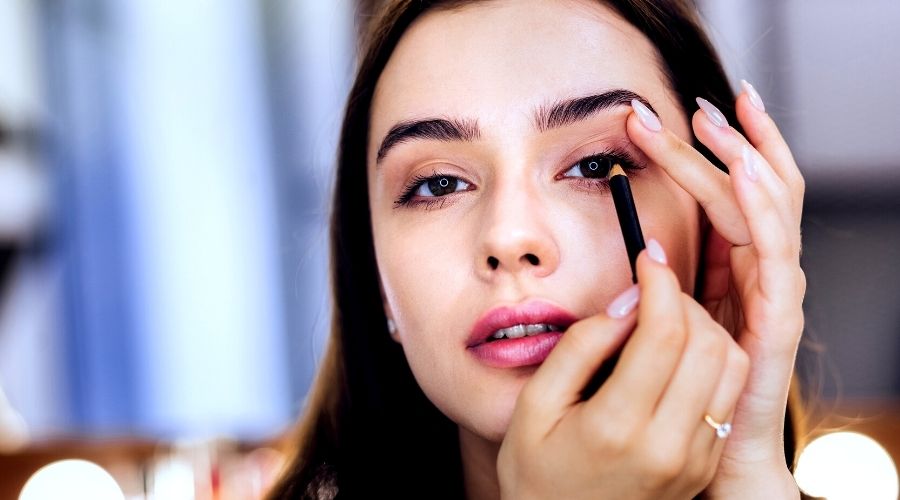 Eyeliner is the easiest go-to choice when you want to look put together in a matter of minutes. It can also be an excellent option for creating a dramatic look for the perfect night out.
But, before you pick your next eyeliner, have you ever considered switching to natural eyeliner?
It's worth paying attention to the ingredients that make up your eyeliner, considering it's applied to one of the most sensitive areas of your body. Organic eyeliners are made with ingredients that are generally better for sensitive skin. They don't have many of the chemicals their traditional counterparts do.
Best Organic & Natural Eyeliners
These are some of the best natural eyeliners that you should consider, especially if you have sensitive skin: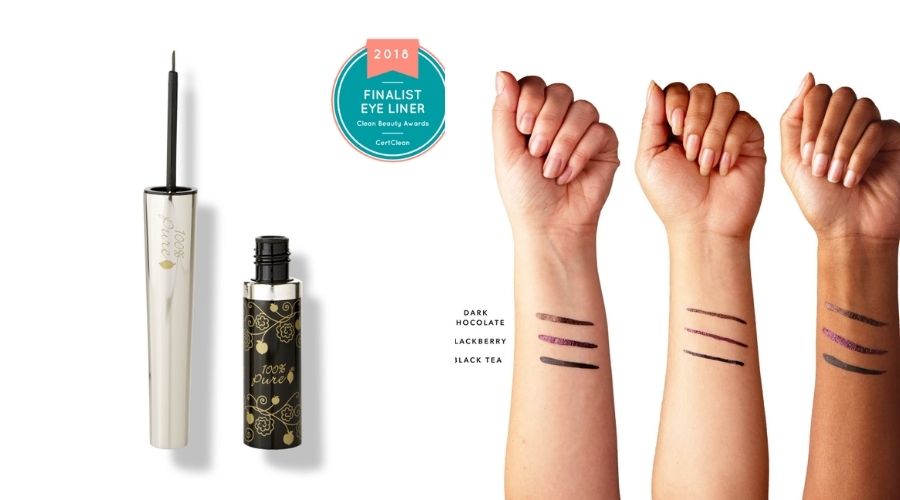 100% PURE Long Last Liquid Eyeliner is an all-day wear liquid eyeliner that works incredibly well, doesn't smudge or drip, and lasts all day. The eyeliner is intensely pigmented and water-resistant.
This eyeliner contains soothing and moisturizing aloe making it great for sensitive skin. The aloe will keep your skin feeling moist and comfortable.
100% Pure eyeliner is dyed with superfine black tea powder and fresh cocoa instead of synthetic colors. The black tea and cocoa combination gives the eyeliner the deepest and richest color possible that will blow you away.
The eyeliner comes with a brush with a super point and fine tip, so you get the most precise application possible.
Based in: California, USA. Ships internationally.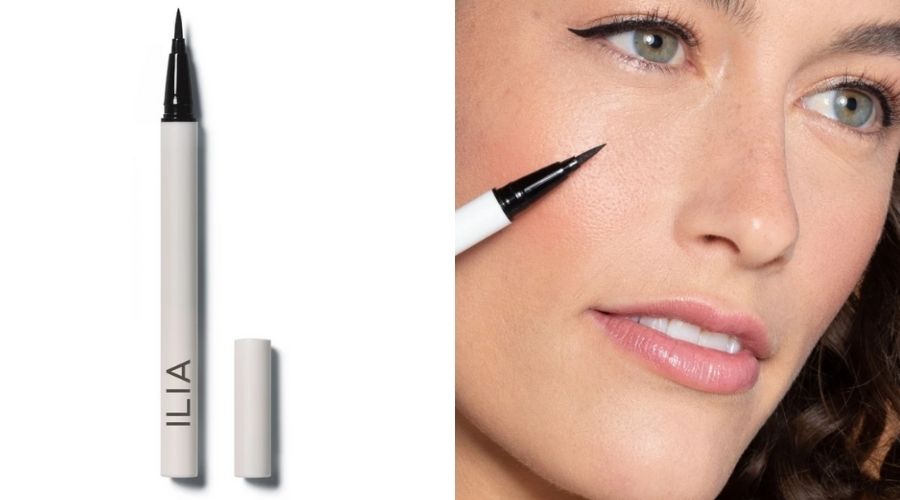 Ilia Clean Line Gel Liner is a super fine and flexible eyeliner with a saturated pigment and offers a crisp definition. This water-resistant gel eyeliner is long-lasting, dries quickly, and doesn't smudge, feather, or bleed throughout the day. It will stay on even after a sweaty workout.
The organic eyeliner comes with a flexible, finely pointed felt tip that makes it easy to apply—almost as easy as using a pen. It's so easy to create a barely-there tight line or a bolder cat eye that has a lasting definition. The classic black color is nice and dark.
Based in: California, USA. Ships internationally.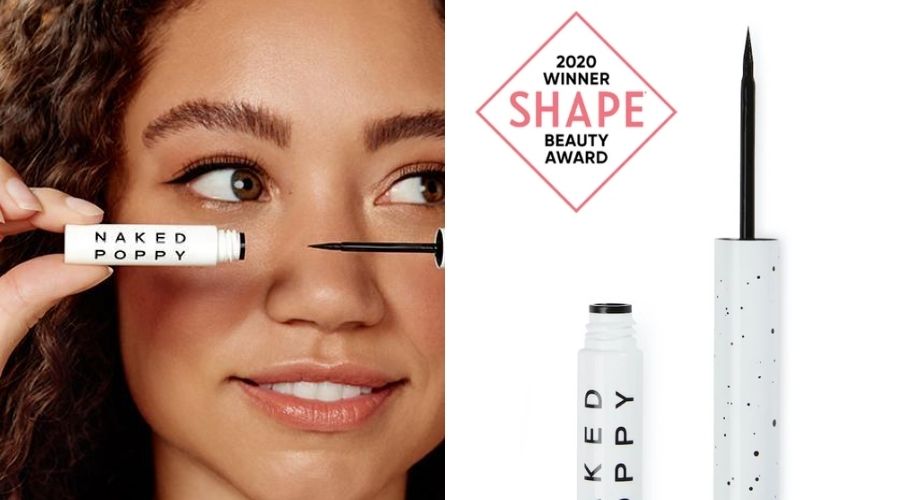 NakedPoppy Liquid Eyeliner is a melt-proof and fade-proof liquid black eyeliner. It is made using cornflower water that soothes the delicate eye area and iron oxides that provide intense mineral-derived pigment. The eyeliner has also been ophthalmologically tested for sensitive eyes.
This organic liquid eyeliner won "Best Eyeliner" in the 2020 Shape Beauty Awards and Byrdie's 2020 Eco Beauty Awards. It's also EWG verified and certified cruelty-free by Leaping Bunny.
The eyeliner features an extra-fine-tip felt pen that traces seamlessly and precisely, making drawing a cat-eye effortless. You'll also love that the eyeliner doesn't budge but washes off easily.
Based in: California, USA. Ships in the U.S. only.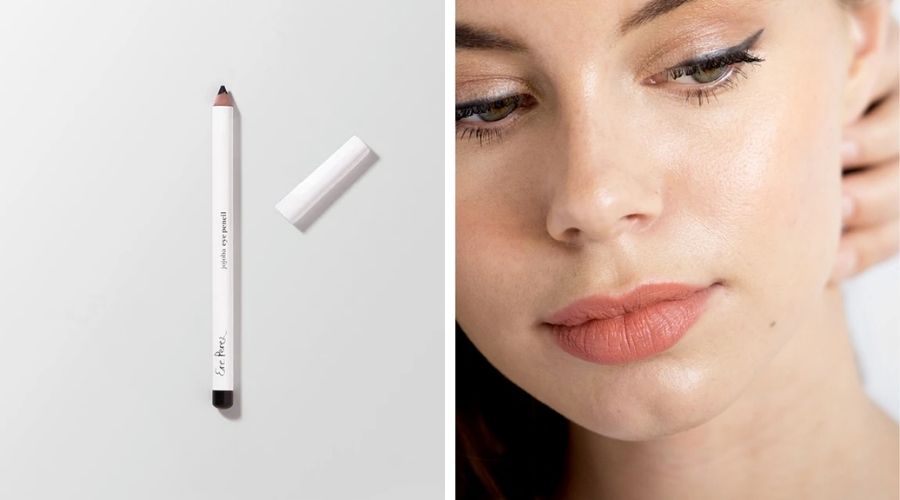 Ere Perez Jojoba Eye Pencil is a soft, vegan eye pencil and glides on like a dream. It's created using antioxidant-rich jojoba and coconut oils to nourish and condition your skin. The pencil is gentle on the eyes, making it suitable for sensitivities.
This foolproof formula frames the eyes while effortlessly smudging into the lash line for a smoky finish. It's available in 10 striking shades that are perfect for adding a pop of color or natural definition.
Based in: New South Wales, Australia. Ships worldwide.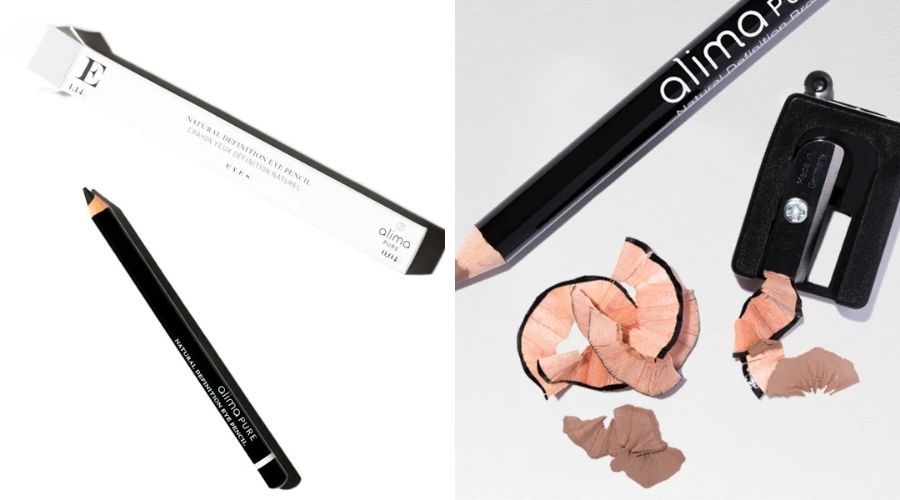 Alima Pure Natural Definition Eye Pencil is a highly pigmented eyeliner that gives long-lasting, all-day performance. It's formulated using chamomile flower extract that soothes and protects the delicate eye area. It also contains moisturizing extracts to ensure a smooth and soft application that doesn't irritate the eye.
This organic eyeliner pencil is vegan and isn't tested on animals. It doesn't contain gluten, fragrance, silicone, parabens, synthetic dyes, or sulfates. It's also synthetic dyes, phthalates, dimethicone, talc, bismuth oxychloride, and nanoparticles-free.
Based in: Oregon, USA. Ships internationally.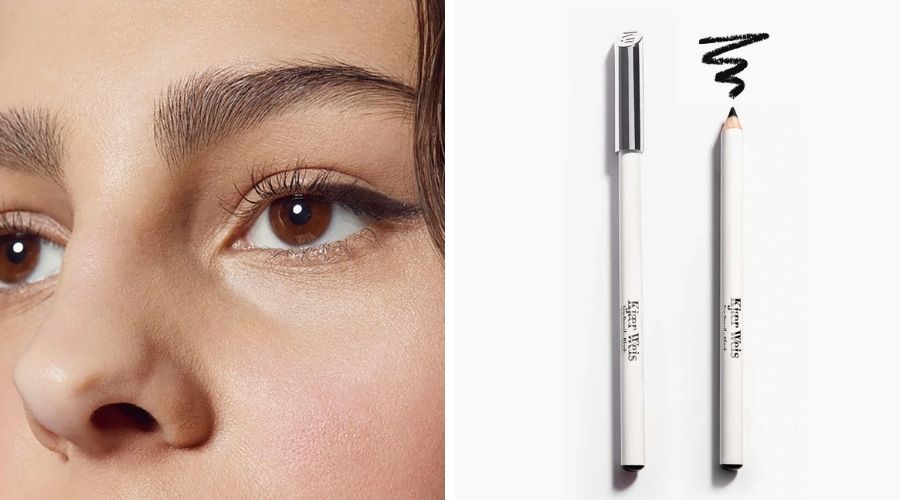 Kjaer Weis Eye Pencil is a CCPB certified organic eyeliner made with coconut oil and carnauba wax, making the texture thick yet buttery-smooth.
The eye pencil combines luxury and performance. It comes in versatile brown and black that will line even the most sensitive eye areas.
In addition to using organic raw materials, Kjaer Weis all natural eyeliner is not tested on animals and is gluten-free. Furthermore, the eyeliner is refillable, just like the rest of the brand's collection to promote sustainability.
Based in: New York, USA. Ships internationally.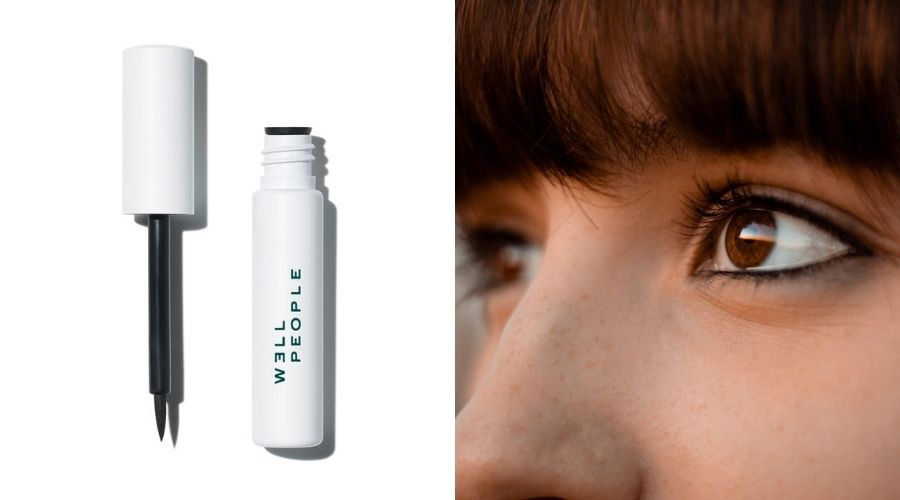 W3LL PEOPLE Fresh Lines Liquid Eyeliner is a long-wear eyeliner that comes with a fine brush tip for ultimate precision and the sleekest cat-eye. The eyeliner features a hydrating, smudge-resistant formula made using aloe vera that hydrates, soothes, and calms the delicate skin around the eye. As well as rosemary that helps keep your makeup looking fresh without drying out the eye area.
This water-resistant eyeliner delivers a high-pigmented, rich black with superior staying power. For the best results, let it dry for at least 10 seconds before moving, applying another coat, or topping it with mascara.
Based in: Austin, Texas, U.S. Ships in the U.S. only.
Zuzu Luxe Liquid Eyeliner is a quick-drying, water-resistant, and gluten-free formula made with aloe, jojoba, bentonite clay, and natural minerals that help keep the skin around the eyes adequately hydrated.
The eyeliner is free of parabens, coal tar, animal products, or any other harsh and highly toxic ingredients. It comes in eight colors: Amethyst, Black Pearl, Nile, Storm, Azure, Luxor, Raven, and Tuareg.
Zuzu's eyeliner comes with a fine calligraphy tip for easy and smooth application that creates an authentic, bold, long-lasting look every time. Set it with a translucent powder for extra protection if you have oily eyelids. It is also essential to make sure that it completely dries to not smudge.
Based in: Washington, United States. Ships internationally.
Lily Lolo Eye Liner is a creamy liner made with jojoba oil and shea butter to condition sensitive skin. Jojoba oil regulates the oil and moisture content of the skin. Shea butter and canola oil moisturize and protect your skin, while vitamin E is excellent for its anti-aging properties.
Lily Lolo eyeliner is one of the most long-lasting eyeliners available in the market. It will stay on even after an intense workout.
This vegan black eyeliner is suitable for all eye colors. It delivers endless looks, from subtle definition to a smokey eye. This soft and smooth application is a makeup bag staple perfect for outlining, defining, and enhancing your eyes.
Based in: Hull, UK. Ships worldwide.
Jillian Dempsey Eyeliner is waterproof, cruelty-free, and made with antioxidants. It contains organic jojoba oil, shea butter, and marula oil that combine for a super smooth, velvety application. This natural eye liner doesn't contain parabens, sulfates, phthalates, petrochemicals, or GMOs.
Use a subtle line in brown or burgundy for a no-makeup makeup look to perfect your look. Create the perfect cat eye in jet black if you want to add some drama.
Based in: California, United States. Ships in the United States and Canada.
Burt's Bees Defining Eyeliner is a 100% natural liner formulated with a mix of jojoba oil and shea butter delivering the perfect blend of gel and creamy texture. It also contains natural resins and beeswax for a vivid, defined look.
This eyeliner glides on easily with a gel-like, creamy feel. The soft, deep brown color of the eyeliner blends in effortlessly on the lash line and is ideal for fair skin and light lashes.
Based in: North Carolina, United States. Ships in the U.S. only.
More All Natural & Organic Eye Liner Brands
12. Juice Beauty Precision Eye Pencil – This retractable eyeliner comes in 3 colors, perfect for all skin types. It's formulated with Vitamins C & E and phyto-pigments.
13. Inika Certified Organic Eye Pencil – This Eye Pencil features a soft, silky-rich texture that glides on seamlessly. It's created with certified organic coconut oil for added softness and nourishment.
Ingredients Found In Natural Eyeliners
There are numerous benefits that come with transitioning to natural eyeliners. For starters, they use natural products that have nourishing, hypoallergenic, and antibacterial qualities that make them safe for anyone to use. These eyeliners are also great for people with sensitive eyes or skin.
So what are these natural ingredients that make up organic eyeliners? They include:
Wax– beeswax or carnauba wax
Oil– jojoba oil, hydrogenated vegetable oil, sunflower seed oil, etc.
Pigments– iron oxide, mica
Preservatives– vitamin E, citric acid, zinc
Eyeliner Ingredients To Avoid
Now that you know the excellent ingredients, here are the ingredients that you should avoid in eyeliners:
Color additives. Color additives include dyes, pigments, or other chemical substances that produce color in your eyeliner.
BHA and BHT. Butylated hydroxytoluene (BHA) (7) and butylated hydroxyanisole (BHT) (8) are preservatives derived from petroleum. BHA is an endocrine disruptor and a possible carcinogen, while BHT is a respiratory irritant.
Polysorbate 20. Polysorbate is known to cause allergic reactions and skin irritation in some people, and extreme and dangerous health issues such as birth defects.
BAK. Benzalkonium chloride (BAK) is a preservative known to be highly toxic.
Propylene glycol. This chemical is derived from petroleum and is believed to be a possible human carcinogen.
Aluminum powder. Aluminum powder is a byproduct of aluminum manufacturing and is considered a neurotoxin.
Carbon black. Carbon black has been linked to cancer and organ system toxicity.
Parabens. Parabens are a preservative used to prevent the growth of bacteria and prolong the shelf life of beauty products. Parabens disrupt hormone function and are linked to increased risk of breast cancer and reproductive toxicity.
Synthetic fragrance. Synthetic fragrance may contain carcinogens, endocrine disruptors, allergens, respiratory irritants, and neurotoxic chemicals.
Read more: Cosmetic Industry Stats
Natural eyeliner is not only much safer for your eyes, skin, and body as a whole, it's safe for the planet as well. The fewer chemicals we use in our everyday lives, the less we pollute our earth. Making the switch to a natural option will now be easier for you. Just pick a few from these 13 best organic eyeliners on the market.
Need some organic eye cream to go along with your eyeliner? Check out these 13 organic eye creams we recommend.
Check Out More Recommendations: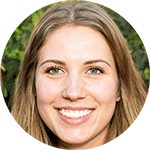 Jamie - Cofounder
Hi, I hope you enjoyed reading this article.
If you are looking for more ways to live an eco-conscious lifestyles, then check out our complete guide here.
Thanks for stopping by - Jamie