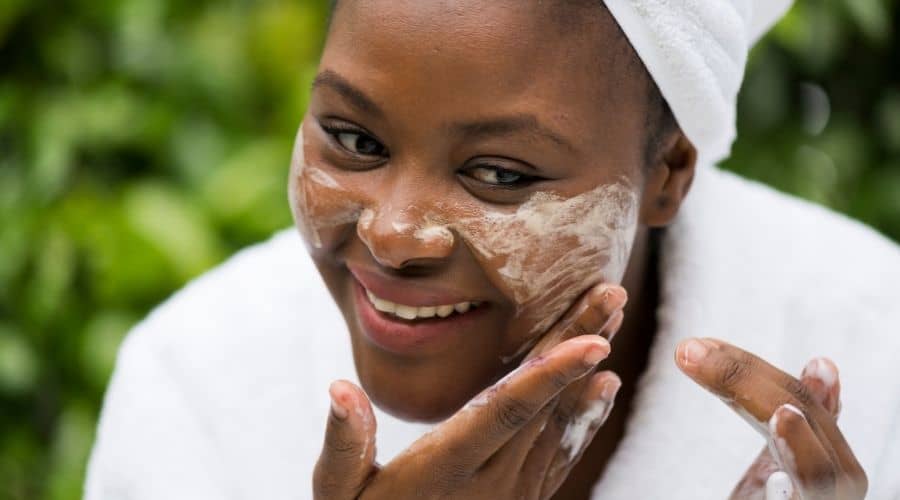 Nothing feels more relaxing than indulging in a luxurious skincare routine that leaves you feeling soft, clean, and moisturized. Now throw in natural face cleansers that leave you with the same results, without the harmful chemicals and irritants.
Natural skin cleansers are a critical component of any organic skincare routine. They are sourced sustainably and contain natural ingredients that are safe for your skin and the environment.
Let's explore a few organic cleanser brands we think will leave your face feeling fresh without causing any harm to the planet.
Best Organic & Natural Face Cleansers
If you love keeping your beauty routine natural and organic, get your skincare routine going with one of these top best natural cleansers: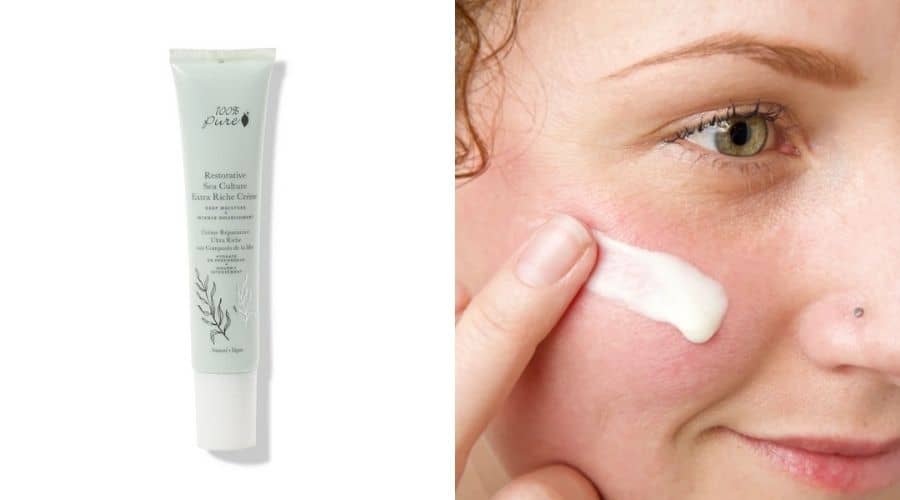 100% Pure Lavender Seafoam Facial Cleanser is exactly what you need to fight oil and buildup. The cleanser is made with seaweed, rosehip oil, green tea, and lavender. These all-natural ingredients will leave your skin glowing, feeling softened, and healthy all day long.
If you have oily or sensitive skin, you will love this foaming cleanser since it's vegan and free of any harsh detergents, synthetic chemicals, chemical preservatives, artificial fragrances, or other toxins. It's also a great choice for people prone to breakouts. It will stop acne in its tracks and prevent future ones.
Additionally, it has a smooth yet thick consistency which many of the other cleansers lack.
Based in: California, USA. Ships internationally.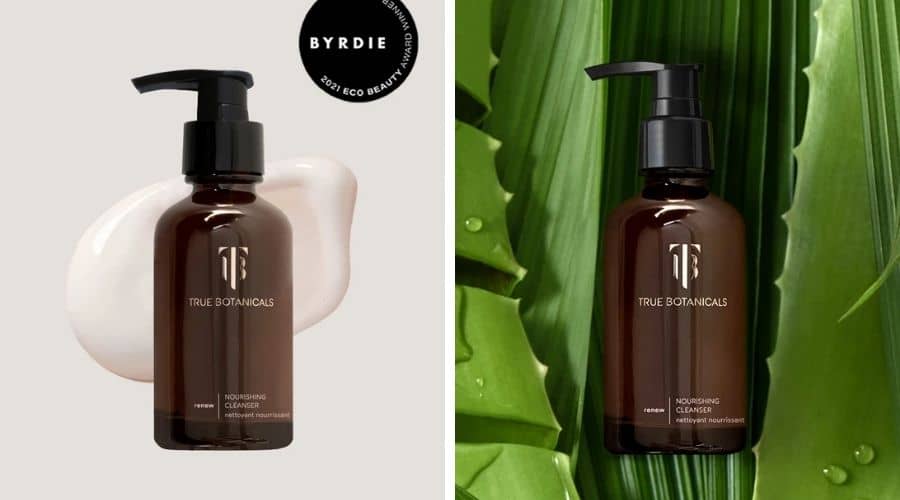 True Botanicals' nourishing cleanser will clean your face without stripping it off your natural oils. It will get rid of dead skin and dirt without leaving you feeling dried out. It is especially a great choice for skin prone to dryness or skin showing signs of aging.
The natural cleanser contains a mixture of green and white tea, aloe vera, and oils that are natural, organic, and MADE SAFE Certified. The nourishing antioxidants and aloe vera will leave your skin feeling soft, clean, refreshed.
The cleanser has a creamy texture and an alluring natural scent of grapefruit, lavender, vetiver, and jasmine that will bring you peace and happiness!
Based in: San Francisco, USA. Ships internationally.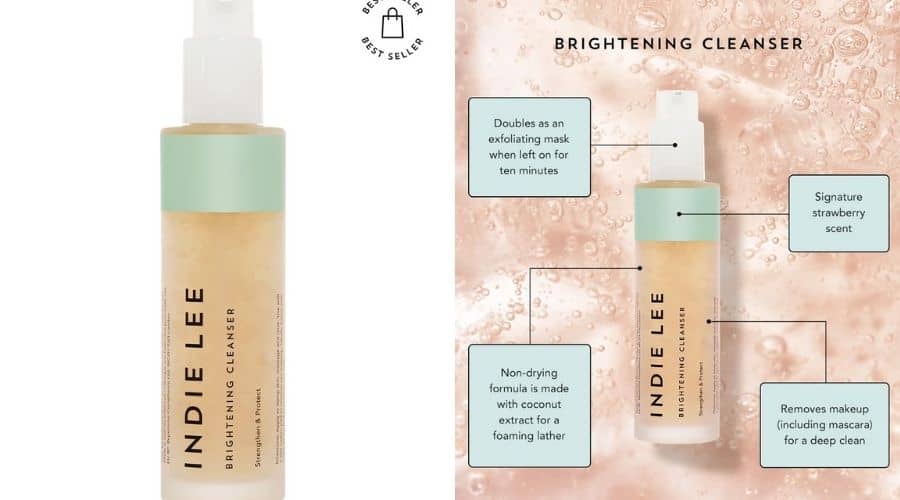 Indie Lee has some of the best skincare products that will brighten your day. They are sustainably made from natural ingredients.
Indie Lee brightening cleanser works for all skin types from sensitive to oily. It's a great choice for anyone who wants toned, glowy, just-rested skin. The natural facial cleanser can be used as a makeup remover and exfoliating mask. It hydrates, firms, and boosts your complexion.
Unlike many brightening cleansers that tend to use strong exfoliants to encourage cell turnover, this cleanser is deeply nurturing without the strong chemicals.
Based in: New York, USA. Ships to the US and Canada only.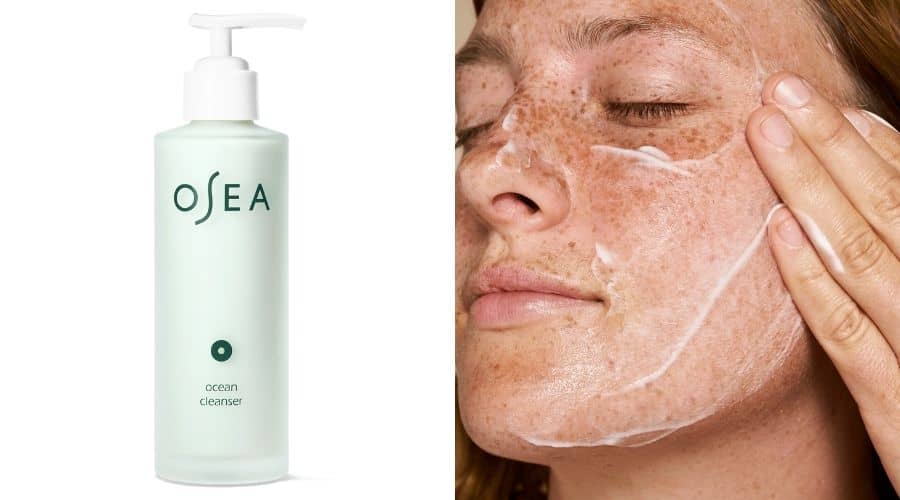 OSEA Ocean Cleanser is the perfect choice for anyone who loves gel cleansers. This organic facial cleanser is made with algae extract, sesame and jojoba seed oils, and vitamin E—perfect ingredients to wake up your skin and your senses.
This pH-balanced formula removes surface impurities, excess oils and gently exfoliates your skin minimizing the appearance of pores. Seaweed provides mineral-rich hydration for a clear, radiant complexion. You start to notice a real difference even in just a week.'.
Based in: California, United States. Ships internationally.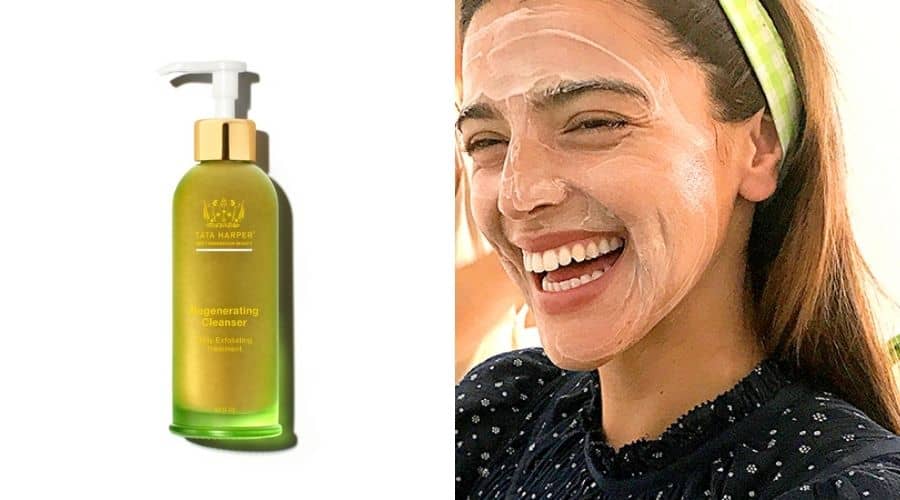 Tata Harper's Regenerating Cleanser is what you need if you're looking for a gentle proper exfoliator. This cleanser is gentle enough to use every day. The cleanser is perfect for dull, uneven, or congested skin.
It's formulated using 16 high-performance botanical ingredients, including apricot, aloe vera, olive oil and calendula extract, and more. The apricot microspheres and BHAs work together to lift off dead skin cells and leave your skin glowing, while the organic aloe will soothe your skin.
The organic face cleanser is made in small batches, sustainably sourced and, crafted in Vermont. Additionally, all of Tata Harper's products are 100% free from GMO, toxins, fillers, artificial colors and fragrances, and synthetic chemicals.
Based in: Vermont, USA. Ships internationally.
6. Acure Organics Sensitive Facial Cleanser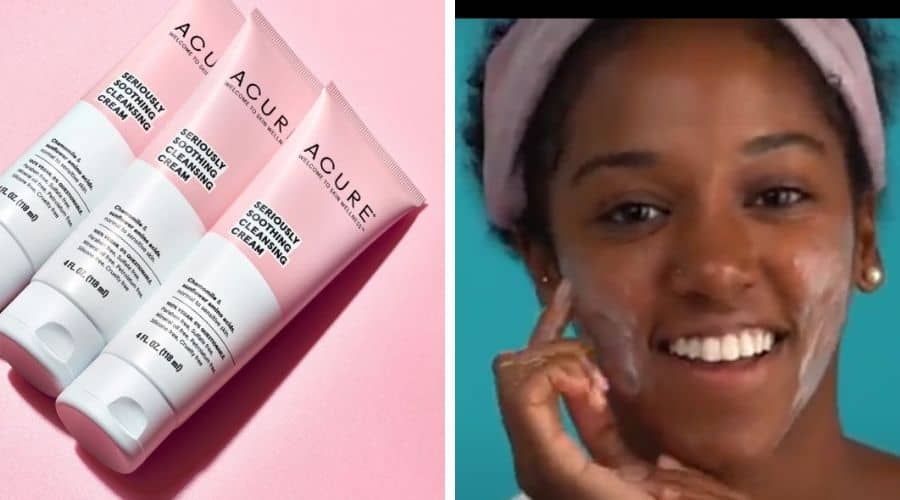 Acure's Seriously Soothing Cleansing Cream is one of the best organic cleansers for people with dry, sensitive skin. The cleanser is made with a unique soothing combination of organic argan oil, peony extract, and sunflower amino acids.
Acure believes that products should be pure, simple, and effective to help your skin truly perform. The cleanser is thus free of sulfates and parabens, cruelty-free, and rich in hydrating goodness that will keep you moisturized after just a few uses.
The cleanser is so gentle and soothing your face won't feel stripped and dry after use. You also don't have to keep rinsing to get it off your face and it does a pretty good job getting all the makeup off.
It comes at an insanely good price point and you only need a very small amount to wash your entire face and neck.
Based in: Florida, United States. Ships in the US only.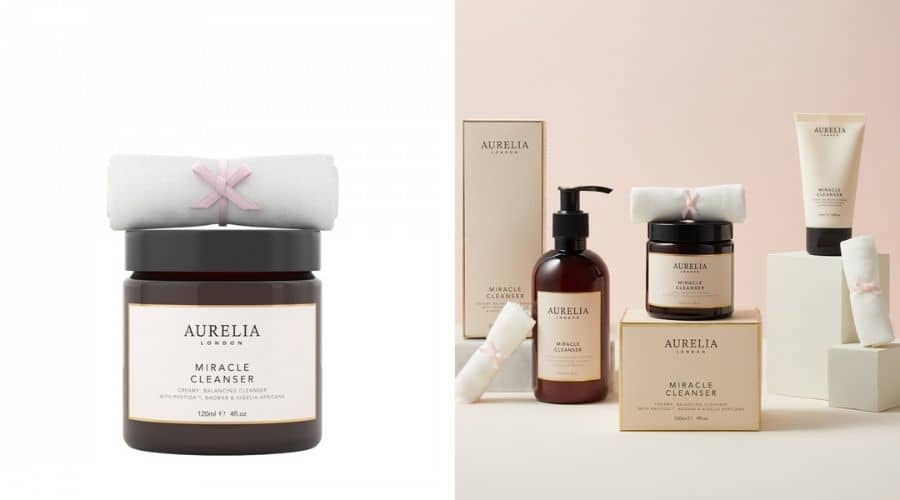 Aurelia Skincare Miracle Cleanser is an award-winning natural skin cleanser and rightly so. This rich cleanser mixes ethically sourced ingredients like shea butter, bergamot, rosemary, and hibiscus to create an intoxicating scent you'll love. Plus, it's dermatologically tested and free of any sulfates, parabens, or synthetic oils.
The aromatic, creamy cleanser glides on the skin, removing all impurities and make-up in one wash. The probiotic ingredients continuously protect, restore and balance the skin from within. The omega-rich Baobab will revitalize your skin, the Kigelia Africana will make it firm, the Mongongo oil will nurture it, while the antioxidant-rich Hibiscus will fight oxidative stress.
This is one of the best natural face cleansers is perfect for all skin types, including sensitive ones.
Based in: London, U.K. Ships internationally.
Ursa Major Fantastic Face Wash is a great natural face cleanser that removes oil and dirt without blocking pores. This concentrated foaming cleanser thoroughly cleans without stripping your skin. With a blend of aloe, lemon, coconut, white tea, sugarcane, and premium oils, the cleanser smells amazing.
This cleanser is good for normal, combination, and oily skin. On top of removing grime, hydrating, and soothing your skin, it will also brighten it, thanks to its hit of AHA exfoliation. The best part is that it does all this without stripping your skin of moisture or altering its pH balance.
It is free from sulfates and synthetic fragrances.
Based in: Vermont, United States. Ships internationally.
Pai's Middlemist Seven is a gentle cream cleanser perfect for sensitive skin that does a perfect job without stripping the face of its natural oils or altering your pH balance.
The cleanser is made using two premiere ingredients that do a fantastic job of cleaning your face and leaving it feeling luxurious. Camellia is rich in Omega 6 and antioxidants while rose helps soothe and improve irritated and dull skin.
The cleanser lifts away dirt and makeup with ease while keeping your skin's delicate oil and PH balance intact.
Based in: London, UK. Ships to the UK, USA & Europe.
Related article: Best Organic Eye Creams
Savor Beauty Organic Champagne Cleanser is indeed made using champagne grape seeds. This organic and plant-based cleanser will brighten and exfoliate the skin to fight aging and clogged pores.
It also contains organic rosemary extract that cleans and tightens pores and organic aloe gel that refreshes and revives dull skin. This cleanser truly deep cleans brightens and leaves the skin smooth and soft.
Savor Beauty's natural skincare is inspired by Korean self-care rituals. Handmade in small batches, all its products are made with certified organic ingredients.
Based in: Northern California, USA. Ships internationally.
More Natural Organic Facial Cleansers
11. Shankara Hydrating Cleanser – This natural cleanser is 100% chemical-free and best for dry skin. It will leave your skin feeling moist and silky. It contains chamomile, calendula, and lemon balm—a combination that'll leave you with a deep clean and without irritation.
12. Mukti Organics Balancing Cleansing Gel – This is a gentle foaming gel cleanser perfect for removing dirt, sweat, or makeup. It contains a flame tree and mountain pepper leaf that soothes and calms breakouts without stripping the skin of its essential oils.
13. Odylique Silk Touch Cleanser – This is one of the best natural cleansing facewash for dry and mature skin. It's a unique gel-to-milk cleanser that provides your skin with both comfort and cleanness.
A beauty routine that protects your skin and the environment is indeed the best way to get healthy and glowing skin. So go on, start using one of these natural cleansers and save both your face and the planet at the same time.
Since you're in search of natural cleansers you may be interested in reading our picks for the best natural face moisturizers and best organic toners.
Check Out More Recommendations: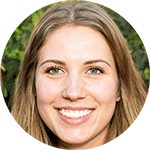 Jamie - Cofounder
Hi, I hope you enjoyed reading this article.
If you are looking for more ways to live an eco-conscious lifestyles, then check out our complete guide here.
Thanks for stopping by - Jamie