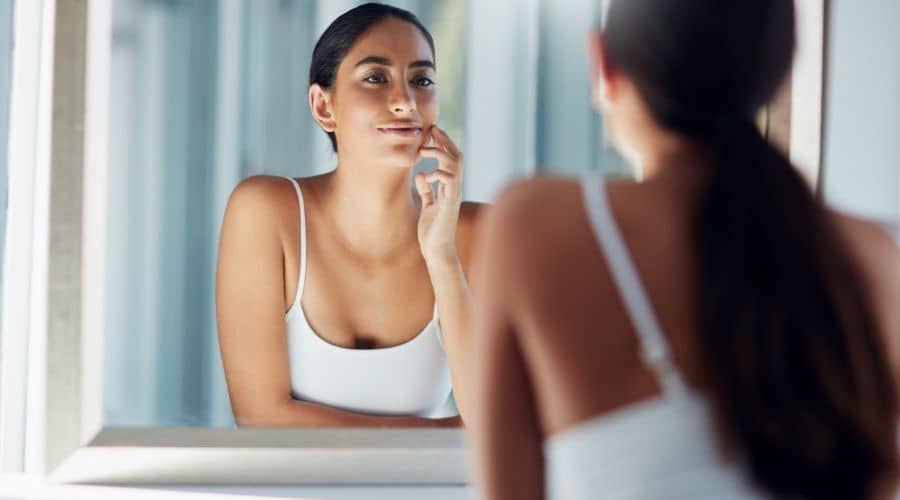 A natural face toner will help remove any residue that's left after cleansing and leave your face extra clean so it can absorb your moisturizer, serum, and makeup better.
When buying a toner, you want to get one that's as delicate as your skin. That means staying away from synthetic fragrances, parabens, drying alcohols, and PEG compounds that can irritate your skin. The beauty of organic face toners is that they don't contain any of these harmful ingredients.
by the way if you like this article be sure to check out our recommendations for natural face cleansers & best natural moisturizers.
Best Organic & Natural Face Toners
We've rounded up 13 of the best organic toners to help you jumpstart your skin care routine. These natural face toners have soothing ingredients and natural, refreshing scents.
Osea Sea Mineral Mist contains algae that stimulate cell renewal and enzymes that break down hyaluronic acid and collagen. It also contains aloe vera that soothes and calms irritation, as well as Dead Sea salt that's full of essential minerals which improve elasticity.
The mist will hydrate, refresh, and stimulate your complexion to combat dry, dull skin. Use it to invigorate skin, calm sunburns, or set mineral makeup and powder. You'll instantly feel the hydration when you spray it onto your face along with that wonderful cooling and refreshing sensation.
Based in: California, United States. Ships internationally.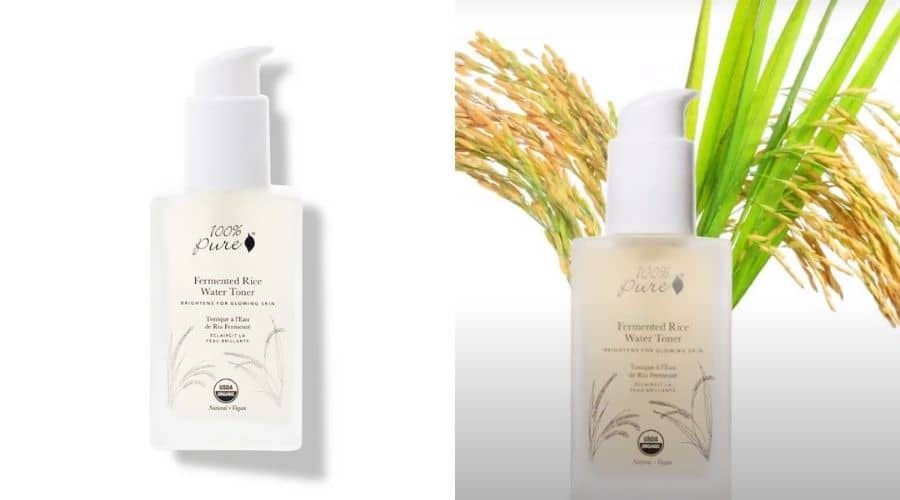 100% PURE Fermented Rice Water Toner is formulated using fermented rice water (Sake) which is one of the most coveted toner ingredients. The rice water is rich in kojic acid and nutrients that promote a softer, brighter complexion.
This toner is a great addition to an anti-aging routine as it will brighten, hydrate, soften and even your skin tone. The toner also contains licorice, lemon, and shiitake mushrooms that are perfect for removing stubborn dark spots.
The 100% Pure Fermented rice water toner is USDA organic, cruelty-free, vegan, and gluten-free.
Based in: California, USA. Ships internationally.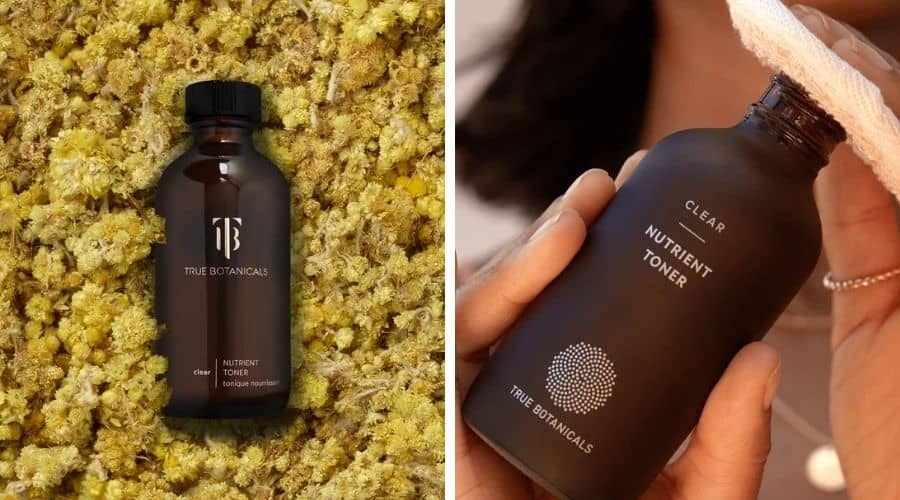 True Botanicals Nutrient Toner is a balancing toner that helps balance oily skin while leaving it feeling ultra-nourished. The toner is hypoallergenic and full of potent antioxidants and Kombucha. It contains a green and white tea base that delivers antioxidants and soothing anti-inflammatories.
This is the best natural face toner to help calm, nourish, and hydrate ultra-sensitive or irritated skin. It'll visibly reduce redness and support your skin barrier. You can also use it to set your makeup, and hydrate on the go, all day long.
This toner is naturally scented with sandalwood, helichrysum, and lavender. It will leave you smelling so luxurious.
The toner is vegan, cruelty-free, and sustainably sourced.
Based in: San Francisco, USA. Ships internationally.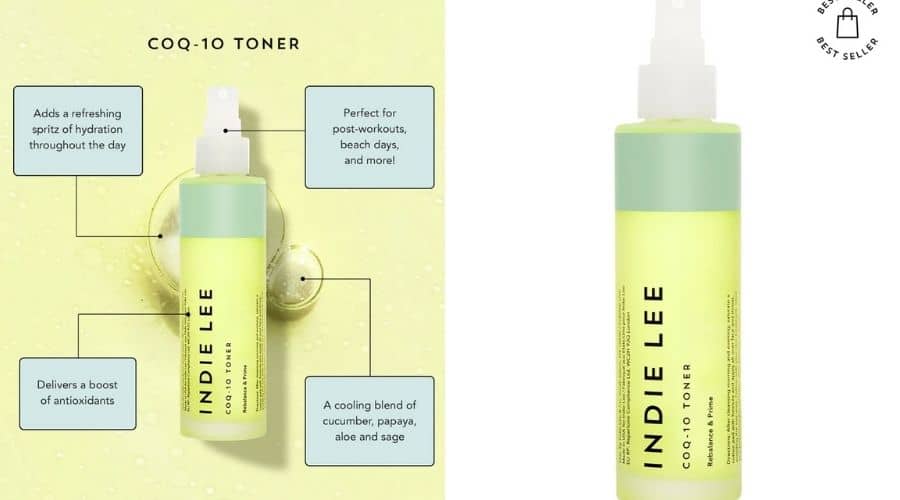 Indie Lee CoQ-10 toner focuses on offering you hydration and antioxidant protection. The toner neutralizes free radicals that tend to damage cells. It also regenerates other antioxidants such as vitamins C and E which are very important for healthy skin.
It also layers in aloe vera, hyaluronic acid, cucumber, and chamomile that work in tandem to provide anti-inflammatory and healing benefits. These ingredients also help to tighten pores and smoothen skin with a formula that's ideal for all skin types.
This alcohol-free toner is a non-drying skin spritzer that primes and softens skin exposed to environmental aggressors.
Based in: New York, USA. Ships to the US and Canada only.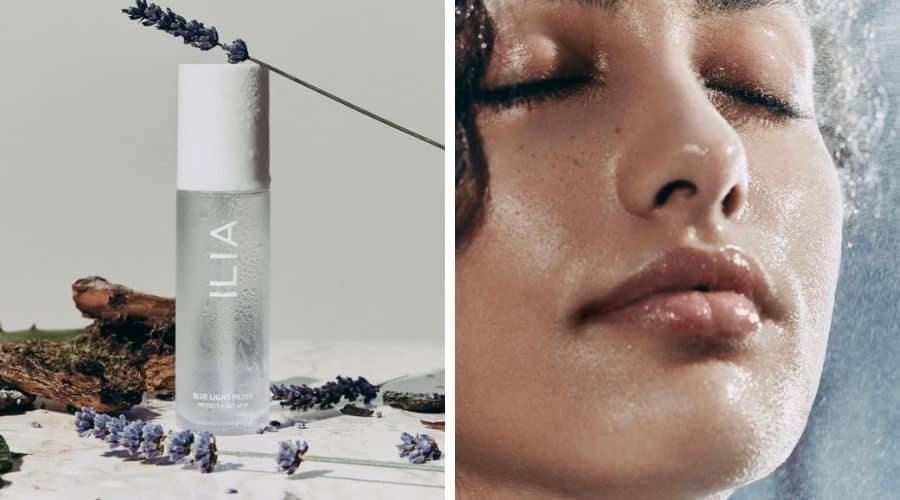 Ilia Blue Light Mist is a non-sticky, 3-in-1 mist that hydrates, sets makeup, and helps defend skin from the harmful effects of the sun and pollution. This light toner will cover your skin in a weightless veil that helps boost the skin's defenses against environmental stressors.
The natural lavender scent soothes your senses as soon as you spray it on your skin. It will leave your skin feeling more refreshed, balanced, and hydrated.
You can also use this mist after your makeup or skincare routine to seal everything in with a light, non-sticky hold. Doing so will see your makeup last longer.
Based in: Laguna Beach, California, USA. Ships internationally.
Rose Hibiscus Hydrating Face Mist from Herbivore is a cruelty-free, vegan, and gluten-free soothing, floral toner that's perfect for any skin type.
The mist contains natural ingredients that promote a smoother, radiant complexion. Rose and witch hazel help fight inflammation and tighten pores while the aloe and coconut water provide nutrient-rich hydration. The mist contains radish root ferment as a natural preservative.
The Rose hibiscus mist is suitable for all skin types and targets dullness and dryness. With added naturally-derived, moisture-binding Hyaluronic Acid as a base, the mist instantly hydrates and softens skin.
You can spray it on clean skin or over makeup, and it will keep your skin dewy and fresh throughout the day.
Based in: Washington, USA. Ships internationally.
Tata Harper Hydrating Floral Essence is a great organic toner for anyone struggling to lessen fine lines from dry or aging skin. It contains hydrating hyaluronic acid that helps deliver soothing botanicals into your skin leaving you with a plumper appearance.
The toner also contains superoxide dismutase, a powerful antioxidant that balances skin and prevents inflammation. When used daily after cleansing, the toner will fight dryness, fine lines, and wrinkles. It will also enhance the performance of serums that follow. You can also be used over makeup to set it and make it last longer.
Based in: Vermont, USA. Ships internationally.
Pai Century Flower is an alcohol-free toner that contains water extracted directly from lotus root and orange blossom plants to refresh and soothe skin. It contains amino acids, vitamins, and trace minerals, that hydrate, even and smoothens your skin's look.
You'll love how it instantly soothes and calms dry and redness-prone sensitive skin after cleansing. It will also restore comfort and leave your skin glowing throughout the day.
The toner contains the Lotus plant that's rich in vitamins, minerals, and amino acids. The plant helps improve skin tone and texture. The toner also contains Orange Blossom that helps to refresh and brighten skin prone to dryness.
Based in: London, UK. Ships to the UK, USA & Europe.
Savor Beauty Organic Toning Mist contains a blend of flower waters that makes this mist so soothing and effective. This alcohol-free toner will hydrate and rebalance your pH in seconds.
Lavender water calms and reduces redness, rose water hydrates and fights signs of aging, tea tree clears blemishes on oily and acne-prone skin, neroli blossom balances oils, and the lemongrass refreshes tired skin cells.
Savor Beauty makes this mist in small batches in New York using integrity and care.
Based in: Northern California, USA. Ships internationally.
10. De Mamiel Dewy Face Mist
De Mamiel Dewy Face Mist is ideal for people with ultradry skin looking for a product made using natural ingredients. This mist is formulated with extracts, essences, and essential oils of neroli, Persian rose, white oak, river cane bamboo, aloe, and so much more.
These ingredients work best to cool, soothe, refresh and energize the skin back to its dewy best. The essential oils and flower essences will leave you feeling peaceful and calm, making this toner the perfect addition to your daily skincare routine.
The mist also has herbal qualities that repair your skin and protect it against pollution as well as botanical qualities that nourish, hydrate, and nurture your skin.
Based in: Harpenden, Hertfordshire, England. Ships worldwide.
One Love Organics Botanical D Moisture Mist is a must-have natural toner for the face. This lightweight toner, which also acts as a moisturizer, preps, and hydrates the skin enhancing the absorption of your favorite facial oil, serum, or moisturizer.
The mist contains emollient oils and Botanical E as well as Shiitake mushroom, a natural and vegan source of Botanical D. All these ingredients help tone and balance your skin leaving you with long-lasting hydration.
Based in: Georgia, USA. Shipping in the USA only.
More Natural Organic Face Toners
12. Freck Beauty Cactus Water – This lactic-acid-infused toner helps lift away dead skin cells and dirt your face wash may have missed.
13. Ren Skin Care Ready Steady Glow Daily AHA Tonic – This is the best natural toner for acne- and oily-prone skin. The toner is formulated using natural AHAs and BHAs that will swipe clean buildup, oil, deep clean pores, and keep your complexion balanced throughout the day.
Related article: Best Natural Face Oils
Ingredients Found in a Natural Toner
When picking a natural toner you want one that contains zero harsh chemicals and synthetic ingredients. You want to go for plant ingredients such as witch hazel and floral hydrosols, among others.
Here are a few great natural ingredients you should go for when shopping for a natural toner:
Hyaluronic acid
Hyaluronic acid is great in delivering hydration and nutrients deep into your skin cells.
Rosewater
Rosewater is an anti-inflammatory that will soothe sensitive skin. It also helps to tighten pores for smoother, softer skin.
Witch hazel
Witch hazel contains antioxidants that reduce pore size. It also contains antibacterial properties that are great for oily or acne-prone skin.
Apple cider vinegar
Apple cider vinegar contains alpha-hydroxy acids that help restore your skin's pH balance while brightening it and removing any bacteria.
Green tea
The antioxidants in green tea make it an astringent that reduces sebum production.
Fermented rice water
Fermented rice water is well-loved for its vitamins and minerals that help shrink the appearance of pores and brighten skin.
It may seem ok to skip the toner but as you can see these natural face toners come with a wealth of benefits for your face. Pick one today!
Complete your natural skincare routine with more face products from these natural skincare brands we recommend.


  Stella - Writer
Stella is a writer and mother from Thika, Kenya.
Her love for nature and the beautiful Kenyan outdoors has inspired Stella to consciously make an effort to lead a more sustainable, eco-friendly lifestyle.