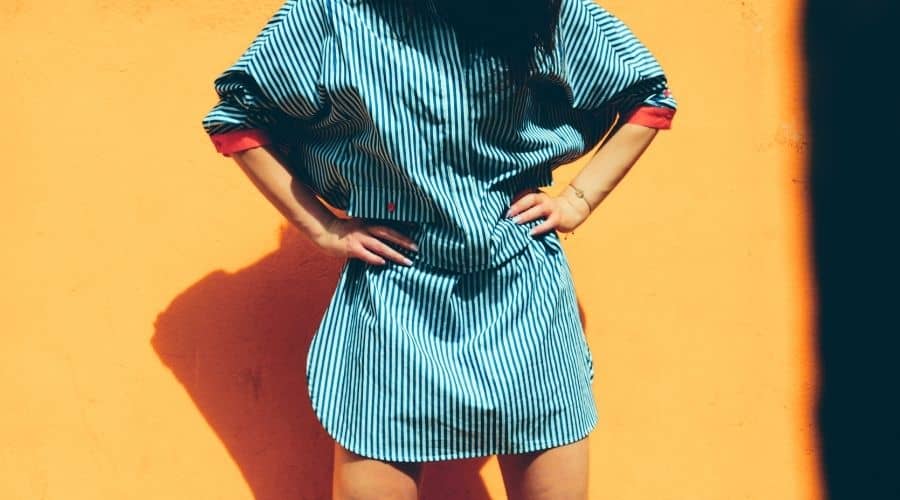 Let's admit it, most of us are guilty of purchasing far more clothes than we wear. And while we may have made efforts to donate most of the clothes we no longer wear, they still end up in landfills, increasing the already overwhelming environmental pollution.
We can do better for our planet by choosing slow fashion.
But what is slow fashion? Slow fashion is all about quality over quantity. It's about buying timeless pieces you'll wear season after season, rather than loading your closet with trendy (often poor quality) pieces that are out of style before you wear them twice.
Today, there are dozens of slow fashion brands that are dedicated to using ethical and sustainable practices to produce eco-friendly clothing. These brands want you to look good without harming the planet.
Best Slow Fashion Brands
Not sure where to start with your slow fashion shopping? These are some of our favorite ethical slow fashion companies that have made it their mission to approach fashion in an ethical and transparent way that's considerate to both people and the planet:
1. Pact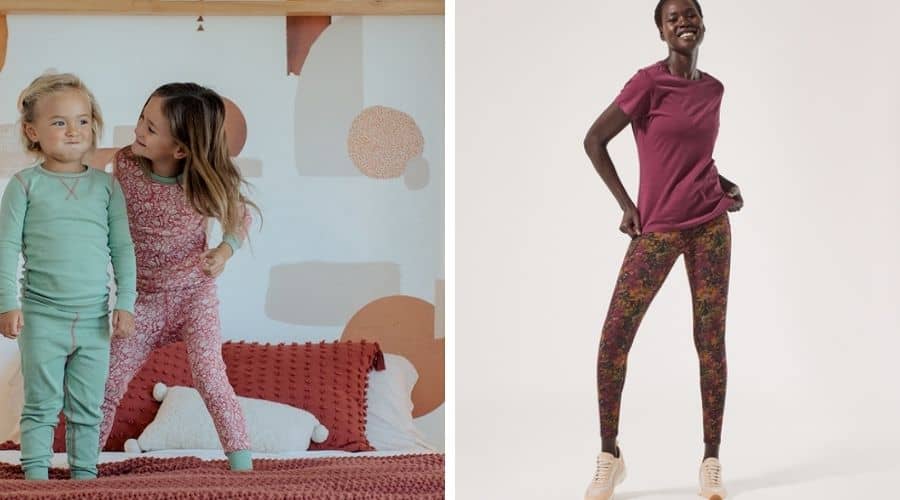 Pact is a socially conscious brand that goes to great lengths to ensure the entire process of manufacturing its ethical clothes is eco-friendly and sustainable. Pact's super-soft clothes are made using organic cotton certified organic by the Global Organic Textile Standard (GOTS).
The brand uses organic cotton because it's farmed using natural farming processes that sustain the health of soils, ecosystems, and people. Growing organic cotton doesn't require toxic chemicals and uses 81% less water than non-organic cotton.
Pact also partners with Fair Trade Certified™ factories that ensure workers are treated fairly and paid fair wages. These factories also use sustainable manufacturing processes that cause as little harm as possible to the environment.
Based in: Colorado, USA. Ships worldwide.
2. Everlane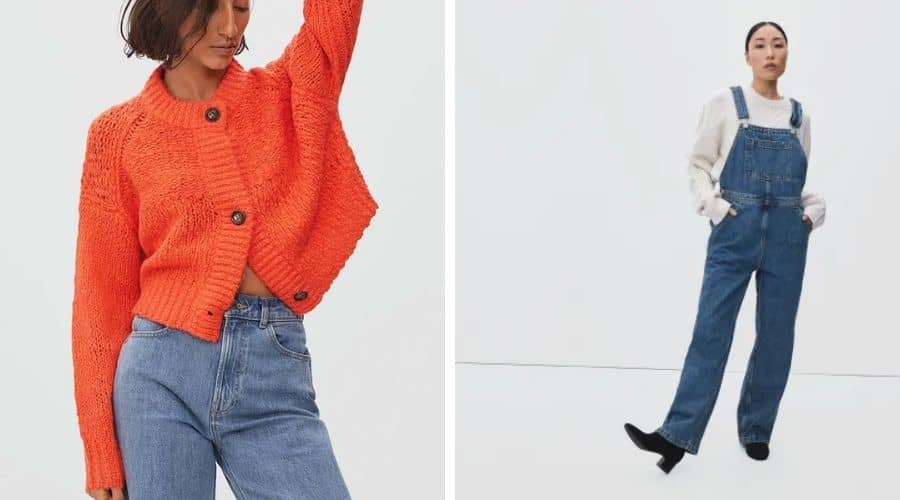 Everlane is one of the brands that strive to be radically transparent in how it produces its products. The brand's deliciously soft cotton tees, cashmere sweaters, and Italian leather loafers are made using the lowest-impact manufacturing processes.
Committed to sustainability, the brand's manufacturing process recycles 98% of water. It saves nearly 1,500 liters of water per denim process through a closed-loop water cycle. Additionally, it uses alternative clean energy sources, plus air-drying 85 percent of its jeans. This dramatically reduces CO2 emissions by 80%.
Everlane is also transparent in how much it costs to make each of its pieces and doesn't add a crazy markup to the price.
Based in: California, USA. Ships internationally.
3. Summersalt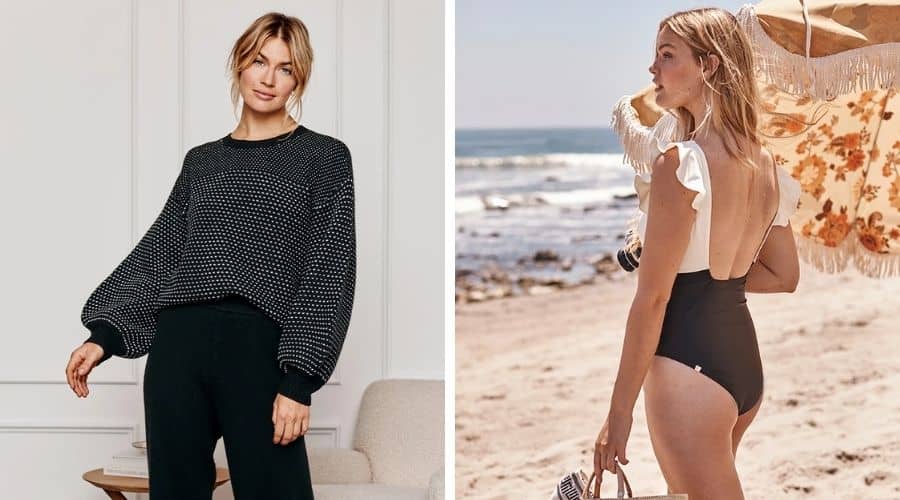 Summersalt, a travel wear brand offering swimwear, athleisure, and loungewear, has created a versatile and delightful line of garments. The brand's travel essentials are both comfortable and stylish to make your trip a memorable one.
All the pieces are responsibly made using sustainable materials such as recycled polyamide, regenerative cupro, and cruelty-free wool. On top of that, they are produced in WRAP- and sustainably certified factories.
With Summersalt clothing, packing for your trip will be stress-free because it combines fashion and functionality. Now you can explore the world and take care of it at the same time.
Based in: Missouri, USA. Ships internationally.
4. Boden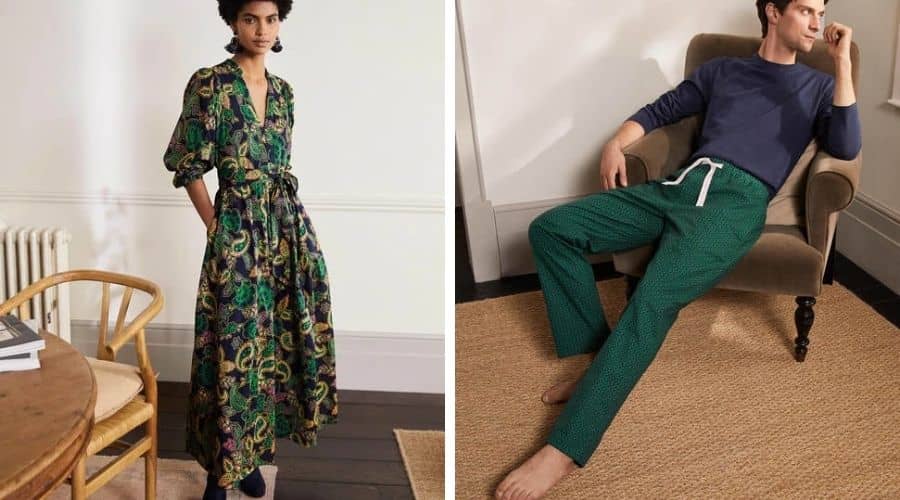 Boden has been in the fashion industry for over 30 years now. The company is committed to responsible sourcing, fair trade, and ethical practices, especially in its factories. In addition, it employs eco-friendly options in every part of the supply chain.
The brand's main goal is to make long-lasting clothes that you'll wear for years to come. Its clothing line consists of men, women, children, beachwear, and everything in between. You'll definitely find something for everyone in your family.
Boden is committed to reducing its use of polyester for all its pieces by the end of 2023 and only uses recycled polyester where necessary. The company also aspires to use 100% more sustainable cotton by 2023 through a combination of BCI, recycled, and organic cotton
Based in: London, United Kingdom. Ships worldwide.
5. Outerknown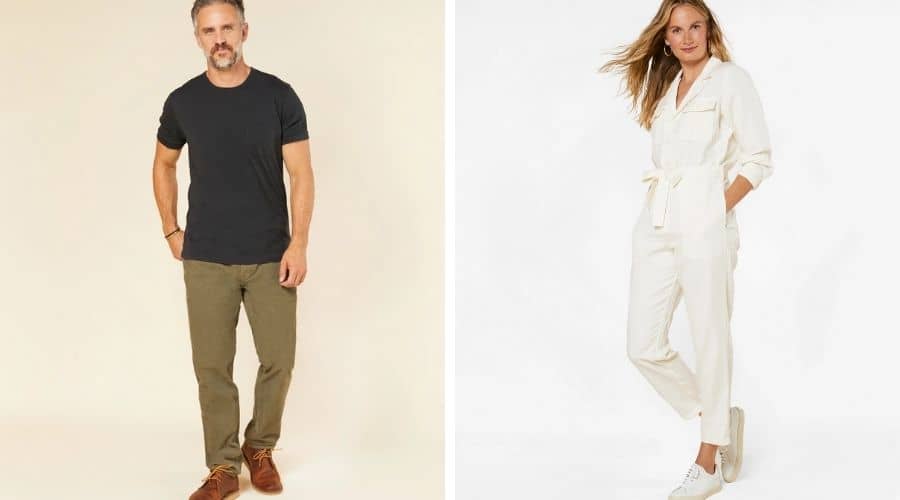 Outerknown is one of the top slow fashion brands that feature durable classics that transcend seasons. This green company considers both people and the planet before, during, and post-production. In line with this, Outerknown works with global partners who offer fair wages and practice sustainable production.
90% of the fibers the company uses to make its products are organic, recycled, or regenerated. To keep its jeans out of landfills, Outerknown will repair, replace, or recycle them.
This brand is also well-known for its unique innovations such as its recycled plastic trunks made with recycled or renewable fibers.
Based in: California, USA. Ships internationally.
6. Thought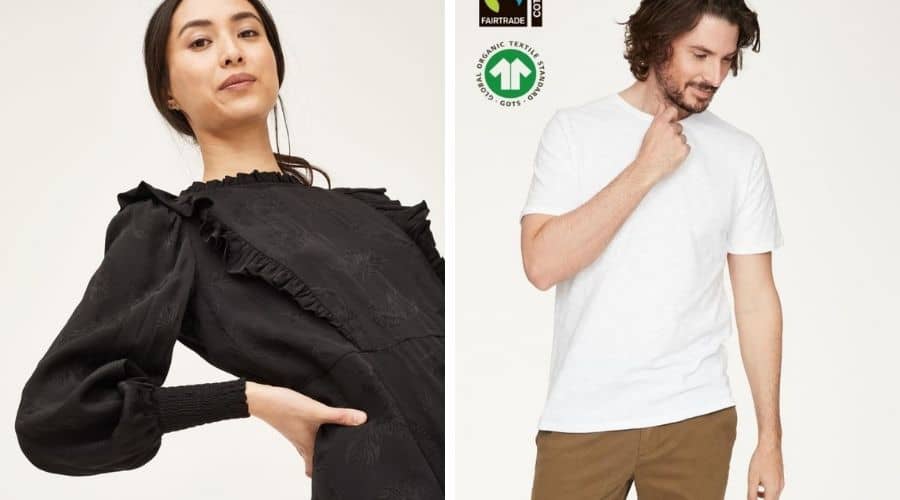 Thought is an eco-conscious brand committed to designing and making beautiful, timeless fashion while caring for the environment. Its mission is to champion slow fashion clothing that's built to last.
All their collections incorporate natural, organic, and recycled fibers, such as wool, cotton, hemp, and Tencel.
The company only works with factories and suppliers that ensure every team member involved is treated respectfully, paid fair wages, and with fair working conditions. It also donates its production samples every season to support women transitioning back into the workforce.
Based in: London, United Kingdom. Ships internationally.
7. Tentree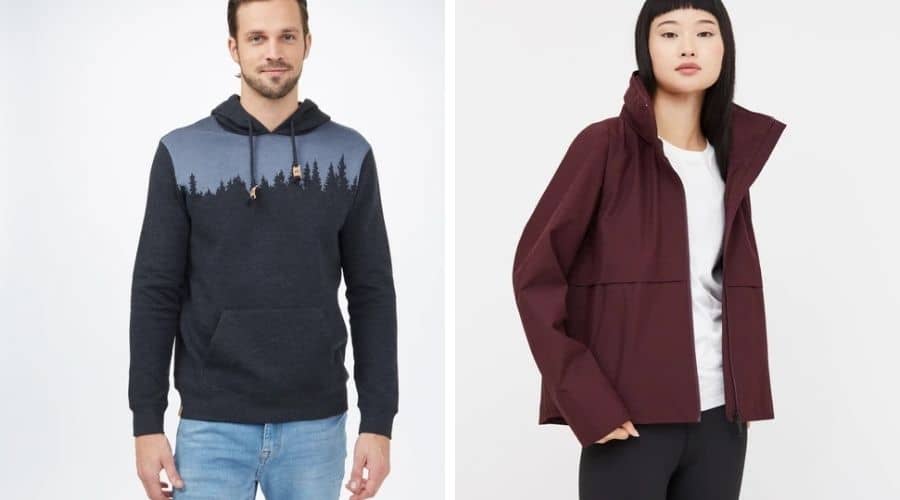 Tentree features Earth-first essentials for the whole family. These pieces are made using sustainable and comfortable materials. The company offers lifestyle and loungewear including cozy sweat sets, t-shirts, cardigans, dresses, and jackets made from sustainable fabrics like Tencel, hemp, and organic cotton.
Tentree is not only committed to ensuring it leaves the smallest impact on our environment, but it also takes great pride in finding better, healthier, and more eco-progressive solutions for its customers.
As part of Tentree's commitment to give back, 10 trees are planted for every item purchased. Its goal is to plant 1 billion trees by 2030. It's also on a mission to replace all single-use plastics with sustainable options, and eliminate virgin packaging materials from its supply chain by 2023.
Based in: Vancouver, Canada. Ships internationally.
8. Warp+Weft
Warp+Weft's clothing is size-inclusive, ethically made, and sustainable. This brand offers ethical and comfortable jeans for every body size and type. The brand's jean sizes range from 0 to 24 for women and 28 to 40 for men. Everything is also under $100!
The company makes its own materials at its own factory, to ensure that the process is ethical and sustainable. It also only takes up to 10 gallons of water to make a pair of jeans, which is way less than the average consumption.
Based in: New York, USA. Ships to U.S. states, Puerto Rico and Guam.
9. KOTN
Kotn's ultra-soft basics are made from Egyptian cotton. This cotton is slowly and sustainably grown therefore has positive effects on the environment. It also creates longer and more durable fibers, ensuring that fabrics last longer. The quality of clothing made using slow-grown Egyptian cotton is also very high.
The brand produces all its clothing in a fair and safe environment and is even helping suppliers make the switch to organic within the next five years.
As part of its social responsibility, Kotn helps to improve local communities involved in the production of cotton. It partners with pro-literacy organizations in the Nile Delta, and funds local construction of schools in Egypt. The company is also helping more farms to introduce better working practices, benefitting workers and the environment.
Based in: Toronto, Canada. Ships internationally.
10. Reformation
Reformation offers timeless pieces that will still be stylish long after the season is over. The pieces are made out of renewable plant-based fibers. For further sustainability, the company repurposes vintage clothes, invests in programs that replace the resources they use, and maintains green business-certified retail stores and warehouses.
Additionally, each of these feminine pieces comes with a description of its environmental footprint as proof of reformation's dedication to sustainable production.
Based in: California, USA. Ships internationally.
11. ABLE
ABLE is an ethical fashion brand that has clothing and accessories made fairly in eco-friendly factories around the world. The brand ensures that the factories pay their workers fair wages. For transparency, ABLE actually publishes their wages.
The company is committed to ending cyclical poverty by creating economic opportunities for people, especially women, to provide for themselves.
When it comes to keeping its customers happy, ABLE offers free returns just in case you don't pick the right size or color at first. You can return anything you buy until you find the perfect fit on your dream dress, jeans, or boots.
Based in: Tennessee, USA. Ships in the USA and Canada only.
More Slow Fashion Brands & Companies
12. Tradlands – Many of Tradlands pieces are made using eco-friendly fabrics such as linen and Tencel.
13. Accompany – Accompany is an ethical and fair trade online store that sells fashion pieces made using natural and responsibly-sourced materials.
What Does Slow Fashion Mean?
Slow fashion is the practice by fashion brands to intentionally create high-quality fashion apparel and accessories that minimize the environmental impact of consumerism.
Slow fashion brands consider how apparel is made and what the supply chain looks like. Slow fashion brands focus on producing high-quality garments using eco-conscious materials that are long-lasting.
Unlike fast fashion, non fast fashion brands focus on quality rather than quantity, hence mostly producing clothing in small batches. So instead of chasing trends, they focus on creating classic and versatile pieces that will be in your wardrobe for years to come.
Slow fashion brands also pay attention to the people within their supply chain and strive to pay fair wages and create safe working environments for them.
How To Practice Slow Fashion Habits
Adopting a slow-fashion way of living may seem confusing and difficult at first, but it doesn't have to be. Here are some ways to get started:
Buy less
The main goal of slow fashion is to buy less to reduce waste. So to start off, take a look at your wardrobe and start wearing what you already have instead of buying more. Try to fight the urge to wear clothes only once just because you feel they're no longer trendy.
Go for quality
When buying new clothing, choose good-quality pieces made with sustainable materials. Keep in mind that just because something is expensive doesn't always mean it has better quality. So instead of focusing on the price, focus on the materials used to make the clothing.
Take care of your clothes
You want your clothes to last as long as possible before you discard them. Learning how to care for your clothing is one of the best ways to increase its life. Follow the care instructions on the label, wash and dry your clothing at the proper temperatures and use the appropriate cycles. This will keep your clothes in good shape.
Buying new clothes every season may be fun but as an eco-conscious individual, it's time to leave fast fashion behind. It's time to start shopping from these slow fashion brands that are helping people preserve the planet—and look good doing it.
Want to learn more about the effects of fast fashion? Check out our article on fast fashion industry facts you should know.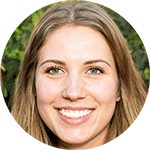 Jamie - Cofounder
Hi, I hope you enjoyed reading this article.
If you are looking for more ways to live an eco-conscious lifestyles, then check out our complete guide here.
Thanks for stopping by - Jamie