Did you know that your swimsuit is made from plastic? Yes, your favorite bikini is part of the plastic causing damage to the planet.
Did you also know that you could buy sustainable swimwear made from eco-friendly material that is safe for the planet?
Today there are so many amazing eco-friendly swimwear brands making it easier for people who love spending time at the beach buy swimsuits that are safe for our planet. Theses brands are offering stylish and eco-friendly alternatives.
Here are some of the best sustainable swimwear brands that you can choose from. Our list takes into account budget and size inclusivity.
Our Reviews for the Best Sustainable Swimwear
Reformation, based in Los Angeles, runs several beautiful swimwear options from women's bikinis, one-pieces, and even beach bags.
Reformation follows eco-friendly manufacturing practices in the production of their swimwear. The company uses deadstock fabrics that would otherwise end up in landfills as well as ECONYL fabric to produce their swimsuits.
The swimwear's prints are what make this brand stand out. From tie and dye, leopard and pretty wallpaper florals, the collection is simply stunning.
Browse Reformation's range of swimwear & bikinis >>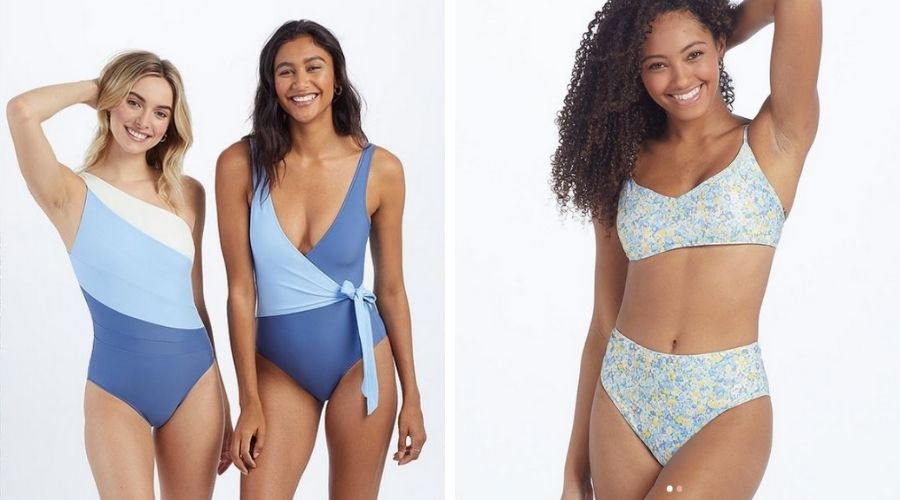 Summersalt swimwear is ethically made in New York City using recycled fabrics. This high-quality swimwear is super flattering and surprisingly quite affordable selling at less than $100. This brand is perfect for both your body and your wallet.
Summersalt brags of swimwear that with five times the strength and four times the compression of other swimwear.
The swimwear comes in many unique styles, patterns, and cuts to choose from. There's everything you can imagine from bikinis, one-pieces, and coverups. They even have maternity bathing suits!
To make it easier for you to find the perfect fit, Summersalt took over 1.5 million measurements from 10,000 women and a patented TrueMeasure process. Just take the Style + Size Finder quiz to see which size suits your body.
Check out Summersault & their eco-friendly swimsuits >>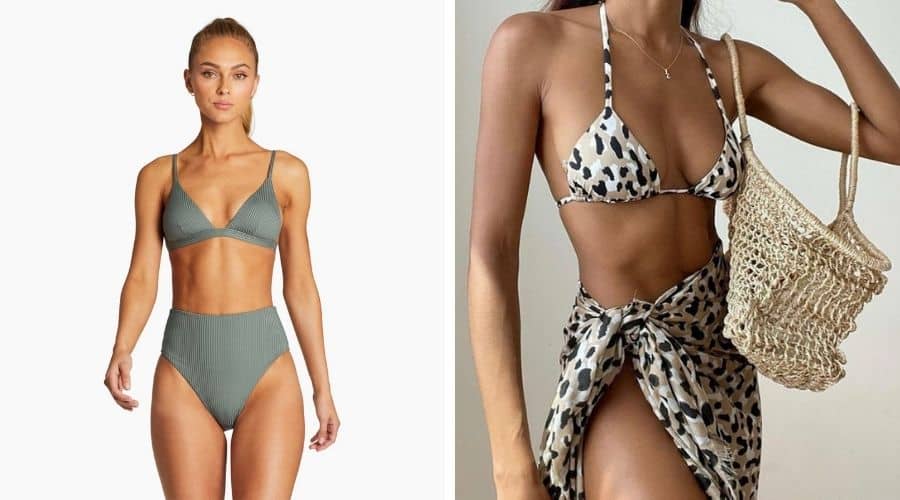 This is an American brand created in California. Vitamin A swimsuits are inspired by travel and modern art.
Vitamin A swimwear is made using EcoLux™, a superfine matte jersey swim fabric made from a blend of recycled nylon fiber and LYCRA XTRA LIFE® fiber. This blend makes the swimsuits last longer than spandex swimsuits. You'll be wearing your Vitamin A swimsuit for years to come.
The prints on Vitamin A swimwear are created using waterless digital technology at factories that use innovative methods to conserving important resources such as electricity and water.
Explore Vitamin A's sustainable Swimwear >>
prAna is a leader among sustainable swimwear brands, and rightly so. Their sustainable swimwear is made from ECONYL, a sustainable textile made from recycled nylon.
prAna's swimwear is especially popular among active women. prAna's swim collection comes in an on-trend color palette, and prints in classic, sporty and novelty silhouettes.
Shop Prana sustainable swimwear >>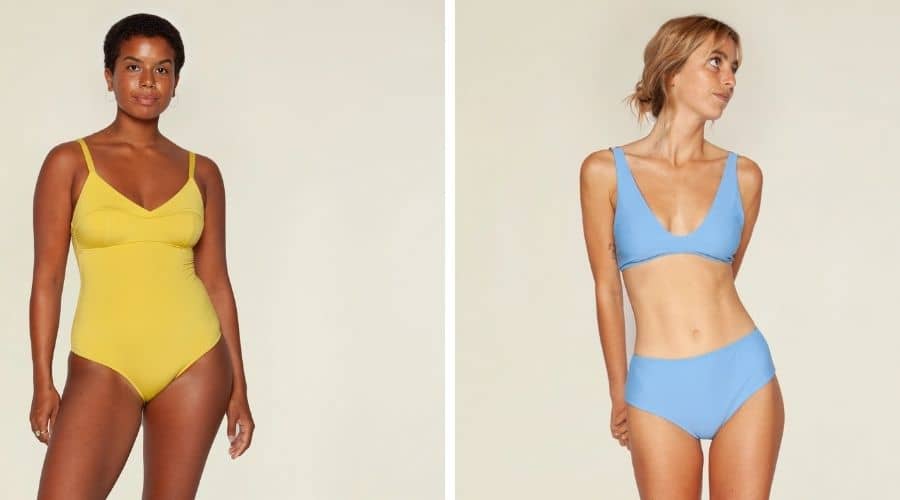 Outerknown makes shopping for sustainable men's swim trunks pretty easy. The brand carries several different kinds of men's swim trunks all made sustainably.
The brand has trunks made from 100 percent Australian Merino wool, a natural, renewable and biodegradable fabric.
They also have trunks made from 86 percent recycled polyester as well as from 100 percent ECONYL (recycled nylon made from reclaimed fishing nets and other waste).
All these eco-friendly trunks come in a wide range of patterns, colors, and sizes for men.
Shop for Outerknown swimwear & bikinis >>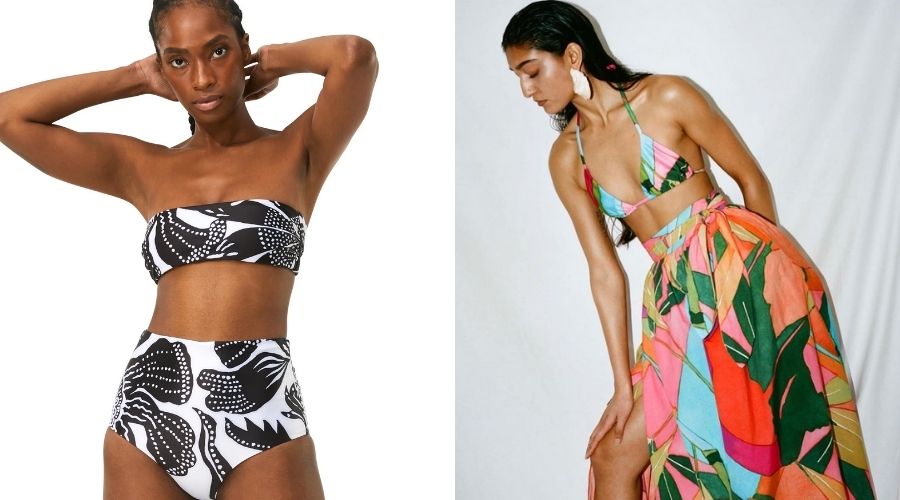 The entire Mara Hoffman's sustainable swimwear collection is made using recycled REPREVE. This is a textile made from 100% recycled plastic. Using REPREVE prevents the use of new carbon emissions when producing their swimsuits.
Mara Hoffman's collection, though pricier compared to other brands, is made to last for many years. You'll love their signature bright-colored printed swimsuits and high-waisted bikini briefs.
Take a look at Mara Hoffman's Bikini Range >>
Seea's sustainable swimwear collection is created in California using a variety of recycled fabrics (80% recycled polyester, 20% spandex).
The gorgeous Seea swimwear comes in designs that will meet the needs of active sun lovers who love vintage apparel.
To further their goal to sustainability, prAna's fair trade swimwear is crafted by skilled seamstresses who are fairly paid.
Explore Seea's wide range of sustainable swimwear >>
Alyned Together is one of the eco swimwear brands that is size-inclusive and produces swimwear for any type of body. Their collection caters for sizes XS to 3X and comes at affordable price points.
The swimsuits are created from upcycling 80-90 percent recycled polyester. The company is also looking into improving upon the recycled polyester fabric to come up with an even more eco-friendly product for future collections.
Check out Alyned Together's Swimwear >>
Davy J put performance in mind when creating its swimwear. Its range of one-pieces and bikinis is practical, elegant and long-lasting. The swimwear is made from double-faced regenerated nylon that's quite sturdy.
To minimize fast fashion, each Davy J swimwear style is timeless and doesn't need to be replaced each season.
Sézane is a timeless Parisian ethical swimwear brand that produces both European-style apparel and high-end denim. The brand also has locations in New York and London.
Sézane is deeply committed to sustainability and follows strict ethical manufacturing practices, uses sustainable materials for its swimwear as well as eco-friendly packaging,
These eco-friendly bathing suits are also beautifully-made and feature adjustable straps and interior lining.
Check out Sézane's swimsuits >> 
OOKIOH focuses on inclusivity by creating swimwear designs for all body types. The brand is also big on sustainability and hopes to completely eliminate plastic from its processes over the next two years.
OOKIOH's entire collection is made from recycled ocean waste and regenerated materials. The company takes ocean wastes such as sunken fishing nets and pre-consumer waste products and turns them into luxurious textiles. When you buy an OOKIOH's swimsuit you'll feel good knowing you're helping the ecosystem.
Don't be fooled by the fact that the brand uses recycled waste. It's swimsuits are gorgeous pieces that infuse modern classics with California ease and a splash of nostalgia. Buy one today, you will love it!
SWIMINISTA offers a line of comfortable, supportive swimwear made from luxurious Italian recycled fabrics.
To make sure that their swimsuits fit every type of body, SWIMINISTA suits come in adjustable, personalized fits in sizes A-DD. The swimwear is comfortable, ultra-chic, sexy, supportive and made for movement. Better still they promote the eradication of plastics in the world! Get yourself a pair today!
Alohas is a brand that promotes zero waste in the fashion industry. In that line, it manufactures sustainable swimwear made with regenerated Econyl nylon. Their swimsuits range from one piece suits to bikini styles. These come in a wide variety of designs including staple colors and bold patterns.
Alohas swimwear is certainly good for the planet, and safe for your skin. Buy a pair now.
Say goodbye to your old swimsuits and replace them with this timeless sustainable swimwear that's not only long-lasting but also friendly to the environment.
Remember, one tiny act such as buying sustainable bathing suits only could go a long way to help rid the planet of harmful plastics!
If you like this article then make sure you check out guide on sustainable clothing brands.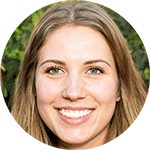 Jamie - Cofounder
Hi, I hope you enjoyed reading this article.
If you are looking for more ways to live an eco-conscious lifestyles, then check out our complete guide here.
Thanks for stopping by - Jamie