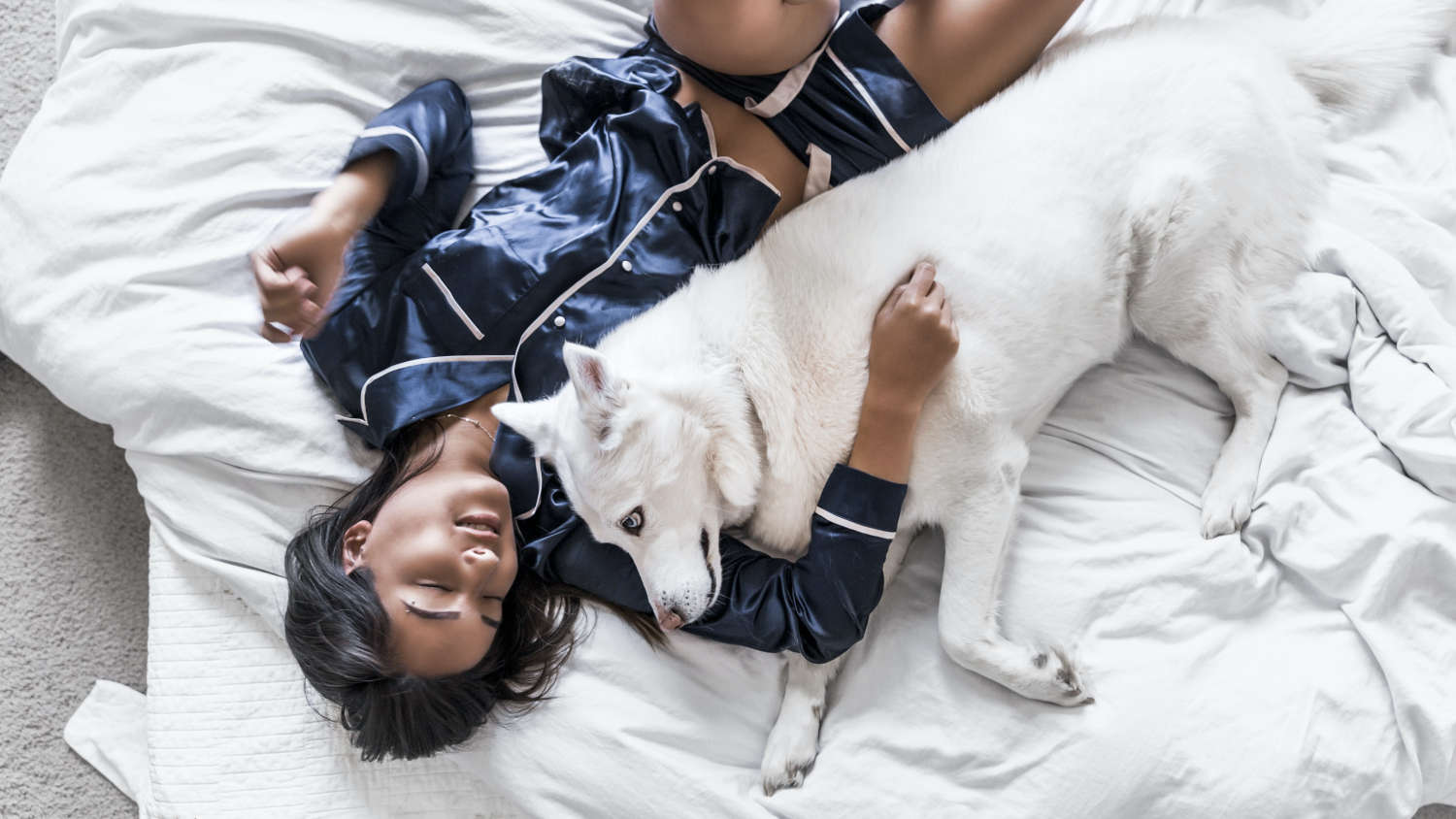 Looking for pajamas that are not only snuggly but also sustainable to keep you warm in the evening after a long day without causing any harm to the environment?
We bring you a review of 15 of the best sustainable‌ ‌pajamas‌ and loungewear brands that make their clothing responsibly using toxic-free, natural fibers.
These brands with ultra-soft sleepwear, sweatshirts, and joggers have just what you're looking for to rest and relax more soundly.
If you enjoy this article, make sure you check out our picks for best organic‌ ‌cotton‌ ‌pajamas‌ & best sustainable slippers.
Best Sustainable Pajamas Reviewed
1. Organic Basics
Organic Basics recently introduced ethical sleepwear sets in addition to their line of tops made from materials like organic cotton and TENCEL™. These tops make for super comfy tops for sleeping in.
2. California Cloth Foundry
California Cloth Foundry is an eco-conscious brand that uses climate beneficial fibers, natural dyes sourced from plant-based materials like madder root and chestnuts, and clean non-toxic finishing agents. The brand's sleepwear is super soft and comfy, you'll want to wear it all day long and then fall asleep in it!
3. Girlfriend
Girlfriend is an eco-activewear brand that also sells a sustainable loungewear collection of hoodies, sweatshirts, and joggers. These are all made from 50% recycled cotton and 50% organic cotton. They are available in sizes XXS – 6XL.
4. Softwear
Softwear manufactures super soft eco-friendly pajamas made using Lenzing Modal yarn. The yarn is woven in a family-owned mill in Los Angeles, California. The brand also features eco-friendly joggers, sweatshirts, and tees.
5. PACT
PACT is one of the few ethical clothing brands that is certified organic, fair trade, and affordable. You will love their organic cotton loungewear and basics for men, women, and kids. If you want something more casual to sleep in, you can easily find something from PACT's casual garments like their loose tees, shorts, and pants.
6. People Tree
People Tree is based in the UK and is well-known for being a sustainable fashion brand. The brand features fair trade pajamas, consciously made from 100% organic cotton in ethical factories. The pajamas come in vibrant colors and prints.
7. Sijo
Sijo is a brand owned by women of color and features elegant, silky soft sustainable sleepwear made from eucalyptus Tencel lyocell. The beauty of lyocell fabric is that it is crated using a closed-loop process that reuses the water and solvents used in the process. These pajamas are great if you are looking to spoil yourself or find the perfect eco friendly gift for that special person.
8. Kotn
Kotn is a Canadian brand that manufactures sustainable pajamas and loungewear made from 100% Egyptian cotton. Their sleepwear is fairly made in Egypt using direct-trade practices. Kotn's pajamas are super luxe and come in sophisticated hues.
9. Symbology
Symbology is renowned for its fair trade practices. The brand recently introduced a line of pajamas made ethically and in their signature block-printed designs. These PJs are handmade by artisans in India using organic cotton or modal. They are dyed using low-impact dyes making them safe for even the most sensitive skin.
10. Boden
Boden is a longstanding member of the Ethical Trading Initiative and has been committed to using ethical practices and responsibly sourced fabrics for over 25 years. Boden's sleepwear is crafted from 100 percent cotton or modal blends. These PJs are both comfortable and chic.
11. Coyuchi
Coyuchi may specialize in eco-friendly bedsheets but also has a superior selection of irresistibly soft sustainable pajamas and robes that you can sleep and lounge in. The brand sources earth-first materials for its products and also prioritizes vendors that implement sustainable processes such as water recycling, renewable energy, and waste reduction.
12. Reformation
Reformation's matching eco-friendly PJ sets are the perfect lazy weekend uniform for a girls' night slumber party or just enjoying an at-home Sunday brunch. The pajamas are made from eco-friendly Tencel and feature cuffed-hems and front pocket details. You can choose from short sleeve and long sleeve styles.
13. Ettitude
Ettitude has some of the silkiest non-silk pajamas you'll find anywhere. The brand's buttery soft vegan sleepwear is made from 100% organic bamboo lyocell. They use bamboo sourced from FSC-Certified (Forest Stewardship Council) forests. Any fabric that remains from manufacturing is used to create reusable bags.
14. Thought
Thought features a line of breathable and sustainable sleepwear made using mindful fibers such as organic cotton, hemp, and bamboo. Their sleepwear sets come in both prints and neutral solids so you can choose whichever style tickles your fancy.
15. Cosabella
Cosabella's sustainable pajamas will leave you feeling luxurious while lounging at home. This family-owned Italian lingerie brand handcrafts its PJs using traditional artisanship and materials of the highest quality including Pima cotton (and modal) and 100 percent silk.
Related article: Best Green Products for a Sustainable Earth
These sustainable pajamas will let you sleep soundly and peacefully knowing that you have not added any damage to our lovely planet. So go on and pick one or more!