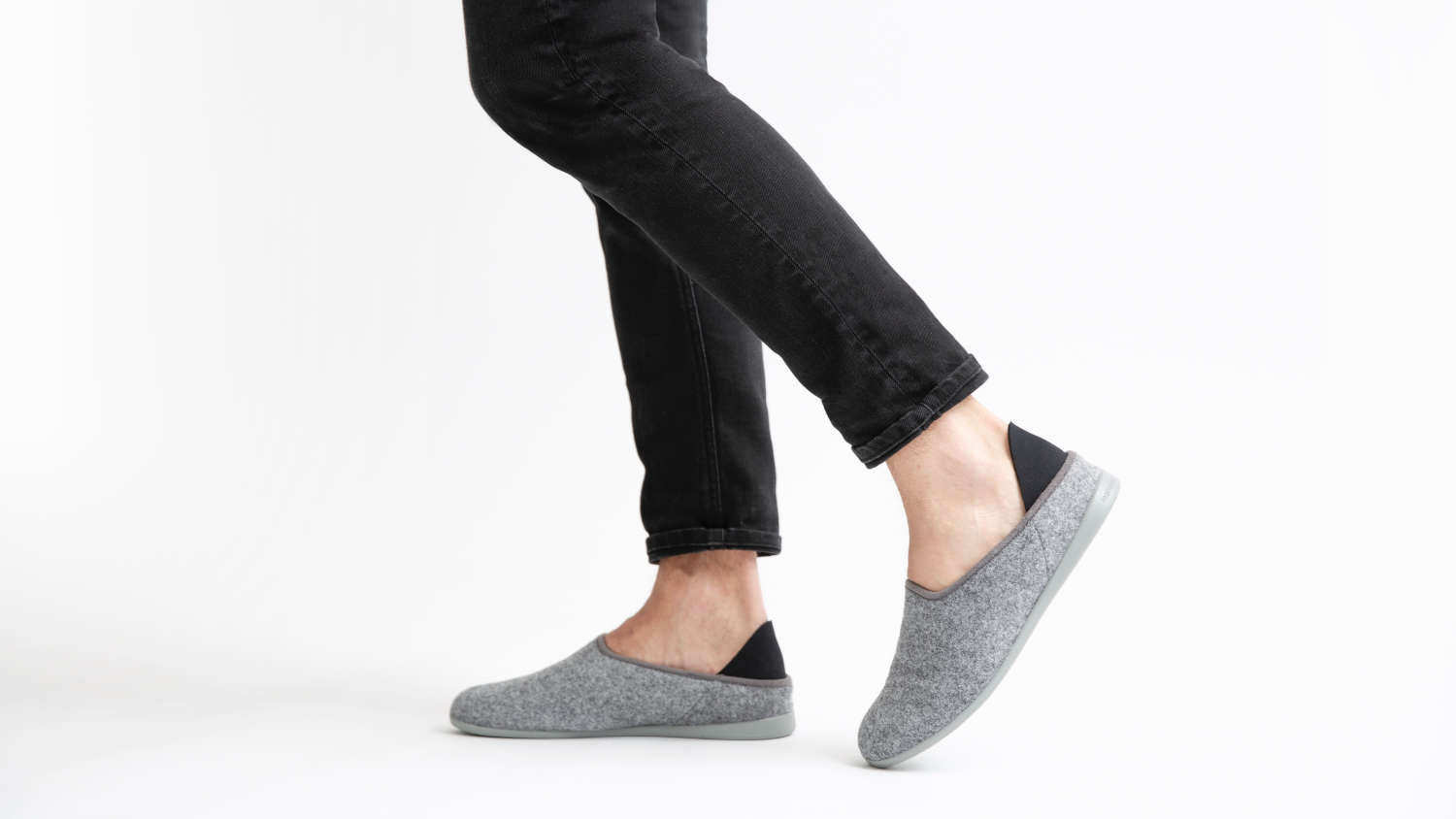 Very few people understand just how wasteful and problematic the footwear industry really is. Did you know that 300 million pairs of shoes get thrown away every year?
Slippers may seem harmless, but they are also part of this incredibly wasteful lifestyle from the fashion industry. This is especially because they are cheap and most have a small lifespan requiring to be replaced often.
So you love comfy slippers, what can you do to ensure you do not add up to the already piling waste? Buy sustainable slippers.
There are several brands that craft eco-friendly slippers. Here are 11 of the best options.
By the way, once you're finished reading make sure to check out our recommendations for organic cotton sleepwear & ethical pajamas.
11 Best Sustainable Slippers Reviewed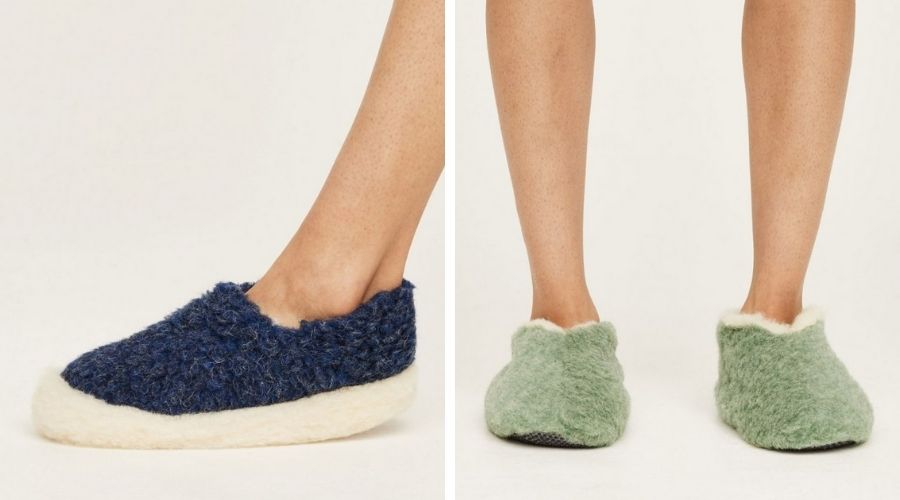 Thought is a brand from the UK that makes cozy natural slipper socks made using bamboo and organic cotton. The slipper socks also have a triple-layer, recycled polyester lining that will leave your feet feeling comfy and snuggly.
Baabuk slippers are so comfortable you may never want to remove them ever again. Baabuk slippers are designed in Switzerland and handmade by artisans in Nepal. The slippers are made using 100 percent natural rubber. Besides being comfortable they are also long-lasting. You will love the inserted insoles that keep your feet odor-free and cozy.
Allbirds is one of the best ethical sneaker companies in the market today. Their Lounger line of slippers is super comfortable and feels like you are wearing a really comfy pair of socks. The line has Wool Loungers and Tree Loungers. Both choices are quite stylish, feature flexible soles, and come in a variety of muted colors.
Bure Bure is a Lithuanian brand that sells handmade slippers made from natural felted wool. The brand has over 200 options that come in different colors, patterns, and styles. You can choose from boots, clog, slide, and slip-on slippers. Bure Bure slippers are available in sizes for men, women, kids, toddlers, and babies. You can gift a pair for everyone in your family.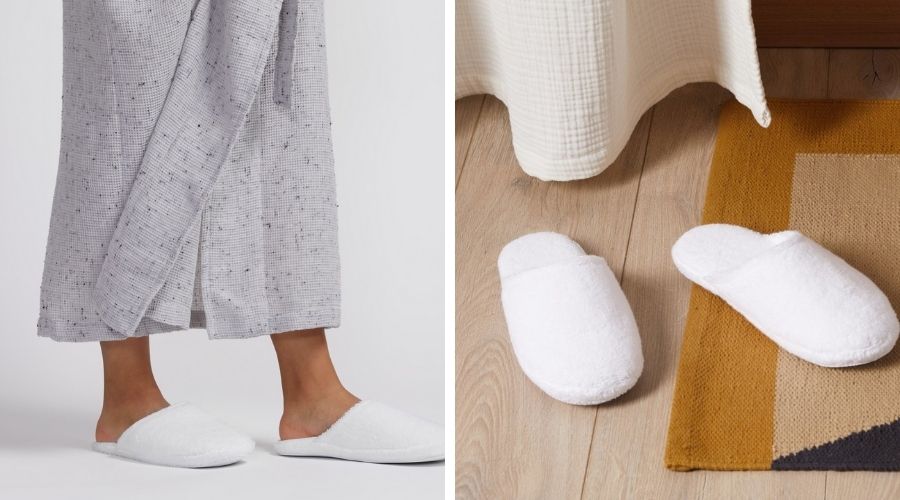 Getting a pair of Parachute's ethical slippers will leave your feet feeling like they are being massaged. The slippers are made from Oeko-Tex Certified cotton and patterned terry. They also feature cushioned soles making them the perfect wear after a long day.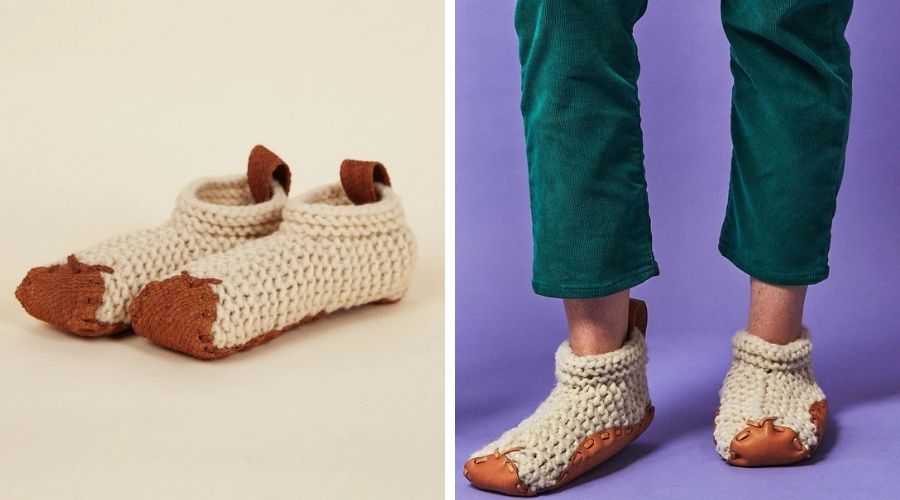 Chilote runs a line of unisex handmade house shoes. The shoes are handcrafted by women in Patagonia using raw sheep wool and saddle leather. They are comfortable and very durable. In their commitment to sustainability, Chilote's production process is sustainable and they pay fair wages and uphold proper working conditions. The company is proud of its artisans and if you scan the QR code that comes with your slippers, you can learn more about the artisan who made them.
7. Muffle-Up!
Muffle-Up is a Canadian company that makes ultra-cozy unisex eco-friendly house slippers. What makes these slippers stand out is that they look more like giant plush socks. The slippers come in a variety of fancy colors and styles such as mid-calf boots, ankle-high slippers, and demi boots. Muffle-up also has an adorable line of eco-friendly baby booties and toddler slippers.
8. V-Front
V-Front sustainable slippers are made with hand-felted wool and have a suede sole. They are made in Nepal following fair trade principles, making them one of the best fair trade slippers available. They come in various styles and colors and can be worn both indoors and outside.
9. Rawganique
Rawganique has its origin in Denman Island, off the coast of British Columbia. The company makes gorgeous and functional hemp slippers. These all-natural vegan slippers are meticulously designed and contain zero chemicals making them a great choice for people with severe chemical allergies and skin sensitivity. The slippers are quite colorful and come at a very affordable price.
10. INTOA Design
INTOA Design is a Finnish company that makes sustainable slippers by transforming old jeans, sustainable rugs, blankets, towels, and other discarded clothing into beautiful slippers. The slippers have an insulating lining made of either recycled felted wool or terry. Additionally, they have two leather patches on the sole for durability. You can choose from a variety of styles including, slide, low rise, and ankle-high. They also have adorable slippers for children.
11. Kyrgies
Kyrgies, a Virginia-based company, makes sustainable wool slippers, and through its sustainable manufacturing processes, it has earned its place as one of the most ethical shoe brands around. The company manufactures eco-friendly slippers for men, women, and children. The slippers come in beautifully bright, solid colors.
Related article: Best Eco Products for a Sustainable Earth
Yes, your slippers can be both cozy and eco-friendly. Whether you are looking for slippers to keep you warm during winter, comfy slippers to wear at home, or simple slippers to wear outside, we believe you'll find them on this list of the best sustainable slippers!


  Stella - Writer
Stella is a writer and mother from Thika, Kenya.
Her love for nature and the beautiful Kenyan outdoors has inspired Stella to consciously make an effort to lead a more sustainable, eco-friendly lifestyle.