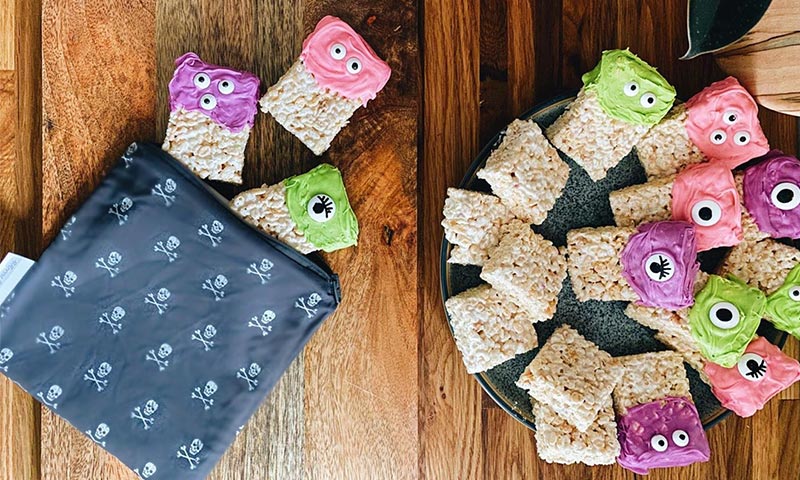 Image source Instagram
Are you working on replacing the amount of plastic in your kitchen?
You want to start by getting rid of all plastic bags and food containers in your kitchen but you still need something to carry your snacks and lunch in.
You came across the Itzy Ritzy snack bag and you want to be sure that it will be a perfect addition to your kitchen.
Here's an in-depth Itzy Ritzy snack bag review to help you decide.
Itzy Ritzy Snack Bag Review
Design
The Itzy Ritzy reusable snack bag is a stylish, eco-friendly bag ideal for carrying snacks when you leave the house.
The Itzy Ritzy snack bags are made with a food-safe, FDA approved, BPA-free lining. These bags are also lead-free, phthalate-free, PVC free and CPSIA certified.
The reusable snack bags come in adorable and fashionable patterns making them a fashionable alternative to plastic snack bags. The catchy patterns will also get the kids excited to tote them around.
Speaking of kids, you will love the zippered closure on the bags which makes the bags very easy for even young children to open, unlike strong Velcro. In addition to the zipper, the bags also have sealed seams to keep contents in place while you're on-the-go.
Itzy Ritzy snack bags are also thick, making them very sturdy.
Functionality
Itzy Ritzy snack bags measure 7″x7″ and are big enough to hold about four muffins or huge bunches of grapes.
If you plan to carry smaller snacks or want to get a snack bag ideal for kids, you can get the Itzy Ritzy mini snack bags (which come in a pack of 2) that measure 7″x3.5″.
The lining is waterproof making it the perfect bag for more than just dry snacks. You can carry sandwiches, sliced fruit, and veggies too. Besides snacks, you can use these reusable bags to carry your keys, money, credit cards, cell phones, and much more.
It's quite easy to clean your Itzy Ritzy bag. You can quickly wipe it clean or throw it in the dishwasher and then hang it outside to dry. The inside of the bag reverses completely but the cotton exterior remains right side out. Therefore, both parts can dry really easily at the same time.
Itzy Ritzy Snack Bag Reviews – What Everyone Is Saying
There are thousands of Itzy Ritzy reusable snack bag reviews online from people who cannot get enough of these sturdy bags. The many positive reviews are a testament to the popularity of the Itzy Ritzy brand.
Where to buy Itzy Ritzy Snack Bags
While there are so many places to buy Itzy Ritzy reusable snack bags, you want to be sure that you're buying an authentic one. We recommend buying your Itzy Ritzy bag on Amazon where you can be sure to get the best price and service. Click the button below for the best price.
Final Thoughts
Say goodbye to all your plastic bags and food containers and start carrying your snacks or lunch in an Itzy Ritzy snack bag. It's not only convenient and easy to carry but also friendly to the environment!