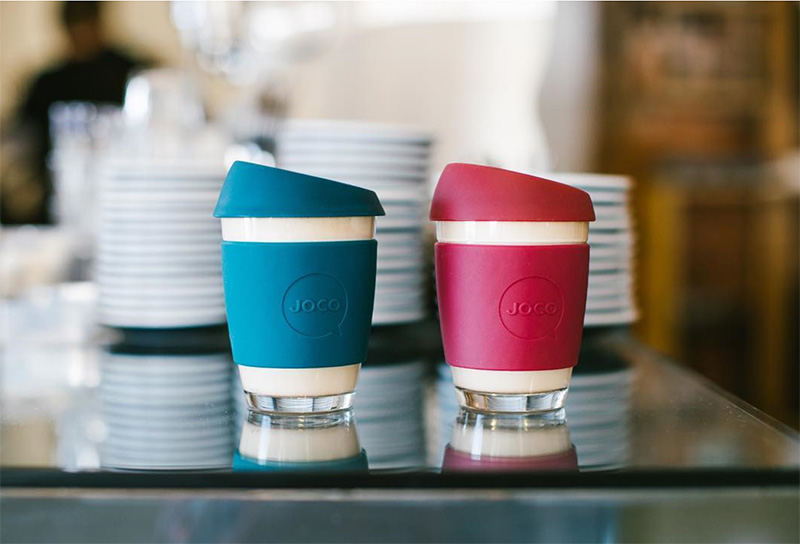 Image source Instagram
As a daily coffee drinker, it's about time you got a reusable mug. It's as simple as that. They're less wasteful and will keep your coffee hotter than a plastic cup.
With over 500 billion disposable paper, Styrofoam and single-use plastic cups being used worldwide annually, you will be doing the environment a favor by choosing to use a reusable cup.
If you've been thinking of getting the Joco glass coffee cup you're thinking in the right direction.
With a star rating of 4.2 out of 5 stars from 732 ratings on Amazon, there's a good reason why the Joco cup is one of the top reusable coffee cups.
Here's an in-depth Joco coffee cup review that will give you a few good reasons to make that purchase.
Joco Cup Review
Design
The Joco mugs are made from high-quality and non-porous borosilicate glass that is lightweight but highly durable.
Borosilicate glass is thermal shock resistant meaning that the cups will not crack or shatter when your hot coffee is filled in. They are also microwave and dishwasher safe.
Borosilicate is also non-porous so it won't taint the flavor of your coffee.
The Joco cups are BPA, and cadmium free and have been certified food-grade safe.
The glass gets pretty hot when filled with hot coffee however, you'll appreciate the thermal silicone sleeve that will prevent your hands from burning. The sleeve will also keep your coffee at the optimal temperature.
The cups feature a splash-proof lid with a specially designed nose dome to prevent nose-to-lid collisions.
Sustainability
The Joco cup grew from a desire to reduce plastic use and eliminate single-use waste. With sustainability in mind, the cups are designed to last a lifetime so you don't have to replace your cup so often.
The Joco cup is hailed as 'eco-innovative' and the company is always looking for ways to make the cup a better product for the consumer and the planet.
To further promote sustainability, the company contributes to the Take 3 For The Sea ocean charity for every Joco cup purchased. The charity works towards removing plastic from the world's oceans.
Beauty in a cup
The Joco cups are very cute and come in various sizes. To make the cups even more gorgeous, you can buy different sleeves and lids and mix and match the colors.
The unique cylinder type case that the cup comes in is also quite cool. Enclosed is a note with ideas on how to use the case instead of tossing it in the trash.
Joco Cup Review – What Everyone Is Saying
The Joco coffee cup is an award-winning product, having won the New York Coffee Festival Best Product award.
With thousands of positive Joco cup reviews online, you can see why the Joco mugs are popular and worthy of awards.
One thing that almost every customer mentions in their Joco coffee cup review is how much they love the Joco's rubber grip. The cup has also received numerous praises for being durable, but light.
Where to buy a Joco cup
There are lots of retailers selling the Joco coffee cup but not every one of them is to be trusted. You want to buy your cup from a reputable place that guarantees you the best price and service. This is why we recommend Amazon to buy your Joco cup. Click the button below for the best price.
Final thoughts
As you can see from this Joco coffee cup review, this cup is a sure way to prevent waste and reduce your personal footprint. Enjoy your coffee responsibly in this stunning, forward-thinking product!