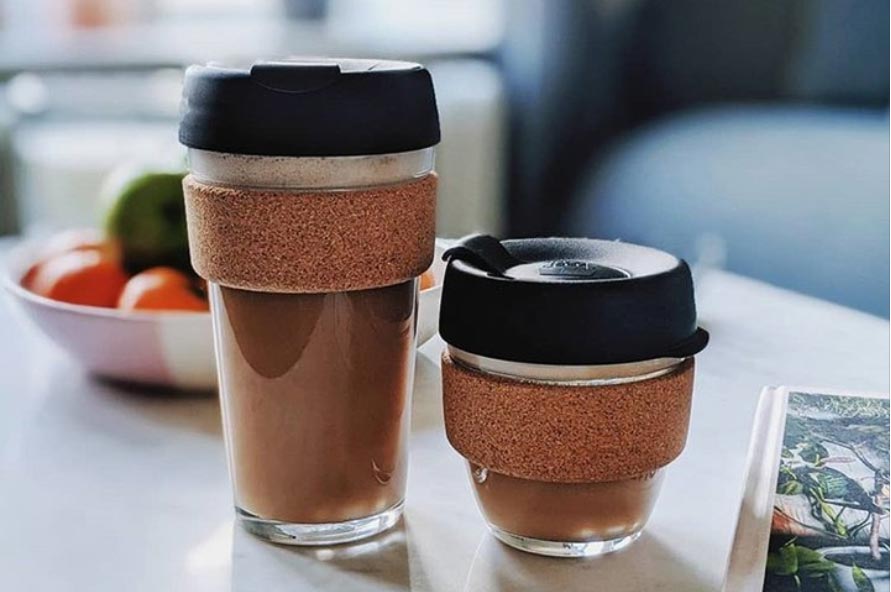 Image source Instagram
Time for your usual caffeine fix? But first you need to get rid of the horrible habit of getting your daily cup of coffee in a plastic cup.
You know that plastic cups are terrible for the environment and you don't want to continue to be part of the population filling up the earth with plastics.
What you need is a stylish reusable cup such as the glass KeepCup coffee cup. Good choice!
KeepCup is one of the best reusable coffee cups. With a 4.4 out of 5 star rating from over 400 positive KeepCup Amazon reviews, it's clear why this cup is one of the best to-go coffee cups available.
KeepCup Review
Built with sustainability in mind
KeepCup is made specifically for reuse in order to discourage the use of single-use plastic cups. The company, based in Australia, hopes to entirely replace the use of disposable cups. Isn't it great to know that there is a brand that wants to protect the planet as much as we do?
The KeepCup coffee cup is made using tempered soda lime glass. This type of glass is durable, shock restistant, can withstand high temperatures and is dishwasher safe.
This tough glass, though breakable, is long lasting and you won't have to replace your cup for years to come as long as you keep it from hard falls.
Functional cup design
While keeping the environment safe is the number one reason why you might want to pick a KeepCup coffee cup right off the shelf, you will also appreciate its functional design.
The cup comes with a hard grip band made of recycled wine cork around the body. This makes it easy to hold the cup and protect your hands from hot liquids.
The press on BPA-free plastic lid features a splash-free plug for the sipper hole making the cup easy to use on the go.
The sipper hole has a decent size that lets you take in the full aroma of your coffee as you drink it. You can actually taste your coffee's nuances! Most thermal travel mugs tend to mask the taste and aroma of your coffee. Not the KeepCup. You can be sure you'll enjoy your coffee as intended.
You can design your own KeepCup
If you're going to use the same coffee cup every day, you certainly want something that compliments your style and personality. KeepCup allows you to custom make your own cup to your own taste. You can pick your cup style, lid color, plug and band.
A custom KeepCup is slightly more expensive than the pre-made ones but if you want something that feels unique, then it will be worth it.
Components are detachable and replaceable
Accidents happen and your lid or band may break. If this happens, you don't need to buy an entire cup.
KeepCup components are detachable and replaceable. Buying these parts separately is more energy efficient and less wasteful as you don't need to throw away your entire cup just because the band broke.
Lower heat insulation
The only downside to the KeepCup is that this innovative cup has lower heat insulation compared to other travel coffee mugs.
So if you're looking for a travel mug that will keep your coffee hot for at least a couple of hours, we suggest you look at some other reusable coffee cups.
It also doesn't offer the convenience of a handle or single-handed operation.
KeepCup Reviews – What Everyone else Is Saying
KeepCup has built quite a reputation for itself in the reusable coffee mug space. The company has sold over three million cups and are now available in sixty-five countries.
The company has previously won 'Most Innovative Product' at the London coffee festival. There are also thousands of positive KeepCup reviews online written by eco-conscious people gushing about this stylish reusable coffee mug.
Trusted Reviews:
Where to buy a Keepcup
There are multiple options for where you can buy a KeepCup coffee cup. Along with providing you with a reputable place to buy from we also want to make sure you are getting the best price and service. This is why we recommend Amazon to buy your KeepCup. Click the button below for the best price.'
Final thoughts
KeepCup was designed to replace the disposable coffee cups making it a perfect environmentally-friendly alternative for you, the coffee lover who is also eco-conscious.
This reusable coffee cup is an ideal size for a quick drink. It is well-sealed so the lid doesn't leak and will be the right fit for your daily coffee fix!
Now that you're done reading this Keepcup review and we've put any doubts in your mind to rest, head over to amazon and get your KeepCup coffee mug now.