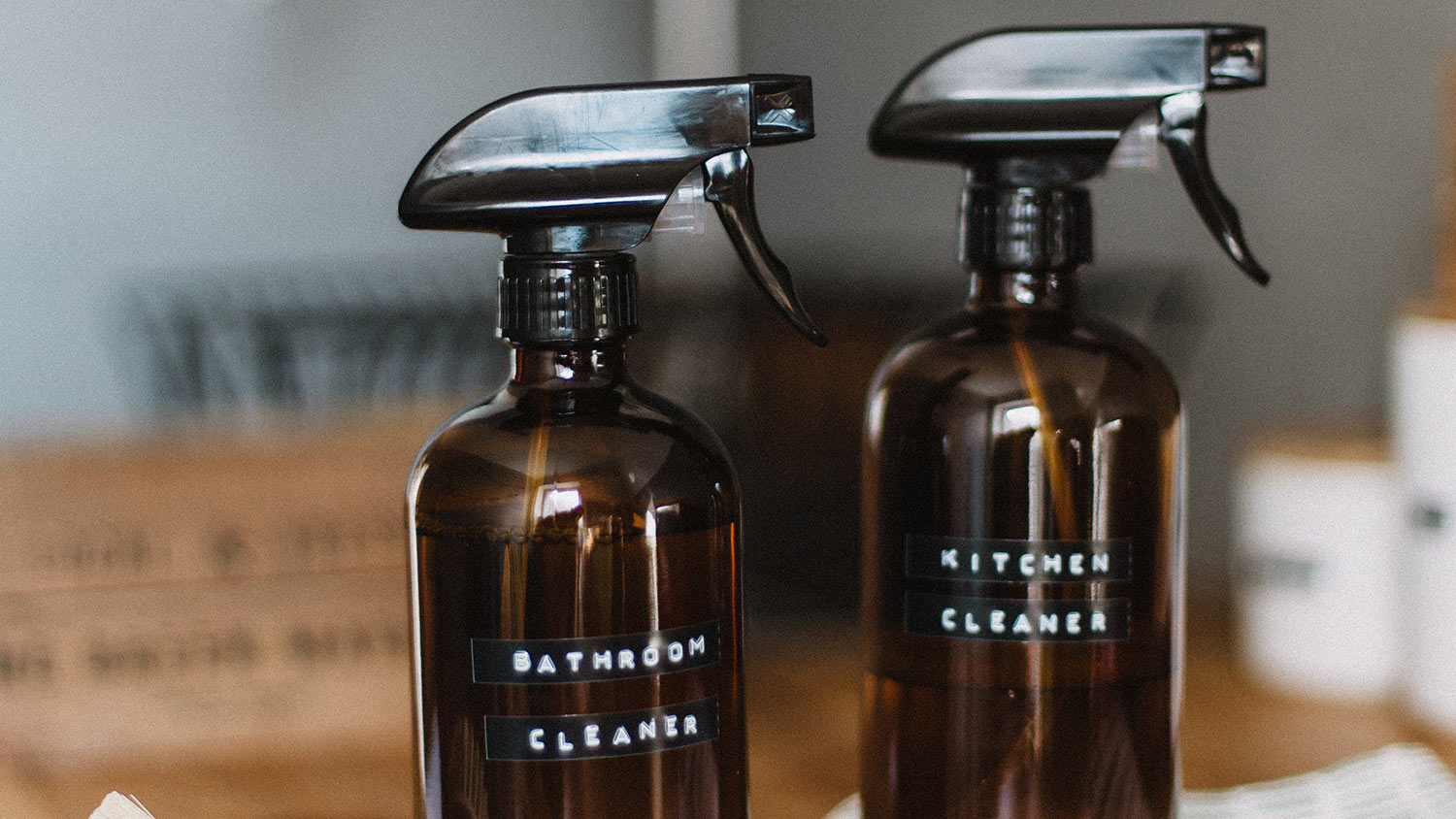 Want to care for the environment while you clean around your home? Start by using natural cleaning products.
Did you know that an average home has about 62 toxic chemicals laying around? Domestic cleaning products make up the majority of these toxic chemicals.
Chemical-based products may clean your home faster but they come with lifelong effects on your family and pets as well as the environment.
All natural cleaning products, on the other hand, are eco-friendly, are made using sustainable manufacturing practices and naturally-derived, safe, nontoxic, and biodegradable ingredients that won't harm your family, pets or the environment.
Keen on green products? Here are some of the best natural cleaning products to choose from.
These top household cleaning brands are natural, eco-friendly and conscious of your family's health and the environment we live in.
Our Reviews of the Best Green Cleaning Products in 2021
1. Method
Method is a brand commonly seen in many American homes. Started in 2001, the brand has taken great strides to be sustainable. The company uses naturally derived, non-toxic ingredients and eco-friendly packaging for all their products. On top of that, they use renewable energy, have started a bio diesel shipping program and are cruelty-free. Yep, these guys are serious on creating sustainable products. Their most popular cleaning products include a handwash, all-purpose cleaning wipes, and laundry detergent packs.
2. Seventh Generation
Seventh Generation is another popular American brand that's not holding its breath when it comes to supporting the green cleaning movement. Their well-known detergents, all-purpose cleaners, and wipes are all plant-based. They also manufacture natural and free-and-clear diapers, tampons, and pads.
3. Common Good
Common Good was launched in 2011 with the goal of offering reusable packaging to reduce toxic waste. All of their cleaning products come in plastic or glass packaging, which you can refill at any of their refill stations worldwide. Their products are also biodegradable, meaning they naturally break down quickly without leaving any toxins in the environment. Popular products include the Lavender All Purpose Cleaner and Bergamot Hand Soap.
4. Ecos
Ecos is a family-owned brand that has been manufacturing eco friendly cleaning products for almost 50 years. The brand's goal is to make "green cleaning" a reality, through sustainable, mindful and affordable practices. Their production plants are powered by 100% renewable energy and use Carbon Neutral plants to make all their products.
5. JR Watkins
This is one of the oldest green cleaning products brand in the US. They have a wide range of natural home care products including soaps, fresheners, cleaners, and laundry detergent. They also have high-quality natural body scrubs.
6. Mrs. Meyer's
In her quest to find effective natural cleaning products, Thelma Meyer created Mrs. Meyer's brand. Besides giving you a safe, spotless cleaning experience, her products will leave your home smelling lovely. Their scents range from floral scents to basil and honeysuckle. The brand has an ingredient glossary on their website that lists what exactly goes into each product.
7. Better Life
This natural cleaning brand founded by two dads focuses on performance without compromising on safety. The two dads' founding goal was to create a green, house cleaning product that would be both safe and efficient and make natural cleaning a natural option. Better Life products are packaged using solar energy and recyclable materials. They are made from biodegradable formulas and are never tested on animals. Their line of products include soaps, lotions, and a variety of floor, grass, nursery, screen and granite cleaners.
8. Caldrea
Who doesn't love a sweet-smelling home after spending their energy to clean? Caldrea knows that you do! This brand makes products with scents that are natural, long-lasting, and comforting to everyone in your home.
9. Ecover
Ecover's products truly are as eco-friendly as you can get. These eco-friendly products are made from naturally-based solvents, agents, and packaging materials. Their products are used in almost 40 countries today. Got sensitive skin? You'll love their Fragrance-Free line of soaps and detergents.
10. Puracy
Puracy believes in being as natural as possible. Their natural cleaning products are effective, pure and free of any harsh chemicals, and are biodegradable making them safe for the environment. They use recyclable bottles, their refill pouches save more than 90% in plastic, water, and energy. All their products are made in the USA, including packaging and manufacturing materials.
11. Eco Me
Eco Me's product line attracts both home and commercial users keeping your home, office, grocery store, shopping malls, practically the entire community, clean and safe. All their products are environmentally friendly, greywater and septic safe, and won't harm aquatic life after it goes down your drain.
12. Skoy
Skoy is one of those products that will really help you conserve the environment by helping you eliminate paper waste in your home. A single Skoy cloth replaces up to 15 rolls of paper towels. Skoy cloths are made from natural cotton and wood-based cellulose pulp and are 100 percent biodegradable. Skoy Cloth is reusable and perfect in your kitchen, bathroom, and office. You can use it on most surface areas. It's highly absorbent (it absorbs 15 times its weight) and dries quickly to prevent the growth of bacteria.
13. Ecloth
Looking for chemical-free cleaning products to clean your windows? Go for Ecloth. This product is made from super-absorbent fibers. No more need for paper towels and harsh cleaners. You only need water to have lint-free, streak-free, sparkling windows. One cloth is good for up to 300 washings. That's going to save you lots of money by reducing the use of paper towels and window cleaners. Better yet, you'll save trees while at it!
14. Citrasolve
Citrasolve has two popular products: the Concentrated Natural Cleaner and Degreaser and the Natural Multi-Purpose Cleaner. These products are made from natural orange peels and come in a concentrated form allowing you to use it for a wide variety of your cleaning needs. They leave your home with a fresh orange fragrance. The Citrasolve brand is Leaping Bunny certified, cruelty-free and vegan.
15. Kitchen stone
The kitchen stone is an environmentally friendly, pumice-like cleaning block made from recycled glass bottles. It provides safe, non-toxic cleaning in your kitchen. This stone works well on hot or cold surfaces and can be safely used on most kitchenware including ovens, ceramics, glassware, pots, pans, and other cooking surfaces. It's however, not recommended for use on stainless steel sinks and Teflon coated, aluminum or copper cookware.
16. Econuts/soapnuts
These are 100% biodegradable laundry soaps made from soapberry extracts. Soapberries grow on trees in Asia. This cleaning product is very effective, free of additives and scents, making it safe for even the most sensitive skin.
17. Nellies
Nellies has 3 popular organic cleaning products: Nellie's All-Natural Laundry Soda, All-Natural Oxygen Brightener and PVC-Free Dryer Balls. All products are color-safe, septic-safe, and environmentally safe. They are hypoallergenic and made from natural materials making them great for baby clothes and for people with allergies or sensitive skin.
As you can see, there are lots of natural cleaning products readily available out there and you don't have to break the bank to be able to afford them.
These products will help you conserve energy, save water and reduce toxic waste. So next time you're cleaning your home, make it green.