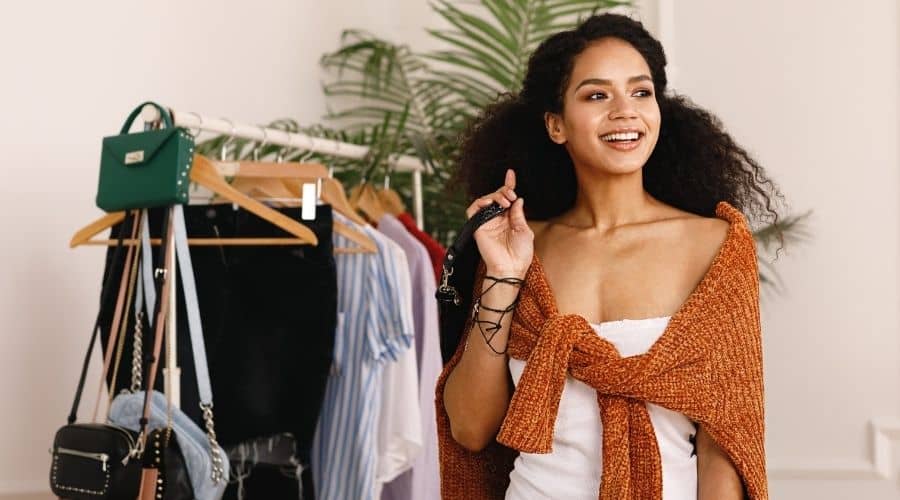 In the mood to shop for some clothes? When choosing your clothes, it's important to consider the impact the materials you wear every day can have. Not just on you but the environment as well.
They may just be gorgeous clothes hanging in your wardrobe, but by the time they get to you they've affected the environment, the lives of hard-working farmers and factory workers, and possibly even your health.
If you want to reduce the impact your clothes have, consider buying them from organic clothing brands. These brands will often only sell all-natural organic clothing that is ethically made, and safe for you, and the environment.
Also, if you like this article make sure to check out recommendations for best organic towels and organic cotton blankets.
13 Best Natural & Organic Clothing Brands
Here are 13 of the best organic brands for sustainable and ethically produced clothing. These brands use organic and sustainable materials, utilize sustainable manufacturing processes, and promote the human rights of their workers.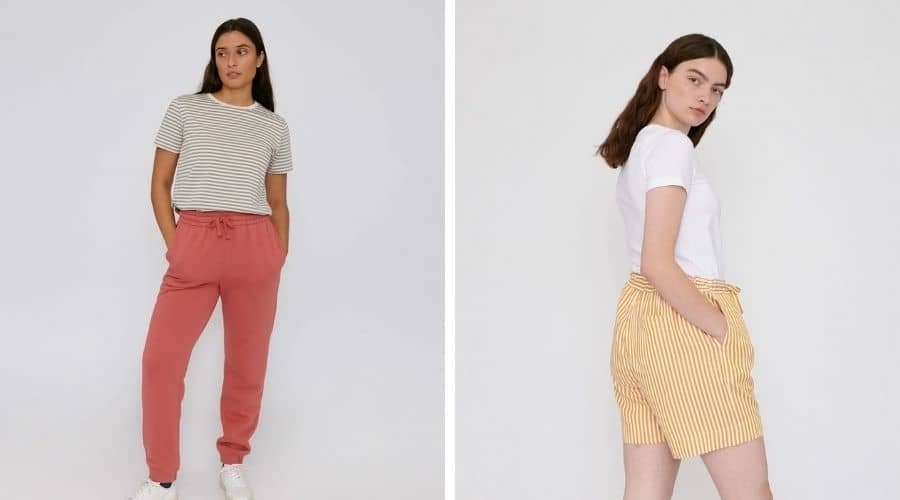 Organic Basics is a Certified B Corp that fully focuses on producing long-lasting eco-friendly essentials. Its clothing pieces include adult undergarments, basic tees and tanks, and cozy leggings.
Organic Basics essentials are not only ethical but are also low on waste and environmental impact. The brand only works with trusted, certified factory partners that are serious about sustainability and reducing their environmental footprint. The factories also ensure that their workplace is free of child labor and forced labor, offer safe working space for their employees, pay a living wage, offer employee perks, and treat workers with respect at all times.
Based in: Copenhagen Denmark. Ships internationally.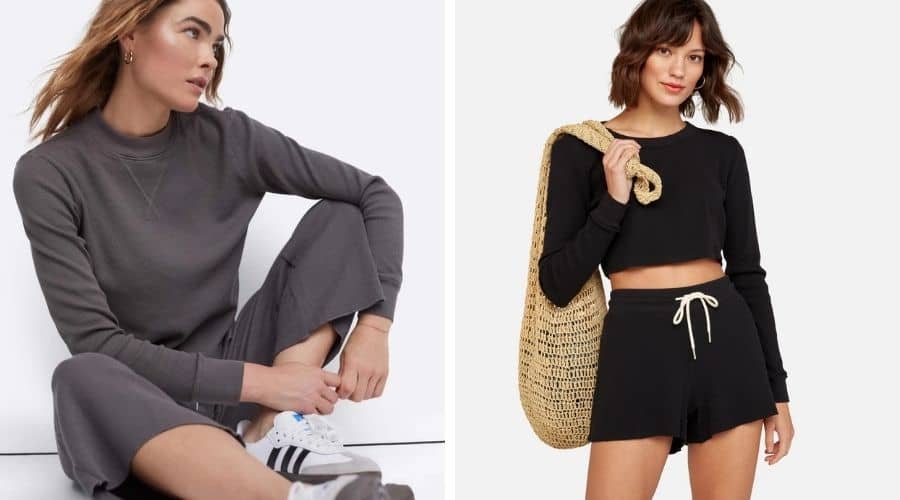 MATE The Label features organic clothing such as tees, tanks, shirts, shorts, and sweatshirts. The apparel is comfy and comes in subtle but inviting colors. To promote sustainability, MATE produces seasonless styles that stand the test of time.
All its clothing is made using natural and non-toxic materials only to ensure your body is protected from any kind of harmful chemicals. Materials used include low-impact dyes, 100% certified organic cotton, and Tencel (a material derived from sustainably sourced wood).
MATE is committed to keeping its carbon footprint small. All its pieces are cut, sewn, dyed, and shipped from Los Angeles. The factories where the pieces are manufactured offer safe, comfortable, and fair working conditions. The brand ensures that everyone in its supply chain, from farmers to garment workers to recyclers are all treated with respect.
To further its commitment to protecting the environment, all of MATE's packaging is made completely from recycled materials.
Based in: Los Angeles, USA.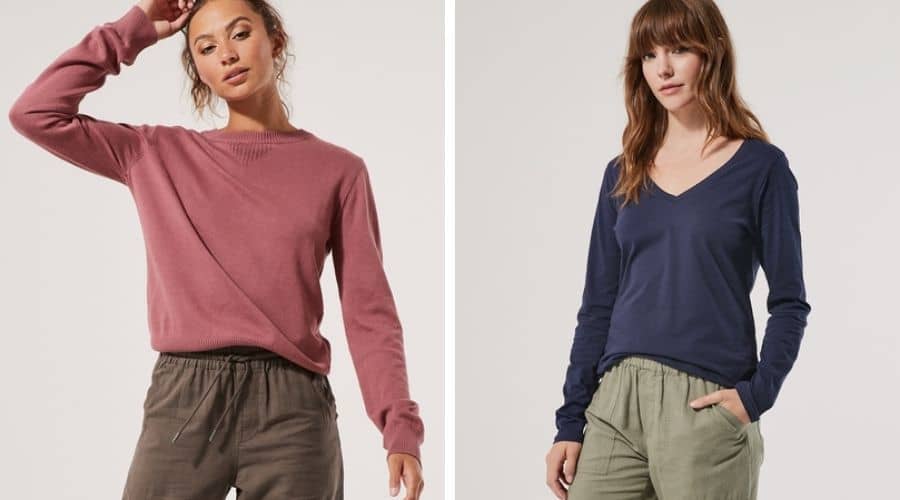 PACT is a well-known brand when it comes to natural clothing and promoting sustainability in the fashion industry. PACT features affordable organic clothing and underwear. You will find super comfortable organic cotton basics, activewear, dresses, socks, sleepwear, and more for women, men, and kids. All these items are made in Fair Trade Certified factories and most importantly, they are made with pesticide-free organic cotton.
PACT is socially conscious and committed to creating clothes that make the world a better place and not destroy it. The brand goes to great lengths to ensure its entire supply chain—from the growing and harvesting of organic cotton to the final sewing of garments—is as eco-friendly and sustainable as possible.
Based in: Boulder, USA. Ships internationally.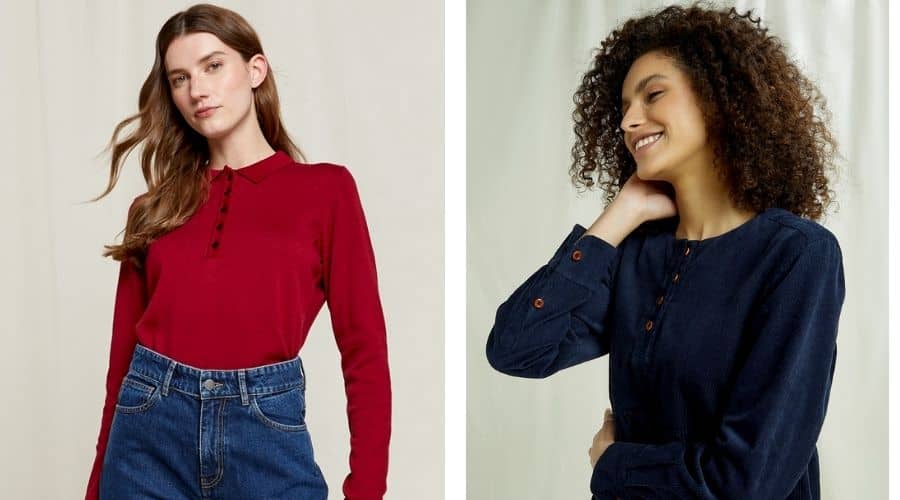 People Tree is one of the pioneers of sustainability in the fashion industry. The company has been creating versatile eco-friendly clothing for over a decade. The brand has received the World Fair Trade Organization product mark and uses eco-friendly fabrics such as organic cotton, TENCEL™ Lyocell, and responsible wool in all of its pieces. All clothes are also dyed using low-impact dyes, free from harmful azo chemicals which are common in clothing manufacture.
People Tree's organic clothes come in contemporary, playful, stylish, and innovative exclusive prints. These pieces are affordable, safe for your body, and environmentally friendly. They are designed using traditional artisan skills such as hand weaving, hand knitting, hand embroidery, and hand block printing.
By using artisans to design their clothing, People Tree creates employment in rural areas where work is often scarce.
Based in: London, UK. Ships internationally.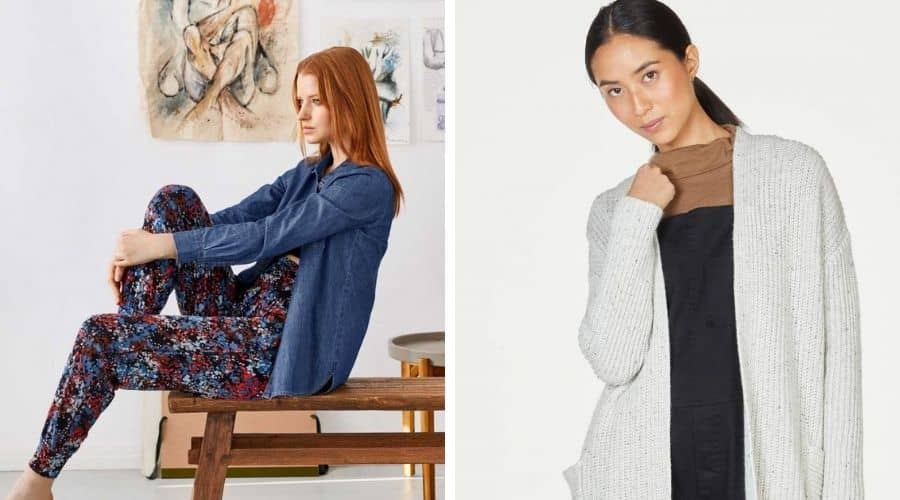 Thought is one of the best organic cotton clothing companies with a simple commitment to design and make beautiful, timeless fashion while paying attention to the environment. The brand features beautiful skirts, dresses, shirts, pants, and accessories that are gentle on the skin and safe for the planet.
Thought uses chemical-free, natural, and recycled fabrics, such as organic cotton, bamboo, and hemp to make all their clothing. It also follows industry standards to ensure its processes are sustainable. The company also provides ethical working conditions and fair wages for its employees. Additionally, it has developed long-lasting relationships with factories and suppliers.
Based in: London, UK. Ships worldwide.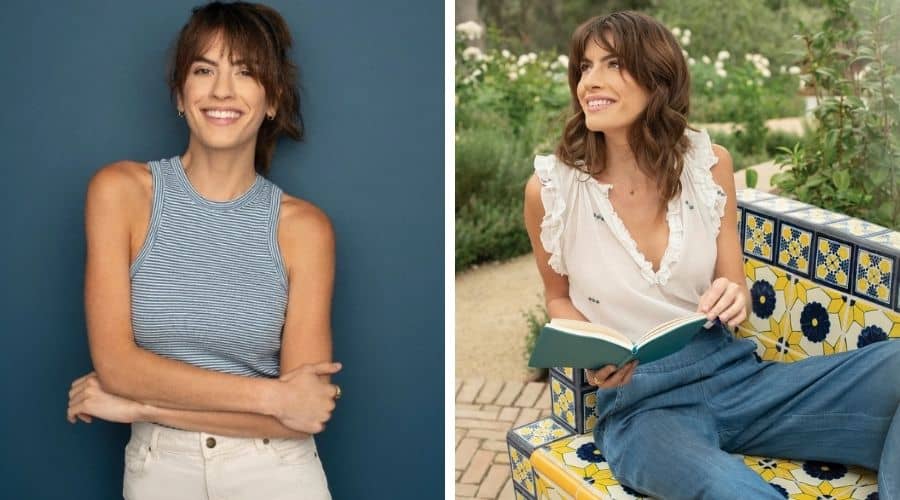 Synergy manufactures organic clothing using GOTS-certified organic cotton that is grown and loomed in India. All of Synergy's fabrics are also made with low impact dyes that leave the clothes as gentle on your skin as they are on the planet.
The brand's organic collections feature dresses, t-shirts, jumpsuits, loungewear, activewear, and more.
To further its commitment to sustainability, the company works with a GOTS-certified factory where men and women earn fair wages for their work and work under healthy conditions. This commitment is practiced up the supply chain. Synergy ensures that the weavers and the people who package the garments enjoy a safe, healthy, and fair-wage work environment.
Based in: Santa Cruz, USA. Ships internationally.
Conscious Step is one of the few organic brands that focus on organic socks. The brand creates Fairtrade and organic-certified cotton socks in fun vibrant prints. The cotton is vegan certified and is not treated with herbicides or pesticides. The paper used in the tags and packing boxes is made from recycled materials and is recyclable.
Conscious Step's factory is certified by OEKO-TEX, Global Organic Textile Standards (GOTS), and Fairtrade International. The brand constantly opens the doors to its factory for vetting and audits by independent groups such as WRAP and SEDEX.
Conscious Step is currently in the process of reducing all unnecessary packaging to further promote sustainability and reduce waste.
Based in: Connecticut, USA. Ships internationally.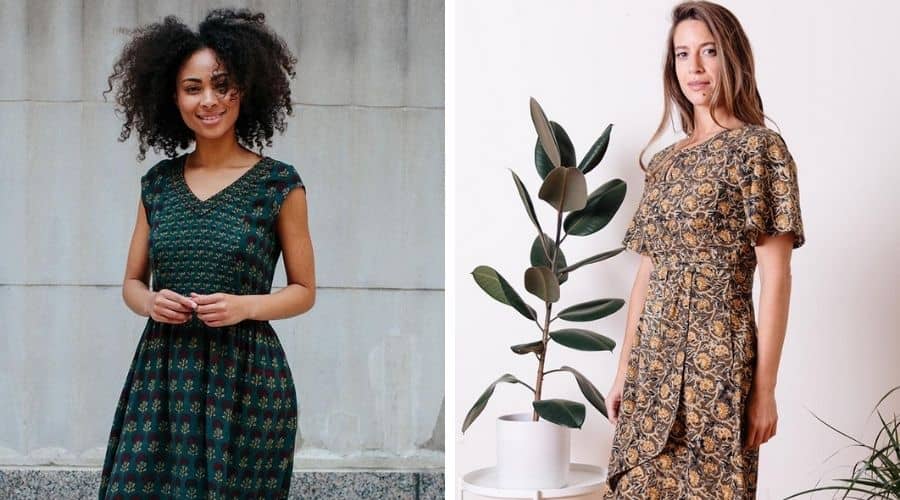 Mata Traders is a Fair Trade fashion brand that prides itself in putting people and the environment ahead of profits. The brand painstakingly hand-selects only the most beautifully designed, ethically-made goods that put people and the planet first.
This organic clothing brand works with artisan cooperatives in India and Nepal and pays all of their artisans fair wages. The company ensures that all its clothing made outside the United States adheres to international Fair Trade guidelines and labor practices and is manufactured using eco-friendly processes. Where possible, the materials sourced are local to the region where the product was manufactured.
Based in: USA. Ships internationally.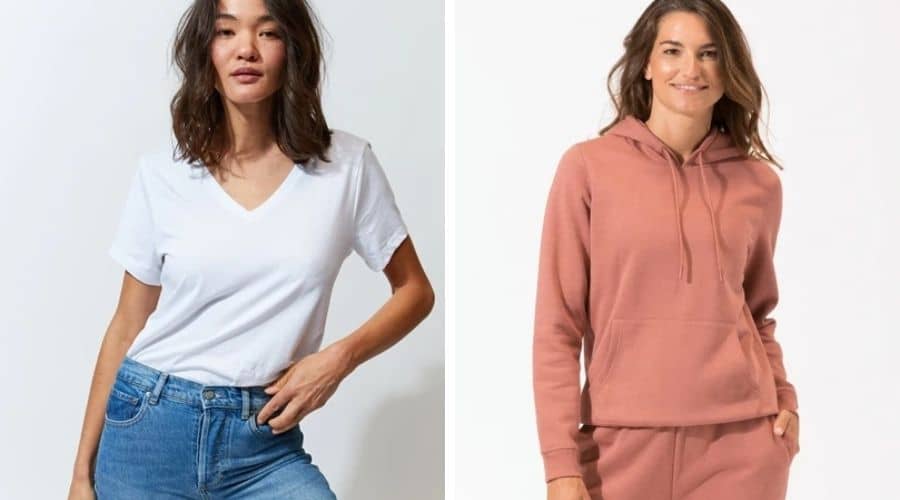 Threads 4 Thought has organic clothing for women, men, and kids. The organic clothing line features plenty of essentials and sustainable activewear at accessible, affordable price points.
The main focus for this brand is to create a product that leaves an innately smaller impact on the environment, The brand hence uses sustainable and natural fibers like organic cotton and recycled polyester. It also uses the highest level of sustainable production processes.
Thread 4 Thought is also mindful of the partners they work with and therefore, ensures that the factories they partner with around the world hold the highest certifications in the industry. It will only work with factories that provide the best working conditions.
Based in: the USA. Ships worldwide.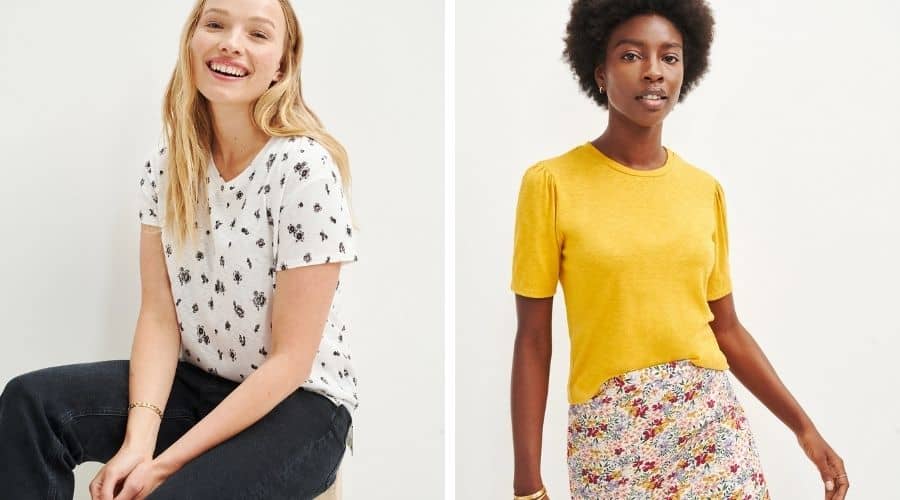 Amour Vert is one of the most favorite organic clothing stores featuring a stunning collection of organic sweaters, blouses, dresses, rompers, and basics. These will keep you fashionably cool and comfy.
Instead of purchasing pre-made fabric, the company partners directly with mills to develop their own fabrics that are sustainable, soft, and stand the test of time.
To further promote its dedication to sustainability, Amour Vert not only wants you to wear natural clothing but will also ensure that it gets delivered to you in sustainable packaging. The brand is one of the first companies to use compostable protective bags to store and ship its garments. The packaging is made from recycled materials and printed with soy-based inks.
Based in: California, USA: Ships to the US, Canada, Australia, France, Germany, and the UK
Eileen Fisher is a sustainable brand that creates timeless, minimalistic clothing from eco-friendly fabrics such as responsibly sourced wool, silk, TENCEL, organic linen, and organic cotton. While these pieces may be priced on the higher end, they are exceptionally designed and made to last. You can be sure these will become staples in your wardrobe for years to come.
Eileen Fisher has iconic organic clothing such as box-tops, tunics, shells, and wide-leg, slim and slouchy pants. These pieces are crafted with responsibility in mind and meet the highest standard for environmental and social impact.
When the company can't find materials that meet their standards, they work with farmers, fabric mills, and dye houses to make clothes that adhere to the company's sustainability standards.
Based in: The USA. Ships internationally.
Groceries Apparel places a lot of thought into the kind of materials it uses for its clothing. The brand's organic collection ranges from activewear basics to stunning maxi dresses.
The brand uses organic cotton that is traced from seed to skin, ensuring it's grown fairly and with a minimal carbon footprint. It also uses other sustainable materials such as hemp and recycled cotton. All of Groceries Apparel's clothing is made sustainably and responsibly in Los Angeles, using manufacturing processes that reduce waste and make use of recycled materials whenever possible.
The company also partners with family farms and local manufacturing facilities to make its sustainable clothing.
Based in: Los Angeles, USA. Ships worldwide.
Patagonia is a sustainable outdoors brand that has been using organic cotton for years. The company uses materials such as organically grown cotton, Tencel, and recycled polyester.
For more sustainability, the company is also actively working for a fully transparent and ethical supply chain. Many of its pieces are made in Fair Trade-certified factories that follow eco-friendly manufacturing processes that consume less energy, waste less water and create less waste.
Patagonia is also committed to promoting and sustaining fair labor practices, safe working conditions, and environmental responsibility in the factories that make its products.
Based in: California, United States. Ships internationally.
What Is Organic Clothing?
Organic clothing is made from materials sourced or grown in a manner that causes bare minimal, if any, harm to the environment. These materials include cotton, jute, linen, silk, ramie, or wool.
For materials that are grown organically, no genetically modified seeds, pesticides, or other chemical yielding aids are used. Therefore, no harm is caused to the environment or to the cotton farmers.
Brands that manufacture their clothing in an environmentally friendly way are often eligible for the GOTS standard certification. The sustainability process has to start from the state of raw material through to the finished piece for certification to be awarded.
Why Buy Organic Clothing?
There are many benefits of buying organic clothing. From protecting your body from chemicals to ensuring workers working in garment factories are paid and treated well, to reducing environmental pollution.
Let's take a quick look at key benefits:
Safe farming methods
By buying organic clothing, you increase the demand for organic cotton. This means that more farmers will want to farm cotton organically. Organic farming methods treat the soil, water, and those who work with it better than conventional practices.
The plants are not sprayed with harmful pesticides and fertilizers that contaminate the plants, air, soil, and waterways around the farms. Synthetic chemicals also expose farmers to harmful effects too.
Protect marine life
Synthetic fabrics are made using petroleum-based materials and hence contain chemicals and microplastics (very small pieces of plastic). Every time any synthetic material is washed, it releases hundreds of thousands of these microplastics into the water. They eventually make their way into rivers, lakes, and oceans, entering the food chain. Marine animals then consume these microplastics, which proceed to tangle up within the animal's digestive tracts and even cause them to die.
Human safety
Organic clothing does not contain chemicals and harmful toxins such as synthetic dyes. This makes it better and safe for you, as the consumer as it does not cause any irritation to your skin.
Where to Buy Organic Clothing?
You can easily buy organic clothing online from reputable organic clothing brands. While there are so many brands that you can trust these are our top three picks:
1. Organic Basics organic clothing is long-lasting and eco-friendly. The brand makes its essentials ethically using processes that produce little waste and cause little environmental impact.
2. MATE The Label features seasonless organic clothing that stands the test of time. All its clothing is made using natural materials that are safe for your body.
3. PACT focuses on creating clothes that make the world a better place and not destroy it. Its manufacturing processes are sustainable and safe for the environment.
Committed to living an eco-conscious lifestyle? The next time you need new clothes, consider shopping r from these organic clothing brands. It will help you stay true to this commitment.
Interested in learning more about eco-friendly fashion and how to choose sustainable fashion items for your wardrobe? Check out our guide to ethical and sustainable clothing.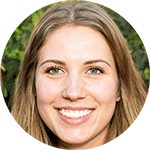 Jamie - Cofounder
Hi, I hope you enjoyed reading this article.
If you are looking for more ways to live an eco-conscious lifestyles, then check out our complete guide here.
Thanks for stopping by - Jamie