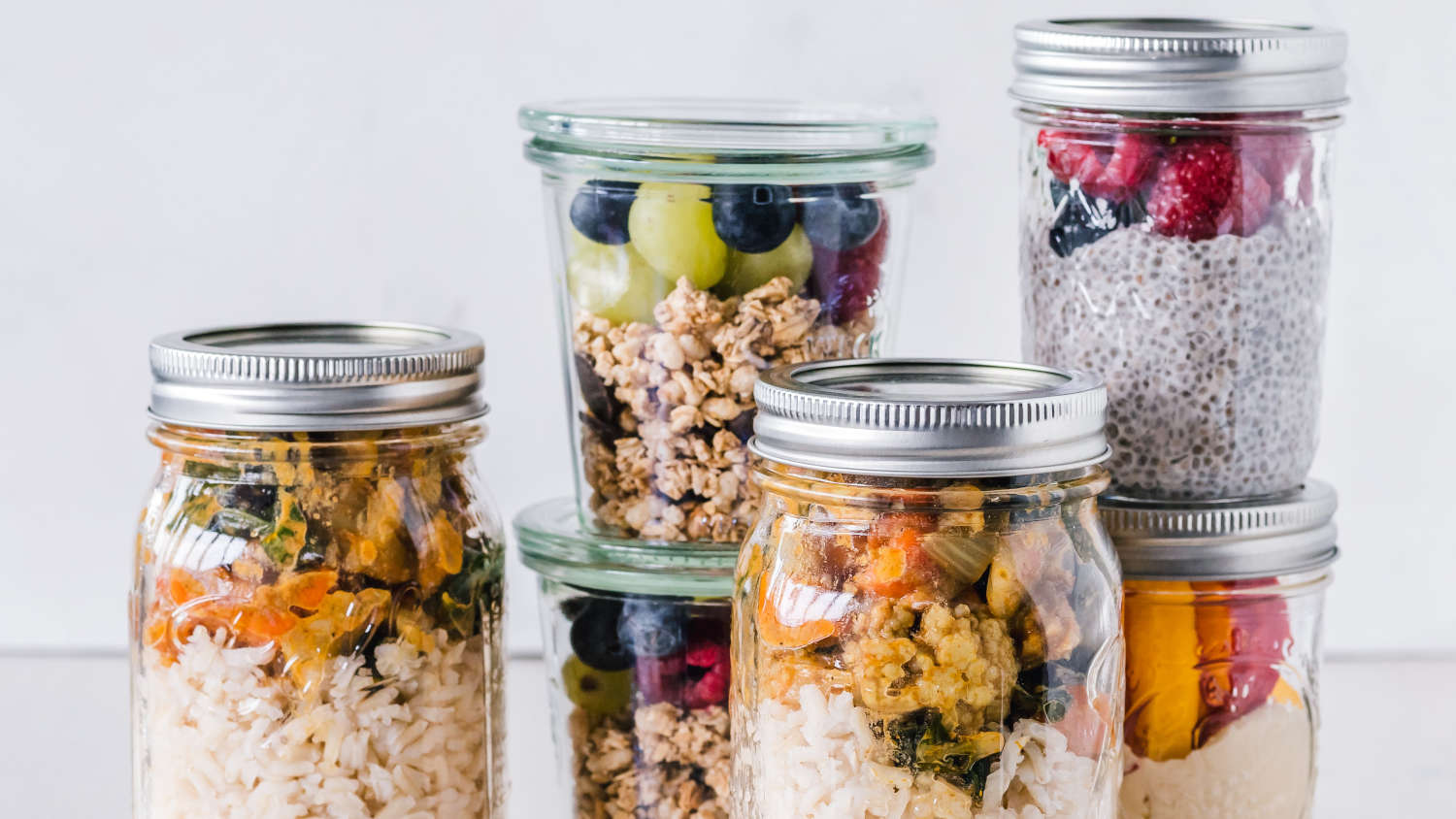 Food containers are little additions in our kitchens that make our life so much easier. You can neatly pack your meal prepped servings, take leftovers to work for lunch, reheat, and even eat food out of some.
One thing though…
You need to ditch your plastic food storage containers for non-plastic food storage ones. The world does not need any more plastic. By reducing your plastic use, you'll be doing the environment and your health a favor!
So what are your best plastic-free food storage options?
12 Best Non Plastic Food Storage Containers Reviewed
Check out this collection of the safest non-plastic food storage containers available:
1. Reusable Food Wraps
Keep your food fresh and plastic free with reusable food wraps. The best food wraps are the ones made out of beeswax.
Savourio Reusable Food Wraps are one of the best food wraps you can try out. The Savourio wraps are made from cotton fabric infused with beeswax. They have a protective yet breathable seal that will keep your food fresh all day. You can reuse these wraps for up to a year.
2. Glass Food Storage Containers
Glass food containers are a definite plus for the environment, but also for your health.
This set of Nummyware glass food containers are made of oven, dishwasher, microwave, and freezer safe. They also have bamboo lids that are biodegradable and recyclable.
3. Stainless Steel Lunch Container
Stainless steel is a great material for anyone interested in buying non-plastic food storage containers. Stainless steel is bacteria resistant and does not alter the taste of foods. It is also considered a very sustainable product in that it's a 100% recyclable.
LunchBots Trio stainless steel lunch container is one of the best food containers especially for kids, and adults as well.
4. Stand-Up Silicone Bag
Silicone food bags are another great non-plastic storage container option. They are especially great for storing food in the fridge as they don't take up a lot of space.
Stasher reusable bags are made of thick, flexible transparent silicone. They seal and open easily. The bags come in an assortment of colors and sizes. The Stasher bags are freezer-, microwave-, oven-, and dishwasher-safe.
5. Paper Food Wrap
Butcher paper makes for a good paper food wrap option. When buying butcher paper go for the unbleached varieties that have no toxins. Paper food wrap is great for wrapping sandwiches, cuts of meat, veggies, etc.
Amsha FDA approved food grade paper is unwaxed, uncoated, unbleached. You can use it in the microwave and the freezer as well.
6. Waxed Paper Food Storage
Waxed paper is also a great plastic-free option.
Natural Value is a Non-GMO, soy-free unbleached natural wax paper. It's safe to use it in the microwave and even compost it after you're done with it.
7. Aluminum Foil Food Storage
Not too keen on using fancy nonplastic food containers? Consider using aluminum foil. But remember not to microwave it! Aluminum foil is recyclable, it can be used more than once, or even wiped clean to reuse again.
8. Cloth Bags And Sacks For Food Storage
Use cloth bags to store chips, crackers and other snacks. Cloth food storage bags are reusable and eco-friendly.
Art of Lunch cloth bags are free of PVC, lead, BPA, phthalates, and heavy metals. You can clean them in the dishwasher.
9. Recycled Bamboo and Cork Canisters
Recycled bamboo canisters will keep your food fresh without exposing it to any toxins.
Ekobo recycled bamboo and cork canisters come with bamboo bases and cork lids. These nonplastic containers are BPA-, PVC-, and phthalates-free.
10. Fruit and Veggie Huggers
Want something cute and nifty to store your food? Try out the Thrive fruit and veggie huggers. These smart end caps will keep cut vegetables fresh for longer. They are made from BPA- and phthalate-free silicone.
11. Wooden Lunch Box
Wood is the most natural nonplastic material you will find around making it a great option for storing your food.
The Miraclekoo wooden lunch box will keep food warm or cool longer than stainless steel lunch boxes.
12. Reusable Organic Cotton Produce Bags
Instead of storing your veggies and fruits in a ziplock plastic bag, use organic cotton sacks.
Simple Ecology Muslin bags are nonplastic, breathable, and will keep your produce fresh for longer.
You have no reason to keep using plastic containers when you have these awesome nonplastic food storage options to choose from. All you have to do is buy one, or two, today and keep your food fresh, and the world plastic-free!