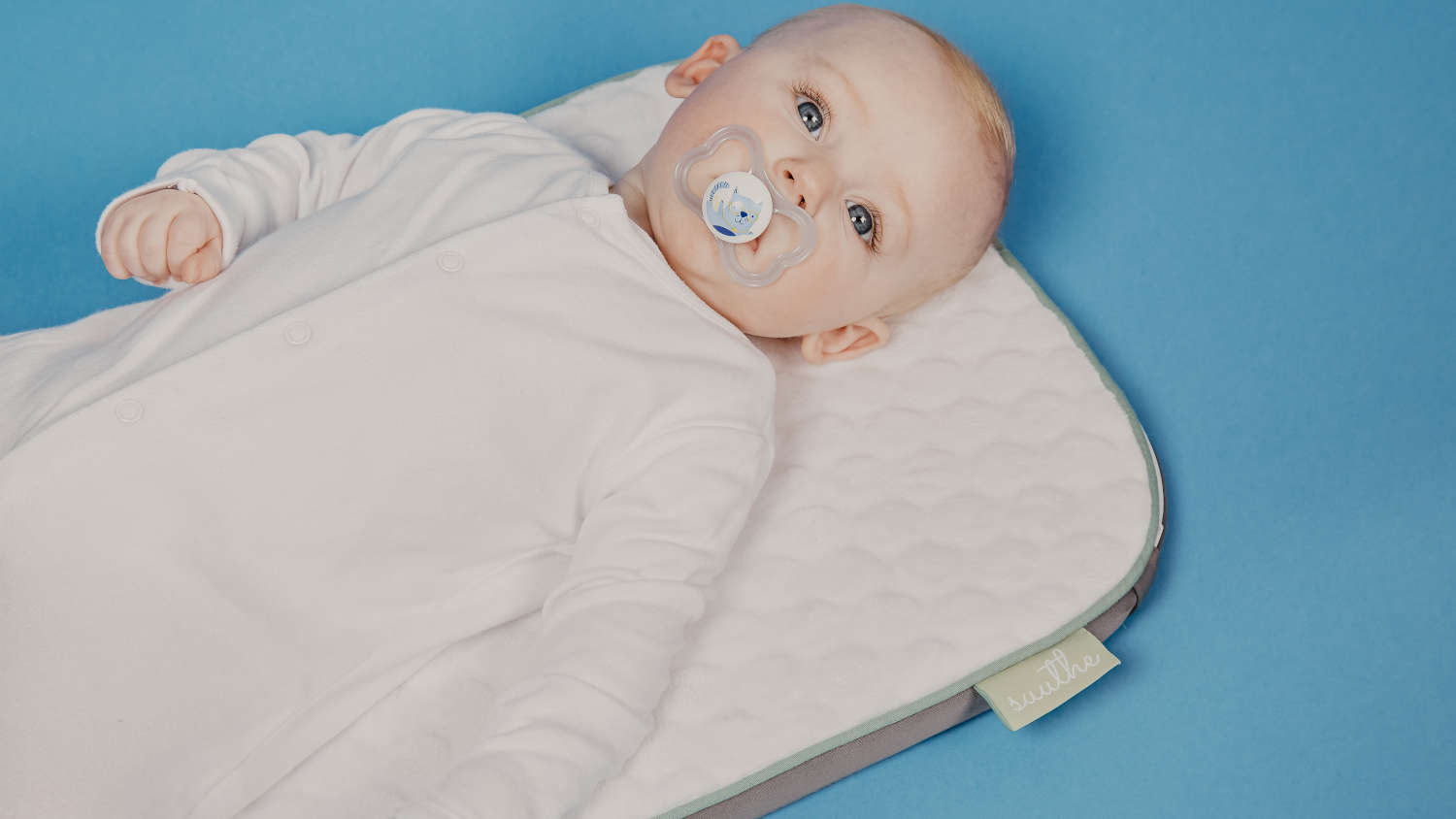 Have you ever given a thought to what is used to make your mattress? If not, then you're probably not aware of the many awful chemicals that can be found in a mattress. From toxic fumes to flame-retardant chemicals to phthalates that interfere with your hormones, there are so many toxins that might be lurking in your mattress.
Now think about how long your baby sleeps. Would you imagine your baby sleeping all those hours on a toxic mattress? Absolutely not. That is why it's important to pay attention to the kind of mattress you get for your little one.
When shopping for a crib mattress, prioritize a mattress made using natural ingredients. There are lots of organic crib mattress brands in the market, so we understand it's hard to know which one to buy! To help you out, here are seven of the best nontoxic crib mattresses safe for your babies.
By the way if you like this article then be sure to read our other recommendations for best eco friendly diapers and organic cotton baby clothes.
Best Non-Toxic & Organic Crib Mattresses
We've compiled a list of trustworthy, non-toxic, and organic crib mattresses that will provide your little ones with safety as they enjoy their sleep.
1. Naturepedic Crib Mattress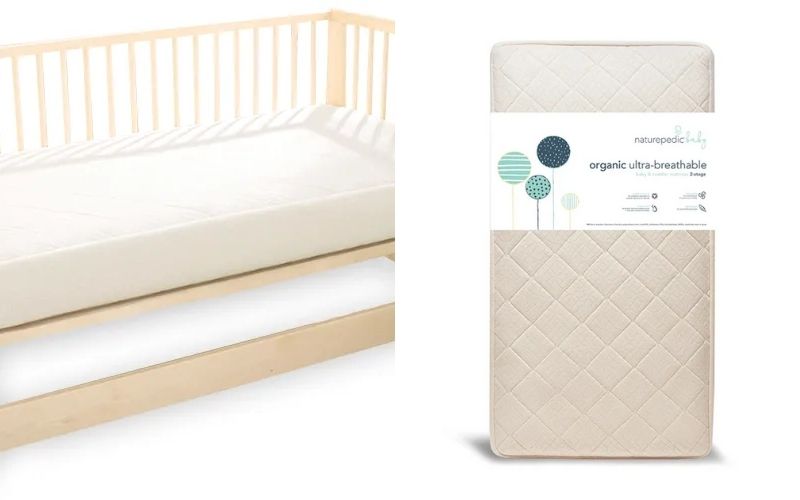 Naturepedic is a great company that manufactures safe organic crib mattresses. The mattresses are Global Organic Textile Standard (GOTS) and MADE SAFE certified. They don't contain any phthalates, antibacterial treatments, glues or adhesives, flame retardants, latex, vinyl/PVC, polyurethane foam, GMO fibers, or insulator pads. They're also certified by GREENGUARD Gold and are formaldehyde-free.
Naturepedic mattresses come in four varieties:
Innerspring line: These are mattresses that come in 150-coil and 252-coil options, regular and dual-firmness, and seamless and non-seamless versions. The seamless version is waterproof. They have an organic cotton fill.
Lightweight line: These mattresses use a food-grade polyethylene foam core fill. These are way lighter weighing about 2 pounds compared to the innerspring line which is about 18 pounds.
Breathable line: These mattresses are more comfortable for babies because they allow airflow. They're also safer because the baby can theoretically breathe through the mattress material if she were to flip onto her face.
Ultra line: The ultra mattress has it all: lightweight, breathable, dual-firmness, and a quilted toddler side to make it more comfortable for a bigger child.
All Naturepedic mattresses have a waterproof covering made from polyethylene sourced from non-GMO sugarcane.
Based in: USA. Ships in the US and Canada.
Browse Naturepedic crib mattresses.
2. Emily Organic Baby Mattress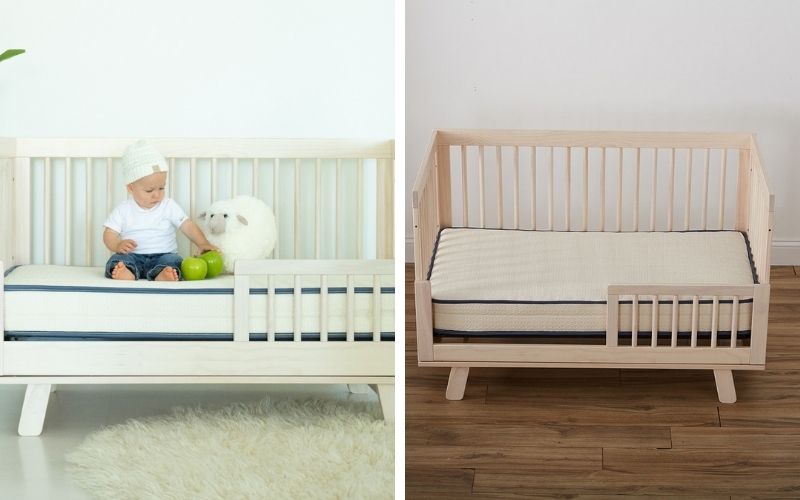 The Emily crib mattress is another great organic baby mattress option. This mattress is made of GOTS-certified organic materials including wool, cotton, and coconut coir that are healthy for your baby and good for our planet.
The mattress comes in only one option: 150-coil innerspring model. The core of the mattress is made of organic wool. Organic wool is naturally flame-resistant thus eliminating the need for toxic chemical flame retardants.
The outer layer of the mattress is made from organic cotton. They use an organic coconut coir comfort layer to create a firm but pressure-relieving surface for your baby.
Unfortunately, the Emily crib mattress is not a waterproof mattress so you'll have to use a waterproof mattress protector.
Based in: Illinois, USA. Ships within the US only.
Check out the Emily crib mattress.
3. Avocado Organic Mattress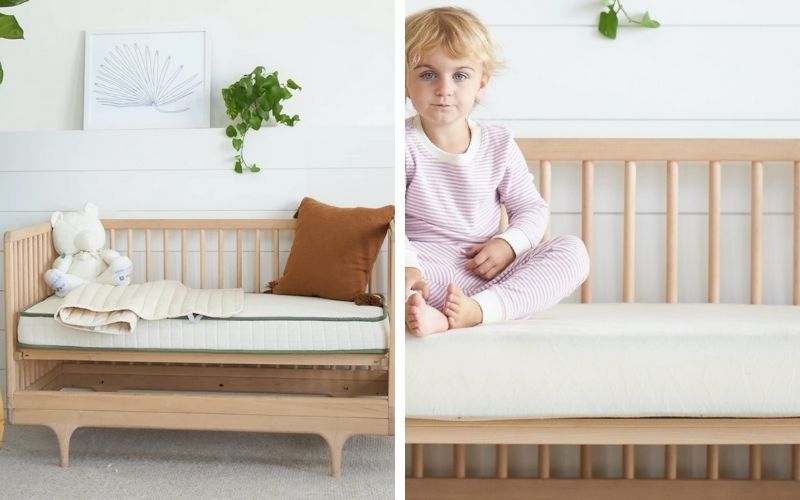 Avocado is well-known for adult mattresses. They recently started selling baby crib mattresses that are quite good. Their mattresses are handmade in California and come with GreenGuard GOLD, GOTS organic & GOLS organic certifications.
The Avocado baby crib mattress comes in a 170-coil innerspring and weighs about 36 pounds. The mattress is dual-sided with one side being more suitable for a toddler, making it a bonus. The toddler side is coated in coconut coir for more comfort.
The mattress comes with a 25-year warranty, a 30-night trial, and an incredibly affordable price point.
Based in: California, USA. Ships within the Continental U.S., Alaska, and Hawaii.
Shop Avocado's organic crib mattress.
4. Lifekind
Lifekind has a great all-latex organic crib mattress as well as a 280-coil innerspring mattress option. The brand's mattresses are all made in the USA using zero chemicals.
The Lifekind latex mattress is made from GOTS-certified latex and is completely metal-free. The mattress is covered in a double-stitched outer layer made from GOTS-certified organic cotton and wool.
The Lifekind innerspring mattress is very similar to the latex version, but in addition, has a 280-coil innerspring. Unlike the latex mattress, this model is not waterproof and therefore needs a waterproof protector pad.
When it comes to price, Lifekind is generally more expensive than most non-toxic baby mattresses. However, its mattresses offer value for money especially since there aren't many all-latex mattress options out there, so Lifekind might be worth considering.
Based in: USA. Ships within the U.S. only.
Shop for Lifekind crib mattresses.
5. Savvy Rest Non-Toxic Crib Mattresses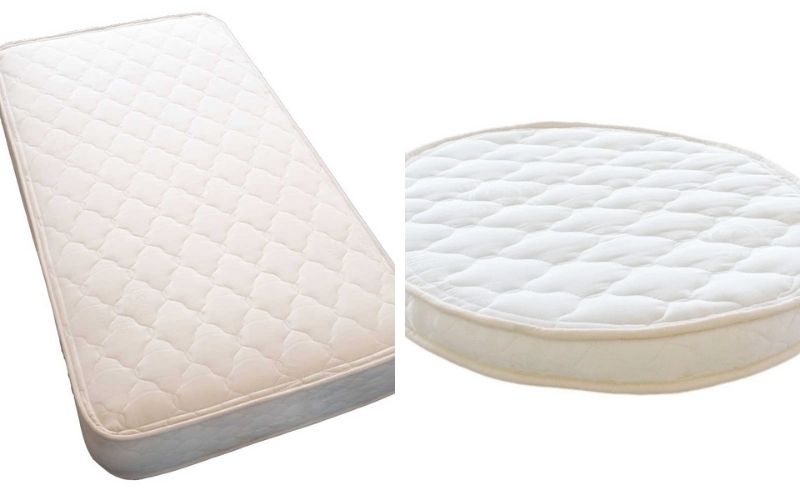 Savvy Rest is another great latex mattress but cheaper than the Lifekind mattress. The mattress is made from GOLS-certified organic Dunlop latex. The outer layer is made using GOTS-certified organic wool and cotton making it naturally flame retardant.
The outer layer is removable making it easy to spot clean. However, don't use your machine as it's not washing machine friendly.
The Savvy Rest eco-friendly crib mattress is not waterproof and does require the use of a waterproof protector pad. All in all, it's a great organic latex crib mattress at a decent price.
Based in: Virginia, USA. Ships within the US only.
Browse Savvy Rest crib mattresses.
6. Green Cradle Baby Mattress
Green Cradle is a popular organic mattress and furniture manufacturer. The brand is truly committed to creating environmentally friendly and safe products.
The brand features two models of crib mattresses. The innerspring mattress has 260 firm coils wrapped in multiple layers of GOTS-organic cotton and wool.
The second model is the organic latex mattress made of 4-inches of GOLS-certified latex that provides an extra firm surface for your baby. The latex mattress is wrapped in organic cotton and organic wool.
All Green Cradle mattresses don't contain any synthetic materials and are therefore not waterproof.
Based in: Los Angeles, USA. Ships to Continental US, Hawaii, Alaska, and Canada.
Browse Green Cradle mattresses.
7. Lullaby Earth Healthy Support Crib Mattress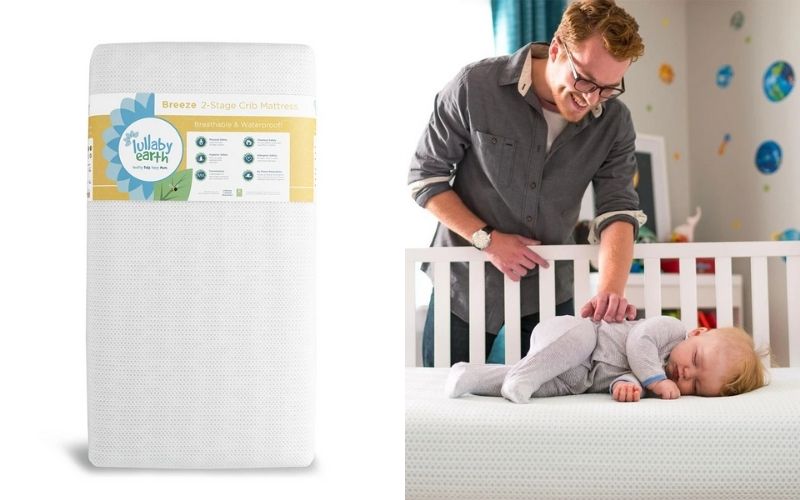 Lullaby Earth organic crib mattresses are made from recycled materials that are waterproof and breathable and come at a reasonable price point. The mattress is Greenguard Gold certified, UL-certified formaldehyde-free, and Made Safe certified.
The core of the mattress is made using a food-grade polyethylene and 100 percent PETE core. The entire mattress is manufactured without any harmful chemicals, allergens, pesticides, or glues. It is also completely free of polyurethane foam, vinyl/PVC, PFC, antibacterial treated fabrics, fire retardants, and known allergens. The mattress comes with a safe waterproof cover and does not use flame retardant chemicals.
Lullaby Earth's mattress has two levels of firmness for infants and toddlers. You can easily wipe it clean and the seamless edge design helps prevent bacteria build-up and keeps the inside of the crib mattress clean and dry.
The mattress also features a firm, flat surface and reinforced edge support providing your baby with a comfortable and safer sleep environment.
Based in: USA. Ships to the Continental US and Canada.
Shop Lullaby Earth organic toddler mattresses.
What to Look For When Buying an Organic Crib Mattress
Not every mattress that you come across labeled as organic will actually be organic. Hence, it is important that you confirm that the mattress you're buying fits the bill. Here are a few things you can check to make sure you get a genuine organic crib mattress:
1. Does not contain chemical flame retardants
When buying a mattress, confirm that it is not made using any nasty chemical flame retardants. It is not a requirement for a brand to list which chemicals they use in the mattress. But a truly eco-friendly brand will tell you if they use chemical flame retardants without having to ask them.
2. Doesn't contain a vinyl/PCP waterproof cover
It might be nice and convenient to have a waterproof mattress, but most manufacturers often use a vinyl outer layer. Vinyl, also known as polyvinyl chloride or PVC, is one of the most toxic plastics there is. Get a waterproof pad made using food-grade polyethylene, sourced from natural sources.
3. Made in the USA
The US is very strict on its manufacturing laws and regulations unlike other countries such as China. That's why it is better to buy an organic mattress made in the US because there are high chances it is authentic and you won't have to worry about quality control issues, contamination with unknown chemicals, etc.
4. A solid warranty
A genuine brand will be quick to offer a warranty as a sign of guarantee for quality. Some companies have 20 to 25-year limited warranties, which says a lot about their all natural baby products.
The Problem With Regular Baby Mattress
Most regular crib mattresses are made with polyurethane foam, which is a derivative of petroleum. The problem with this is that it's highly flammable. In order to satisfy the federal flammability requirement, manufacturers typically douse the mattresses in toxic flame retardant chemicals like formaldehyde or benzene. These chemicals and the foam itself give off toxic gasses that your baby inhales.
Additionally, many mattresses use vinyl/PVC to coat the mattress and make it waterproof. Vinyl is one of the most toxic plastics and can be leech into the baby's skin.
A lot of regular mattress brands also use greenwashing. This is the marketing practice of misleading customers into thinking that their product is "green" or eco-friendly.
Many brands are using only an organic outer layer on the mattresses and labeling the whole thing as "organic". In reality, the mattress is made of polyurethane foam, toxic chemicals, and flame retardants, etc. on the inside.
Some brands will even use organic certification logos when only part of the materials used are certified. So be sure to do your research well so you're not duped into buying a regular mattress thinking you're buying an organic one.
As you shop for the best organic crib mattresses go on and grab some organic baby sheets too. If you enjoyed this article make sure you check out our recommendations for best organic baby sleepers.