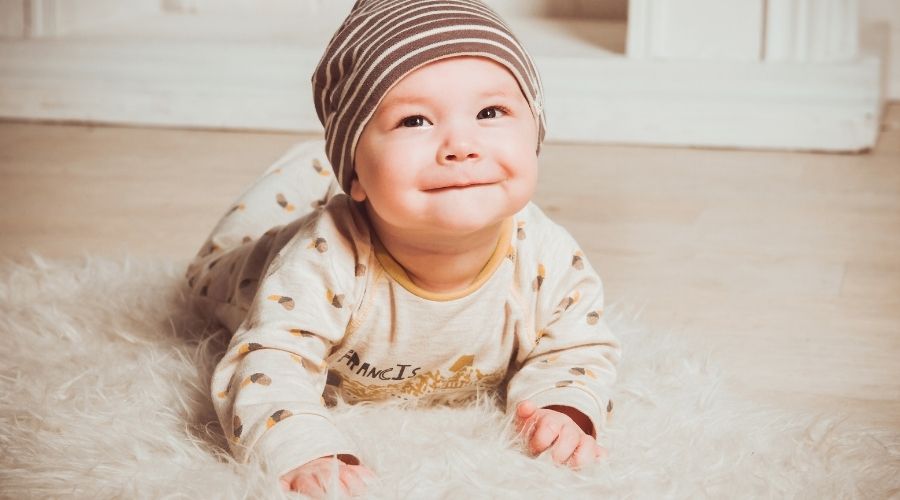 Buying organic baby pajamas is a great choice especially for your newborn. Babies' skins are very sensitive and can easily react to materials they come into contact with.
Organic baby sleepwear is often made from natural materials that are free from chemicals, metals, dyes, pesticides, and other toxins.
Fortunately, there is a rise in demand for organic baby clothes, making it easier to find some of the best and affordable organic baby sleepers.
If like this article, then be sure to also check out our recommendations for eco-friendly diapers and organic crib sheets.
Best Organic Baby Pajamas and Sleepwear
Let's take a look at nine of the best organic cotton baby pajamas available in the market. These pajamas are not only chic and affordable, but they're better for your child's skin and overall health.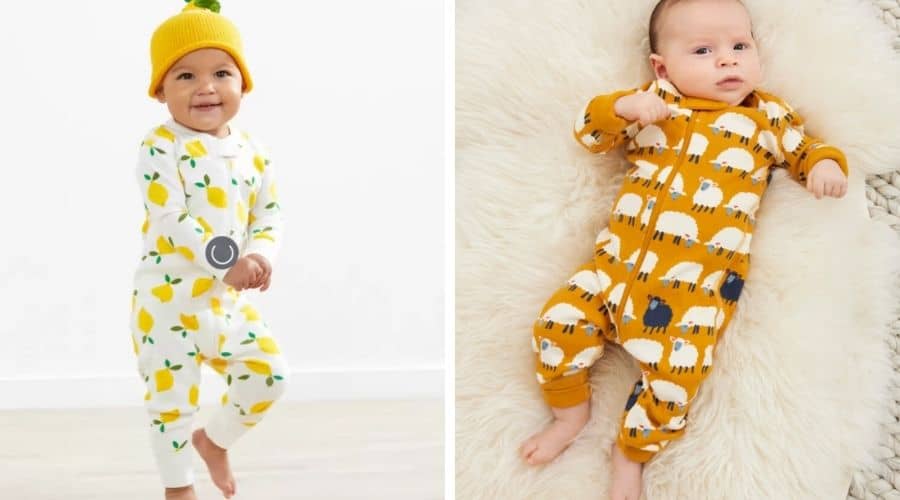 Hanna Andersson features an exclusive line of organic baby pajamas that come in timeless styles and iconic prints. These are all crafted with super soft 100% organic and OEKO TEX certified Pima cotton. The super-soft sleepers are perfect for both playtime and bedtime.
The pajamas come in styles ranging from one-piece sleepers for newborns to short johns perfect for your active toddler. The pj's are made with movement in mind and come with a cozy fit and a warm, breathable, knit.
Hanna Andersson pajamas feature bright patterns and bold designs your kids will love. From Disney Princess to Star Wars™ to Dr. Seuss and more—these designs will encourage boundless imagination.
Based in: USA. Ships internationally.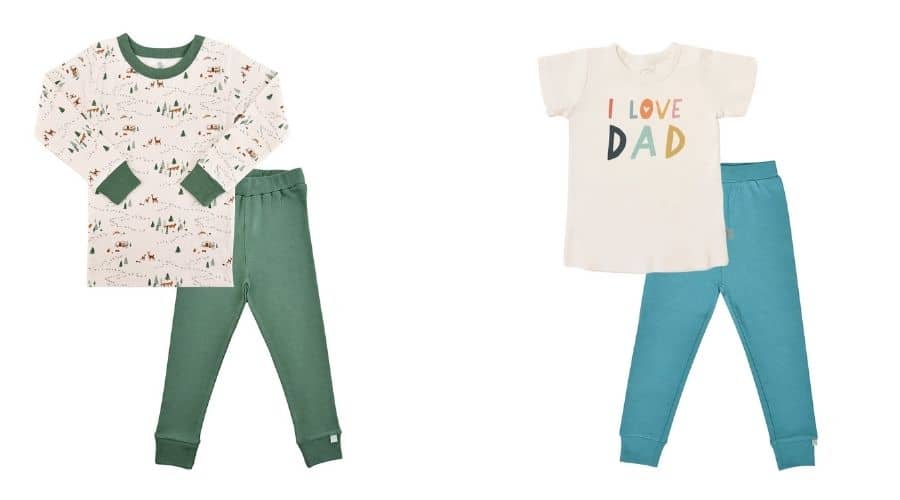 Finn + Emma believes your little one deserves clothes that are safe for their skin. The brand's classic pajama sets are made with eco-friendly dyes, buttery soft 100% organic cotton, and a comfy stretchy waistband.
The pajamas feature knit and crochet "buddies" that will spark your little one's imagination. They are truly the perfect loungewear for your toddler whether they are awake or asleep.
Finn + Emma is also committed to supporting its workers by providing jobs that focus on social and economic independence, specifically for women around the world.
Based in: Fairfield, NJ. Ships internationally to most countries.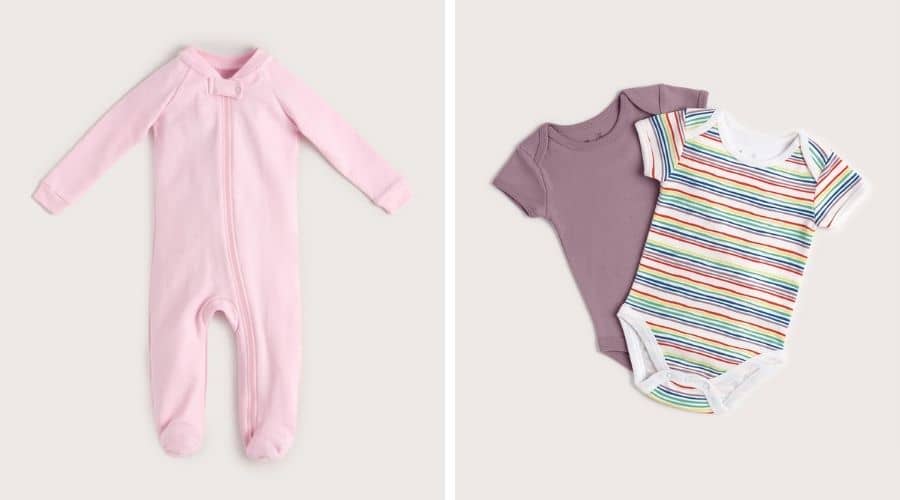 Pact is committed to providing organic clothing for families. Their baby pajamas are no different. They are made using GOTS certified organic cotton in a fair trade factory based in India. Organic cotton makes the PJs naturally soft and breathable.
Pact understands the dangers of environmental toxins and is, therefore, committed to raising awareness about sweatshops, child labor, and debt slaveries in the clothing industry.
All Pact's garments, including the baby pajamas, are ethically made, and workers are paid living wages. It's the perfect shop for ethical, affordable, and organic pajamas for your little one. When it comes to producing its clothing, the company employs fair trade practices and uses sustainable manufacturing processes that save at least 12.5 gallons of water per piece of clothing made.
Based in: Boulder, Colorado. Ships internationally.
Monica + Andy was founded by a mom in the delivery room because she wanted to clothe her newborn only in the most trustworthy fabric available. Now, the company offers mix-and-match essentials, including newborn pajamas, in GOTS certified organic cotton. Meaning your baby will wear only the safest material possible.
The pajamas are soft and do not shrink, pill, or fade and sometimes come in limited edition prints that you will love.
Additionally, Monica + Andy is committed to the welfare of its workers. They ensure that their farms and factories have better working conditions and provide higher wages.
Based in: USA. Ships both locally and internationally.
L'ovedbaby features 100% organic baby clothing that is clean, simple-looking, and affordable. The organic cotton baby pajamas are made from GOTS certified cotton and don't contain any harsh chemicals ensuring your baby is protected.
The brand carries an adorable pajama collection ranging from preemie to young children. The collection has timeless PJs that your baby can wear for years.
Besides selling safe baby clothes, the company also puts focus on protecting its workers. It pays them fair living wages and promotes a non-discriminatory workplace.
Based in: USA. Ships both locally and internationally.
Under the Nile is another organic baby clothes brand that proudly manufactures organic baby pajamas. The brand is so passionate about manufacturing safe baby products that it was one of the first brands in the US to be GOTS certified.
Their PJs are suitable for preemies and kids up to 6 years. They are super soft and comfortable. They are manufactured responsibly in a Fair Trade factory in Egypt. The company also empowers financially disadvantaged people by teaching them how to sew, to enable them to have a reliable source of income.
Based in: Chesterfield, Missouri. Ships locally and internationally to Canada, UK, Australia, India, and Hong Kong.
Boden features organic clothing for everyone in the family, from adults, teen kids, toddlers, and newborns.
Boden baby clothes include colorful and whimsical baby pajamas that will leave your baby looking even more adorable. The PJs are made using sustainably sourced cotton. They feature snug-fastening elastic hems and adjustable straps to fit as your child grows.
The company promotes fair trade and manufactures its clothes through ethical practices that are both safe to the workers and to its customers. Boden also gives back to mental health organizations in its local community.
Based in: USA. Ships locally only.
Hope and Henry has some of the best vintage-inspired pajamas for your baby. The PJs are made from GOTS certified fabrics, are affordable, stylish, and quite fancy!
The brand prioritizes the use of certified organic cotton for all its clothing to reduce the number of chemicals and pesticides that can negatively affect the planet. The company ensures that the fabric mills it works with obtain proper organic certifications for all its materials.
Hope and Henry also focuses on pricing its clothes affordably in order to make sustainable clothing accessible to all, not just the few who can afford them. The brand's goal is to make a difference in the impact fashion has on future generations, one step at a time.
Based in: USA. Ships both locally and internationally.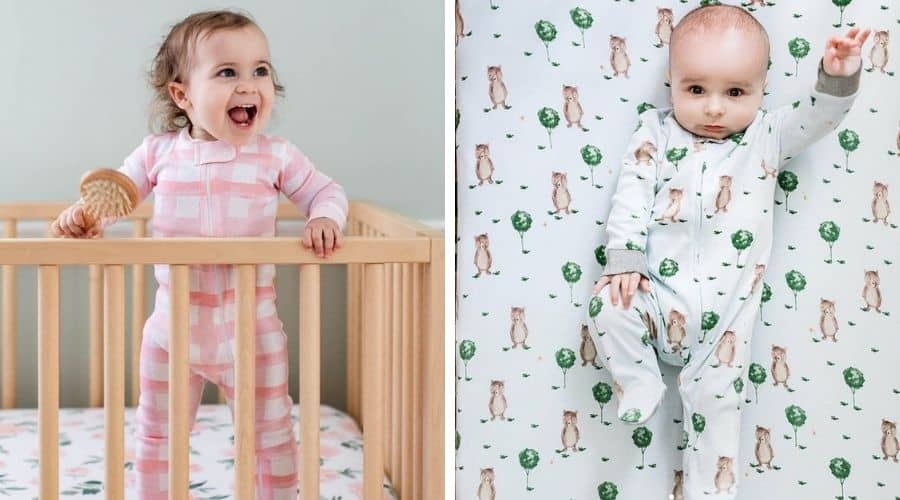 Burt's Bees is a well-loved brand that sells organic, natural baby apparel and newborn essentials, as well as family pajama sets, jumpsuits, and clothing for kids. The pajamas are especially great in offering your baby a comfortable sleep. They feature a loose fit that is perfect for your little one. There are also snug-fit styles available for older kids.
Burt's Bees was awarded a GOTS certification for meeting the highest global standard for organic textiles. That means that its clothing is safe and comfortable for your baby.
Its organic baby pajamas are inexpensive and long-lasting. The PJs are made ethically in India and come in great patterns and prints.
Based in: USA. Ships locally only.
Organic baby pajamas are a great way to ensure that your baby sleeps in sleepwear that is comfortable and safe for them. Check out these 15 organic baby clothes brands and add more pieces to your baby's organic wardrobe!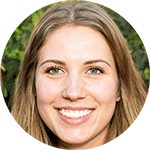 Jamie - Cofounder
Hi, I hope you enjoyed reading this article.
If you are looking for more ways to live an eco-conscious lifestyles, then check out our complete guide here.
Thanks for stopping by - Jamie