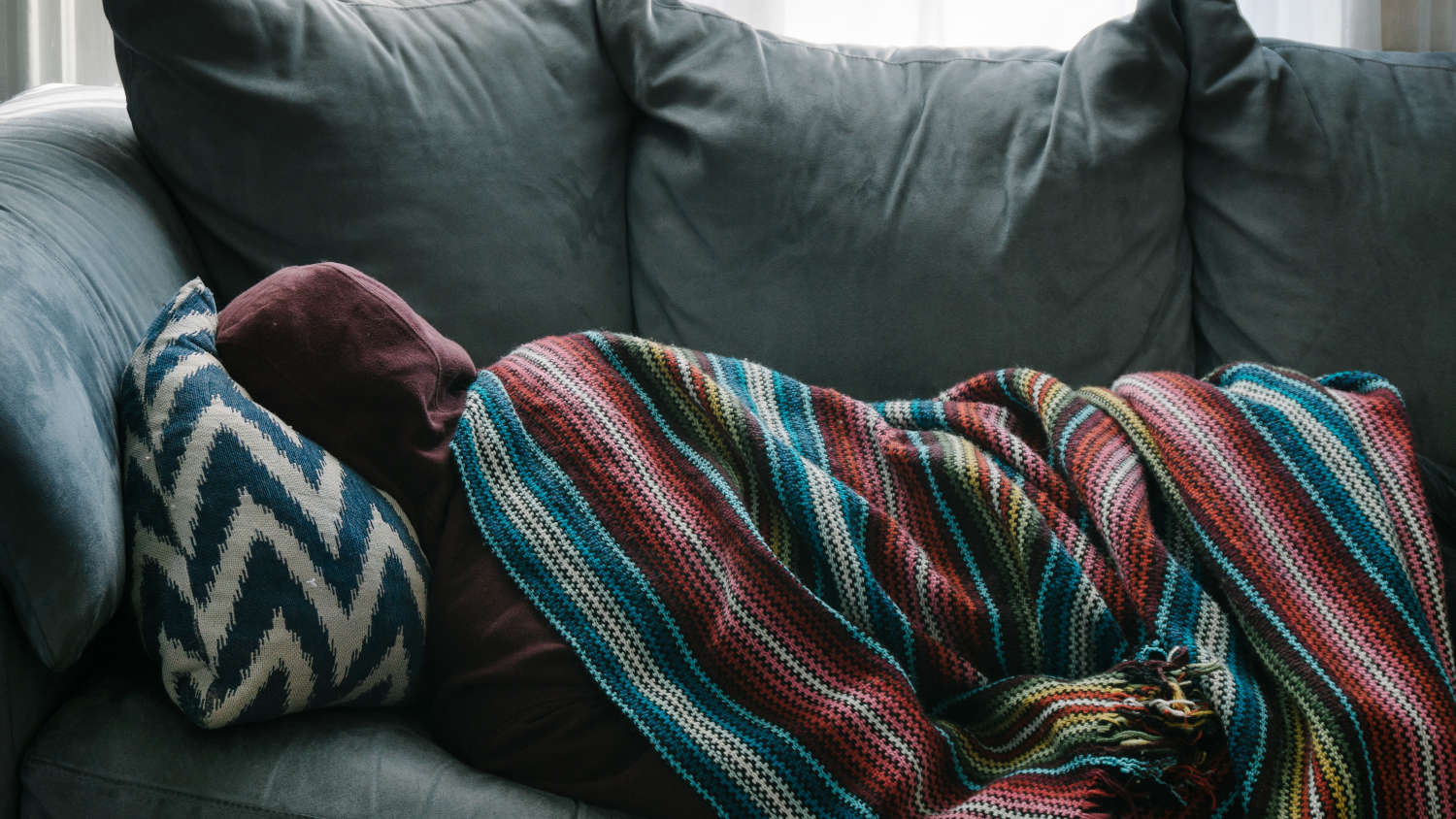 When choosing a throw blanket, you want one that's versatile, soft, and durable. One that's thin enough to carry around yet heavy enough to offer you warmth during cold weather. Better yet, if you're living sustainably you want a throw made ethically using sustainable materials. That's why an organic cotton blanket is a perfect choice.
Today, there are lots of environmentally friendly, sustainable, and organic blanket options that will spruce up your home or simply keep you warm on those cold days and nights.
If you enjoy this article make sure to check out our reviews for best organic cotton towels and organic cotton clothing companies.
Best Organic Cotton Blankets & Throws
Here are some of the best organic cotton blankets that are eco-friendly and sustainably made: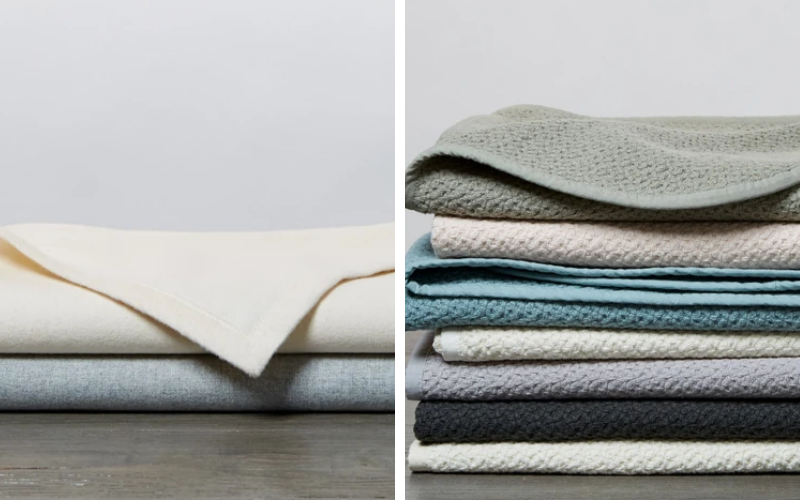 Coyuchi's organic blankets are made from 100% organic cotton grown in Turkey and then woven in Germany. The blankets have a perfect weight and the cotton chenille yarn gives you lightweight warmth that feels plush to the touch.
These organic throws have a natural, next-to-skin softness. The blankets are further washed for a gently puckered texture inspired by quilted Kantha cloth and finished with a color-matched blanket stitch all around. They are versatile and work well on their own or stacked for added warmth.
Based in: USA. Ships in the USA only.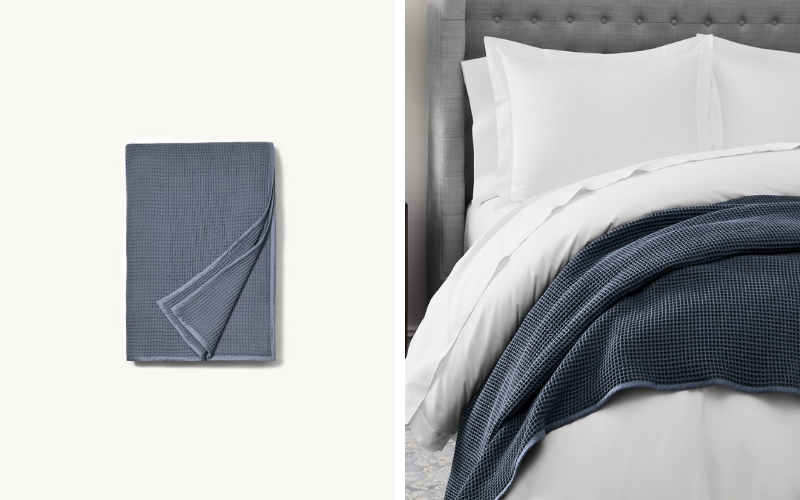 The Boll & Branch Waffle Blanket is made using 100% organic cotton, is produced ethically, and thoughtful attention is paid to the hand-finished details giving each blanket an heirloom feel.
The Waffle blanket is generously sized and comes in various weights but is usually airy and light. It holds enough heat without being too heavy on your body making it perfect for all seasons. It features a waffle weave pattern that resembles a breakfast waffle. The recessed square pattern gives the fabric more surface area making the blanket appear bigger.
The Boll & Branch Waffle blanket comes in seven different neutral colors and adds plush, dimensional texture to your bed without too much heaviness.
Based in: USA. Ships in the US and Canada only.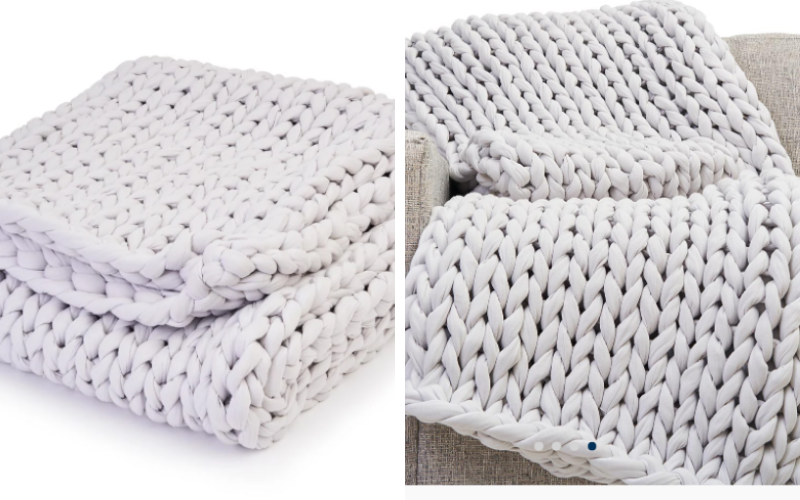 The Bearaby organic cotton throw is a buttery soft, breathable, knitted weighted blanket made from GOTS-certified organic cotton. Organic cotton is a healthier choice for your home and the environment because it uses 85% less water than conventional farming methods. It is also free from harmful chemicals, pesticides, synthetics, or artificial softeners.
This weighted blanket is ideal for all seasons and looks so cute in your living room, on your bed, or even on a hammock.
In addition to making your space look beautiful, this chunky-knit blanket helps you sleep more deeply, and wake feeling rested and revitalized. Weighted blankets have been medically proven to aid naturally deeper sleep cycles.
The weight of the blanket stimulates the production of the happy hormone (serotonin), reduces the stress hormone (cortisol), and increases melatonin. This causes you to easily fall and stay asleep.
Based in: New York, United States. Ships within the US and Canada only.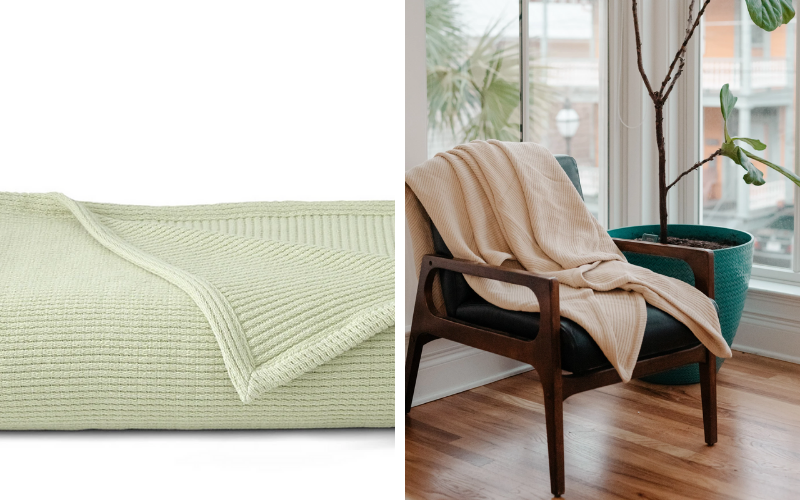 Grund America's cotton throw blankets are made from 100% organic cotton and have received the GOTS, OEKO-TEX, and Green business certifications and standards. This means that they do not contain any harmful chemicals or dyes.
The throws are incredibly warm while also providing great breathability. The knit weave used to make these throws makes them perfect for any season, warm or cold. They also come in a variety of sizes so you can use them on your full or king-sized bed.
Expertly woven, this organic cotton throw blanket will keep you cuddled up in warmth and comfort wherever you choose to relax. This throw is truly soft and the best part is that the more you use and wash it, the softer it gets. Bet you'll reach for this blanket again and again.
Based in: North Carolina, USA. Ships worldwide.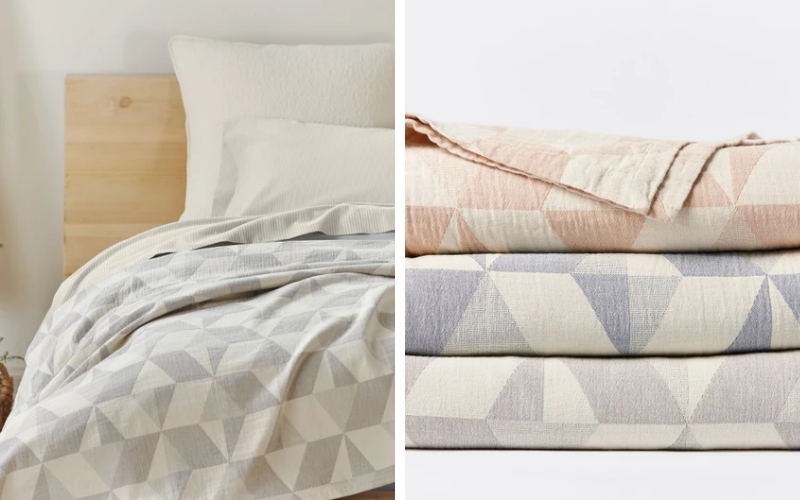 Coyuchi's Pismo organic cotton blanket is woven in Portugal using organic cotton fibers and is GOTS Certified. The fabric is stone-washed for softness and a more delicate texture.
The Pismo blanket features a dynamic geometry pattern of triangles and polygons all over. This light- to mid-weight blanket is super soft and ideal for layering with thicker quilts or comforters or using solo in warmer weather.
Based in: USA. Ships in the USA only.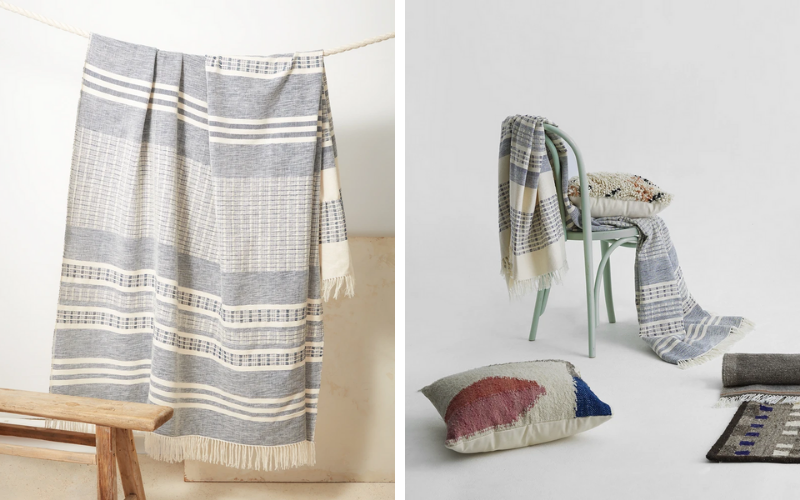 The Minna Marta throw is handwoven in Mitla, Mexico, ethically made using 100% cotton, and dyed with sustainable, non-toxic colors. The Marta throw is designed with portability, durability, and versatility in mind. This throw is the perfect blanket for use in the living room, bedroom, or on the table as a tablecloth.
The native Mexican weavers use a flying shuttle loom to make these authentic blankets and they look quite impressive. The alternating stripes and patterns give an easy boho feel, while the tassels on the edges make the blanket undeniably stylish. The throws are lightweight making them easy to take with you wherever you want.
Based in: New York, USA. Ships internationally.
7. Zestt Organics Kit Throws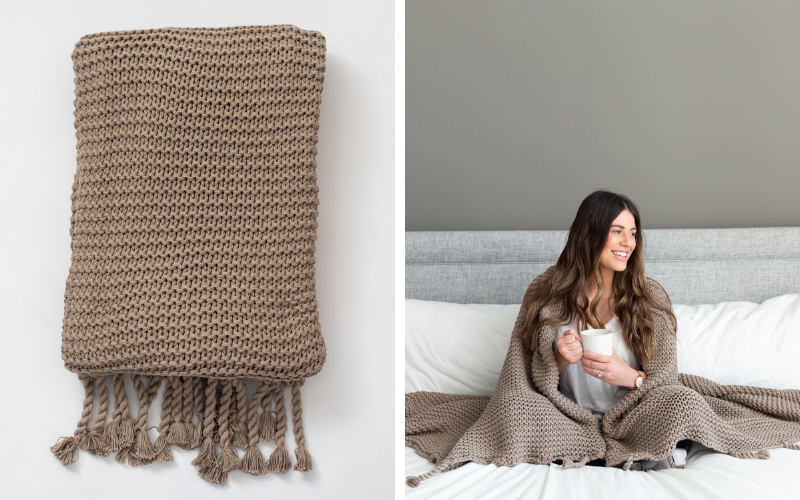 The Zest Organics' Knit throw is made in India with 100% GOTS Certified Organic Cotton and like all other Zestt products, it also carries the Global Organic Textile Standard seal. This guarantees it to be free of pesticides, more than 100 harmful chemicals, and harsh dyes.
The brand also ensures that the production process of its textiles is ethical, fair, and free from child labor from seed to store.
The Kit is the heaviest Zestt organic cotton throw and measures 50″ X 60". It comes in three neutral colors (soft white, gray, and stone) perfect for the chair or couch in your living room.
Based in: Maryland, USA. Ships in the US only.
The Stray & Wander dream blanket is a hand-loomed Organic Turkish Cotton blanket. You can use this cozy blanket as a throw on your bed or couch. It also doubles as a jumbo beach or picnic blanket.
All of the brand's blankets are ethically sourced and organically woven. The blankets are incredibly soft and the more you wash your blanket, the softer it becomes. The blankets are 180cm x 220cm in size making them the perfect size for your needs.
The company works with women's cooperatives, family-run businesses, and individual artisans who are keen on sustainability. The brand's focus is on bringing beautiful handmade and fair trade products to the global marketplace while supporting the communities making them.
Based in: Toronto, Canada. Ships internationally.
Check out Stray & Wander Dream Blanket.
Canopy throw quilt is hand quilted using the softest organic cotton, you will love how luxurious it feels on your body. The brand's throws are all made with 100% GOTS Certified Organic Cotton.
The canopy throw is a playful yet elegant piece of functional art. This throw is inspired by Indian architecture and art deco motifs. It's handmade in Ajmer, India using the traditional Kantha quilting techniques.
The beautiful geometric embroidery pattern makes this throw the perfect decor piece for your sofa. When you use it in your bedroom, it will add warmth, comfort, and texture to your room.
Based in: USA. Ships internationally.
Take a look at the Made Trade Anchal canopy throw quilt.
10. Whisper Organics Throw
Whisper Organics' cotton throw is made using 100% organic cotton and is fully GOTS certified. The throw is nontoxic making it suitable for use for the entire family including babies and pets.
The throw doesn't cause any allergies since organic cotton is naturally hypoallergenic. The throw also doesn't contain any harsh chemical dyes or irritants. The throw comes with a diamond pattern weave that makes it very soft. The diamond design will also enrich the decor and ambiance of your home.
The cotton used to make Whisper Organics' throws is grown in sustainable farms and co-ops in India. Farmers and other workers are paid fair wages to their workers. When you purchase these high-quality throws, you help support these farmers and craftspeople. Whisper Organics donates a portion of its proceeds back to these communities.
Based in: New York, United States. Ships internationally.
Shop for Whisper Organics throws.
Related article: Best Organic Cotton Sheets
More Organic Throws & Blankets
11. Under the Canopy Matelasse Blanket – This blanket is made from 100% GOTS Certified Organic Cotton. It comes in four neutral colors that will brighten up any bedroom.
12. Emme Organic Throw – These muslin blankets are made with 100% organic cotton and are naturally hypoallergenic and soft. They are lightweight, soft, and breathable.
13. KyraHome Organic Muslin Blankets – These blankets are made from 100% organic cotton by farmers committed to using sustainable growing methods. The blanket is lightweight making it great for summer and also heavy enough to keep you warm during winter thanks to its pleated pattern.
Imagine covering yourself with a plush soft blanket on a winter evening with a hot cup of coffee. Better yet, having the peace of mind knowing that the source of your luxurious warmth was ethically produced and left no damage to the planet. That's what these organic cotton blankets will give you.
If you're looking for organic blankets for your baby as well, here are some good options for you: 11 Best Organic Baby Blankets Reviewed And Compared.


  Stella - Writer
Stella is a writer and mother from Thika, Kenya.
Her love for nature and the beautiful Kenyan outdoors has inspired Stella to consciously make an effort to lead a more sustainable, eco-friendly lifestyle.