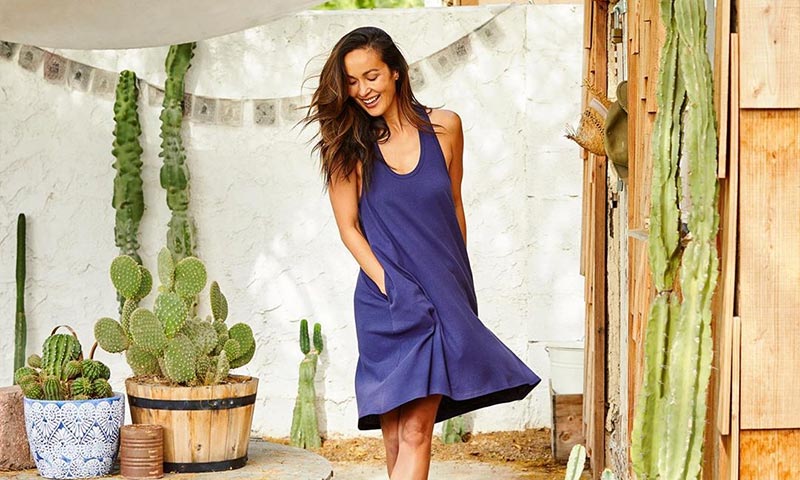 Image source Instagram
Are you in search of all-natural organic clothing that's both high-quality and affordable?
Then definitely keep reading this Pact clothing review.
Pact is one of the most popular organic clothing brands today. From the hundreds of Pact organic reviews on Amazon, you can tell that customers are impressed by the brand's ability to stay true to its mission – to provide high-quality, fair trade organic cotton clothing that is manufactured responsibly with low impact on the environment and the workers.
Pact Apparel Review
Company about us
Pact's goal is to make organic clothing for everyone. It focuses on making stylish organic clothing that you can wear all day, every day, from work to travel to lazy Sunday mornings in bed.
Pact creates practical and comfortable clothing. It offers organic alternatives that fit your lifestyle while making sure that what you put on your body is as good as what you put in your body.
Pact cares about the environment and its workers. That's why every apparel they make is 100% organic and ethically made. The company also promotes Fair Trade standards.
All-natural products
All of Pact's clothing is made from 100% organic cotton that is certified by GOTS (Global Organic Textile Standard).
Organic cotton uses far less water to produce and hence, has a low impact on the environment. It also grows naturally without the need for toxic pesticides, insecticides, and herbicides that are harmful to humans and the environment.
Pact also doesn't use toxic dyes to make its clothes making them safe for your skin.
Variety
If you're looking for variety, you'll find it at Pact. This brand has everything for everyone. From women to men to children. You'll find tops, bottoms, and undergarments.
Pact clothing is simple, classic, and minimalist.
Comfort
Organic cotton makes Pact clothing incredibly soft to the skin and comfortable to wear. Pact organic clothing is also very practical and you'll love wearing them.
Cost
For soft organic cotton clothing, Pact's prices are extremely reasonable. Pact Tees are normally $16, the Racerback Bras are $25 and Racerback Tank is $15.
Pact also frequently has promo codes available in addition to sales. Also, you get to enjoy 20% off as a new customer.
Types of products
Pact has something for your entire family.
For women, you'll find an extensive line of tops, shirts, hoodies, sweatshirts, dresses, skirts, leggings and tights, sleepwear, and maternity clothes.
When it comes to men, Pact offers sweatshirts, hoodies, shirts, pants, shorts, and sleepwear.
Ladies underwear comes in bikini, boy short, thong, hipster, and high-waist hipster styles. For men's underwear, there's boxer briefs, trunks, and knit boxers.
There's also a Pact collection for kids and babies that includes socks and underwear, tops, bottoms, sleepwear, and infant body suits.
Pact also has soft bedding and towels.
Pact Apparel Review – What Everyone Is Saying
One thing is common in most of Pact apparel reviews, the clothing is affordable and the fit is great. In other Wearpact reviews, customers praise Pact clothing for being timeless.
Where to buy Pact apparel
Pact apparel is available online on their website. International customers can also buy original Pact apparel on Amazon. Click the button below for the best price.
Pact is a socially conscious brand that sets a high bar and produces high-quality organic clothing at an affordable price. This is one brand that every eco-conscious person will be proud to be associated with. So go on and enjoy shopping at Pact!