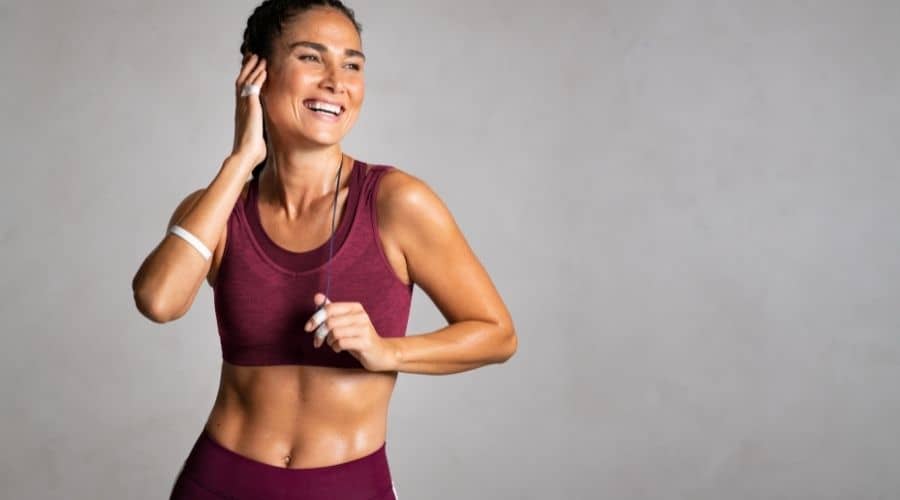 Love activewear and athleisure? Wish there were more planet-friendly, sustainable activewear brands?
Guess what? There are! You can now take care of your health while taking care of the planet. Make better exercise fashion choices, without damaging the planet.
As activewear is expected to have high-performance qualities, most workout clothing is made from synthetic fabrics. However, there are some sustainable natural fabrics such as organic cotton that make great options for exercise wear. Materials made from recycled, upcycled, or regenerated content, such as recycled polyester or ECONYL (regenerated nylon) are also great for making comfortable activewear.
Some ethical, world-changing companies are experimenting with these materials and trying to make fashionable and comfortable workout wear with a low impact on the environment. So what are the best activewear brands to look into if you're looking for sustainable sportswear? Let's find out.
Best Sustainable Activewear and Workout Clothes
We've outlined 15 of the best sustainable activewear brands that don't compromise ethics for style and performance.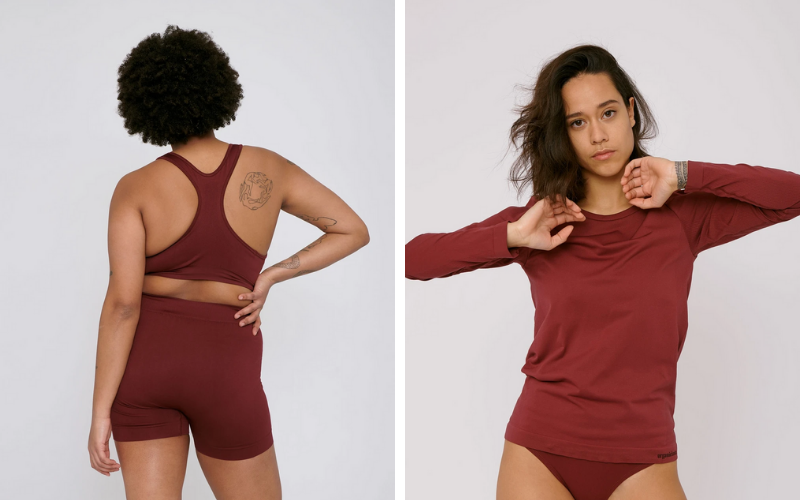 Organic Basics create a variety of clothing, including activewear like leggings, tank tops, yoga pants, sports bras, and more. Its sustainable activewear is made using natural, renewable, recycled, biodegradable, and low-impact textiles such as organic cotton, Tencel, recycled nylon, and recycled wool. The activewear pieces are soft, odor-controlling, and heat-regulating.
To promote sustainability, Organic Basics works with certified factory partners only that pay living wages. The factories must also have respected third-party certifications, such as OEKO-TEX Standard, EU Eco-Label, SEDEX, and GOTS (Global Organic Textile Standard). The company further donates a portion of its profits to grassroots activists and organizations that address environmental crises.
Based in: Denmark. Ships worldwide.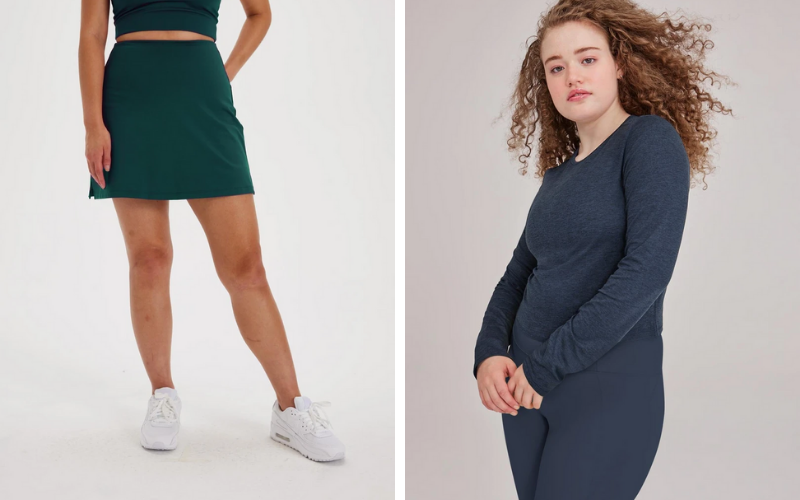 Girlfriend Collective makes leggings, bras, tops, and shorts from recycled polyester fabric from post-consumer plastic bottles and fishing nets. So far, the company has recycled 4,482,875 bottles and saved 3,811,434 CO2 emissions.
You would never guess that the pieces are made from recycled plastic materials as they look exactly like traditional sportswear.
In addition to using recycled materials, the Girlfriend Collective will also take back your old Girlfriend pieces to turn them into brand new Girlfriend pieces.
The brand also works with an SA8000 certified facility, pays 125% of the minimum wage, and provides health insurance. It is also an inclusive brand and always uses diverse models for its campaigns.
Based in: USA. Ships to the US, Canada, the UK, and Australia.
Browse Girlfriend Collection's ethical sportswear.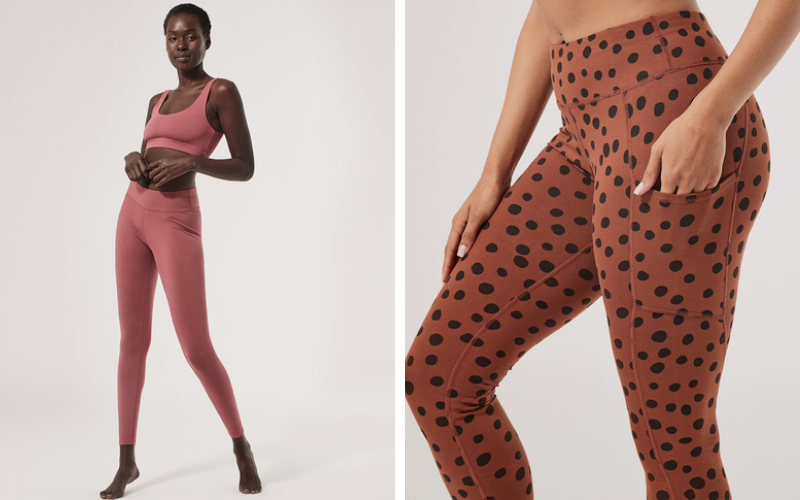 PACT is on a mission to make the fashion world sustainable. The brand only uses organic cotton made in a fair trade factory. All their clothes are affordable and accessible. The company is GOTS (Global Organic Textile Standard) Certified which means their materials are all sourced in an eco-friendly and sustainable way.
PACT's activewear is extremely comfortable and offers great performance. It is made using certified organic cotton and doesn't contain any toxic dyes or chemicals.
The brand's 'go-to' leggings are a favorite among many. They come in a range of color variations and sizes made for men, women, kids, and babies. They are so comfortable and versatile. You can lounge at home in them or wear them to yoga.
Based in: Colorado, USA. Ships internationally.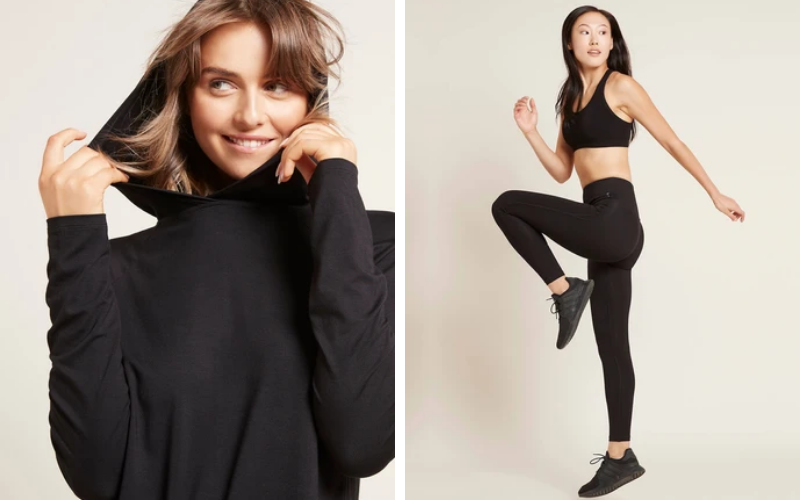 Boody makes simple but good-looking activewear all made from eco-friendly materials. The brand uses viscose made from eco-certified Bamboo, which is then blended with nylon and elastane to produce a final material that's ideal for activewear.
Their ethical workout clothes are breathable and thermo-regulating. They range from leggings, shorts, sports bras, tanks, tees, and more.
Boody is committed to protecting the environment and therefore, uses an eco-friendly processing system, zero-waste manufacturing, and is in compliance to WRAP Gold standard.
Based in: Sydney, Australia. Ships internationally.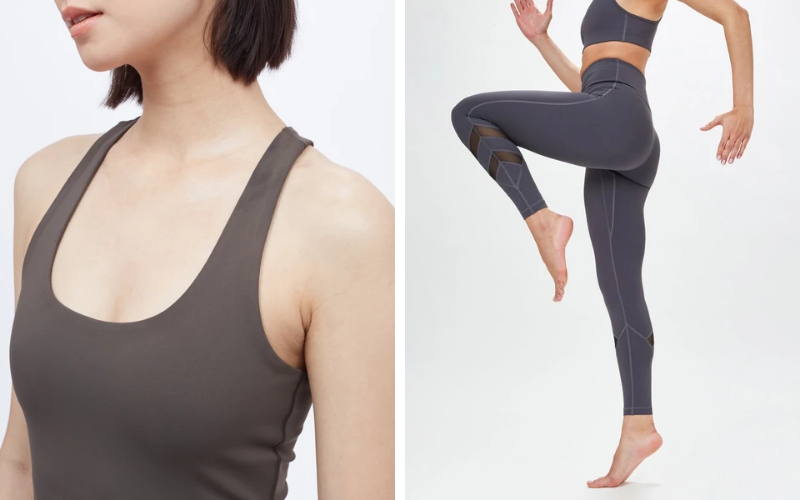 Tentree makes workout clothes, running clothes, and outdoor wear for all seasons as well as a range of accessories. Tentree's activewear is made to support movement and everything else that makes you feel like you.
Tentree activewear is made from sustainable materials like Tencel, recycled polyester, organic cotton, and hemp. The pieces contain eco-friendly drirelease® and zinc-based additives to control odor, moisture, and bacteria. The pieces have beautifully designed graphics that make them unique yet practical.
The brand is constantly looking at innovative ways to make apparel with the smallest possible footprint and create more circular supply chains. A Tentree sweatshirt uses on average 75% less water to make than the other sweatshirts in your closet.
Tentree is committed to making the environment better and sustainable. For every piece you purchase, Tentree plants 10 trees (the company aspires to plant 1 billion by 2030), and more than 51 million have been planted already across a handful of countries.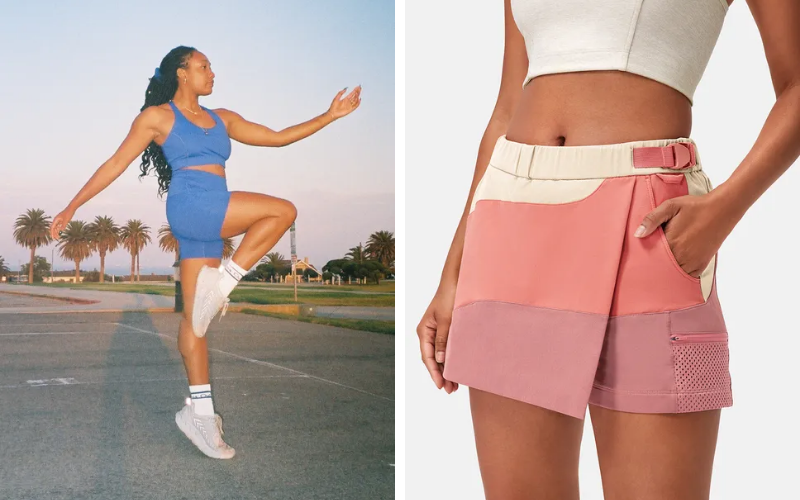 Outdoor Voices is an eco-friendly athleisure brand that creates activewear made from a selection of core eco-friendly materials. Some of the materials include recycled polyester made from post-consumer water bottles that are melted down and turned into a lightweight breathable fabric and merino wool that is responsibly sourced.
They have a range of both men's and women's activewear and their clothes are carefully designed and will look good in any casual environment. You can choose from shorts & skorts, leggings, pants, sports bras & crops, tops & tanks, sweatshirts & jackets, dresses & bodysuits and more.
Outdoor Voices is committed to fair trade and hence takes care of its stateside and overseas factory partners, prioritizing fair working conditions and ethical labor practices.
Based in: Austin, USA. Ships within the US and Canada.
Shop Outdoor Voices' sustainable activewear.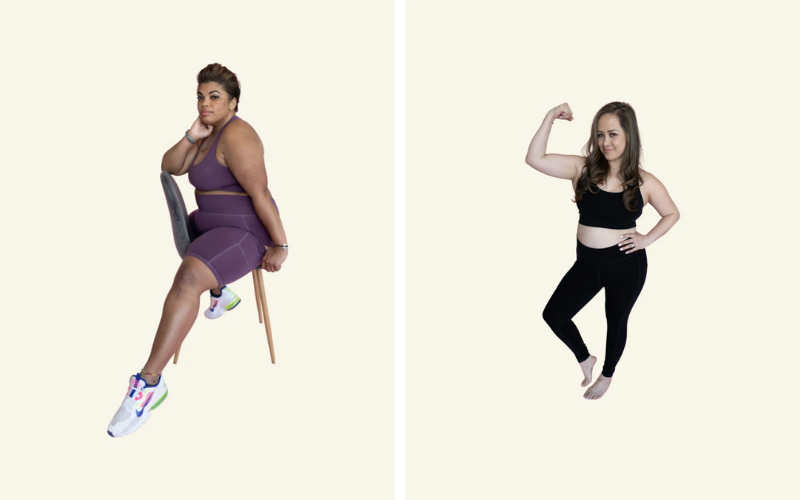 Reprise is an Eco-friendly activewear brand that creates polyester-free activewear made from TENCEL™. While 7% of the blend is spandex, the brand is working towards sourcing this portion of their fabric blend from plant-based sources too. The brand's sustainable workout clothes are super soft, ultra stretchy, and breathable.
Tencel is a clean and non-toxic material made from wood pulp and requires 80% less water to produce than organic cotton. It is grown without pesticides making it clean and safe for your skin.
Reprise's fabric is knit and dyed in Los Angeles, and its sewing factory is located in New Jersey.
To further promote sustainability, Reprise is working towards becoming water and carbon-neutral as a company in the near future.
Based in: USA. Ships within the continental US.
Explore Reprise's ethical workout clothes.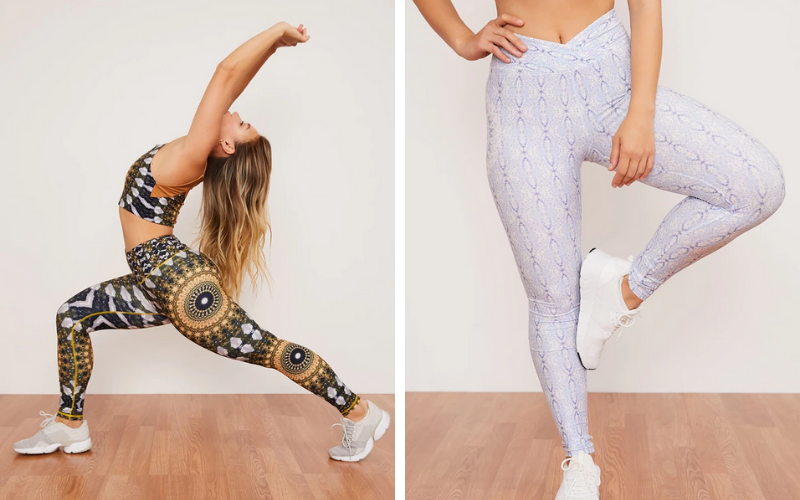 Wolven will have you saying goodbye to boring activewear, The brand has beautifully bold geometric joggers, sports bras, leggings, and shorts made from OEKO-TEX certified rPET from recycled plastic bottles.
The collection of activewear is produced in small batches in either LA or ethical factories in China. The brand's sustainable activewear is designed to support your active lifestyle — whether it's hiking, running, or yoga.
Wolven removes a pound of plastic waste from the ocean with every purchase you make.
Based in: Los Angeles, USA. Ships worldwide.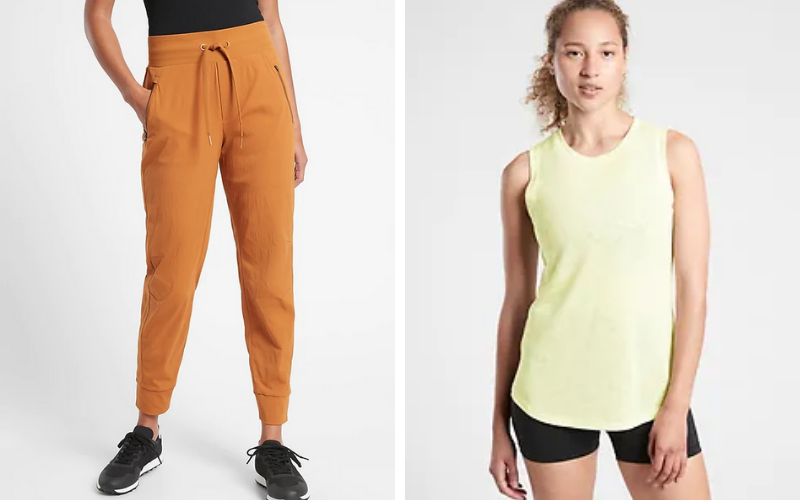 Athleta features ethical activewear made from sustainable materials including recycled polyester, recycled nylon, econyl, TENCEL, organic cotton, and more.
The brand has a range of activewear from tights for yoga to turtlenecks for cold-weather training to skorts for tennis and bathing suits for swimming.
76% percent of Athleta's materials are made with sustainable fibers and have quick-drying, anti-chafing, and water-resistant qualities. Their activewear comes in petite, tall, and 1X to 3X sizes.
Based in: California, USA. Ships in the US only.
Summersalt features an activewear line based on versatility and functionality, and it's gorgeous. The brand's activewear includes high-impact workout-ready pieces like sports bras, swishy shorts, and leggings.
These pieces come in fresh colors including a marbled blue, pale-green sage, high-sheen navy, and a vibrant ditsy floral. Summersalt leggings come with double seams for added structure and to feel completely smooth inside. They are made from a soft and silky fabric that has a liquid drape with enough heft to keep you insulated as you work out in the cooler months.
Summersalt activewear is eco-friendly and made using a recycled material that's crafted from plastic bottles and knitted into fabric.
Based in: Missouri, United States.
11. Allbirds
Allbirds is an activewear brand that is most popular for its sustainable sneakers but has now expanded into apparel. The brand's apparel is made from merino wool, Tencel, and TrinoXO, a new sustainable material made from marine life's discarded shells.
Allbirds' activewear collection has four pieces: A T-shirt that features a naturally derived fabric made from discarded seashells, a ZQ-certified New Zealand merino wool cardigan and jumper, as well merino and Tencel puffer.
The tees are perfect for yoga, dance, HIIT classes, or any other mid-high intensity exercise. They're light, breathable, and comfortable. The crab shells added to the tees help to reduce odor and stay fresh between washes.
Whether you're looking for your next pair of running shoes or your perfect gym tee, Allbirds has you covered.
Based in: San Francisco, USA. Ships within the Continental US.
Explore Allbirds activewear collection.
12. Threads 4 Thought
Threads 4 Thought is an affordable ethical and sustainable fashion brand with comfy basics and activewear for both men and women. The brand uses sustainable fabrics such as organic cotton, recycled polyester, and Lenzing Modal to make all its ethical athletic wear.
To further enhance its mission in sustainability, the brand collaborates with factories with industrial certifications. It has also partnered with the International Rescue Committee and donates a portion of its profit to benefit communities in need around the world.
Based in: New York. Ships worldwide.
Browse Threads 4 Thought eco-friendly activewear.
13. Patagonia
Patagonia has already made a name as one of the most ethical brands in the world because sustainability is at the core of its business model.
When it comes to its activewear, you can be sure that the quality will be high and you'll be able to find everything you need for your activity of choice, from clothing to accessories to backpacks.
The brand uses eco-conscious materials such as organic cotton, Tencel® lyocell, and hemp to produce its activewear. It also follows responsible manufacturing processes.
Patagonia donates (at least) 1% of its sales to help grassroots organizations protect the planet.
Based in: USA. Ships internationally.
Check out Patagonia's activewear.
14. prAna
prAna has been creating Fair Trade Certified clothing from sustainable materials, ideal for wearing in the great outdoors, yoga, or adventure.
The brand has a wide selection of activewear, menswear, and womenswear as well as accessories such as bags, eco-friendly yoga mats, and hats.
prAna's activewear is made from organic cotton and recycled wool. All its products are made in Fair Trade Certified factories.
The brand also adheres to the Responsible Down Standard, bluesign®-systems to remove harmful chemicals from the production process and responsibly dispose of them.
Based in: California, USA. Ships worldwide.
Take a look at prAna's sustainable activewear.
15. ourCommonplace
ourCommonplace curates functional, fashionable, and eco-friendly activewear that you'll feel good moving in. In this marketplace, you'll find ethical sportswear made by sustainable brands that you can trust.
These eco-conscious brands use high-quality post-consumer and recycled materials to create workout clothing for women that are not only trendy but environmentally safe as well.
The company features activewear designed for comfort and high performance. The workout pieces are sure to support your active lifestyle while defying fast fashion at the same time.
You can choose from a wide selection of fashionable leggings, bra tops, tank tops, and shorts.
Based in: Los Angeles, USA. Ships internationally.
Shop for ourCommonplace activewear.
What Makes Activewear Sustainable & Ethical?
Most of the mainstream activewear is made from fabrics such as polyester, nylon, and lycra. Such materials contain plastics and cause so much damage to the environment. When you wash such sportswear, tiny micro-plastics can break off and end up in our oceans affecting marine life.
According to statistics, the textile industry produces synthetic chemicals and dyes that cause almost 20% of industrial water pollution. Additionally, so much water goes to waste while producing clothes. For instance, 2.6% of our global water is used to produce cotton alone.
Sustainable clothing on the other hand causes minimal impact on the environment. Sustainable activewear is manufactured, marketed, and used in the most sustainable manner possible.
Brands that make sustainable activewear use recycled plastic ensuring many single-use plastics don't end up in the already overflowing landfills. Others use natural, biodegradable materials such as cotton and bamboo which come from renewable sources and have a low environmental impact.
Sustainable activewear is produced through careful and efficient use of natural resources such as water, land, and soil. Some brands go even further and use renewable energy sources.
Sustainable activewear brands also ensure they adhere to proper working conditions in the field, factories, transportation, and stores.
Related article: Ethical & Sustainable Clothing. Your Guide To Buying Eco-Friendly Fashion
By using natural and recycled fabrics and following fair trade and ethical labor practices, these brands are doing their part to provide consumers with high-performance activewear while protecting both people and the planet.
If you're looking to add more sustainable clothing to your wardrobe check our recommendations for best sustainable clothing brands and ethical pajamas.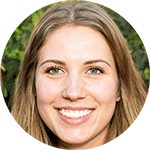 Jamie - Cofounder
Hi, I hope you enjoyed reading this article.
If you are looking for more ways to live an eco-conscious lifestyles, then check out our complete guide here.
Thanks for stopping by - Jamie