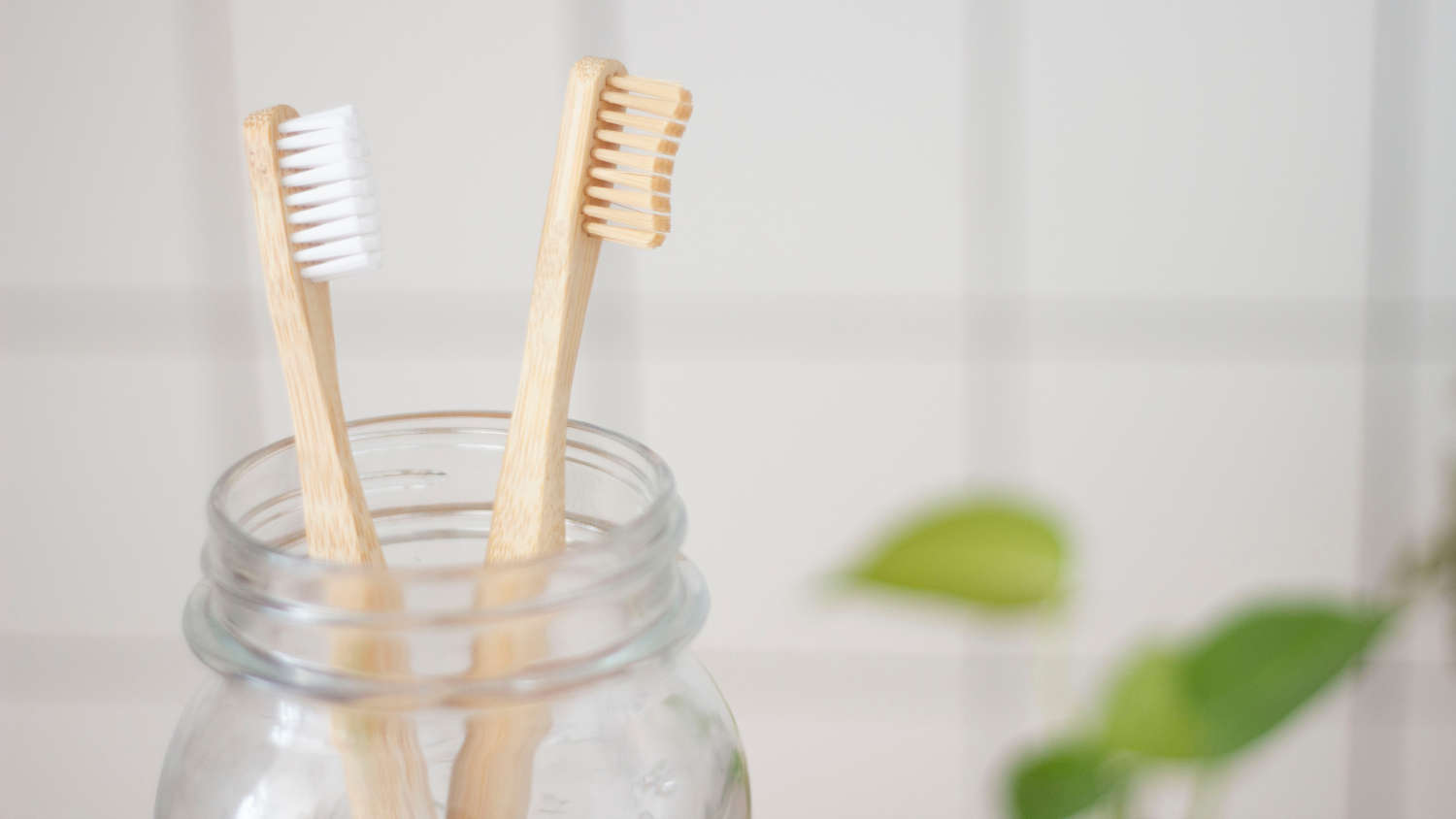 For the best oral care, we're advised to replace our toothbrushes every three months. With this comes millions of non-recyclable plastic waste.
So what is the environmentally-conscious person supposed to do if they want to avoid creating plastic waste? They sure can't stop brushing their teeth. Best solution: use an eco-friendly brush.
Yes, there are non-plastic toothbrushes in the market.
Interested in finding the best eco-friendly toothbrush? Check out our list of top 9 eco toothbrushes:
Our Reviews of the Best Eco Friendly Toothbrushes in 2020
1. Best bamboo toothbrush – Isshah
CHECK ON AMAZON
Bamboo makes the best eco-friendly toothbrush. The Isshah bamboo toothbrush is the perfect way to keep your mouth and the environment clean at the same time. These toothbrushes are biodegradable and come in 100% recycled biodegradable packaging.
The handle of the brush is made from smooth and all-natural bamboo that is long-lasting and water-resistant.
The brushes come in a pack of 4, giving you enough pieces to last you a year.
2. Best eco-friendly electric toothbrush – ISSA
If you prefer electric toothbrushes, here's an eco-friendly option. The ISSA electric eco-friendly toothbrush is quite handy and requires only a one-hour charge every 6 months. Other than its powerful and long-lasting battery, the toothbrush is made of silicone.
You only need to replace the head once a year unlike with plastic toothbrushes that you need to toss in the trash bin every 3 months.
3. Best bamboo charcoal toothbrush – Wowe
The Wowe toothbrush bristles are infused with charcoal that helps with whitening your teeth naturally. The toothbrush has an ergonomic design that makes it comfortable to use. The handle is made from bamboo and is water-resistant.
Wowe is cruelty-free and donates 1 percent of sales to One Tree Planted, an organization planting trees in deforested areas.
4. Best recyclable toothbrush – Preserve
CHECK ON AMAZON
Preserve toothbrushes are made from recycled number 5 plastic. They are some of the most durable toothbrushes around. You can choose from three different levels of bristle firmness.
Don't worry about disposing of them once you're done using them. Simply mail your old brushes to the company or drop them off at a "Gimme 5" bin at your local Whole Foods. The company will recycle them.
5. Best biodegradable toothbrush – Doc Omega
CHECK ON AMAZON
Doc Omega toothbrushes have medium-firm biodegradable nylon 4 bristles and bamboo handles. The handle is well sanded leaving no splinters.
These brushes come in a set of four brushes. Each brush has a different natural dyed head making it easy to tell them apart.
6. Best compostable toothbrush – BambooEarth
The BambooEarth toothbrushes are 100% biodegradable and recyclable including the packaging. You can throw them in your home compost after use without worrying about putting the environment in danger. Here's the nest part; if you're unhappy with your brushes, the BambooEarth offers a 100% money-back guarantee.
7. Best nylon biodegradable – Mother's Vault
Mother's Vault toothbrushes feature nylon bristles that are BPA free. The nylon bristles are soft and gentle on your teeth and gums.
The toothbrushes come in 100% recyclable packaging. Additionally, the company donates a portion of every sale to the Earthjustice charity, a non-profit environmental law organization.
8. Best wood toothbrushes – Vaireo
CHECK ON AMAZON
Vaireo toothbrushes are made from 100% natural untreated Moso bamboo that is sustainably grown. These reusable toothbrushes come in a pack of 6 long-lasting toothbrushes. The pack will last you an entire year.
What makes this wooden environmentally friendly toothbrush is the fact that they have high antibacterial properties that fight microbes while perfectly cleansing your teeth.
9. Plant-Based Plastic Toothbrushes – SimpliGood
SimpliGood toothbrushes are made from BPA-free, biodegradable plant-based plastics. The bristles are super soft, super fine and gentle on your gums. The toothbrush is packaged in an all-paper package.
A toothbrush may be a small piece of item in your house, but using an environmentally friendly toothbrush is one more small change that will add up to a big difference in saving the environment over the long-term.
About to replace your toothbrush? Consider getting an eco-friendly toothbrush instead of a plastic one that will linger a thousand years on Earth.
Also, before you go check out this extensive list of eco friendly products.