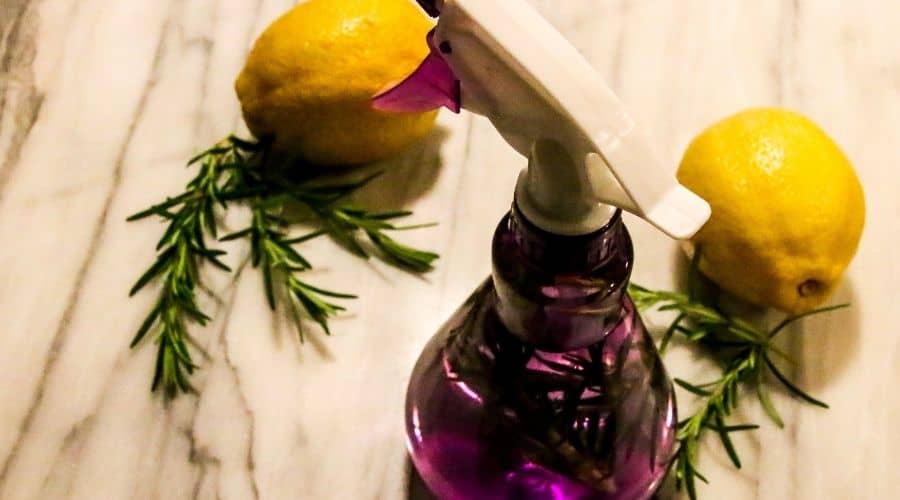 The stronger the detergent, the cleaner the house, or so we believe. Your favorite commercial cleaner that seems to make cleaning easier, unfortunately, is loaded with toxic and polluting substances.
As much as such cleaners do a good job to keep your home clean, the chemicals used to make them leave a devastating impact not only on the environment but your family too.
Fortunately, there are green cleaning products available that do as good a job but without affecting you, your family, and the environment. Most of these products are made by brands that are committed to protecting the environment so they use biodegradable ingredients, or produce products using safe and sustainable farming techniques.
With such products, you can practice green cleaning at home. Green cleaning essentially involves cleaning using products and procedures that are safe for the environment. The products you use should not have toxic chemicals like phthalates, sulfates, ammonia, chlorine, sodium hydroxide artificial fragrances or artificial colors. Think natural ingredients such as lemons, vinegar, or baking soda.
By adopting green cleaning practices, you will not only be protecting yourself and your family but also saving the environment from the harmful effects of toxic chemicals.
Natural Green Cleaning Supplies
Making your own homemade cleaning products is quite easy. The best part is that chances are that you have most ingredients already in your kitchen.
Here is a list of common, environmentally safe ingredients that you can use alone or in combination, for all your cleaning needs.
Baking soda
Baking soda, also known as bicarb powder, is an effective antiviral agent perfect for removing grease and grime. It makes a great cleaning agent, especially when used together with vinegar.
White vinegar
Vinegar is a multi-purpose product that you can use to remove almost any type of stain including grease, dirt, odors, mold, and mildew. Add a few drops of your favorite essential oil to counter vinegar's slightly off-putting smell.
Lemon juice
Nothing says "clean house" more than the awesome smell of lemons. Natural lemon juice removes mildew, mold, grease, and shines hard surfaces.
Alcohol
Alcohol is an excellent disinfectant. However, for safety purposes use isopropyl alcohol (also known as rubbing alcohol) or grain alcohol for cleaning purposes.
Hydrogen peroxide
Hydrogen peroxide is commonly used to disinfect wounds. You can use it around your home to disinfect your kitchen or bathroom. It's also an excellent stain remover for fabrics and grout, thanks to its mild bleaching effect.
Essential oil
Want a nice smelling home? Buy essential oils. In addition to making your home smell nice, adding some essential oils such as lavender or tea tree oil into any natural cleaning recipe will remove bacteria.
Some of the best essential oils for cleaning are:
Lemon
Lavender
Eucalyptus
Tea Tree
Wild Orange
Salt
Salt is not just for your food, it's also a versatile mineral perfect for scouring off dirt. Salt also boosts the cleaning effects of other ingredients, such as vinegar or bicarbonate of soda, when combined together.
Soap nuts
Soap nuts are berries that produce a natural soap, known as saponin. This soap foams up really well and is great for removing grime. You'll love how it smells once you mix it with water. Soap nuts are also anti-fungal, anti-bacterial, and anti-microbial.
Detergent
Use environmentally friendly cleaning detergent that's PH neutral, fragrance-free, and septic tank safe. Detergent is great for removing dirt and grime.
Best Homemade Green Cleaning Recipes
With these green cleaning supplies, you can easily make your own eco-friendly cleaner at home. Here are a few recipes you can follow to make different cleaning products suitable for all your cleaning needs.
1. All-purpose cleaner
Create an all-purpose cleaner that you can use all over the home to wipe down surfaces, and sanitize your home. Combine equal parts of white vinegar and water. Add about 10 drops of essential oils to mask the vinegar smell if you find it offputting. You can also substitute essential oils with the rind of lemons or oranges. While this all-purpose cleaner will remove almost every stain around your home, don't use it to clean marble, stone, or granite surfaces.
2. DIY grease cleaner
This grease cleaner will make it easier to remove tough grime from your stove hood, oven racks, and grill grates. To make it, combine 1/2 cup sudsy ammonia with enough water to fill a one-gallon container.
3. Homemade floor cleaner
This is probably the easiest way to have clean floors. Simply add 1/4 cup of vinegar to your bucket of hot water and a squeeze of castile soap then scrub away!
4. Heavy-duty homemade scrub
Say goodbye to the rust stains on your porcelain or enamel sinks and tub. Take 1/2 lemon and dip it in 1/2 cup borax powder and use it to scrub your surface, then rinse. Borax is easily found in the detergent aisle.
5. Natural glass cleaner
This green cleaning recipe will leave you with sparkling clean windows and mirrors. Combine 1 cup rubbing (isopropyl) alcohol, 1 cup water, and 1 Tbsp. vinegar. You can also use this mixture to shine hard tiles, chrome, and other surfaces.
6. DIY toilet cleaner
Combine 1 cup white vinegar, 1 Tbsp. bicarbonate of soda and 10 drops of your favorite essential oil. Give it a good shake and then pour the mixture into your toilet basin. Let it sit for a few minutes, then scrub with the toilet brush.
7. Homemade wood cleaner
Combine 2 tablespoons of olive oil, 1 tablespoon of white vinegar, and a quart of warm water in a spray bottle. Spray the mixture onto wood and then dry with a soft cloth. Be sure to wipe off well when using this cleaner for your wooden floors as olive oil leaves a slippery residue.
8. Natural laundry detergent
It's very difficult to find organic cleaning products for your laundry unless you make it yourself.
To make laundry detergent, combine 1 cup washing soda, ½ cup baking soda, ½ cup citric acid, ¼ cup salt and 1 bar of finely grated glycerin soap, finely grated. Add all the ingredients in a jar with a lid.
9. Homemade stain remover
What's a home without stains! Remove stains with this green cleaner. Mix together 1/4 cup white vinegar, 1/4 cup bicarbonate of soda, a squeeze of any liquid soap, and 2 cups of water. Shake the mixture and keep it in a spray bottle to use whenever you have a tough stain to clean.
What are the Best Green Cleaning Products?
No time to make your own green cleaning products? Worry not, there are some pretty good natural cleaning products in the market today. These products are natural, eco-friendly, and the brands making them are conscious of your family's health and the environment.
Here are some of the best green cleaning products to choose from.
1. Method
Method is quite common in American homes. The company uses naturally derived, non-toxic ingredients to make all its cleaning products. They also use eco-friendly packaging and are cruelty-free. Method has a line of cleaning products that includes a handwash, all-purpose cleaning wipes, and laundry detergent packs.
2. Common Good
Common Good produces biodegradable cleaning products naturally break down quickly without leaving any toxins in the environment. These products come in plastic or glass packaging, which you can refill at any of their refill stations worldwide. Popular Common Good products include the Lavender All-Purpose Cleaner and Bergamot Hand Soap.
3. Mrs. Meyer's
Mrs. Meyer's products are created using natural ingredients giving you a safe, spotless cleaning experience. These products come is sweet-smelling scents such as floral, basil, and honeysuckle. You can see what exactly goes into each product from the ingredient glossary on their website.
4. Ecover
Ecover's products are made from naturally-based solvents, agents, and packaging materials. They also carry a Fragrance-Free line of soaps and detergents that are perfect for babies and adults with sensitive skin.
5. Kitchen stone
Kitchen stone produces an eco pumice-like cleaning block made from recycled glass bottles. The stone works well on hot or cold surfaces and can be safely used on most kitchenware including ovens, ceramics, glassware, pots, pans, and other cooking surfaces.
Why Green Cleaning Is Important
Choosing green cleaning comes with a whole lot of benefits for you, your family, and the environment. Here are a few ways green cleaning will change your life:
1. Healthier home and family
Organic cleaning products do not contain any toxic chemicals, therefore, you and your family are protected from exposure to toxic substances and fumes. You also don't have to worry about itchy skin, eyes, a running nose, constant coughing, or other side effects associated with harmful toxic chemicals when cleaning with green products.
2. Your items will last longer
One of the best benefits of switching to green cleaning products is that their effects tend to last much longer. Commercial cleaning products are full of all kinds of harsh chemicals which tend to negatively affect the texture and life of most household items. With green cleaning products, however, there are no chemicals to affect the life of your belongings.
3. Save money
Commercial cleaning products can be quite costly. Save money by making your own green cleaning products. You can also buy eco-friendly all-purpose cleaners that do multiple jobs, Due to the high variety of natural products, organic cleaning products have now become cheaper compared to conventional cleaners.
4. Make cleaning easier
Having a few products that take care of your general cleaning needs instead of a whole arsenal of toxic products makes cleaning easier. You can get multiple cleaning jobs without having to switch products. For instance, vinegar can easily remove mold and mildew, clean windows toilet bowls, and more.
5. Better transparency of ingredients
Most green cleaning brands due to their commitment to sustainability and environmental conservation, will usually fully list their ingredients. In most cases, these are common natural ingredients we are all familiar with.
6. Cleaner, fresher air quality
There are people who are sensitive to the strong smell of chemical odors and fragranced household products make their skin itch. Such products contain phthalates, which are known irritants. Green cleaning products, on the other hand, use natural fragrances or essential oils that are safe even to the most sensitive people.
7. Overall safety
When you abandon traditional cleaners for environmentally-friendly ones, you create a safer atmosphere for you and your family especially young kids susceptible to chemical poisoning.
Conclusion
Cases of asthma and allergies are on the rise. Pollution is also on a worrying trajectory. Toxic chemicals in everyday products are a huge contributor to this and also to water pollution.
Switching back to basics, and trying green cleaning could be the best thing you'll do for your family and the environment today and for years to come!