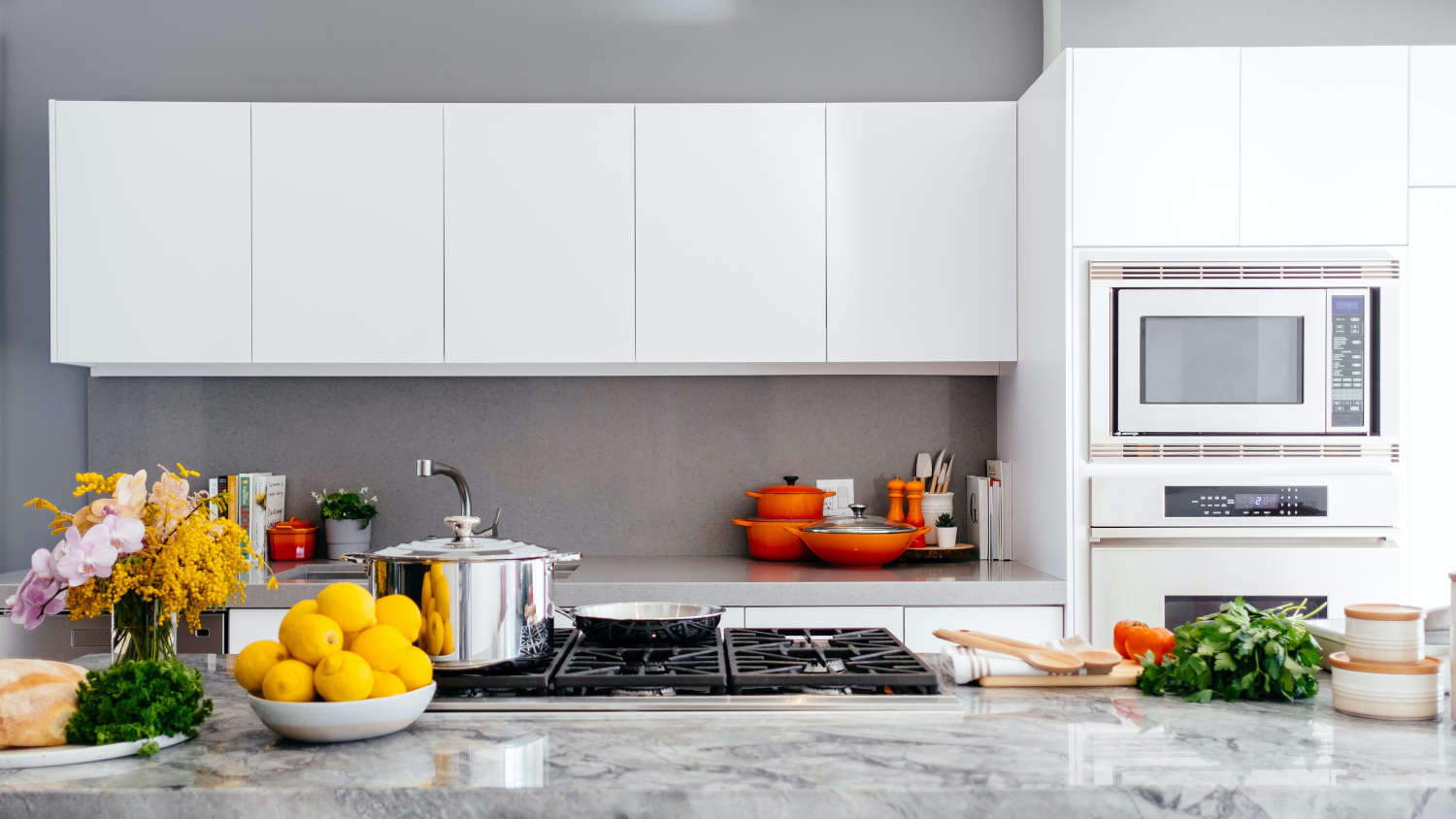 You probably already do your best to recycle and compost stuff around your kitchen. Now you're looking to start using eco-friendly kitchen products to make your home even more environmentally concious.
Admittedly, this isn't always easy. But with a few swaps here and there you can do it.
Here are 24 sustainable kitchen products that will help you achieve your goal of having a full eco-friendly kitchen.
Our Reviews for the Best Eco-Friendly Kitchen Products
Food Storage
1. Bees Wrap
Kiss cling film goodbye with Bee's Wrap. Bee's wrap will keep your food fresh for longer. These wraps are made of organic cotton treated with jojoba oil and tree resin. They are washable, reusable, and compostable.
2. Stasher silicone food bag
Replace your plastic baggies with Stasher silicone food bags. These bags can be thrown in the dishwasher, you can use them to freeze your food and even heat it in the microwave.
3. Food Huggers reusable silicone food savers
Food Huggers reusable food savers are awesome eco-friendly kitchenware when it comes to preserving half cut fruits and vegetables. These silicone caps provide an airtight seal on your food.
4. Utopia kitchen glass food storage container set
These Utopia glass food storage containers are made of highly durable borosilicate glass and each comes with a transparent polypropylene (PP) lid. They are safe for use in an oven and freezer.
5. Vejibag organic cotton vegetable preservation bag
Vejibag organic cotton vegetable preservation bag is an environmentally conscious pouch that allows your veggies to breathe, so they stay fresh for longer.
6. Wegreeco reusable bowl covers
The Wegreeco reusable bowl covers have elasticized edges that cover your bowls snugly. You can easily wipe them down or wash them in the washer.
7. Elegant Live microwave food covers
These Elegant Live food covers are made of silicone so you don't have to worry about leaching. Each set comes with covers of ranging sizes so you can cover everything from a small cup to a large mixing bowl.
8. Bormioli Rocco Fido clear jar
These Bormioli Rocco Fido canning jars will not only keep your foodstuff fresh for longer but also keep your pantry looking pretty and organized.
Beverage containers
9. Stojo Collapsible coffee cup
The Stojo coffee cup is made of silicone, has a plastic lid and a heat sleeve. The cup has an airtight and leak-proof mouth tab. Once you're done drinking your beverage, you can fold it up into a two-inch disc and easily put it away.
10. YETI Rambler stainless steel vacuum insulated tumbler
Get rid of all your disposable coffee cups and replace them with the Yeti insulated beverage cup. You can use it for hot drinks, cocktails while camping, and everything in between. The stainless steel is indestructible, making it a great option for people who travel a lot and are active. Just clip one to your backpack or toss it in your bag and never have to rely on plastic and paper containers again.
11. Klean Kanteen stainless steel water bottle
Cut down on buying plastic bottled water by carrying your own refillable water bottle. The Klean Kanteen bottle is made from durable, double-walled stainless steel. It will keep your hot beverages hot for up to 12 hours, and cold beverages cold for up to 24.
Grocery Bags
12. Colony Co. reusable produce bags
Don't carry your groceries in plastic shopping bags. They just fill up our planet with plastic pollution. Colony Co. reusable produce bags are made from biodegradable cotton that is easy to decompose.
13. Esse reusable folding grocery bag
The Esse reusable grocery bag can hold up to 35 pounds of groceries and has pockets making it easy for you to separate your groceries.
14. Linen bread bags
If you're buying bulk items like rice and lentils, carry them in these linen bread bags. They are made using flax linen and will keep your groceries dry and fresh.
Cleaning Products
15. Kitchen + Home bamboo towels
These bamboo kitchen towels look and feel just like a paper towel, however, they are made from bamboo which makes them reusable for up to 120 times. One roll lasts six months, making them a steal.
16. Mrs. Meyer's clean day liquid dish soap
Mrs. Meyer's liquid dish soap is cruelty-free, plant-based, and has a lovely clean, basil scent. Use it to wash your dishes and leave them smelling fresh all day.
17. Skoy eco-friendly cleaning cloths
Skoy cleaning cloths are made from a mixture of wood and cotton. They are long-lasting and easy to clean. They also dry really quickly and are biodegradable. One Skoy cleaning cloth can replace 15 paper towels.
18. Twist scrub sponges
The Twist scrubbing sponges are plant-based sponges made of cactus. Unlike other sponges, these ones have no plastic, dye, or toxic glues.
19. Utopia kitchen flour sack dish towels
The Utopia kitchen dish towels are multipurpose and can be used countless times. You can use them to dry hands, wipe stains, clean windows, as cheese strainers, salad spinners, dish rags, as cloth diapers, sweating out vegetables, and as dust cloths. With these towels, you will have a clean eco-friendly kitchen in no time.
20. UNNI compostable trash bags
UNNI compostable trash bags are some of the best eco-friendly kitchen products you'll choose. Plastic trash bags are one of the highest sources of plastic pollution so replacing them with these biodegradable bags is a huge thing. These trash bags are made from plant starches and contain no polyethylene. They are durable, non-toxic, easy to use, and great for the environment.
21. No Tox Life dishwashing block
To remove plastic bottles of dish soap from your kitchen, try this No Tox Life dishwashing soap bar. The soap is made of vegan and biodegradable ingredients and is effective at cutting grease. It is also long-lasting.
22. Joseph Joseph ventilated compost bin
The Joseph Joseph ventilated compost bin snaps closed and keep odors trapped in. It also has a replaceable carbon filter that sucks odors and keeps your kitchen smelling fresh.
23. iTouchless dual compartment trash bin
The iTouchlessual dual compartment trash bin will separate your garbage from your recycling allowing you to be consistent with recycling and run a sustainable kitchen. It has a pretty sleek design that will look good in your kitchen.
24. Second Nature compostable trash bags
Grab a pack of Second Nature compostable trash bags made from sugar cane, plant starches, and vegetable oils. These bags are strong and durable and don't leak or tear even when they're stuffed full.
With these 24 eco-friendly kitchen products, we guarantee you that you will kiss your wasteful ways goodbye in no time!