Whether you're looking for an accessory to add to your wardrobe or a thoughtful gift for a loved one, choosing sustainable jewelry is the best thing you can do for the planet.
There are plenty of amazing ethical and sustainable jewelry brands selling beautiful pieces that will definitely tickle your fancy.
Today, we've rounded up 10 of the best sustainable jewelry brands that are dedicated to producing high-quality, stylish jewelry that is sourced and manufactured ethically.
Our Reviews of the Best Sustainable Jewelry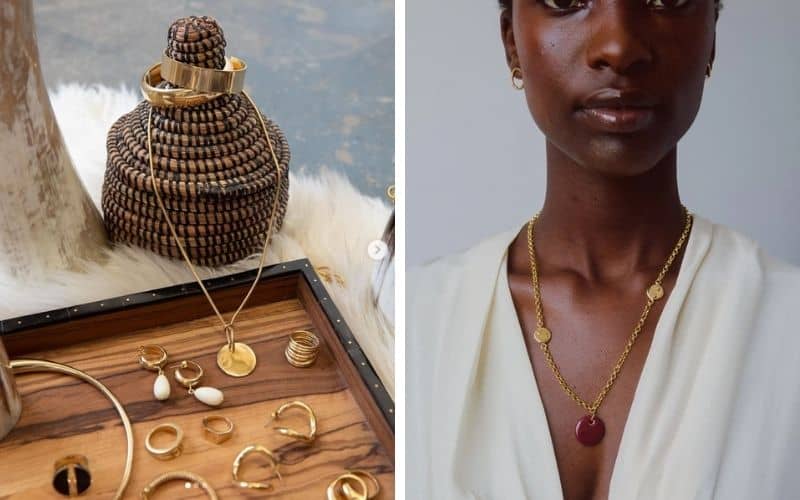 Soko features a stunning jewelry collection of luxury pieces as well as minimal classics. The brand's pieces are all inspired by traditional tribal designs.
Soko collaborates with marginalized artisan entrepreneurs around the world to build timeless jewelry in a bid to empower them. Soko provides its artisans with mobile tools that give them access to consumers, orders, and payments. This further helps the artisans to expand their businesses and entrepreneurial endeavors.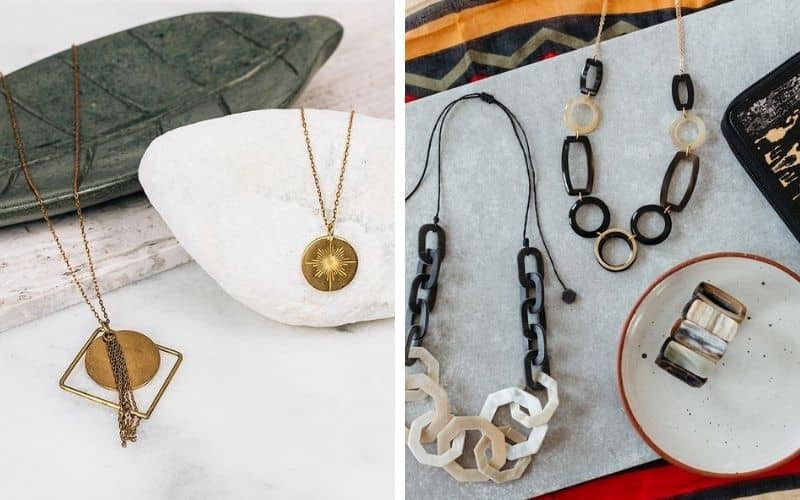 Ten Thousand Villages sells jewelry crafted by independent small-scale artisan groups, co-ops, and workshops. Their jewelry is crafted using local materials producing some of the most unique, sustainable gifts you'll find.
The brand has been part of the fair trade movement for over 70 years. This fair trade jewelry company has also been providing sustainable empowerment and employment opportunities to over 30 developing countries.
Sustainable jewelry is the way to go if you want to be the stunning fashionista who is also eco-conscious. Looking for gorgeous jewelry to complete your look? Buy some from any of these ethical jewelry brands!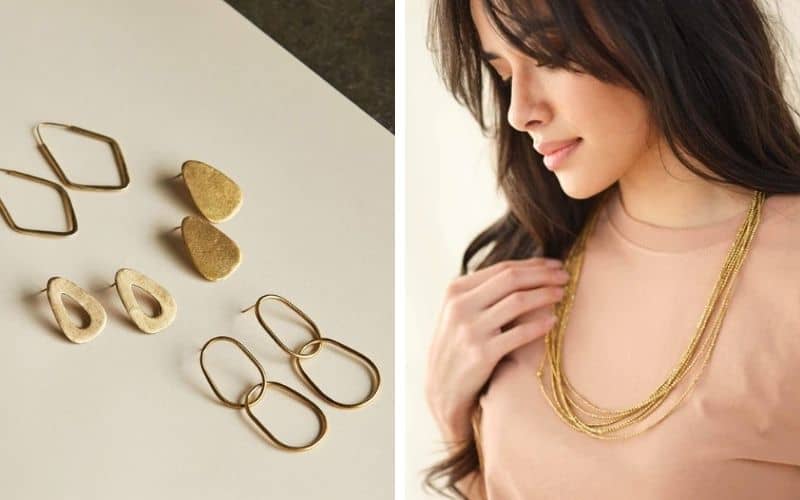 Nisolo has an exquisite jewelry line that is produced in collaboration with local artisans in Peru, Mexico, and Kenya.
This brand is not only concerned with producing beautiful products but also puts the dignity of all its employees first. Nisolo ensures that its artisans receive better-than-fair wages and good working conditions.
4. Bario Neal
Bario Neal produces gorgeous custom jewelry using precious, carefully sourced reclaimed and recycled metals.
The brand is fully committed to social justice and making eco friendly and sustainable products. Bario Neal was one of the first jewelry companies to participate in the Fairmined Assurance label.
To further its commitment to sustainability, the company offers Fairmined gold extracted by responsible miners who meet rigorous environmental and social standards.
Smiling Rocks creates stunning jewelry using lab-grown sustainable diamonds. You can custom make rings, necklaces, earrings, and bracelets to suit your style and wallet!
The brand is committed to giving back and therefore, donates 10% of your purchase to a charity of your choice.
Related article: Best Ethical Engagement Rings
6. Accompany
Accompany is your store of choice for the most original, ethically made jewelry. The company sources its jewelry from indigenous communities who use responsibly sourced materials, such as Colombian wood, for their pieces.
With its gorgeous pieces, Accompany is able to bridge the gap between artisan-made jewelry and direct-to-consumer needs.
7. Starfish Project
Starfish Project sells craft jewelry made by vulnerable women. Their ethically sourced jewelry pieces are gorgeous and will suit your everyday style.
The brand offers shelter, counseling, employment, and education to women escaping human trafficking and exploitation in Asia.
To promote fair trade, the Starfish Project has so far hired over 140 women to craft its jewelry and also work in manager, accountant, graphic designer, and photographer roles.
8. Gjenmi
Gjenmi produces jewelry that celebrates women, is made using quality materials, and is conflict-free.
The brand's handcrafted pieces are inspired by antique and vintage jewelry leaving them with a timeless, feminine air.
Gjenmi's super pretty and eye-catching jewelry is locally made in Los Angeles, CA. The pieces are made using recycled gold and conflict-free stones.
Gjenmi offers a stunning range of rings, necklaces, bracelets, and earrings to choose from. You can also customize your own ring stack.
9. 31 Bits
31 Bits fashionable, high-quality jewelry is produced by female artisans in Uganda.
The company supports sustainability and the welfare of its artisans by offering them counseling, health care, financial education, and business mentorships.
For every purchase you make, the company donates some proceeds to empower women in Uganda.
10. Aurate
New York City-based Aurate sells locally crafted stunning gold ethical jewelry.
The brand's jewelry is inspired by NYC icons such as historic building doorknobs and the Brooklyn Bridge. The pieces, therefore, come with flair and style, making them perfect for the modern woman.
Frequently Asked Questions About Sustainable Jewelry
What is sustainable jewelry?
Sustainable jewelry is produced in a way that promotes economic, social, and environmental sustainability of the localities where the jewelry materials were sourced, mined, processed or manufactured.
What is ethical jewelry?
Ethical jewelry is jewelry that has no negative impact on the people who make it, or the environment they're produced in. This is jewelry made using materials that have been produced in an ethical way, eg, fair-trade materials and conflict-free diamonds.