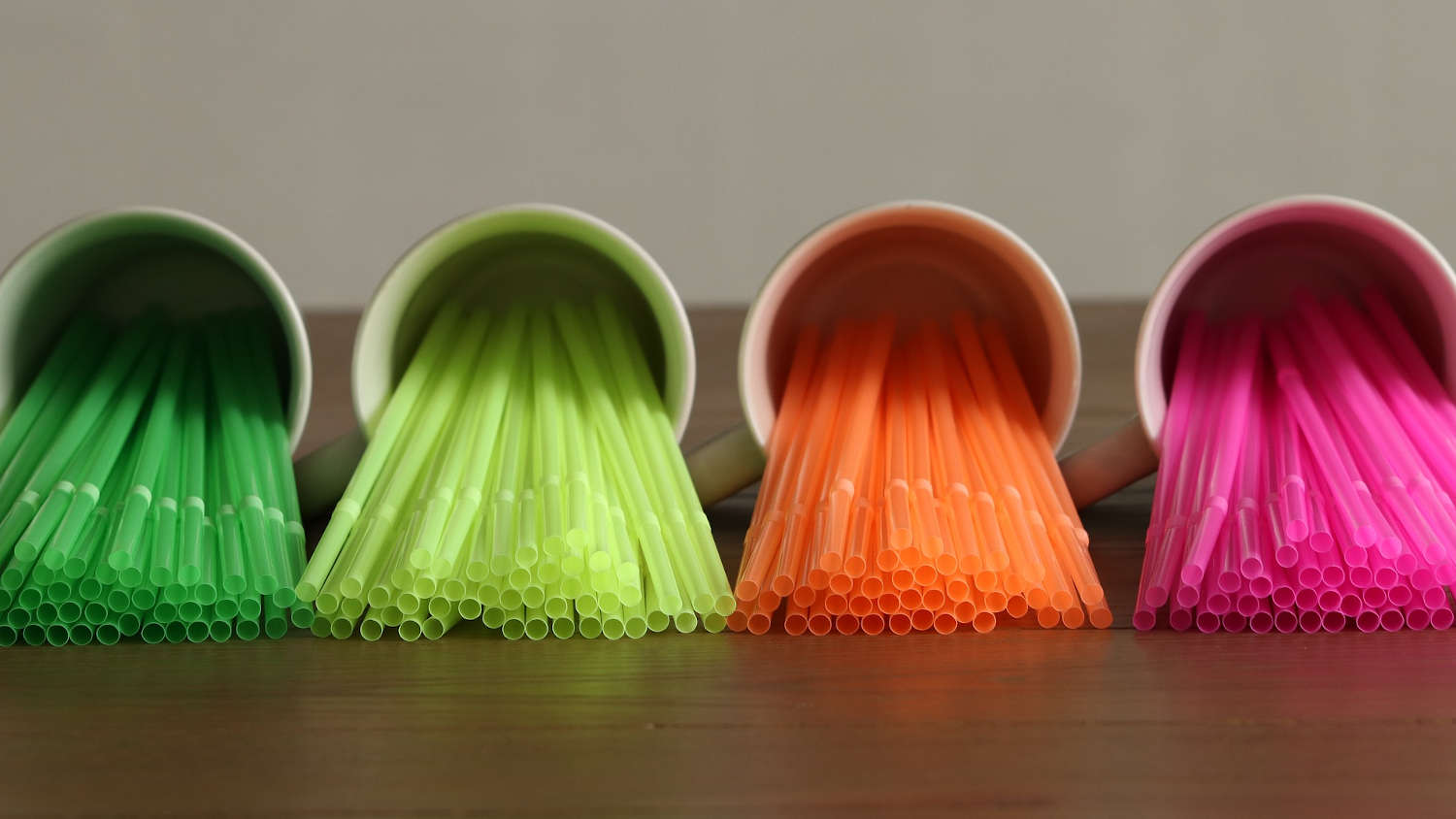 Did you know that 500 million single-use plastic straws are thrown in the trash every day in the United States alone? There's absolutely no problem with using straws. But here's the issue: all this plastic ends up in landfills or in the streets and worse still in the oceans, posing a great danger to the marine life.
The problem with anything made of plastic is that it's not biodegradable and therefore takes hundreds of years to be broken down.
So what do you do if you want to reduce this plastic pollution and still need a straw to sip your favorite drinks? Use a reusable straw.
Yes, there are reusable straws available in the market.
So make a difference and refuse plastic disposable straws from now on and start reusing some of the best reusable straws available. Not sure where to start? We've rounded up 15 of the best alternatives to straws that you can consider.
Our Reviews of the Best Reusable Straws in 2020
1. Best reusable straws overall – Klean Kanteen
CHECK ON AMAZON
The Klean Kanteen reusable straws are made from both stainless steel and silicone. Stainless steel, while a great alternative to plastic as it is durable and reusable, tends to conduct heat or cold very quickly. This can make it uncomfortable to drink both iced and hot drinks, especially if you have sensitive teeth or lips.
The additional silicone toppers on Klean Kanteen straws offer you a cushiony layer that prevents the steel straw from being too hot or too cold.
2. Best budget-friendly reusable straws – SipWell Stainless Steel Straws
Sip your drink with these great budget-friendly reusable metal straws. The SipWell drinking straws come in a set of four straws made of scratch and rustproof stainless steel. The set also contains a cleaning brush. The straws are also dishwasher safe so you don't always have to handwash them.
3. Best foldable reusable straw – Yoocaa
Yoocaa makes foldable reusable drinking straws that you can carry everywhere you go. These straws are made of BPA-free silicone. They come in a pack of two cases with each case containing a foldable straw and one cleaning brush. The cases have keychains for easy carrying.
4. Best bamboo straws – Buluh Straws
Bamboo is a great material for making eco-friendly products and it's no different when it comes to straws. It's also a great material for people worried about chipped teeth as well as for kids.
The Buluh straws are sustainable and biodegradable. They also don't transfer heat like steel or glass. The set comes with a cleaning brush and a carry bag.
5. Stainless Steel Straws – Greens Steel
CHECK ON AMAZON
The Greens straws come in a pack of four stainless steel straws and a cleaner that makes it easy to clean out any dirt in your straw. This brand offers variety in shape and length to suit all your drinking needs.
6. Best collapsible straws – FinalStraw
CHECK ON AMAZON
These are another great option for on-the-go sipping. You can collapse these straws and pack them in their cases for easier carrying. The colorful carrying cases fit easily into a purse or pocket making them a great option when you're traveling.
7. Best glass straws – Hummingbird
CHECK ON AMAZON
Glass straws are simply cool and eco-friendly. The Hummingbird straws are made from strong shatter-resistant glass. They are wide, clear and easy to clean. Because they are see-through you can easily tell when they are dirty. They don't get hot making them a good option for warmer beverages, too.
8. Best silicone reusable straws – Softy Straws
CHECK ON AMAZON
Softy straws are super-flexible and wide making them ideal for a variety of drinks. They are also colorful and come with their own silicone cleaner for easier cleaning. You will love the soft feel of the silicone.
9. Best reusable straws full set – M MOZACI
CHECK ON AMAZON
Not sure whether you want a stainless steel straw or silicon straw? Why don't you try them both? The M Mozaci reusable drinking straws come in a set of 12 straws. Each set contains four stainless steel straws that have silicone mouth tips and 8 silicone straws.
The set also comes with three convenient cleaning brushes and a pouch. This set is especially great for a family that wants to shift to an alternative to plastic straws together.
10. Best eco-friendly straws for smoothies – ALINK
To enjoy your smoothie you need a straw that is wider than the normal straw so that the fruits and veggie pulp don't get stuck in the straw.
ALINK smoothie straws are adequately wide and 12″ long, so they'll fit in tall glasses or travel tumblers. They are made from sturdy silicone that can handle heat or cold. They are a perfect choice for milkshakes, blended cocktails, and other thick drinks.
11. Best organic straws for hot drinks – Slender
CHECK ON AMAZON
Slender straws are made from silicone and are great for hot liquids since they won't absorb the heat from the liquid. They are thin, bendy and about 8″ long so they fit nicely in a to-go coffee cup. The straws come in a set of five straws in different colors. They also come with a special silicone squeegee that you can slide through the straw to remove any particles stuck in it.
12. Best reusable straws for kids – Housavvy
CHECK ON AMAZON
Housavvy straws are 5.3″ long and a great option for kids drinking out of small cups and tumblers. They are made from silicone and safe for kids who are likely to chew on the straws. They come in a set of 12 straws in a variety of colors for your kids to pick from.
13. Best biodegradable straws – NaturalNeo Organic Bamboo Straws
Organic straws are some of the best reusable straws you will find. The NaturalNeo organic bamboo straws made from bamboo are safe to drink from and are easy to clean with a non-plastic coconut fiber cleaning brush. The set comes with 10 beautiful straws in a bag. These straws are biodegradable so you can throw them in your compost after multiple uses.
14. Best for Cocktails – Mason Jar Lifestyle Short Thin Bent Stainless Steel Straws
Cocktail straws should be short and thin to allow you to enjoy your drink from a cocktail glass. These stainless steel straws are 6 1/2″ long and bent making them perfect to use in a margarita glass or a half-pint mason jar.
Drinking straws are tiny that it never occurs to you that you're using too many of them too fast. Save the environment from further plastic pollution by using these top best reusable straws!