How often do you check the ingredients in your lipstick or your mascara, or eyeshadow? Do you know what is used to make your makeup? Chances are you don't.
What you also may not know is that most traditional makeup contains many chemicals that are harmful to your health and the environment.
Luckily, more and more eco-conscious people (like you!) have increased consumer demand for zero waste makeup alternatives. Now a lot more options of zero waste cosmetics have become available. These options have minimal impact on your health and minimal impact on the planet.
Best Zero Waste Makeup
Check out 12 of the best no waste makeup brands that create products made with safe, earth-friendly, high-quality ingredients:
1. ILIA
ILIA Beauty features an array of makeup and personal care products. Its product line includes high-quality skin tints, priming powders, bronzing powders, eyeliners, lip tints, and many more. The brand uses clean ingredients as much as possible when making its makeup. All their products are free from sulfates, parabens, gluten, and talc. They're also cruelty-free.
What makes Ilia Beauty stand out is its efforts on minimalism and recycling. It has a take-back program that accepts used makeup containers from all brands and recycles them through TerraCycle. You can mail the company up to five empty beauty products per month, from any brand, for recycling.
Based in: California, USA. Ships internationally.
2. RMS Beauty
RMS Beauty is one of the most popular plastic free makeup brands. The brand started prioritizing clean ingredients in 2009 and is recognized by many conventional outlets like Allure, InStyle, Vogue, and more.
The company uses organic and toxic-free ingredients for all its products. Additionally, it places thought into the materials used for its packaging. Its cream products come in recycled glass pots. Its boxes are made from 80% post-consumer recycled fiber and manufactured using 100% wind power.
All RMS Beauty products are non-GMO, soy-free, gluten-free (except for the volumizing mascara), and cruelty-free.
Based in: South Carolina, USA. Ships internationally.
3. Kjaer Weis
Kjaer Weis is a luxury brand that's also organic and eco-conscious. It offers a wide range of cruelty-free, all-natural lipstick, lip gloss, blush, foundation, mascara, and eye shadow. The products come in stunning white bronze compacts, and the refills come in 100% recyclable cardstock.
All of Kjaer Weis' ingredients are certified natural or Certified Organic by Italy's certifying body, the Controllo e Certificazione Prodotti Biologici. All its products are free from parabens, silicones, petrochemical emulsifiers, and synthetic fragrances.
Based in: New York, USA. Ships internationally.
4. Aether Beauty Zero Waste Makeup
Aether Beauty is a clean and sustainable beauty brand that uses organic, fair-trade, vegan, and non-GMO ingredients wherever possible. It has also banned over 1500 ingredients from its formulas.
The brand vets each ingredient to ensure it's clean, nontoxic, and complies with its sustainability practices. This ensures that its products are not just a shimmery lid or an illuminated cheekbone; it's beauty with lasting skin benefits with nourishing, good-for-you ingredients. Their eyeshadow palette is completely paper, and the packaging is almost entirely recyclable.
You'll love how good the eyeshadows look on you. They're infused with crystals to illuminate and transform the skin on a deeper level. Rose Quartz, Diamond, Amethyst, Tourmaline, Ruby, Amber, Topaz, and Sapphire help to awaken you to your power, your purpose and bring light to your spirit.
Based in: California. Ships internationally.
5. Tata Harper
Tata Harper is a pioneer in natural luxury skin products that primarily sells skincare. Still, they do have a few organic cosmetic products as well. All its products are formulated, manufactured, and packaged by hand on their farm in Vermont. Its ingredients are certified ECOCERT, vegan, and cruelty-free.
The majority of their packaging is glass, which means it's easily recyclable or reusable. The plastic resin that is used for bottles is made from renewable sugarcane instead of petroleum. The outer packaging is made from cardboard and paper that's either SFI (Sustainable Forestry Initiative) certified and/or made from post-consumer recycled waste and soy-based inks.
Based in: Vermont, USA. Ships internationally.
6. Axiology Waste Free Makeup
Axiology is a luxury lipstick specialist that makes some of the best organic lipstick on the market. 70% of the ingredients used to make its products are organic. Additionally, everything is certified vegan and cruelty-free and is entirely free of palm oil, gluten, soy, and synthetic fragrances.
The lipstick tubes are made of aluminum which is one of the most widely recyclable and compostable materials.
If you love beautiful bold colors, you'll love Axiology's lipsticks. They also carry some gorgeous neutrals.
Based in: Oregon, USA. Ships internationally.
7. Elate Cosmetics
Elate Beauty offers an extensive range of sustainable products that don't compromise the health of any person, animal, or planet. The brand is a firm believer in conscious beauty, centered around the intentional, purposeful, and ritual side of wearing makeup.
The brand runs a line of eye makeup (pressed and loose powder, zero waste mascara, eyeliner, and brow balm), face makeup (foundation, powder, concealer, blush, highlighter, bronzer), lipstick, lip gloss, palettes, and kits.
All these products are Cruelty-free International certified, PETA certified vegan, and gluten-free. The brand is committed to phasing out a couple of non-natural ingredients to be all truly 100% natural.
Elate Beauty gives back a portion of its profits to social and environmental non-profit organizations.
Based in: Victoria, Canada. Ships worldwide.
8. Antonym Cosmetics
Antonym is a well-known waste free makeup brand whose natural makeup line offers professional-level performance without compromising the integrity of the makeup ingredients.
All its makeup is certified by ECOCERT. The products and packaging are third-party verified to be up to specific environmental standards. In addition, all products are cruelty-free. The only non-vegan ingredient they use is beeswax in their lipstick. Products don't contain parabens, sulfates, artificial fragrances, etc.
Some of the products come in bamboo compacts that are really pretty, and their outer packaging is made from recycled or FSC-certified paper. Some products, however, like the liquid foundation, come in plastic bottles.
Based in: Miami, USA. Ships worldwide.
9. Fat and the Moon
Fat and the Moon has an impressive selection of eco-friendly beauty essentials, including zero waste skincare, nontoxic perfume, organic face moisturizers, and much more.
All the products are made using age-old ingredients and recipes passed down from various healing traditions. Ingredients are non-toxic and cruelty-free, but they do use beeswax in some of their products.
The brand also uses reusable, recyclable containers for all its products. They do their best to reduce packaging everywhere possible.
Based in: California, USA. Ships worldwide.
10. Zao
Zao features 100% natural cosmetics that are organic and vegan certified. The products are only formulated using natural ingredients, such as vegetable oils, waxes, plant extracts (bamboo, shea butter, apricot kernel, corn, etc.). They are ECOCERT certified, toxin-free, cruelty-free, gluten-free, vegan, and free of synthetic preservatives or fragrances.
The company ensures the casings are refillable to promote sustainability, making the products more ecological and economical. Also, the packaging is made from controlled harvested bamboo.
Based in: Texas, USA. Ships internationally.
More Waste Free Makeup Companies
11. Sappho New Paradigm – The brand features luxury, vegan and organic cosmetics. The products are free of known carcinogens and endocrine disruptors.
12. Alima Pure – Alima Pure is a B Corp that sells chemical free makeup. Its products are free of parabens, petroleum, and talc.
How to Adopt Zero Waste Beauty Habits
Want to live a genuinely zero-waste life? Here are a few zero waste beauty habits that you can practice:
Use fewer products: The less you buy, the less you waste. Use as few makeup products as you can to avoid waste. Fewer products also mean less stress for your skin barrier, giving you healthier skin.
Swap out single-use products: Replace the beauty products you use once and throw away, such as makeup wipes, exfoliating pads, sheets masks, and cotton swabs—with sustainable alternatives like a washcloth.
Go for plastic-free packaging: Plastic is a huge polluter so avoid it as much as you can. If possible, go for package free makeup to avoid plastic entirely.
Choose zero waste skincare brands: Buy ethical and zero waste skincare options instead of traditional ones for your skincare routine.
Recycle products the right way: Recycling is an excellent way of dealing with waste, but you have to do it correctly to have an impact. Before you toss your beauty waste into the trash, do a little research to see if it can be reused or a proper way to recycle it. Lots of brands partner with TerraCycle to help consumers properly recycle packaging that isn't easy to recycle.
By choosing these zero waste makeup products that won't pollute the earth or your skin, you can be sure that your makeup will be meaningful for both yourself and the planet!
Suppose you're looking for a completely zero waste makeup routine. In that case, you may be interested in checking out these all natural makeup brands we recommend.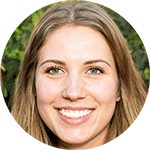 Jamie - Cofounder
Hi, I hope you enjoyed reading this article.
If you are looking for more ways to live an eco-conscious lifestyles, then check out our complete guide here.
Thanks for stopping by - Jamie