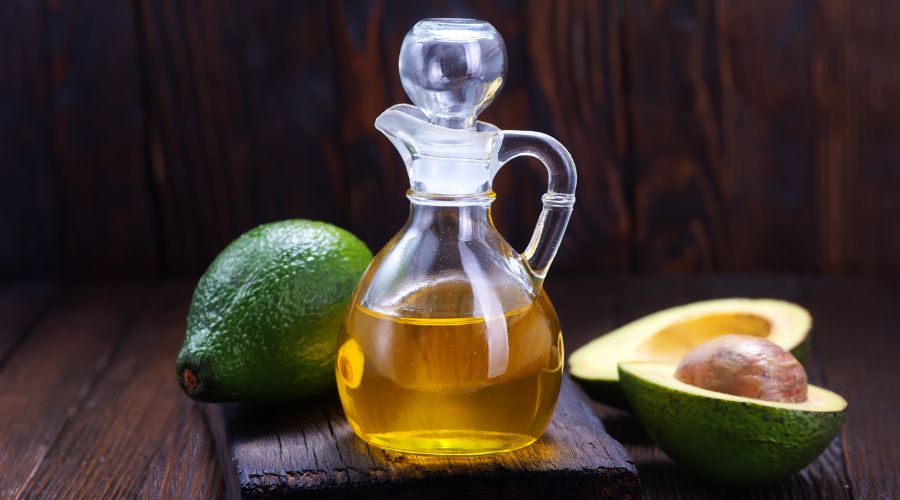 If avocado oil isn't keeping your heart healthy, the creamy green goodness makes your meals more delectable. But did you know that avocado is also perfect for your skin? Avocado oil is a miracle oil packed full of nutrients that will revitalize your skin and hair. 
There's a plethora of avocado oil benefits for the skin, from its moisturizing properties to its healing and repairing capabilities. The oil can even reverse aging in a matter of weeks. Not to mention, it's a godsend for those with skin conditions like eczema and acne. 
Today we talk about all the reasons why you should use avocado oil for your skin and hair care.
Interested in organic skincare? Check out our recommendations for the best natural skincare products. 
Related article: Best Natural Retinol Serum: 11 Top Organic Retinol Serums In 2023
What Is Avocado Oil?
When you think about avocado, you think of its creamy, delicious goodness on toast and guacamole. If you know your way around a kitchen, you probably know that avocado can make an impressive oil for cooking. The same oil can be extracted and used on your skin with excellent results. 
Avocado oil is extracted from the pulp and seed of the avocado fruit. It has a thick consistency, is emerald green, and can smell nutty or like mushrooms. Avocado oil is slowly becoming a popular skincare product used to formulate creams, sunscreens, masks, moisturizers, and more. This shouldn't be surprising, as myriad avocado oil benefits for skin health exist. 
Dermatologists love avocado oil, and so will you. Avocadoes are nutritionally rich fruits packed with fiber, antioxidants, monounsaturated fats, vitamins A, E, K, and D, folic acid, and potassium. The oil will moisturize your skin, reduce signs of aging, help soothe eczema skin, and so much more.
7 Avocado Oil Benefits For Skin
The avocado oil is incredibly versatile and enriched with antioxidants, essential fatty acids, and vitamins that enhance your skin and hair. Let's review some of the benefits of using avocado oil on your skin and hair.
1. Hydration and nourishment
One of the main avocado oil benefits for skincare is that it hydrates and nourishes the skin. It contains lipids, making it both emollient and occlusive, so it softens the skin and reduces moisture loss. This oil is perfect for you if you have dry, cracked skin. 
Avocado oil essentially nourishes the skin from within. It contains vitamin E, potassium, and lecithin. Vitamin E, for example, increases the skin's capability to absorb and retain water. The lipids in the oil also help restore the skin's oil barrier and make it absorb better. 
2. Sun Protection
The avocado oil is packed with antioxidants, like vitamins C and E, that protects your skin from frequent exposure to the sun. Additionally, the polyhydroxylated fatty alcohols in the oil suppress inflammation and UV-induced damage to the cell. That's not all that this superstar oil can do. It actually helps soothe sunburnt skin thanks to the vitamins E and D, lecithin, essential fatty acids, and beta-carotene found in the oil.
However, remember that while this incredible oil protects your skin from sunburns, it can't replace a good organic sunscreen.
3. Acne Treatment
More avocado oil skin benefits include anti-inflammatory properties, which work great on acne-prone skin. The oil reduces the redness and inflammation associated with acne and even treats it quickly. 
At the same time, avocado oil's comedogenic rating is three, meaning there's a reasonable chance it could clog your pores. To prevent this, apply the oil for a short period and wash it off with warm water. This way, you get all the benefits of the hydrating oil with no oil residue.
4. Healing Skin Conditions
Thinking this oil can't get any better? Well, there's still more. The oil can help treat skin problems. Skincare experts recommend avocado oil for skin conditions such as psoriasis. Psoriasis, an autoimmune condition, causes thick, scaly, red patches on the skin. A 2001 study found that, when combined with a vitamin B-12 cream, avocado oil could ease psoriasis symptoms for longer than the usual treatment. 
Skincare experts also recommend using avocado oil for eczema as it helps soothe dry, irritated, flake skin with the help of vitamins and antioxidants. So, if you suffer from skin conditions like these, give avocado oil a try. 
5. Wound Healing
The oil's essential fatty acids and oleic acid have been found to promote collagen synthesis, which speeds up wound healing by creating new connective tissue. The fatty acids have also been found to reduce inflammation in the wound while healing.
A wound on your body, especially in a visible area, can be embarrassing and stressful. Avocado oil can help elevate that and let you be your usual confident self.
6. Anti-aging
When it comes to aging, the skin is the first victim. This happens when the collagen layer of your skin starts to break down. Avocado oil has anti-aging properties that help prevent wrinkles, fine lines, pigmentation, and dark spots. The oil reduces collagen breakdown by increasing soluble collagen content and inhibiting the lysyl oxidase enzyme, which helps break down collagen. It also rejuvenates the dermis layer of the skin, which maintains the skin's flexibility and strength. 
7. Scalp and Hair Health
So far, we've talked about the skin. We'd be remiss if we didn't mention how avocado oil also helps the scalp. This nourishing oil moisturizes the scalp preventing dandruff and dry, flaky skin. 
Avocado oil absorbs into your skin really well. It has been shown to prevent hair loss, leaving your hair stronger and healthier than ever. Use it as a hot oil hair mask to help treat those conditions.
How Do I Use Avocado Oil on My Skin?
We could spend all day going over the benefits of avocado oil for skin, but now let's turn our attention to its uses. Avocado oil is incredibly versatile. You can use it as a standalone product or add it to your other skin care products. Here are a few ways you can use the oil for the best results:
Moisturizer

: You can apply avocado oil all over your body daily to keep your skin soft and supple. You can also combine the oil with any essential oil and massage it into your body.

Hydrating mask

: Avocado oil can also be used as a hydrating mask. Mix avocado oil with honey to make a mask that will help with irritated skin and wound healing.

Scalp care

: If you have a dry scalp, try this method: Take a small amount of the oil (about 3-5 tablespoons), put it in a jar or cup, and heat it in recently boiled water. Make sure the oil isn't too hot before removing it from the water. Then gently massage the oil into your scalp with your fingers (and never your nails). Leave the oil overnight and wash it out in the morning. This is great for those dealing with dry, flaky scalp and dandruff. 

Body wash

: Add a couple of tablespoons of avocado oil to your bath and watch as your skin becomes soft. You know how hot water can dry out your skin? Well, this is one way to prevent that. Mix the oil with your favorite bath oil for a bit of razzle-dazzle. 
Here's an extra tip: add avocado oil to your retinol for excellent anti-aging results. 
What Are the Side Effects of Avocado Oil?
While this is an article about avocado oil benefits for skin care, it's important to also discuss any harm that can be caused by this oil. 
While diluted avocado oil is safe for almost everyone, it's possible that someone can be allergic to avocados or the oil itself. This is where the patch test comes into the picture. Apply a small amount of the oil on your skin and be on the lookout for a reaction within 24-72 hours of application. If you need more clarification, contact your skin care provider or even your dermatologist for advice on how to proceed. 
Best Skincare Products With Avocado Oil
It's hard not to babble about the avocado oil; it's just that incredible! If you're sold on it, we've come to the most exciting part of this article—our recommendations for the best products that contain avocado oil. You better run and get yourself one of these incredible products! 
True Botanicals Pure Radiance Oil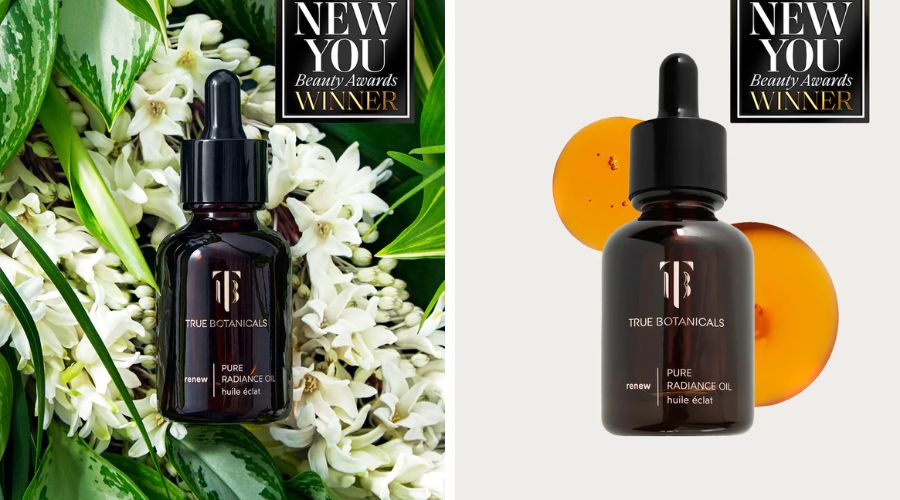 True Botanicals Pure Radiance Oil is a truly extravagant, award-winning oil that targets signs of aging in your skin. This facial oil is formulated with a revolutionary blend of omega-3 fatty acids, algae extract, astaxanthin, and 14 seed oils (including avocado). This perfect blend moisturizes your skin. Its fatty acids and antioxidants reduce the appearance of fine lines and wrinkles. Use this incredible oil, and you'll be left with smooth, youthful, and visibly plumped skin. 
Jurlique Skin Balancing Face Oil
Jurlique Skin Balancing Face Oil is highly rated as a luxurious face oil. This lightweight oil is made with avocado oil, safflower oil, rosehip oil, macadamia seed oil, and shea butter. It will hydrate your skin and prevent moisture loss. It will give you an even skin tone and protect your skin from pollutants. This incredible face oil nourishes your skin and leaves you looking smooth, hydrated, and glowing.
There are many marvelous avocado oil benefits for skincare. This oil, derived from the so-called miracle fruit, nourishes and protects your skin and hair. It moisturizes your skin deeply, protects it from damage from the sun, reduces signs of aging, and helps treat skin conditions like eczema and psoriasis. For those enthusiastic about their hair, avocado oil helps prevent dry, flaky skin and hair loss. In short, this remarkable oil would be a great addition to your skin and hair routine.
Speaking of skincare, check out our list of the 9 best organic body lotions for a natural skincare routine.
Frequently Asked Questions
Is Avocado Oil Good for Your Face?
Avocado oil is an emollient used to moisturize, protect, repair, and soothe skin, making it a good option for your face.
Does Avocado Oil Darken Skin?
No. Avocado oil has vitamin E, lecithin, and other nutrients that act as antioxidants that protect the skin by reducing damage from free radicals. This lightens the skin tone.
Does Avocado Oil Clog Pores?
Avocado oil has a medium comedogenic rating meaning there is a reasonable chance your pores will get clogged. However, if you only apply it for a short time, you won't get an oily residue.
Sources: