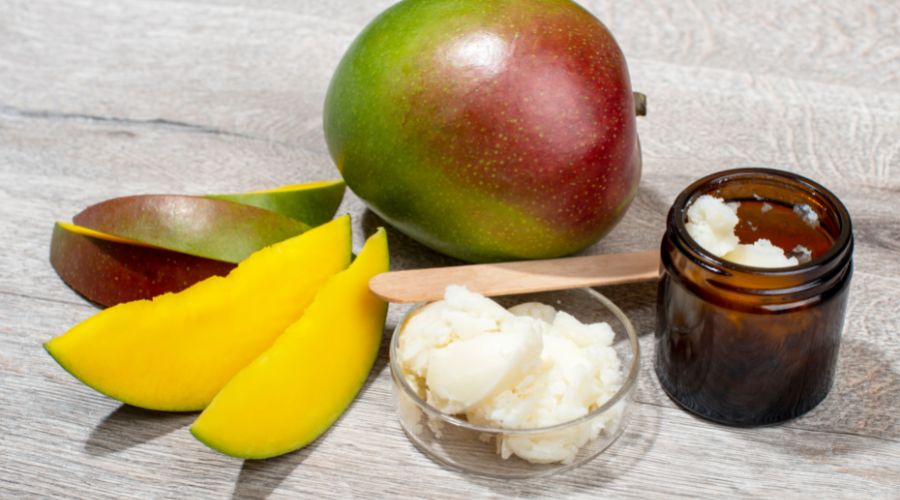 Have you been looking for that secret sauce to take your skin game to the next level? It's time to pay close attention to mango butter! This creamy golden delight is bursting with nourishing ingredients that will transform your skin and hair, leaving them feeling silky smooth, and healthy. 
From its moisturizing properties to its ability to heal damaged hair and skin, mango butter is a must-have item for anyone looking to pamper and protect their skin and hair. 
Still wondering why this versatile ingredient should be a staple in your daily skincare and haircare regimen? In this article, you'll discover the ultimate mango butter benefits for the skin.
Want a complete organic skin routine? Check out our list of and best natural retinol serums. 
Related article:9 Best Organic Body Lotions For a Natural Skincare Routine (2023)
What is Mango Butter?
Mango butter is a natural fat extracted from the mango fruit's seeds, similar to butter like shea and cocoa butter. It's solid at room temperature, but when applied to the skin, it melts into a creamy and smooth texture. The butter is often used in skincare and cosmetic products because it deeply penetrates and nourishes the skin leaving it feeling soft, smooth, and moisturized. 
Mango butter is full of antioxidants, essential fatty acids, and vitamins A, C, and E that soothe dry, cracked skin and protect it from aging and environmental damage. It's a highly versatile and effective ingredient in many products, such as soaps, skincare, and haircare, to help hydrate, soothe, and protect dry skin and hair. 
Mango Butter Benefits for Skin
The seed butter is enriched with a combination of antioxidants, essential fatty acids, and vitamins that benefit your skin in several ways. Let's check out some of the mango butter benefits for skin health that might interest you. 
Intense Hydration
One of the most important uses of mango butter for the skin is moisturizing it. Mango butter's smooth and creamy texture is derived from its fatty acid composition. This makes it an excellent emollient for dry, cracked skin. 
The butter melts into a thin oil when it touches your skin, which smooths and enhances your skin's natural protective barrier. This locks in the skin's moisture while keeping harmful substances out to prevent dryness and irritation.
Sun Protection
One of the many mango butter skin benefits is its ability to protect your skin from harmful UV rays. While it might not replace the need for a broad-spectrum sunscreen, it can provide some level of protection from UV rays. It comprises compounds like vitamin A, which helps to protect against photoaging, and vitamin E, which acts as a natural sunscreen. Thus helping to reduce the risk of sunburn, skin damage, and other harmful effects of sun exposure.
Anti-aging
Mango butter also contains antioxidants such as vitamin E which protect the skin from free radicals and other environmental pollutants. Such pollutants cause damage to the skin cells and lead to the development of fine lines, wrinkles, and other notable signs of premature aging. 
When applied topically, mango butter can help to repair and regenerate dull and blotchy skin giving you a healthy and supple complexion. For those looking to maintain a youthful and radiant complexion, mango butter is a great ingredient to include in your skincare routine.
Skin Repair
The same combination of antioxidants, fatty acids, and vitamins that help to protect and moisturize the skin can also help to repair skin damage. Vitamins C and E not only soothe and nourish the skin but also help neutralize free radicals that damage the skin, boost collagen production, and promote cell turnover. 
The essential fatty acids in mango butter—oleic acid and stearic acid—help hydrate and nourish the skin, promoting the skin's natural repair process. A 2008 study found that mango butter reduced cracks and scars better than regular lotions. Overall, these compounds lead to an improvement in the skin's overall texture and appearance.
Reduced Hair Damage
Most of the points we've mentioned so far have been about the mango butter benefits for the skin, but did you know that it can also help your hair? The nourishing fatty acids in mango butter help seal the moisture in hair strands. They also strengthen the hair shaft and protect it from heat damage and breakage caused by other harmful environmental elements. Its moisturizing qualities also prevent dandruff, flaking, and irritation on your scalp. It helps add shine and softness to the hair, leaving it looking healthier and more vibrant.
Healing Skin Conditions
Due to its nourishing and protective properties, mango butter can be a helpful ingredient for those looking to heal various skin problems such as persistent dryness and irritation, inflammation, dermatitis, eczema, and others. It soothes the skin reducing itching, redness, and dryness. It also contains antibacterial and antimicrobial properties. This leaves the skin feeling soft, smooth, and hydrated.
How Do I Use Mango Butter on My Skin?
Mango butter is a versatile ingredient that can be used as a standalone product or combined with other ingredients for all your skin or hair care needs. Here are some of the ways we would recommend you use it for maximum results:
Moisturizer:

 Mango butter can be used as a daily moisturizer for the face, body, and hair. To use mango butter for face moisturizer, simply take a small pea-sized amount of it and massage it into the dry or affected area until it is fully absorbed. Then apply your other skin or 

makeup products

 on top.

Deep conditioner:

 Mango butter can also be used to deep condition your hair and scalp. Massage a small amount into the hair and scalp, and then cover with a shower cap for 20-30 minutes before shampooing as usual. This will help keep your hair healthy and hydrated.
Side Effects of Mango Butter
While there are so many mango butter benefits for the skin, there are also a few drawbacks. People with severe allergic reactions or sensitivity to mango products might react to mango butter. It's recommended to test the product on a small part of your skin and look out for rashes, redness, itching, and other symptoms of an allergic reaction within 72 hours of application. This is called a patch test. If you are still unsure, you can also contact your skin care provider for further advice.
Mango butter tends to have a low comedogenic rating of 1 -2 on a scale of 0 – 5. This means that it's less likely to clog pores and cause acne for most people. However, just because it may have a low comedogenic rating doesn't necessarily guarantee that it will not cause breakouts. If you have particularly sensitive or acne-prone skin, it's best to do a patch test of the mango butter to determine if it's suitable for your skin or consult a skincare expert for advice.
Best Skincare Products With Mango Butter
We can't help but rave about the benefits of mango butter! But here comes the fun part. From nourishing night creams to hydrating soaps, these skincare products will have you hooked on the mango butter trend!
True Botanicals Moisture Lock Overnight Mask
True Botanicals Moisture Lock Overnight Mask comes highly rated as one of the best overnight masks on the market. Fortified with plant-based Hyaluronic Acid, Mango Butter, Squalane, and Aloe Vera, this lightweight mask will deeply nourish and soothe the skin while you sleep. 
This award-winning leave-on mask will smoothen fine lines and wrinkles and has been clinically proven to dramatically hydrate and brighten your skin in just one week. This gives you that youthful and supple look that we all desire. With a sweet mango fragrance and luxurious texture to boot, you'll never get enough of it!
100% Mango Butter Soap
100% Pure Mango Butter Soap is a truly decadent experience for dry skin! This organic vegan soap is formulated with shea butter, olive oil, coconut oil, and mango extract. This gentle and effective moisturizing soap is especially perfect for dry skin. 
As you can see, there are many fantastic mango butter benefits for skin and hair. If you're seeking to nourish and protect your skin and hair, mango butter is the ingredient for you. This multi-functional powerhouse provides intense hydration, protects against sun damage, reduces aging effects, and helps heal various skin conditions caused by dryness and skin sensitivity. 
For self-care hair enthusiasts, mango butter can help reduce breakage and promote healthy hair growth. This tropical treat is the perfect addition for anyone looking to give their skin and hair the nourishment it deserves.
Looking for more organic skincare products? Check out our recommendations for the best natural skincare products. 
Frequently Asked Questions
What Is Mango Butter Good For?
Mango butter is an emollient used to moisturize, protect and repair dry skin. It contains healing properties that help to soothe irritated or chapped skin.
Why Is Mango Butter Better Than Shea Butter?
While both mango and shea butter have similar properties, mango butter is softer and easy to apply and mix with other ingredients.
Is Mango Butter Anti-Inflammatory?
Yes. Mango butter contains fatty acids and antioxidants, which have anti-inflammatory properties that can help relieve dry and irritated skin and reduce redness and inflammation.
Does Mango Butter Clog Pores?
Mango butter has a low comedogenic rating, so it's safe for most people's skin. However, it might not be ideal for very oily or acne-prone skin.
Sources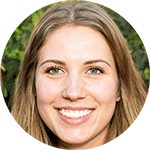 Jamie - Cofounder
Hi, I hope you enjoyed reading this article.
If you are looking for more ways to live an eco-conscious lifestyles, then check out our complete guide here.
Thanks for stopping by - Jamie