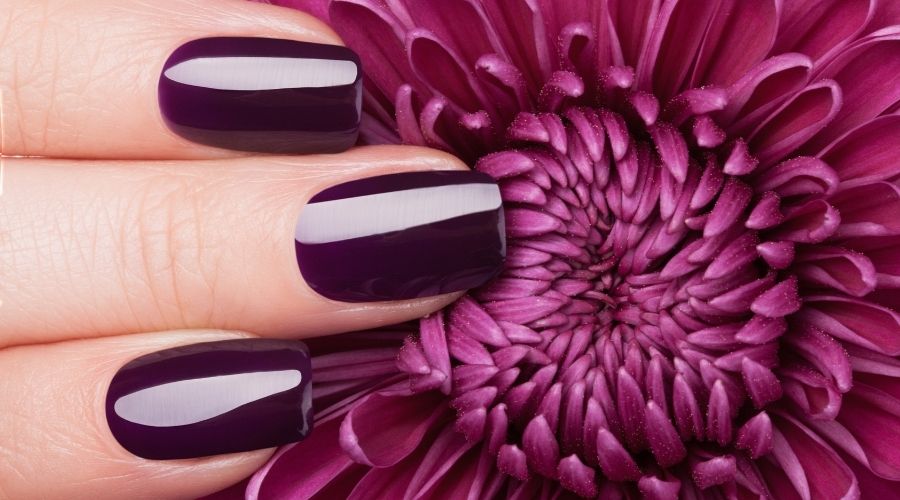 Ever wondered if organic nail polish actually works as well as conventional nail polish? The truth is that most do.
Traditional nail polish is acquiring a bad rap by the day, largely due to the excessive amount of chemical ingredients in them. As an alternative, more and more eco-friendly beauty brands are getting into the natural nail polish arena. The result is high-quality organic nail polish formulas that work as well as traditional ones without the health risks.
By the way, after your done reading make sure to check out our other recommendations for best organic foundation & best organic eyeshadow.
Best Natural & Organic Nail Polish
Here are some of the most popular natural and organic polish brands available right now. These brands don't compromise on shine and durability just because they use natural formulas.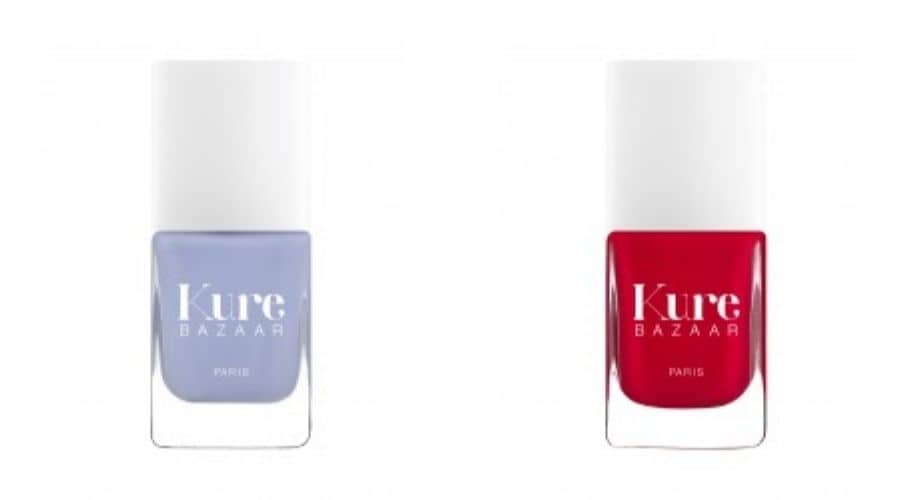 Kure Bazaar nail polishes contain 85% natural ingredients and don't contain any harmful chemicals such as benzophenone-1 and benzophenone-3. These polishes glide on smooth, are slick and shiny and come in a variety of trendy colors.
The nail polishes are made using sunflower seed oil, which is rich in omega-9, vitamin E, and Omega-6. The oil acts as an emollient and offers moisturizing, nourishing, and soothing effects. They also contain bamboo leaf/stem extract for more moisturizing and nourishing effects as well as tocopherol which is an antioxidant.
You'll love how Kure Bazaar's nail polishes have a high shine and a beautiful mix of trendy and classic colors. Try out the brand's top coat too. It's a quick-dry formula that adds an instant shine to your nails.
Based in: France. Ships worldwide.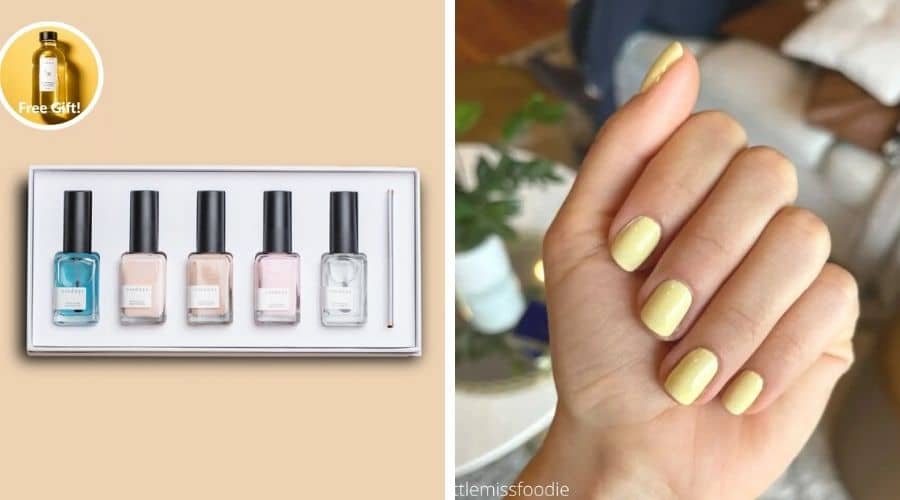 Sundays nail polishes are a perfect 10-free non-toxic, vegan, and cruelty-free formula that was created over the course of 10 years. The polishes deliver high-shine and long-lasting brilliant color.
The 10 ingredients the polishes are free of include phthalate, toluene, xylene, ethyl tosylamide, camphor, formaldehyde, formaldehyde resin, parabens, and tert-butyl hydroperoxide. The 10th ingredient they don't use is anything derived from animals.
The polishes are easy to apply, dry quickly, provide an even and full coverage and stay on for long. They also maintain their color and shine. Plus, there is a whole range of classy colors to choose from.
Based in: New York City, USA. Ships worldwide.
Londontown features an organic nail polish with one of the best consistency, not too thick and not too thin. This makes it really easy to apply. Most importantly, the polish is 16+ free, vegan, and cruelty-free, powered by botanicals or infused with flower oils and extracts.
Londontown's proprietary Florium Complex helps care for skin and nails, skin deep. Its nail, hand, and skin care lines embody the same commitment to clean, effective formulas.
The nail polish comes in fun, shimmery colors and best of all, lasts an entire week before chipping. It is easy to remove the polish as well.
Based in: New York City, USA. Ships in the US only.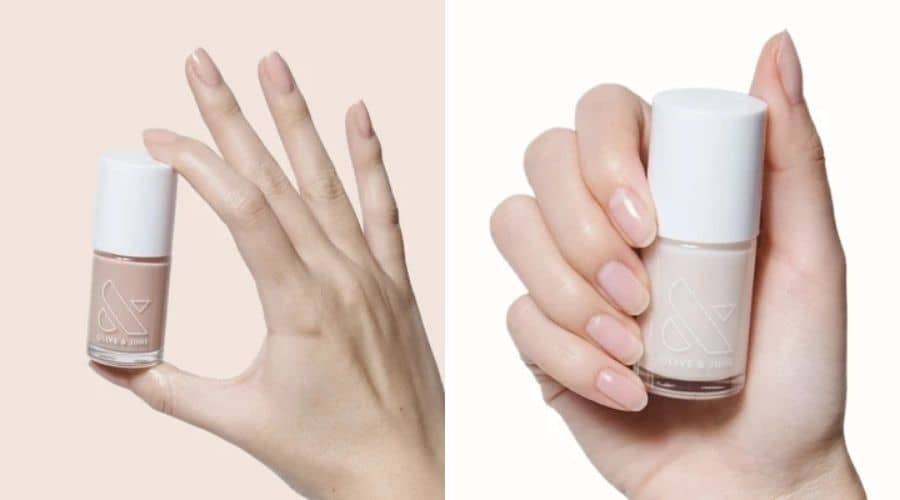 Olive + June offers a "salon-quality" natural nail polish formulated without benzophenone-1, benzophenone-3, and other harmful chemicals.
The brand has by far the most robust amount of shade options available compared to other nail polish brands. The polish has a hard finish and is not susceptible to creasing or denting. It stays shiny for days and doesn't dull over time.
Two coats of this polish are enough to deliver a totally opaque coverage without streaking. You also get a harder, more structured finish.
Based in: California, USA. Ships within the United States and Canada.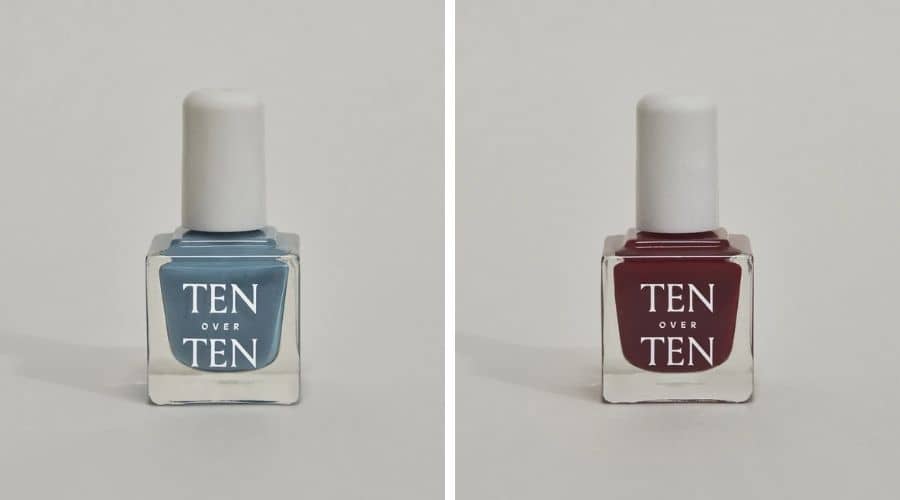 TenOverTen non toxic nail polish is smooth and shiny. It's formulated using horsetail leaf extract, essential oils, vitamin E, and aloe to care for and protect nails. It doesn't contain chemicals like dibutyl phthalate (dbp), toluene, formaldehyde, formaldehyde resin, camphor, ethyl tosylamide, xylene, or triphenyl phosphate (tphp).
You'll love how potent the colors are. After just two coats the colors provide a complete, even, and full cover, and it's super easy to apply.
When it comes to color variety, TenOverTen offers an extensive range of red hues. From rich berries to vibrant fire-engine, there's something to fit every red preference. You can also create your own set of any three shades if you like to mix and match your reds.
Based in: New York City, USA. Ships in the US only.
Butter London's chemical free nail polishes are specially designed to help strengthen nails, prevent nail damage and hydrate the nail bed. They are created using clean, good-for-your-nail ingredients and skin-nourishing formulas to help achieve a fade resistant, chip-resistant manicure with up to 10 days of wear.
The brand does not add Formaldehyde, Formaldehyde Resin, DBP, Toluene, Camphor, Ethyl Tosylamide, Xylene, Parabens or TPHP to any of its nail products.
The polishes are easy to apply, you don't need more than two coats, and they dry quickly. Additionally, they have a really smooth texture. The polish lasts close to an entire week without chipping, has a great shine the entire time, and is easy to remove.
Butter London nail polish is also available in a brilliant spectrum of colors, from soft pink to glittery purple and black to nude nail polish.
You will also love the brand's Jelly Nail Strengtheners, which contain ingredients such as tea tree oil and bamboo extract, and help to repair damaged nails from harsh nail formulas.
Based in: Atlanta, Georgia. Ships in the US only.
Sally Hansen's polish is touted as "the first plant-based 16-free vegan nail polish". It doesn't contain any of the harmful chemicals common in traditional polishes such as benzophenone-1 and benzophenone-3.
The polish is made using safe natural ingredients such as methyl thioppopylamido acetyl methionine, an antioxidant peptide, avocado fruit extract, an effective skin conditioner, and camellia sinensis leaf extract which contains antioxidants and is effective for protecting skin cells against damage from sun exposure. The polish also contains spinach leaf extract that is an effective skin conditioner.
The polish comes with a plant-based brush that's wider than normal but not clunky and it delivers a seamless pro application. The polish is available in a rainbow of 30 hues that offer a little something for everyone.
Based in: New Jersey, United States. Available in many stores worldwide.
Zoya all natural nail polish is found most often in professional, non-toxic nail salons. It's free of toluene, formaldehyde, DBP (phthalates), and camphor.
The nail polish is easy to apply, shiny, smooth, and has medium thickness. it also lasts for so long. In fact, it has been awarded as the longest wearing natural nail polish by Women's Health Magazine.
You can choose from over 300 gorgeous nail polish colors. The included brush is small and precise, but you can also buy a wider brush separately if you want an even easier application for your DIY manicures.
Based in: Ohio, USA. Ships in the US only.
Ella & Mila is one of the best natural nail polish out there that's not only vegan and cruelty-free, but also certified by PETA, a boon for animal lovers. The brand is indeed committed to creating fashion-forward products without compromising your health.
This 7-free nail polish is quick-drying and with plenty of shine. The brand has a passion for color and hence releases new, on-trend colors often.
Based in: California, USA. Ships within the United States and Canada.
More Organic & Natural Nail Polish
11. Nailtopia Plant-Based Nail Lacquer – This nail polish contains a plant-based formula and is 85% bio-sourced, relying largely on superfood ingredients such as spinach, raspberries, and blueberries to strengthen your tips with every swipe.
12. Jin Soon – This nail polish is 10-free and formulated without harsh chemicals such as Formaldehyde, Toluene, DBP, Formaldehyde resin, and more. It's long-lasting and offers a chip-proof finish.
What Makes Nail Polish Non-Toxic & Natural?
The identifying factor for a natural nail polish is the ingredients it contains—or rather doesn't contain. Organic nail polish will normally be three-free. This means that it doesn't contain formaldehyde, toluene, and dibutyl phthalate.
Some natural nail polishes go beyond the three harmful ingredients and go as far as being nine-, or 10-, or even 14-free.
Here's the breakdown of the common harmful ingredients that non-toxic nail polish will not contain:
5-free: No formaldehyde, toluene, DBP, formaldehyde resin, camphor
7-free: No formaldehyde, toluene, DBP, formaldehyde resin, camphor, ethyl tosylamide, xylene
9-free: No formaldehyde, toluene, DBP, formaldehyde resin, camphor, ethyl tosylamide, xylene, parabens, acetone
10-free: No formaldehyde, toluene, DBP, formaldehyde resin, camphor, ethyl tosylamide, xylene, parabens, acetone, TPHP, TBHP, gluten
With these organic nail polishes, you can paint your nails without worrying about toxic chemicals!
Looking to fill up your make-up bag with more natural products? Check out our recommendations for toxic free makeup brands & best natural foundation.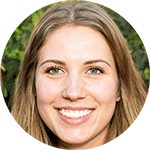 Jamie - Cofounder
Hi, I hope you enjoyed reading this article.
If you are looking for more ways to live an eco-conscious lifestyles, then check out our complete guide here.
Thanks for stopping by - Jamie