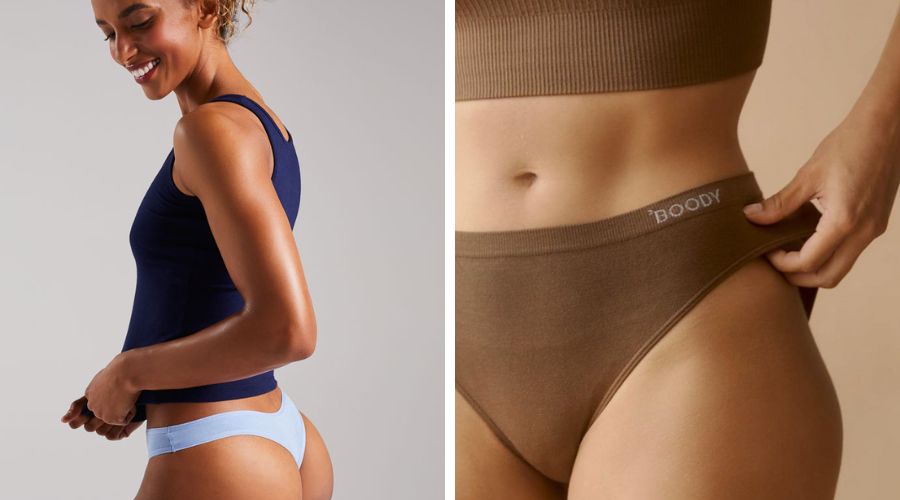 Argh! Not your panty line showing through your clothes again! Or is it the sharp edges cutting into your skin today? Or maybe it's the waistband being uncomfortable regardless of how well you choose the sizes.
So, what if I told you that bamboo underwear can solve all those problems?
Bamboo underwear is made from bamboo pulp processed into bamboo material. They're acclaimed for being higher quality than regular underwear. So, if you have been looking for solutions to your underwear woes, read on to find out the best bamboo underwear brand for you.
Also if you are interested in other bamboo products, be sure to check out our other articles on best bamboo PJs
and best bamboo panties.
Best Bamboo Underwear For Women
Here are some of the best bamboo underwear for women.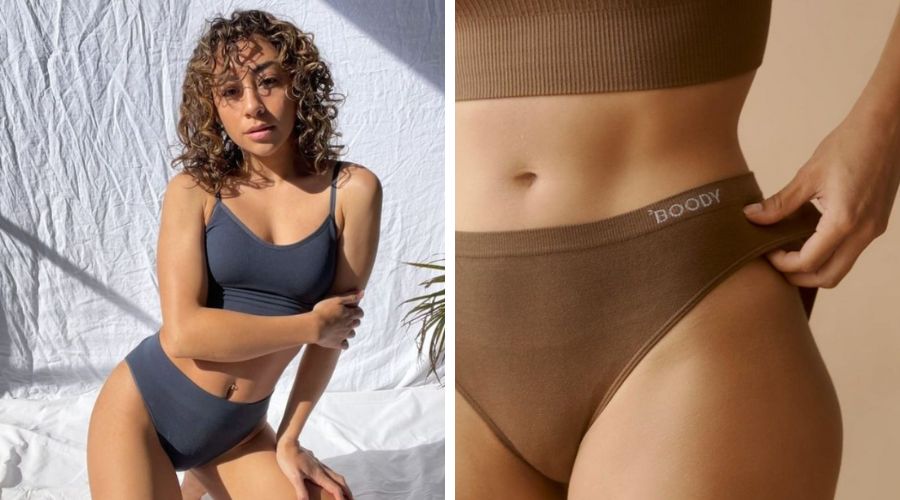 Boody is an Australian based clothing brand that specializes in bamboo clothing. Boody is committed to protecting the environment. They are part of the 1% for the Planet Organisation. Boody is also a Certified B Corp business.
The bamboo panties are made up of 80% bamboo rayon, 7% spandex, and 13% nylon. Their underwear collection comes in four sizes: small, medium, large and extra-large. You also get seven different types of women's bamboo underwear: Classic bikinis, G-string thongs, hipster bikinis, Brazilian bikinis, as well as midis, Boyleg, and full coverage briefs. There are only three color options: black, white and beige.
Boody's panties are soft and comfortable throughout the day. They thermo-regulate the temperature meaning they keep you cool when it's hot and warm when it's cold. Their underwear is affordable and well made.
Based in: New South Wales, Australia. Ships internationally.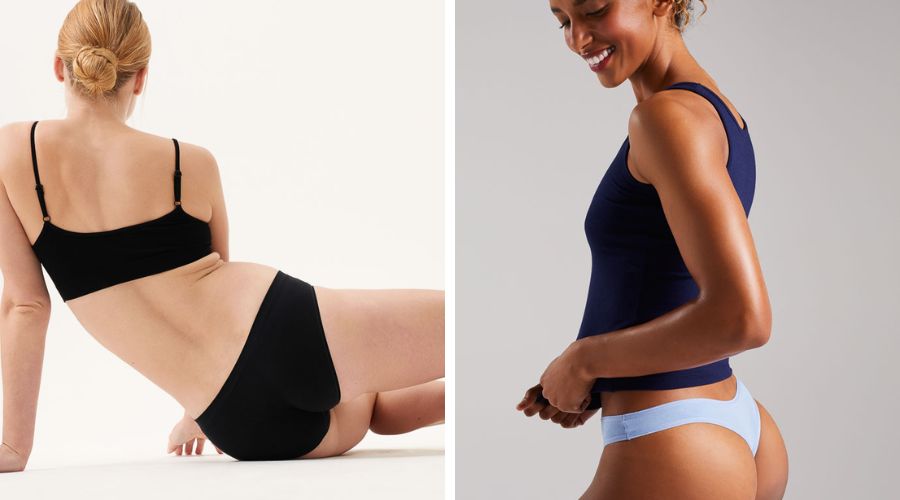 BAM is a bamboo clothing brand that uses sustainable raw materials and eco-friendly processes to make its bamboo fabric. The company's underwear collection is made up of classic, high leg and bikini briefs as well as bralettes, thongs, and hipster shorts.
BAM's fabric contains 78% bamboo Viscose, 15% polyamide, and 7% elastane. The underwear comes in extra small, small, medium and large.
The bamboo underwear is made using seam-free technology for a smooth and sleek finish. You don't have to worry about panty lines with this brand.
The fabric is incredibly soft and breathable. You also benefit from the underwear's temperature control and moisture-wicking capabilities. If you have sensitive, allergy-prone skin, then this is the ideal underwear for you.
Based in: the UK. Ships internationally.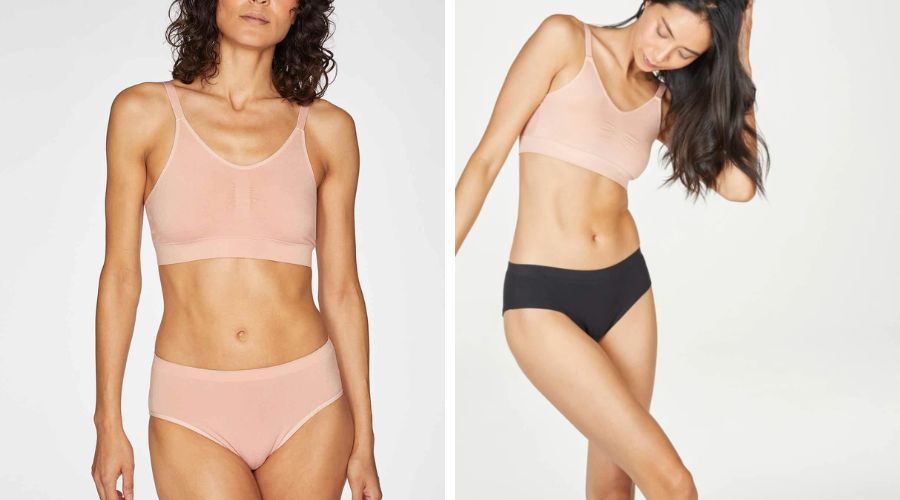 Thought is a London based bamboo clothing brand. It's one of the oldest eco-friendly brands out there. Thought makes vegan-friendly and organic clothes. The underwear collection is diverse. You have your choice in bralettes, camis, bikini briefs and high waisted briefs. The bamboo lingerie comes in eight different colors.
Thought uses a blend of 67% bamboo viscose, 28% certified organic cotton, and 5% elastane jersey. There are five sizes available, extra small, small, medium, large and extra-large. The material is incredibly soft, and comfortable, and comes with original prints that are hand-painted in the company's London studio.
Thought believes that fashion can be responsible. The company sources their material carefully. It also has environmental and animal welfare policies.
Based in: London, UK. Ships internationally.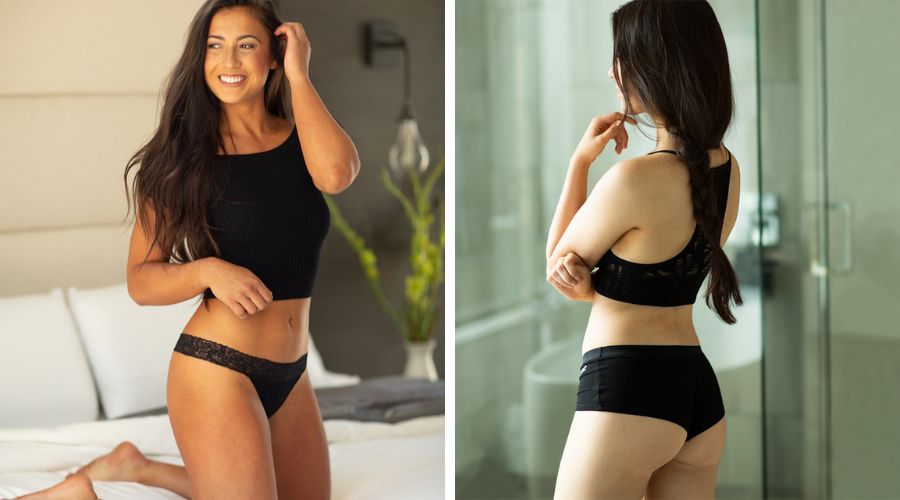 Cariloha is a GOTS-approved (Global Organic Textile Standard) company that makes affordable and high-quality bamboo lingerie. It sells boyshorts, thongs, and bikinis in black, navy and white. The underwear comes in small, medium, large, extra-large, and double extra-large. As you can see, the company is very size-inclusive.
The material is up to 95% bamboo viscose and 5% spandex. Cariloha's underwear is designed to fit on your skin. The underwear is soft, durable, and seamless. Comfort is the name of the game and Cariloha does a damn good job at it.
Cariloha strives to make the world a better place which is why the company is working towards becoming 100% carbon neutral.
Based in: Utah, USA. Ships to the USA, Canada, and Australia.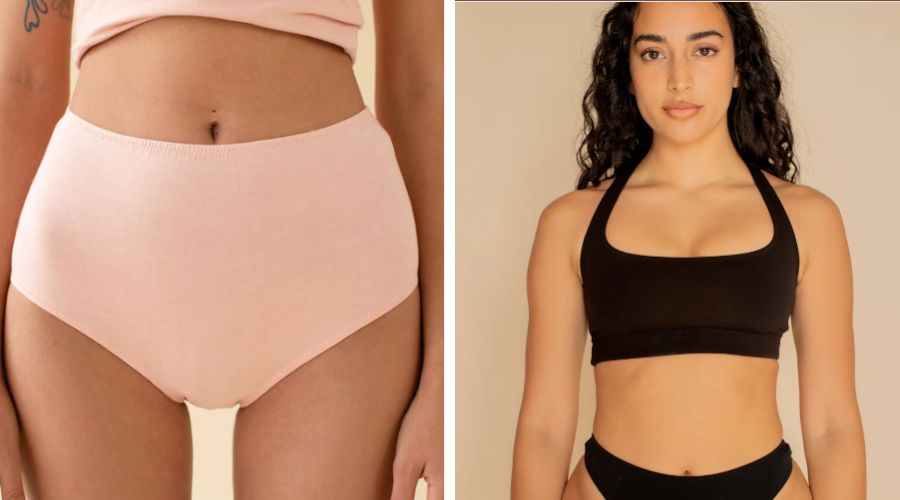 Hara mainly sells women's bamboo underwear. The raw material used to make the underwear is OEKO-TEX STANDARD 100 approved. Hara's underwear is made from 90% bamboo lyocell and 10% spandex. Bamboo lyocell is made from pure organic bamboo pulp and is therefore eco-friendly.
Hara's brand is very size-inclusive with the widest range in size on this list. It has nine sizes ranging from extra small to quintuple extra-large (5XL). The underwear collection is made up of low cut and high cut bras, sports bras, high waist and low waist undies, and G-strings. The fabric is soft and comfortable.
Hara uses natural plant dyes to protect your skin. The company's bamboo clothing are made through an ethical production process. You're recommended to hand wash with cold water and fragrance-free detergent.
Based in: Victoria, Australia. Ships internationally.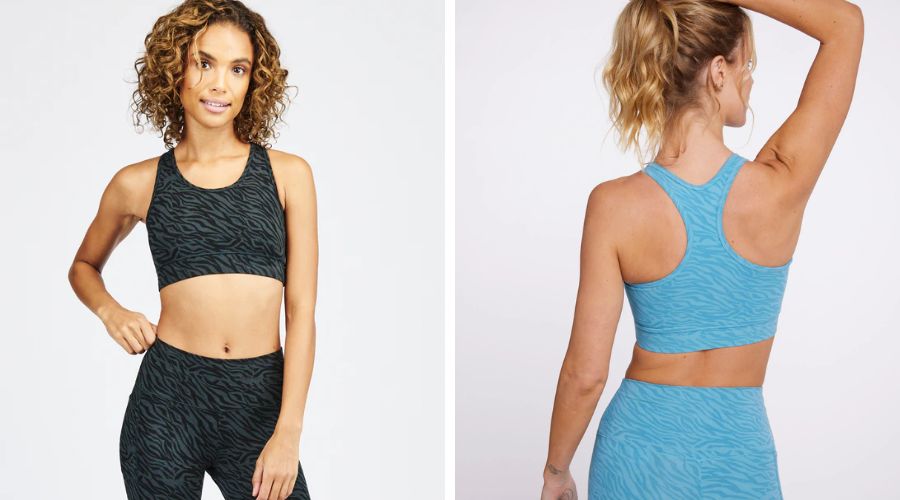 Tasc Performance makes high-quality sports bras for women. They have two kinds of sports bras, ALLways and Rhythm sports bras. The ALLways sports bra is a mid-impact bra made up of 51% organic cotton, 34% bamboo viscose, and 15% elastane. It has reinforced straps for support, a four way stretch, with binding at the neck and armholes. Allways bras provide UPF 50+ sun protection.
The Rhythm sports bra is a low impact bra made up of 51% organic cotton, 34% bamboo viscose, and 15% lycra. Rhythm bras have removable cups, light impact support, and covered elastic bottom bands. Like the ALLways bras, Rhythm bras have four-way stretch as well as reinforced straps.
Regardless of which type you choose, the material is soft, breathable, and stylish. Like many bamboo clothes, Tasc bras are odor-resistant and moisture-wicking. Tasc underwear comes in extra small, small, medium, large, and extra-large.
Tasc Performance produces its fabric with no chemicals. They also use solar power during the production of their clothes. In addition, they recycle the water used during the drying process.
Based in: Louisiana, USA. Ships internationally.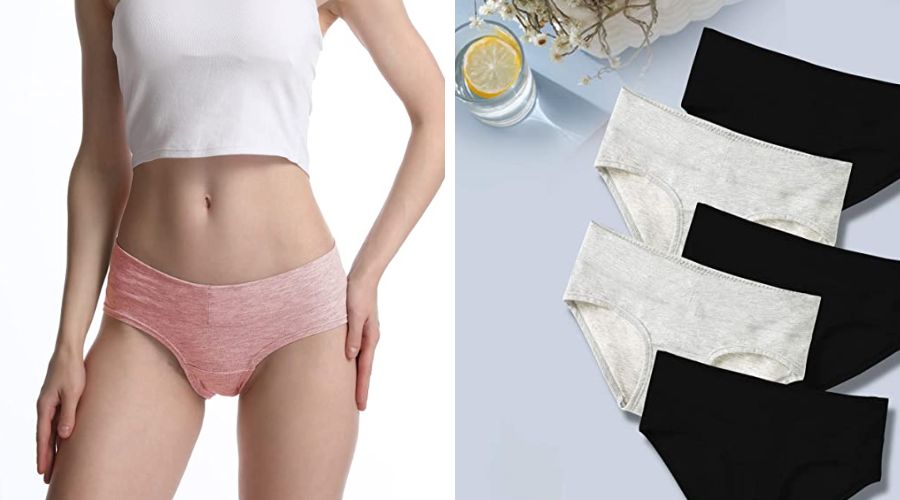 Ham & Sam specializes in organic bamboo clothes such as underwear, pajamas, robes and leggings. Their bamboo underwear for women is made up of 63% bamboo viscose, 29% cotton, and 8% spandex. The addition of cotton is meant to make the underwear durable.
The bamboo underwear is available in mid-waist and high-waist bikinis with a double layer crotch. There are five colors available but you can't choose specific colors as the underwear comes in a pack of five. You can purchase them in small, medium, large, extra-large, and double extra-large.
The underwear is breathable and doesn't ride up adding to the comfort. Ham & Sam's underwear is allergy and odor-resistant, and cool on the skin. Customers have raved about the softness of the material. The underwear stays dry and clean all day.
Based in: USA. Ships internationally
Warm Sun's bamboo underwear is made up of 95% bamboo viscose and 5% spandex. Different sizes are available from US sizes 5 to 10. You also get to choose between six different colors. Warm Sun has different packs of five, three and two that you can buy.
The underwear is thin, breathable, lightweight, soft, and stretches to ensure that you're very comfortable. You get full coverage from the front to back so you don't have to worry about the underwear slipping. The panties are high middle waist and are comfortably at your waistline.
Like other bamboo clothes, Warm Sun's bamboo underwear for women is moisture-wicking which keeps the underwear dry. Since bamboo is one of the most sustainable resources in the world, you can be assured that Warm Sun's bamboo underwear for women is eco-friendly.
Based in: USA. Ships internationally.
Wealurre's viscose bikini panties are made from 47% bamboo viscose, 47% cotton, and 6% spandex. There are five pairs available that come in three size options: small, medium and large. The panties are low rise with moderate coverage but only one style is available.
There are five different color packs with each pack having four to six different colored panties. Wealurre's bamboo panty is unique as it comes with a memory function in the waistband. You wear it once and after that, it will fit on your body very well. The panty is also soft, seamless and comfortable. If you enjoy cotton underwear then these panties are well suited for you as they are subject to high standard quality control.
Like many products made from bamboo, Wealurre's bamboo panties are sustainable and environmentally friendly.
Based in: USA. Ships internationally.
More Women's Bamboo Underwear & Lingerie
10. Wirarpa Underwear – Wirarpa's bamboo underwear is soft, light, and easy to wear. They don't bind, sag or bunch up
11. GAEA Bamboo Underwear – The underwear is made from organic bamboo fabric. It has a simplistic design and is soft, breathable, and stretchy.
Benefits of Wearing Bamboo Underwear
Bamboo underwear is incredibly comfortable. The fabric is very soft, smooth, and cool on your skin. Thanks to the high thread count found in bamboo panties, the material is anti-chafing and gentle on your skin. The seams are also better sewn and lack the sharp edges that cheaper underwear has.
Compared to silk underwear, bamboo underwear is tear-resistant making them easy to clean and dry. They are quite durable, lasting twice as long as other types of underwear. Even if their prices are high, you're investing in the long term. Usually, though, the underwear is affordable.
Most importantly, they are moisture and heat-wicking. The fabric allows air to filter through keeping you cool and dry. Thanks to its inability to retain heat, you never have to worry about heat building up down there.
Since you're in the market for underwear, check out our list of the best ethical underwear brands.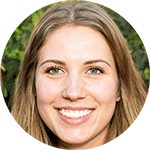 Jamie - Cofounder
Hi, I hope you enjoyed reading this article.
If you are looking for more ways to live an eco-conscious lifestyles, then check out our complete guide here.
Thanks for stopping by - Jamie