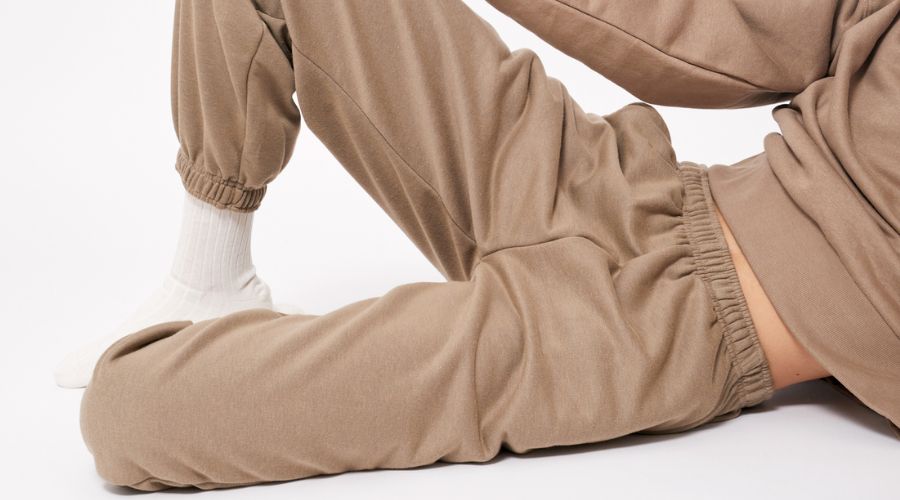 What's there not to love about a great pair of sweatpants? They're the perfect item of clothing to wear inside and even outside the house. What's more, good sweatpants are thermoregulatory, meaning they keep your internal temperature steady regardless of how cold or warm you may be.
Looking for clothes to exercise in? Needless to say, sweatpants are great for that too! They're designed to soak up your sweat without clinging to your skin and help you warm up your muscles faster.
The downside to conventional sweatpants is their production, which takes a heavy toll on the environment. While cotton is undoubtedly one of the most comfortable materials out there, its production uses up a lot of water, energy, and chemicals—more than most fibers do. The chemicals used to grow cotton harm not only the environment but farm workers as well. Organic cotton, on the other hand, has the same benefits but uses less water and energy to produce similar garments.
So on that note, let's take a look at some sweatpants made from organic cotton that are good for the planet and oh-so-comfy for you.
Looking for more organic cotton products? Check out the best organic cotton pajamas and the best organic cotton blankets and throws.
12 Best Organic Cotton Sweatpants In 2023
Comfort will have a whole new meaning with organic cotton sweatpants. Here are some of the best in the market today.
1. PACT Downtime Sweatpant
PACT Downtime organic cotton sweatpants are produced using a Fair Trade Certified factory based in India. The organic cotton is GOTS certified, and the company is carbon neutral. The company's organic cotton is made without chemical pesticides and fertilizers.
PACT's sweatpants are made from 100% organic cotton with an elastic waistband. It's meant to be worn all day thanks to the loop-back terry cloth, which can absorb much water and has an amazingly soft, plush texture.
These effortlessly stylish sweatpants are mid-rise, ankle length, and have two side pockets. They come in six colors: stucco, ore, freesia, camel, trekking green, and walnut. The sweatpants also come in six sizes: extra small, small, medium, large, extra-large, and extra-extra-large. The sweatpants are comfortable, flattering, affordable, and even machine washable. What's not to love?
With PACT's fair trade sweatpants, sweat, and discomfort are never an issue!
Based: Colorado, United States. Ships internationally.
2. Girlfriend Collective
Girlfriend Collective is the kind of sustainable fashion brand that delivers big on eco-friendliness, and we don't say that lightly. The clothes are GOTS certified, with energy and water conserved during production. There are reduced carbon emissions, too, during the production process. Also, some of the available clothes are made from recycled plastic. Amazing, right?!
Girlfriend Collective's women's organic cotton sweatpants are made from a blend of 50% Texloop RCOT Primo recycled cotton (from fabric scraps), and 50% organic cotton is grown without chemical insecticides and pesticides. The wide-leg sweatpants are soft, breathable, and machine washable, with on-seam pockets, raw cut hems, adjustable drawstring waists, and a straight fit through the legs. It's perfect for lounging around your house.
The pants come in five colors: black, wine, birch, porcini heather, and ivory. Girlfriend Collective is size inclusive. The available sizes range from XXsmall to 6XL.
We haven't told you the best part: the clothes are 100% biodegradable.
Based: Washington, United States. Ships in the USA, Canada, United Kingdom, and Australia.
3. MATE the Label
When it comes to vegan-friendly eco-brands, MATE the Label is a great bet. This woman-founded brand's clothing is made sustainably in California, where the clothes are cut, sewn, and packaged.
MATE is a Climate Neutral Certified company that does all of that with a negligible carbon footprint. It uses 79.8% – 87.5% less water fabric than non-organic fabrics. Talk about walking the talk!
The brand's sweatpants are made from 100% organic cotton, without pesticides and plastics. The super cozy, soft, and chic pants come in: cargo, wide-leg, and relaxed pocket pants. You'll find that every style of sweatpants has pockets and drawcord waistbands. They can be worn inside, for a run, and on a night out.
These organic cotton sweatpants come in multiple sizes depending on the style you want, from extra small to extra extra extra large. They also come in various colors depending on what pants you want for yourself.
Based: California, United States. Ships in the USA only.
4. Tentree Organic Cotton Sweatpants
If you're looking for some of the best organic cotton sweatpants, look no further than Tentree Organic Cotton Sweatpants. Tentree is an award-winning Certified B Corp and Climate Neutral Certified company. That's not all. The company has planted over 75 million trees, helped countless communities, and built a maternity care center.
The company gives fair wages to its workers, ensures they have proper rest, and gives equal employment opportunities to both men and women. It's incredible!
Tentree's amazing activewear is made from organic cotton, REPREVE polyester, and TENCEL lyocell into 2-way stretch knit sweatpants. The fabric is incredibly soft and gentle on the skin. You'll just love running your hands on it!
There are different types: bamone sweatpants, treefleece bamone sweatpants, and French terry-cropped wide-leg pants. There are hand pockets for your necessities. You can choose if you want to adjust the pants with drawcords, belts, straps, or other features.
The size options could be more inclusive as they only include sizes from small to large. The color choices depend on the type of pants you want. These pants are also machine washable.
Based: British Columbia, Canada. Ships internationally.
5. Allbirds R&R Sweatpants
Allbirds R&R Sweatpants gives you the timeless loungewear and activewear garments you've been waiting for. Launched by a former soccer star, this sustainable brand designs affordable, eco-friendly apparel and footwear for all genders.
The company is a Certified B Corp and is Climate Neutral Certified, so you know it takes environmental conservation seriously.
The R&R sweatpants have a flattering modern slim fit with an incredibly soft hand feel. The pants are made with a French terry blend of 50% organic Peruvian pima cotton, 30% hemp, and 20% TENCEL Lyocell. The sweatpants have a shoelace drawcord for a perfect fit and side pockets for storage.
The sweatpants come in sizes ranging from extra small to extra extra extra large. You have four color options: hazy indigo, calm cargo, natural black, and natural white. These pants were made for everyday wear. You can lounge at home, meet friends at a restaurant, or move your body to music. Either way, you're going to love these snug sweatpants.
Based: California, United States. Ships internationally.
6. Outerknown Sustainable Sweat Pants
Outerknown Sustainable Sweat Pants are one of the best eco-friendly sweatpants out there. We'll tell you why.
Outerknown takes its commitment to sustainability very seriously. It:
Uses recycled polyester made from post-consumer waste.

Sources from two B Corp Certified suppliers for Fair Trade materials.

Has an Outerworn program that recycles garments.

Uses Fair Labour Program to ensure that their workers are treated fairly.
Outerknown sweatpants come in two styles, sur and high tide. The sur sweatpants are ideal for traveling in comfort, while the hightide sweatpants provide all the comfort you need at home.
The organic cotton sweatpants are made from terry toweling, which has the hand feel of soft towels.
You get a pull-on elastic waist with a drawcord and front and back pockets. In the case of the hightide sweatpants, you get a brushed interior for a beautiful cozy feeling.
The available sizes range from small to extra-extra-large. Unfortunately, the available colors are limited to just two each, but they are versatile and pair well with different colors. If you've been looking for the coziest sweatpants on the market, try Outerknown!
Based: California, United States. Ships internationally.
7. Avocado
The people behind Avocado made organic cotton sheets and non-toxic mattresses. Then they decided to make some of the best organic cotton sweatpants in the slow fashion market.
Hass, the brand's loungewear line, has an impressive eco-friendly clothing range. What makes Avocado unique isn't just the quality of its garments but its dedication to sustainability. The brand is B Corp Certified, Climate Neutral Certified, and 1% For the Planet member.
It gets better. The brand uses Global Organic Textile Standard (GOTS) certified facilities in Los Angeles to make their garments.
The Hass sweatpants are refined, relaxed, and sliming. Made with a blend of 48% Supima cotton, 48% Lenzing-certified modal, and 4% elastane, the sweatpants are resilient, breathable, biodegradable, machine washable, and most importantly, very soft, plush, and gentle on your skin.
The sizes range from extra small to extra large, and you get four colors: bone, slate, fern, and rosewater. The sweats come with cinched ankles, a drawstring waist, and deep pockets. You can wear these sweatpants everywhere with unmatched comfort.
Based: New Jersey, United States. Ships to the USA and Canada only.
8. Kotn Sweat Panta
Kotn Sweat Pants are premium organic cotton basics suitable for all genders. Kotn is yet another B Corp Certified business that wants to do good in the world, and so far, they've backed that up.
The company has worked with 2390 farms in Egypt and Portugal and even built 15 schools for the families of the farmers. The brand uses the finest organic fibers and has admirable transparency from the seed planted to the final cut of the garment.
Y2K nostalgia is in full swing, and these sweatpants are no exception, as they look like they were plucked from the early 2000s. Kotn Sweat Pants are made from 100% BCI cotton fleece. The sweatpants have a smooth surface and a heavily brushed interior for extra coziness. You get adjustable inner drawstrings, elasticized waist and cuff, and pockets. As a bonus, the pants are machine washable.
The sizes range from extra-extra-small to extra-extra-extra-large (depending if it's women's organic cotton sweatpants that you want or men's). For colors, there are four options: umber, heather grey, light taupe, and black.
Based: Toronto, Canada. Ships internationally.
9. Harvest & Mill
Harvest & Mill is all American! The brand uses USA-grown organic cotton and designs and sews all its clothes in California. This ensures that the production process is clean and ethical.
The process is carbon neutral, and the brand goes out of its way to be transparent about water and energy conservation practices. The packing and shipping materials are recyclable and compostable. The clothes are undyed and unbleached, or natural dyes are used.
Harvest & Mills makes the best casual pants you'll ever need. Their cotton jersey pants are made from 100% organic cotton. The fabric is soft and very breathable, with a natural stretch. You'll have comfortable sweatpants with a modern cut and the right weight.
The pants come with two side pockets and a drawcord waist. The size ranges from small to extra large. As for color, the pants are either creamy if they're undyed and unbleached or black.
Based: California, United States. Ships internationally.
10. Summersalt
When it comes to travel fashion, Summersalt is the way to go! The brand takes being stylish while on the go so seriously. It took 1.5 million measurements from 10,000 women to find the best fit.
Summersalt also takes eco-friendliness seriously by using recycled materials for its fabrics and packaging. The fibers used in the garments are USDA, and Vincotte certified and are biodegradable and compostable.
The organic sweatpants blend 65% TENCEL Lyocell, 18% cotton, 11% TENCEL Modal, and 6% spandex. The fabric is super soft, breathable, and perfect for layering on a night out. It's neither heavy nor light, making it ideal for any weather.
Summersalt offers styles like the softest French terry tie-waist pants and the softest French terry mixed media jogger. The size and color range depend on the type of sweatpants that catches your eye. Rest assured, though, with Summersalt, you'll get a flattering fit.
Based: Missouri, United States. Ships internationally.
11. Boden
For sweatpants so versatile you can wear them to the office, look no further than Boden. The best thing you can do for the environment is to buy fewer clothes, and Boden does its part to help you with this. The brand makes sure that its clothes last a long time. It also has the Pass It On program, where you can donate your clothes to charities instead of ending up in landfills. Boden makes sure that the factories it uses follow international ethical standards.
Boden's sweatpants are made with a blend of 47% cotton, 47% modal, and 6% elastane. The pants are ankle-length with cuffs around the legs. They feature pockets, elasticated waistbands, and a relaxed fit for everyday wear. The fabric is soft and machine washable.
The sizes range from 2 – 22, but it depends on the jersey pants that you want. Unfortunately, the color range is limited, but despite that, they're flattering.
Based: London, United Kingdom. Ships internationally.
12. Softwear
Boy, does this brand put the soft in Softwear! These are probably the softest sweatpants you'll ever wear and are made with eco-friendly methods. Softwear uses biodegradable and compostable fibers sourced from sustainable forests and farms. The dyes used are reactive, which lasts longer, and use less water to dye the clothes.
Softwear sweatpants blend 68% Lenzing modal, 27% organic cotton, and 5% spandex, making them ideal for daily living and relaxing. The fabric has excellent properties. It's luxuriously soft, wrinkle resistant, anti-piling, has color and fit retention, and has a 4-way stretch. Multiple colors are available, like obsidian black, burgundy, blue tie dye, and midnight navy. The sizes range from extra small to large.
Based: Los Angeles, United States. Ships internationally.
Honorable Mentions For Best Organic Cotton Sweat Pants
Vetta – made with a blend of organic cotton and Tencel, these sustainable sweatpants are the ideal loungewear pieces you've been looking for.
Christy Dawn – made with a low-waste knitting process and water-based dyes, these vintage-inspired and GOTS-certified sweatpants are for exercise and daily living.
Organic Cotton Sweatpants Buying Guide (What To Look For)
There are three benchmarks when it comes to shopping for ethical sweatpants:
The material

– look for natural and organic fabrics like organic cotton.

Certification

– certifications will help you find clothes made with legitimate eco-friendly practices throughout production. Certificates from the

Global Organic Textile Standard

(GOTS), the

Forest Stewardship Council

(FSC), and the

Global Recycle Standard

(GRD) are good starting points. Besides the fabrics, you can also look at the chemicals used during production.

OEKO-TEX 100

and

Bluesign

certificates can help you know what chemicals are eco-friendly.

Sourcing Practices

– This is regarding raw material sourcing, worker rights, and where the clothes were made. Look for respectable certifications like

Fair Trade

,

Fair Labor Association

, United States Department of Agriculture (USDA),

SA8000

,

ISO 14001

,

Ethical Trade Initiative

(ETI), and others.
Benefits Of Buying Organic Cotton For The Environment
Organic fabrics are the way to go when it comes to preserving the environment. Organic cotton uses fewer resources while improving soil quality and reducing pollution.
Regular cotton uses 20,000 liters of water for every kilogram of cotton. In comparison, organic cotton uses 243 liters per t-shirt.
Organic cotton is made without chemicals, fertilizers, and pesticides. Regular cotton, on the other hand, is the third largest consumer of pesticides in America. It doesn't stop there. Regular cotton uses so much water that it leads to soil erosion and degradation, a problem that organic cotton does not have.
Benefits Of Buying Organic Cotton For You
Besides providing great comfort, organic cotton sweatpants are made with more robust and breathable fabric than other commercial fabrics.
Also, the fabric is thermoregulating, which will help you maintain your core internal temperatures. This is great for exercising and even those chilly autumn and winter days.
Those with sensitive skin rejoice! Organic cotton sweatpants are noticeably softer than other fabrics. They're incredibly breathable, which helps prevent skin irritation and infections.
The organic cotton fabric is hypoallergic. Cotton is grown without using fertilizers, herbicides, and pesticides, making the material completely allergy free.
Frequently Asked Questions (FAQ)
What Is the Difference Between Joggers and Sweatpants?
The difference between joggers and sweatpants is that sweatpants tend to be baggy and made of a thicker fabric. Joggers are made of thinner material and fit your body snugly.
Why Are They Called Sweatpants?
Sweatpants were named for their ability to absorb sweat.
What Are Sweatpants Used For?
Sweatpants are used for both exercising and lounging, especially in cold weather.
What Brand Has the Best Organic Sweatpants?
The brand with the best organic sweatpants uses organic fibers to create soft, durable, breathable sweatpants for everyday wear.
Organic cotton sweatpants are the way to go if you want to combine remarkable coziness with sustainable fashion. The fabric requires fewer resources than conventional fabrics and can help preserve the environment. It does all of this while giving you the ultimate piece of loungewear!
Interested in buying more ethical garments? Check out our guide for the best bamboo shirt brands in 2023.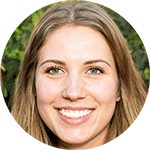 Jamie - Cofounder
Hi, I hope you enjoyed reading this article.
If you are looking for more ways to live an eco-conscious lifestyles, then check out our complete guide here.
Thanks for stopping by - Jamie