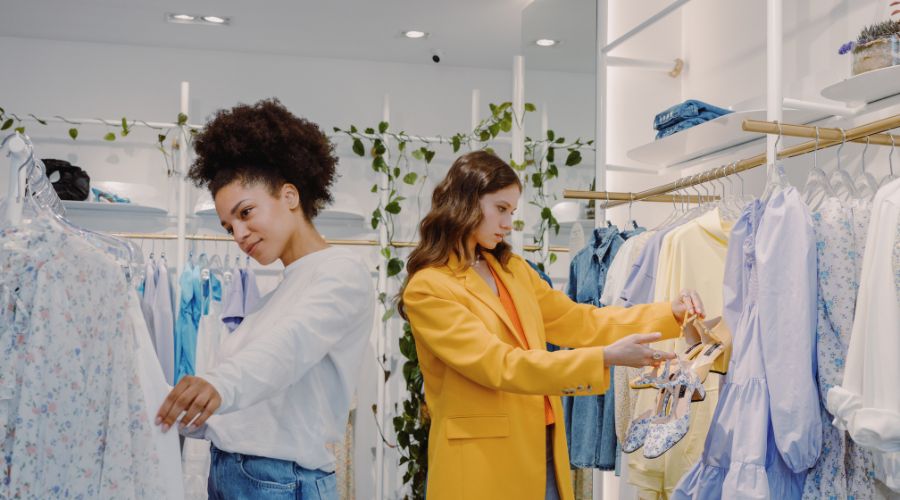 Can you look fashionable and make an environmental difference at the same time? Yes! Sustainable women's clothing allows women to be both stylish and responsible.
Why does that matter, you ask? The fashion industry is one of the biggest polluters in the world thanks to the fast fashion model. Billions of pieces of low-quality clothing are bought and discarded every year. As a result, the US alone produces 17 million tonnes of textile waste annually.
This is where slow fashion comes in. Slow fashion brands make high-quality, long-lasting, eco-friendly, and biodegradable clothes. The best sustainable brands use eco-friendly fabrics and production to make fashionable clothing for women.
To join the movement towards a better future, read on.
While you're here, check out our list of the best organic bedding brands.
18 Best Organic Cotton Sweatpants In 2023
Here's a list of the best slow fashion brands with sustainable clothing for women.
1. PACT
No one creates affordable, sustainable clothing for women quite like PACT! Slow fashion has garnered a reputation for being expensive, which is where brands like PACT come in. You can wear stylish eco-friendly clothes at reasonable prices without breaking the bank.
PACT doesn't skimp on sustainability. Its clothes are made from Global Organic Textile Standard (GOTS) certified organic cotton. The fabric comes from cotton planted without synthetic chemicals or excess water, like conventional cotton. The cotton is also processed in Fair Trade Certified factories where workers are treated fairly.
PACT offers size-inclusive everyday wear for women, like dresses, shirts, pants, and underwear. The clothes are soft and comfy and come in recycled and biodegradable packaging. If you ever want to get rid of your clothes, the brand also offers a donation program.
Dress to impress with low environmental stress with PACT!
Based: Colorado, USA. Ships internationally.
2. Reformation
For the fashionistas, Reformation is here to give you trendy garments. Who says eco-friendly has to be unfashionable? Reformation will provide you with expertly designed bodysuits, jeans, sweaters, dresses, stylish bags, and shoes. You'll get size-inclusive clothes too. If you've been searching for sustainable formalwear, guess what? Reformation has got you covered!
This brand uses sustainable and upcycled materials like TENCEL, Lyocell, regenerative cotton, and recycled fabrics. Let us tell you one thing about this brand: it's not shy. On their website, Reformation has proudly laid bare their supply chain for you to pick apart. So when we say the company has strict standards for its sourcing and production, we mean it. Additionally,
Reformation is Climate Neutral Certified (with plans to become climate positive). Their workers receive safe working conditions as well as living wages.
Dressing sustainably has never looked so good!
Based: California, USA. Ships internationally.
3. Everlane
Everlane has so much going for it. The brand is affordable, size-inclusive, vegan-friendly, and very transparent. When it comes to transparency, Everlane will answer every question you have (and even some you don't) about its supply chain, factories, price breakdown, and workers. The company is also GOTS-certified, so you know it backs up every claim.
It uses sustainable fabrics like organic cotton, clean denim, clean silk, and recycled materials like polyester and plastics. The main goal is to reduce its carbon footprint yearly and eliminate plastic from its products and packaging. We can confidently say the brand is doing an admirable job of it.
Everlane makes everything from essential wear to outerwear to footwear and even accessories. It's a one-stop shop for the sustainable fashion lover!
Based: California, USA. Ships internationally.
4. Girlfriend Collective
This entry is for exercise fanatics! Girlfriend Collective makes some of the best sustainable activewear in the market. From bodysuits to sports bras, tanks, leggings, shorts, and joggers so you can sweat it out in style.
The clothes are sleek, high-performance, and luxurious. For those who are worried, the brand is highly size-inclusive (2X-Small to 6X-Large), and you can see it in its models.
The clothes are made from recycled materials like water bottles and fishing nets. The products are also manufactured in an SA8000-certified facility in Vietnam. It doesn't stop there. Its packaging is recyclable, and the dyes are eco-friendly.
When you use Girlfriend Collective, you exercise with a clear conscience!
Based: Washington, United States. Ships to the US, Canada, the UK, and Australia.
5. Outerknown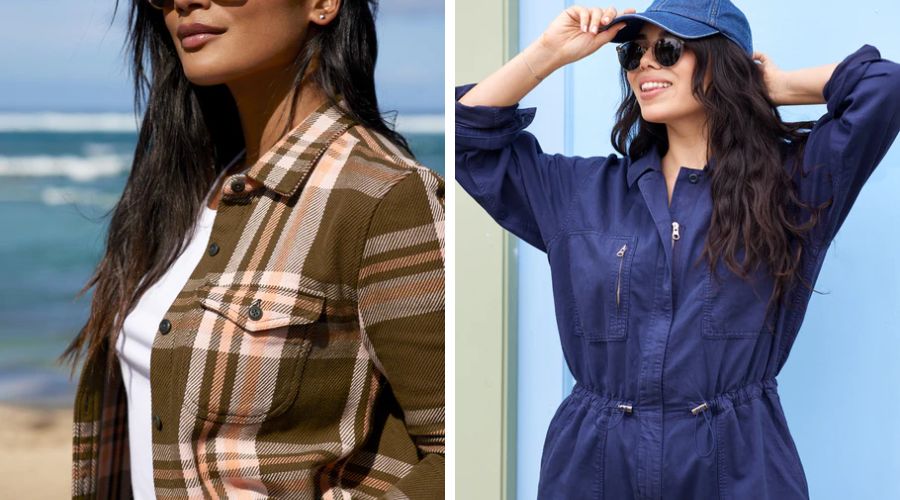 If you want durability in the sustainable women's fashion world, go for Outerknown. We've raved about its jeans before. The brand also offers various clothes, including shirts, sweaters, coats, sweatpants, shorts, dresses, and accessories.
Outerknown uses sustainable fabrics sourced from B Corp Certified suppliers and processed in Fair Labor Association, Bluesign, and Fair Trade-certified facilities. This brand doesn't just care about the environment. It considers people as well through fair wages and improving their livelihood.
The clothes are worth the hype as they're fashionable, soft, comfortable, and trendy. No wonder Outerknown has been a leader in innovative sustainable practices.
PS- If the prices are a bit much for you, check out its second-hand shop.
Based: California, USA. Ships internationally.
6. Boody
You can't do better with sustainable women's clothing brands than Boody! This fantastic clothing brand sells basics (like shirts), activewear, loungewear, and socks/ It also features underwear—including leakproof period underwear—made from bamboo. We've been crazy about bamboo clothing because it's deliciously soft, moisture-wicking, thermoregulatory, anti-bacterial, and durable. Seriously, we can go on and on about this fabric.
Boody uses a closed-loop system with zero waste in a WRAP-certified production procession. Its bamboo fabrics are also OEKO-TEX and ECOCERT certified. In short, your clothes will be as green as possible. The result is highly comfortable and size-inclusive sustainable clothing women love. Try it!
Based: New South Wales, Australia. Ships internationally.
7. MATE The Label
MATE The Label is unique because it's a woman-founded brand that provides eco-friendly women's clothes. The brand continues its pro-woman position by using local factories— some of which are women-owned. It's also a vegan-friendly, eco-friendly, and size-inclusive brand. It has so much going for it!
MATE The Label is all about clean fashion. It makes clothes without pesticides, microplastics, carcinogens, or formaldehyde. So, when you buy its collection of loungewear, workwear, activewear, and intimates, know that you're wearing organic, non-toxic, high-quality garments. The brand is Climate Neutral Certified and gives back to the planet via the 1% For The Planet.
MATE The Label is eco-friendliness at its best!
Based: California, United States. Ships in the USA only.
8. Organic Basics
Organic Basics is anything but basic! It's a B Corp Certified company that's impressively transparent about its supply chain, products, factories, activism, and initiative. What we love most about this brand is that it doesn't hide its mistakes. If you go to its website, there's an entire section dedicated to it under a colorful heading.
The brand has various sustainable women's clothing, including underwear, sweatshirts, swimwear, socks, bras, and more. Organic Basics uses natural fabrics like regenerative cotton and TENCEL Lyocell, sourced sustainably from European forests.
The clothes are size inclusive, reasonably priced, and vegan-friendly. For those who have been searching for sustainable women's dresses, Organic Basics has you covered.
Based: Copenhagen, Denmark. Ships internationally.
9. thredUP
thredUP isn't precisely a clothing brand but a shop where you can buy sustainable women's clothes second-hand. Wait, wait, the clothes are in good condition because the retailer inspects them to make sure you're getting as good a deal as possible. Anything that can't be sold will be recycled or repurposed.
So, why second-hand clothing? One of the biggest aspects of sustainable living is reusing. This removes the need to buy brand-new clothes every time (which is why eco-friendly brands make long-lasting clothing). No matter how sustainable the process is, buying used clothing will always be the better option. If you have some unwanted clothes, the retailer will buy it.
For those budgeting and looking for clothes in good shape, we recommend thredUP.
Based: California, USA. Ships internationally.
10. PrAna
The devil might wear Prada, but PrAna is worn by eco-warriors! PrAna puts a lot of effort into sustainability and giving back through local and international charities. It uses Fair Labor Association and Fair Trade factories. PrAna also ensures the humane treatment of animals, which is why it's an RDS and Control Union-certified brand. All of this is laid out transparently on its website.
This company sells a comprehensive collection of size-inclusive and durable essential wear, activewear, outerwear, and accessories like yoga mats and hats. The fabrics are made from organic and recycled fibers like cotton, hemp, and wool. PrAna packages are made using recycled materials to eliminate the use of plastic.
In short, be sustainably active with PrAna!
Based: California, United States. Ships internationally.
11. Thought
Thought has been in the game for a long while, and just like the brand, its sustainable women's clothing is timeless. The brand has a beautiful and versatile collection of everyday wear, workwear, outerwear, activewear, loungewear, nightwear, underwear, etc. In short, whatever you need, Thought has it!
The clothes are consistently high quality, stylish, and size inclusive—and come in pretty colors too! That's because, like everything else about the brand, Thought has a long-standing relationship with suppliers and factories.
The garments are made from GOTS-certified and ECOCERT-certified fabrics like hemp, organic cotton, and lyocell. Thought makes incredible workwear pieces for the working woman and donates its samples to help women transition back to work. That's amazing!
Based: London, United Kingdom. Ships internationally.
12. Eileen Fisher
Experience high-end sustainable fashion with Eileen Fisher! The brand makes classic, minimalistic sustainable women's clothing using organic cotton, TENCEL, organic linen, organic wool, silk, and more fabrics.
The clothes are very well designed and built to last, so the price can be high. That's fine because the moment you see the collection offered, you'll fall in love. We're talking stylish and instantly iconic camis, cardigans, tunics, dresses, pants, pajamas, shoes, accessories, and more. There's an entire section just for plus-sized clothes.
As for the eco-friendly side of things, you can rest easy. Eileen Fisher is a B Corp Certified company that uses Fair Trade factories. It also uses circular production through regenerative, reusable, and recyclable to save on precious resources like water.
Based: New York, USA. Ships internationally.
13. ABLE
Here's a brand that's truly feminist! ABLE started by selling handwoven scarves made by Ethiopian women. Since then, ABLE has been providing women with jobs with fair wages. Today, 90% of the brand's staff are women. Supporting women is built into the core part of the brand.
This B Corp Certified brand provides everyday clothing, jewelry, shoes, bags, and accessories. The fabrics are sustainable, recycled, and upcycled, which also goes for jewelry.
In addition to making beautiful clothes, ABLE has a size swap collection for those whose bodies change over time. Don't be surprised; after all, ABLE has a lifetime guarantee for any product they make.
With ABLE, you get sustainable women's fashion that genuinely supports women!
Based: Tennessee, USA. Ships internationally.
14. People Tree
People Tree isn't just about fashion; it's about people. The company is Fair Trade Certified and part of the World Fair Trade Organization. That means its Indian workers are given good wages and a working environment.
Now about the clothes. People Tree is a women's clothing brand that offers skirts, dresses, tops, jumpsuits, knitwear, nightwear, and jewelry. It uses organic cotton and sustainably sourced materials like linen, low impact dyes and avoids plastic and toxic chemicals.
For 31 years, People Tree has maintained a high standard. See for yourself!
Based: London, United Kingdom. Ships internationally.
15. Christy Dawn
Mother Earth is a big inspiration for Christy Dawn. The brand uses organic cotton and surplus and deadstock fabrics to make its garments. Recently, the brand launched a Farm-to-Closet initiative in India to restore land and grow organic cotton for the brand. You can even help by investing your money in exchange for store credits and early access to Farm-to-Closet collections. All that to help heal our planet.
Sustainable women's dresses have never looked so good. There's a dizzying array of styles, colors, and fits that will stay in fashion for a while. Not a dress person? That's fine, as Christy Dawn has everyday wear, outerwear, loungewear, footwear, and even bridal pieces in its catalog.
Based: Los Angeles, USA. Ships internationally.
16. Amour Vert
Amour Vert means 'green love,' and boy, you'll love this eco-friendly fashion brand. Its collection includes everyday wear like shirts, dresses, skirts, pants, jeans, and jackets. For lounging lovers, Amour Vert's loungewear might be just what you need. Do you need a handbag and shoes to go with your new Amour Vert outfit? They've got you covered! Now, you can coordinate.
The clothes are made from organic cotton, hemp, ethical wool, FSC-certified ECOVERO viscose, sustainable silk, TENCEL modal, and cottonseed cupro. So you see, the company means business.
Amour Vert makes all its clothes locally in small batches. Those clothes are then shipped in eco-friendly packaging. As if that's not enough, a tree is planted when you buy an Amour Vert shirt.
So, get planting!
Based: San Francisco, USA. Ships to the US, Canada, Australia, the UK, France, and Germany.
17. tentree
tentree is a sustainable fashion overachiever. The company collects certifications like it's a game. It's a Climate Neutral Certified, B Corp Certified, Fair Trade certified, WRAP certified, SA8000 certified, etc. brand specializing in cozy, lifestyle, activewear, and loungewear. The clothes are made from organic cotton, TENCEL, hemp, and recycled fabrics.
Here's where it gets crazy. tentree has planted 100 million trees! The brand's goal is to have 1 billion trees by 2030. You read that right. And it's just realized a collection to help protect coral reefs. tentree also helps many communities by, for example, building a maternity center.
Take a bow, tentree!
Based: British Columbia, Canada. Ships internationally.
18. Summersalt
Summersalt loves to make travel wear, but it also has impressive swimwear and activewear collections for those who love to move their body. The collections are made from organic cotton, cruelty-free wool, cupro cotton, TENCEL, and recycled fabrics. Summersalt uses WRAP-certified factories to create functional, size-inclusive, and versatile apparel. Oh, and biodegradable and compostable as well.
For all of this to be possible, Summersalt turned to 10,000 women and took 1.5 million measurements to ensure that the brand's women's sustainable clothing is genuinely for all women.
Based: Missouri, United States. Ships internationally.
Honorable Mentions For Sustainable Women's Clothing Brands
Boden: In almost 30 years, this company has built a worldwide base for its sustainable garments. Boden uses Better Cotton Initiative (BCI) certified cotton made in fair trade factories in 15 countries.
Patagonia: This outdoor clothing brand uses sustainable materials, helps you repair your products, and even has a buy-and-resell program to reduce textile waste. It is both Fair Trade and Bluesign certified.
What Makes Clothing Ethical and Sustainable
Multiple factors make sustainable women's clothing stand out from the crowd. The main ones are:
Fabrics
Women's sustainable clothing can't be made from just any fabric. Some fabrics like polyester and nylon are entirely synthetic and don't biodegrade. Others, like cotton and wool, while natural, require copious amounts of water, land, and energy.
The best sustainable fabrics are natural and organic fibers like organic cotton, hemp, bamboo, organic linen, organic silk, organic wool, and more. This is because the fibers are made without excessive water use and synthetic chemicals like fertilizers.
Semi-synthetic fibers like lyocell, modal, and viscose are also acceptable as, compared to conventional fabrics, they reduce the negative impact on the environment. Recycled fabrics are also excellent choices.
There are numerous third-party organizations whose sole purpose is to ensure that clothing brands follow strict production standards. So, look for certifications like Global Organic Textile Standards (GOTS), OEKO-TEX Standard 100, SA8000, Bluesign, National Organic Program (NOP), B Corp Certification, and more.
Principles
What's the point of sustainable women's clothing made with the best fabrics if the brand lacks good ethics? Eco-friendly clothing brands must ensure workers receive proper compensation and a safe working environment.
To ensure that a brand is doing just that, look for certifications like Fair Trade, Fair Labor Association, USDA-Certified, and more.
Frequently Asked Questions (FAQ)
Are Zara and H&M Sustainable?
Zara and H&M are not sustainable as they're both fast fashion clothing brands.
Is Uniqlo a Sustainable Fashion Brand?
Uniqlo is not sustainable as it uses non-eco-friendly materials and production methods.
Which Famous Brands Are Sustainable?
Brands listed above, like PACT, Thought, and Boody, are some of the most famous sustainable brands.
How Do I Know If My Clothes Are Sustainable?
To know if your clothes are sustainable, check whether they're made from organic and recycled fabrics produced in sustainable factories.
Sustainable women's clothing is so important. It allows women to dress stylishly for all occasions while also doing their part to protect the environment. Luckily, there are many brands providing clothes for the socially conscious consumer.
Want to start your eco-friendly journey? Try our list of the best waste-free cosmetic brands.


  Stella - Writer
Stella is a writer and mother from Thika, Kenya.
Her love for nature and the beautiful Kenyan outdoors has inspired Stella to consciously make an effort to lead a more sustainable, eco-friendly lifestyle.